14 Tips To Help You Better Prepare For A Long-Distance Winter Road Trip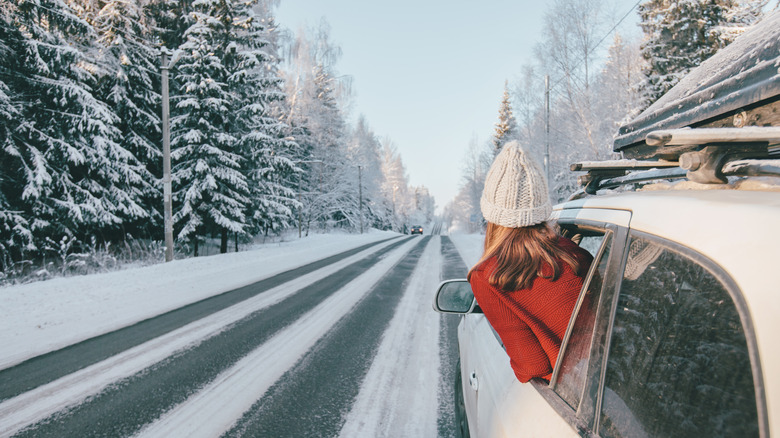 Alena Ozerova/Shutterstock
Experiencing a country in its winter wonderland form is a journey you'll never forget. It feels more potent than taking a road trip at the height of summer when everyone else is piling into their car to go, too. Even though taking a long-distance road trip in the midst of winter can be a magical excursion, there are a few extra precautions that travelers need to consider. Driving in snowy, icy conditions is no joke, injuring more than 116,800 and killing over 1,300 people every year in the Uwinter wonderlandhttps://www.explore.com/travel...nited States. That sounds scary, but don't go canceling your winter road trip extravaganza just yet.
It's totally possible to hit the road on a long-haul road trip safely. All it takes is a little extra boost of preparation. Of course, you should always buckle up and drive well-rested, but there is much more planning that goes into a road trip during the winter. Not to worry, though. These 14 tips will help you not only get through a long-haul winter road trip safely, but actually thrive and enjoy your time the whole way through. Let's get you on the road.
Get a maintenance check by a mechanic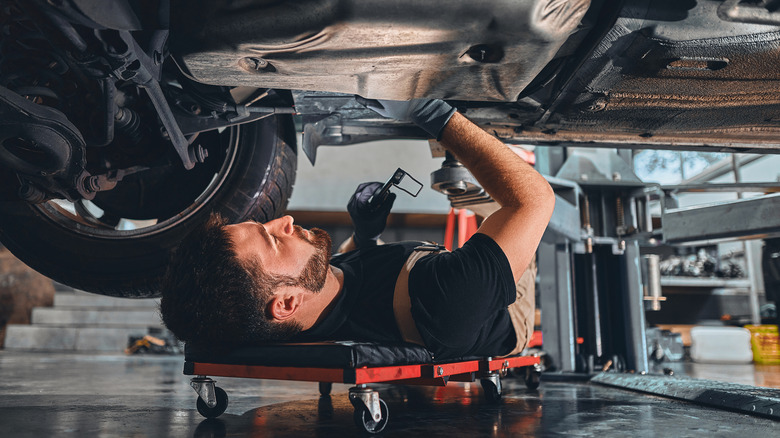 Harbucks/Shutterstock
Even if you just bought your car last week and think it's in perfect driving condition, you never know. There might be a big problem that you're missing because you don't know what to look for. Getting to the middle of your winter road trip and having to deal with a mechanical issue is a way bigger problem than catching it before you leave. Do your future self a favor and get your vehicle checked out by a professional before setting off on a long winter journey.
A mechanic will have the know-how to check things like the car's battery, belts, brakes, and exhaust system. If they do come across a minor or severe issue, they'll let you know what it will take to fix it before your road trip. Taking this one little action can save you a huge headache later on when you're at the mercy of the snow gods. There is also some simple car maintenance stuff that you can check by yourself, such as making sure your engine's oil isn't mucky and your windshield wipers are completely intact. The more aspects of your car you can double-check before leaving on a snowy road trip, the better! 
Get any basic car services needed done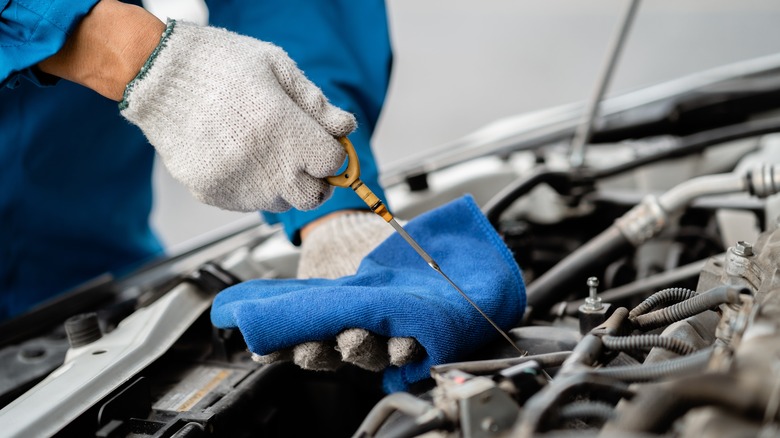 KANGWANS/Shutterstock
Little things that are wrong with your car tend to fester when you pile on a bunch of miles in the snow. Trying to find a place to buy windshield wiper fluid in the middle of the night because you ran out and can't see out of your window can be annoying at best. At worst, it can be a super hazardous situation that leaves you vulnerable. 
If you've been putting off getting that oil change or replacing your brake pads, you don't want that weighing on your mind during a winter road trip. Avoid any mishaps by getting these basic car services done in advance. The most common maintenance services you might need before starting a road trip are an oil change, an air filter replacement, a tire rotation, brake services, and replacing the transmission fluid. If you're thinking, "I don't need that, I'll save the money," be careful, that's a big mistake. It will cost you way more money to fix a problem in the middle of a road trip than to do the proper maintenance in advance. Don't be penny-wise and pound-foolish!
Put on snow tires and check the pressure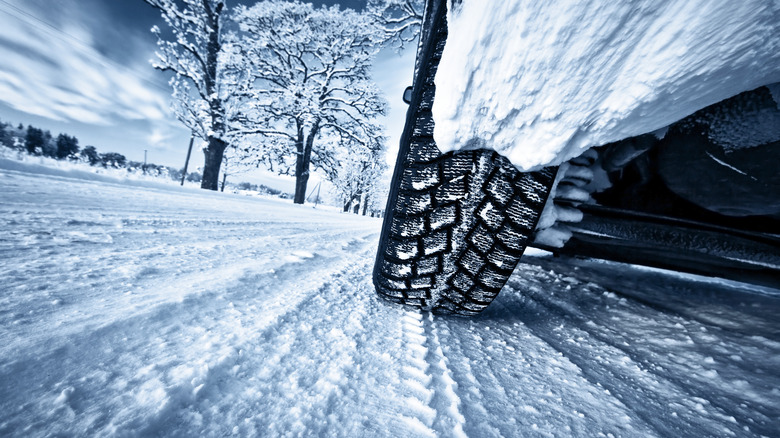 Lemanna/Getty Images
Your car relies on its four tires throughout your entire winter journey and they need to be in perfect condition to handle a lot of snow. Travelers going on a long-distance road trip in the winter can take a few measures to get their tires in tip-top shape. First and foremost, you will 100% need a pair of new, sturdy snow tires on your vehicle before setting off on a winter road trip. Even if you take every safety precaution in the book, nothing replaces snow tires on your car in a storm. 
In addition to the snow tires, you'll want to check your pressure right before you leave and gradually along the trip. To figure out the right tire pressure for your car during the winter (and yes, it's different in low temperatures), check your car's manufacturer's recommendations or ask a trustworthy mechanic. You don't want any surprises when you're driving around a new place during the winter. If you're planning on taking a trip through really extreme winter conditions, you may even want to consider getting tire snow chains for extra grip. You can never be too safe when you're embarking on something slightly dangerous, like a long winter road trip. 
Pack a car emergency kit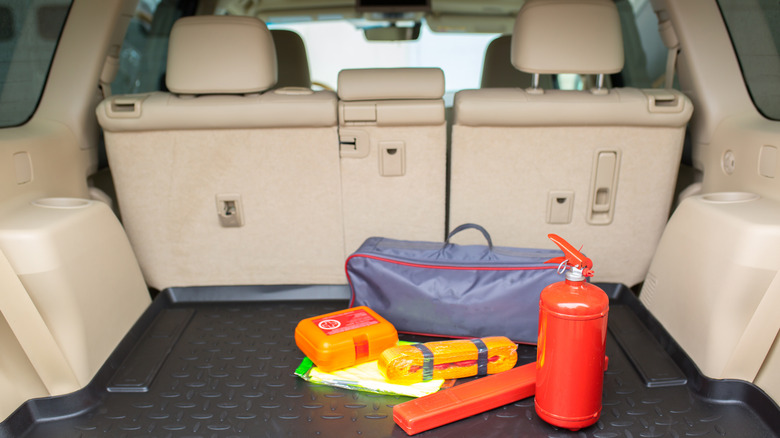 Vera Larina/Shutterstock
When you hop into your car for a long-haul road trip, or just about any drive for that matter, you never know what is going to happen. You could get stuck in a ditch out of sight or run out of gas because you miscalculated your route. There is an even higher chance of error when you're taking a long road trip in the dead of winter. That's why you have to be as prepared as possible in the event that anything out of the ordinary does happen. 
If you get stuck in your car during a snow or ice storm, you need stuff on hand to keep you alive. There's where a homemade car emergency kit comes in. An emergency car kit carries all the necessities in case anything goes down on the road and every car should have one. 
This kit holds the classic road trip must-haves, like jumper cables, a flashlight, a flat tire repair kit, and first aid supplies. When you're taking a winter road trip, though, you need winter-specific essentials such as extra warm clothes, a compact shovel, an ice scraper, and a bag of kitty litter or sand in case your car slides off the road in the snow. If you think you're packing too much stuff in your emergency car kit, you're wrong. It's just enough to keep you safe in a dangerous situation. 
Plan out your route ahead of time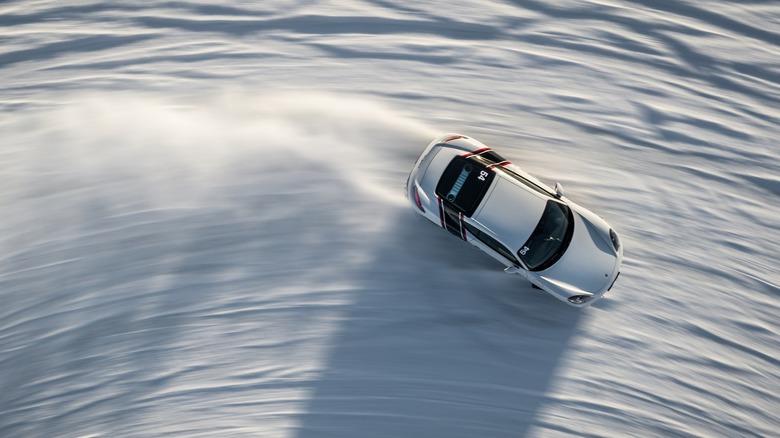 classic topcar/Shutterstock
Travelers have this spark in their spirit that urges them to be spontaneous. They want to see where the wind blows them and figure things out as they come along. There is a time and place for an impulsive road trip, but the winter months aren't it. The winter conditions already add an element of unpredictability to the adventure of a long-haul road trip. Getting lost on top of the weather conditions and freezing temperatures can take things to a very dangerous place. 
Luckily, there are lots of ways to effortlessly plan out your winter road trip route before you get on the road. The first thing you should do is decide on your final destination, then use an app like Google Maps to see all the possible routes available to your chosen location. Once you decide on a path, look along the way to spot cities, things to do, and hotels along the journey. This stuff will be the meat of your trip. You can use this info to break your road trip into manageable driving portions, then mark everything down in the Google Maps route planner so you always know exactly what comes next. Just like that, you have a simple breakdown of your winter road trip plans to refer back to or share with a family member back home. 
Clean the interior and exterior of the car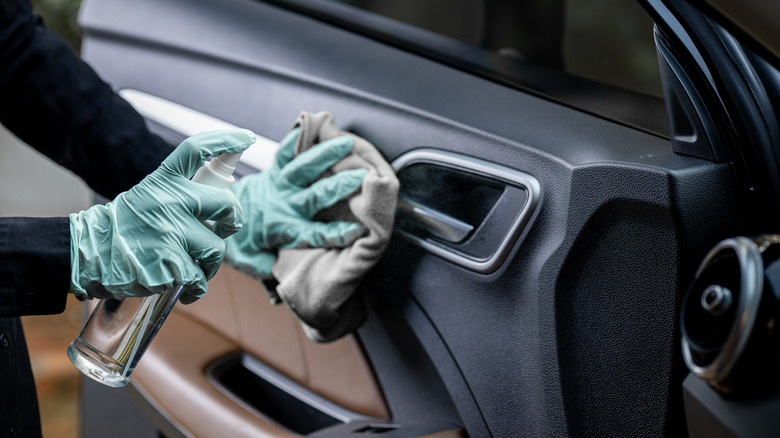 Papzi555/Shutterstock
Everyone knows the icky feeling of having to endure a drive in a gross, messy car. Now, imagine how painful that would be if you have to deal with it over the course of an entire road trip. Slowly sitting in the filth as it gets worse mile by mile. It's a nightmare! If you start your winter road trip with even a slightly messy car, it will look like a tornado hit it by the time you reach your destination. 
Not to mention that a dirty car can be a huge extra distraction when you're driving. You definitely don't need that when you're already juggling icy weather and poor visibility on the roads. The best way to clean a car before a long road trip is to start by clearing out any trash, removing all the mats, vacuuming, wiping everything down, and finishing it off with a pleasantly-scented spray. 
A quick visit to the car wash before you leave also does wonders for making your car look brand new. Don't worry, your car will pick that dirt back up really quickly on a winter road trip. You should also invest in a cute, little car trash can to keep your vehicle clean during the journey. You'll be amazed at how much trash collects on your car's floor during a road trip without a trash can. 
Buy an AAA membership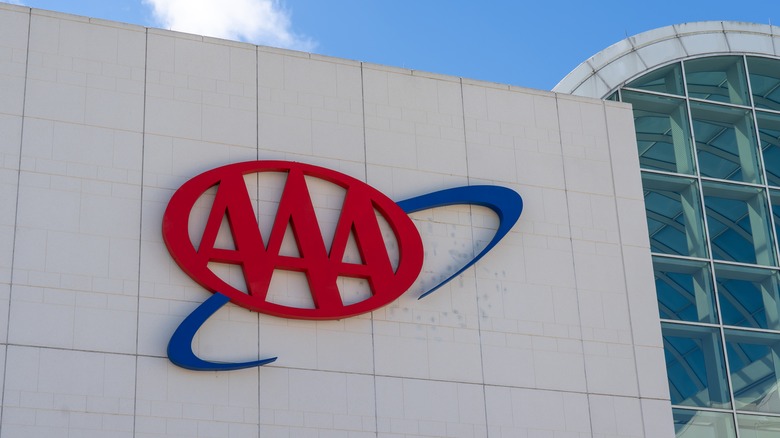 JHVEPhoto/Shutterstock
When you are staring down the barrel of a big trip, you may be trying to avoid any additional fees at all costs. While it's good to save up before traveling, you shouldn't cut corners on things like protecting your trip and car with an AAA subscription. In a moment of need, you won't be thinking about the money you spent on the membership, you'll just be glad you have the option to call for help from professionals. Around 33 million people call AAA for assistance every year while they're traveling by car, so the probability of needing their help on a long trip is pretty high. 
The best part is that an AAA membership isn't even that expensive compared to other road trip costs. For a mere $65 per year (less than $5.50 per month), you can be protected with the AAA classic plan. They also offer the plus plan and the premiere plan if you want to be padded with a bit of extra protection.
With AAA, you'll be eligible to get roadside assistance anywhere in the United States or Canada. They will come to the rescue in a myriad of situations that can happen on a winter road trip, from towing and battery replacement to fuel delivery and assistance if you lock your keys in your car. The small investment pays off big time if you're in trouble during a road trip in the winter.
Utilize helpful winter road trip apps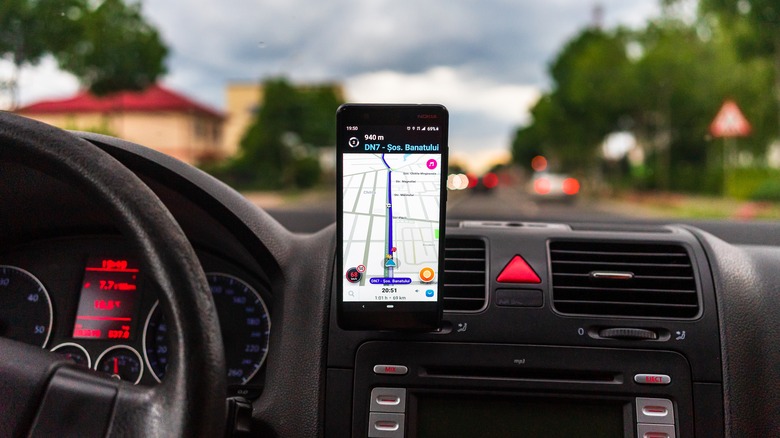 Vlad Ispas/Shutterstock
When you're embarking on an arduous journey, like a road trip during the winter, you want to make use of every tool at your disposal, including phone apps. There is an app for everything these days and they can make taking a long-distance winter road trip a lot easier. Waze is the ultimate navigation app for road trippers in any season because it provides you with live updates on the road from other drivers. The app can let you know if there are accidents, traffic, or even sneaky cops hiding out of sight. For winter road trips, it's a must-have because Waze can also alert you of unplowed streets or unsafe, icy areas. 
Another key app for driving a far distance during unpredictable winter conditions is Weather On The Way. This crazy useful app gives you the weather forecast throughout your driving route at exactly when you're going to be passing through, saving you from hitting or getting delayed by a bad storm. Then, there are the road trip classics like GasBuddy for sniffing out the lowest gas prices near you, Hotel Tonight for discovering heavily discounted unbooked accommodations on the road, and Roadtrippers for pinpointing cool attractions along your road trip route. These apps can make driving for days on a winter road trip way less stressful and cheaper.  
Review your credit card's gas and travel rewards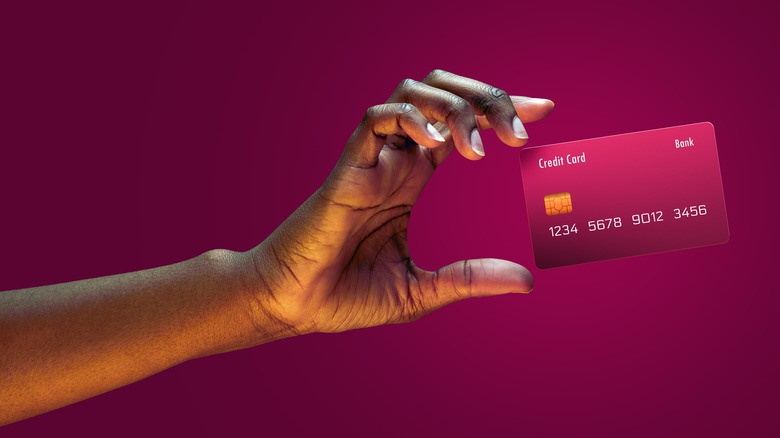 Geobor/Shutterstock
Everyone assumes that a road trip is the a cost-friendly solution for traveling because you don't need to take a flight, but it can actually be surprisingly expensive. Traveling on the open road means paying for a bunch of car maintenance, gas, hotels, food, and much more. It adds up fast. Every penny counts when you're venturing on a trip, especially when you consider the additional costs of adventuring in the dead of winter. 
One smart way to negate some of the high price of a winter road trip is by reviewing your credit card's rewards to see if you have any benefits at your disposal. Credit cards are more than just debt accumulators, they can actually have tons of money-saving benefits. Depending on your bank and specific card, you might be offered a percentage of your money back on common purchases, like gas, food, hotels, and other travel expenses. All things you'll need on a winter road trip! 
If your card doesn't have any cash-back incentives, there are plenty of other ones out there that do. Right now, the best credit card for getting discounts on gas is the Citi Custom Cash Card and the Hilton Honors Aspire Card from American Express is top-of-the-line for major rewards on accommodations. By the end of a road trip, having one of these cards in your back pocket could save you a huge chunk of money.
Figure out how you're going to entertain yourself for hours of driving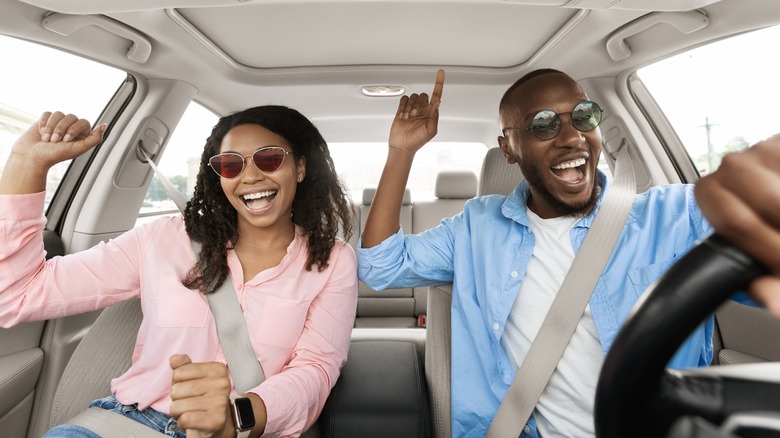 Prostock-studio/Shutterstock
You don't know how long time truly is until you're stuck in a car for hours with nothing but a snow-covered road as far as the eye can see. At that moment, you will be begging for absolutely anything to entertain you. Whether you're traveling solo on your winter road trip or bringing company along, you'll need something to amuse yourself on a long journey. 
The thing is that since you'll be driving in a car the whole time, you need to take careful consideration to find activities that are both entertaining and safe for the roads. It's a problem that drivers and passengers have been rattling around in their heads since the horse and buggy era. Thankfully, after decades of trying to figure it out, there are tons of fun ways to entertain yourself on a long-haul drive safely. 
Some of the most popular methods of entertainment on a drive are turning on a podcast, playing an audiobook, creating a high-energy music playlist, or taking turns at classic road trip games, like 20 questions. If those ole' reliables start to bore you, try more creative alternatives like listening to a stand-up comedy special, recording an audio journal of your driving thoughts, or even just calling up a friend from home and chatting with them through the Bluetooth feature in the car. Just make sure you're still paying attention to the drive despite all the car entertainment!
Brush up on your winter driving skills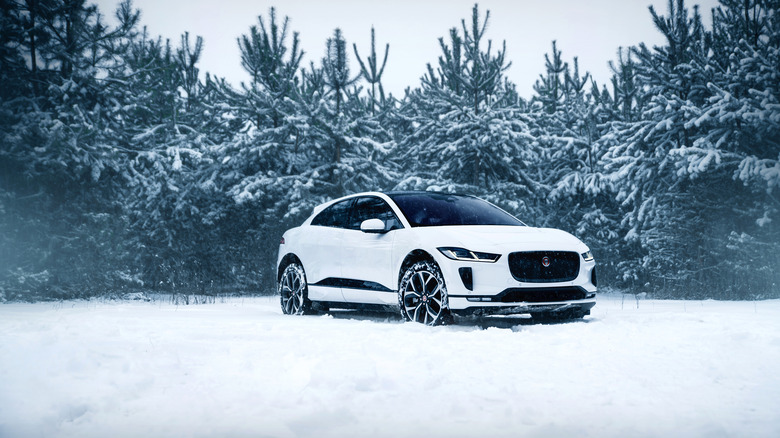 Veyron Photo/Shutterstock
One part of being prepared for a journey during the this abrasive season is practicing some of the best winter driving techniques before you start your excursion. Even if you live in a place with harsh winters or you're used to driving in snow, you can never be too well-prepped for a road trip in these conditions. The more prepared you are before your winter exploration, the higher your chances of staying safe out there on a road trip. 
One of the most fundamental principles of driving during the winter is staying cool and collected without making any sudden spastic movements that could catch a piece of ice wrong and send your car slipping. If your car does start skidding on a drive, don't freak out and start spinning your wheel like a crazy person. Always steer gently into the skid instead of trying to pull away from it and slamming on your brakes. 
When you're driving in the impenetrable white haze of a snowstorm and can't see anything, turn on your headlights, and if it gets really bad, ramp it up to the fog lights. Never forget that driving safely in the snow is a skill you may need to brush up on. Knowing these crucial pieces of driving advice can quite literally save your life on a winter road trip.
Bring a comfortable blanket and pillow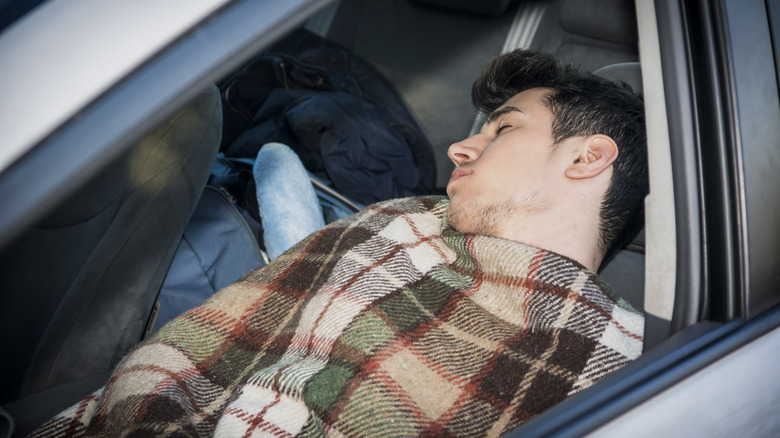 ArtOfPhotos/Shutterstock
Travelers taking on the task of a long-haul winter road trip should definitely map out the hotels they're planning on staying at along their route. Getting stuck outside in your car every night through the freezing cold because all the hotels are sold out will wear down on your patience pretty fast. However, even if you have your entire route mapped out with hotels to stay at along the way, you should still prepare for getting hit with a bout of sleepiness when you're driving. 
If that happens, you always want to pull over to find a comfortable and safe place to sleep. However, these power naps are redundant if you can't catch an ounce of sleep during them. To make sure you're napping comfortably during these car-bound nap stops, bring along a comfortable blanket and travel pillow. 
You would be amazed how much these creature comforts can ease the pain of a long, cold road trip. One of the highest-ranked packable travel blankets for car snoozes in 2023 is the Eddie Bauer Packable Synthetic Throw. For pillows, the name of the game is the NEMO Fillo because it cradles your head comfortably and it's easy to take anywhere. It doesn't hurt to bring along a thick eye mask along, too. 
Keep your phone charged at all times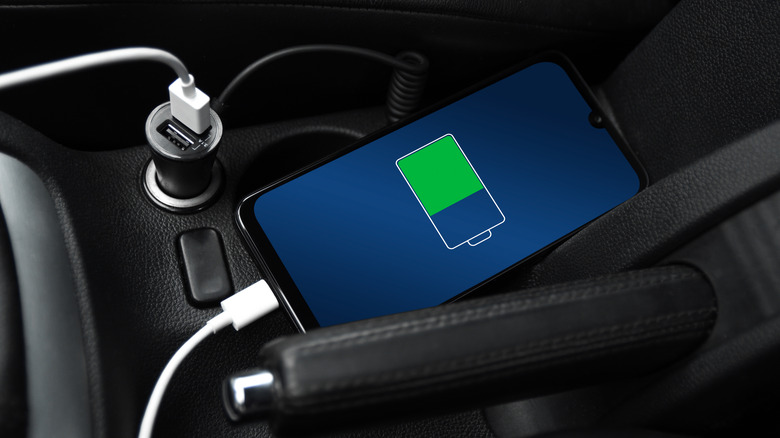 Zoomik/Shutterstock
Your phone is your lifeline during a big winter road trip and you need it for a variety of different things. A dead phone can mean a total disaster when you're on a long-haul drive. Having your phone or other electronics die during a winter road trip can cut off your access to communication, directions, and even your money if you use things like ApplePay. Not to mention that it's your one-way ticket out of an emergency situation if anything goes wrong along the drive. Keeping your phone charged is a key part of staying safe on a road trip.
Without a question, travelers on a winter road trip need to purchase a high-quality, reputable car charger for their vehicle. As long as your car is running, you'll be able to charge your phone and similar electronics with it. The best simple, low-cost car adapter on the market right now is the Neckteck PD 45W. However, if you need to charge up more powerful electronics, like a laptop or tablet, the leading option is the BMK Car Power Inverter, which comes with 4 USB ports and 2 AC outlets. 
If you're feeling extra cautious, keep a fully charged portable charging block in your car, too. These can charge up your gadgets even if your car isn't in working order. Giving you the power to charge up your stuff at any time, no matter what predicament you find yourself in.
Share your travel plans with a loved one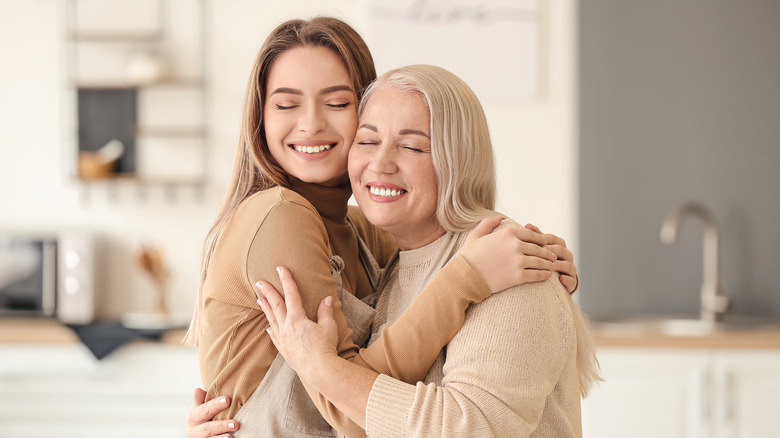 Pixel-Shot/Shutterstock
There are some pieces of travel advice that absolutely every single person going on a big trip should heed. One of those golden travel rules is always telling a friend, family member, or even trusted co-worker back home about your plans and route. This is particularly crucial when you're taking a trip that's a little more on the adventurous side, such as a long winter road trip. 
Heading out on a road trip in the winter is a little riskier than any other time of the year. The season brings frigid temperatures, icy roads, and the occasional snowstorm, all of which can be super dangerous obstacles for drivers. That's why you should be extra cautious and take every safety precaution at your disposal, including telling your reliable loved one about where you're going and when you'll be there. Also, keep them updated along the journey. 
What if your car got stuck in the snow on a back road with no service and nobody knew you were trapped there? Your little guardian angel at home will always be there to check in on you and notify authorities if you're not answering as you should be. When you're taking a dicey journey through the snow, you want someone to keep an eye out for you until you reach your destination.