Best Budget Motels Across The US, Ranked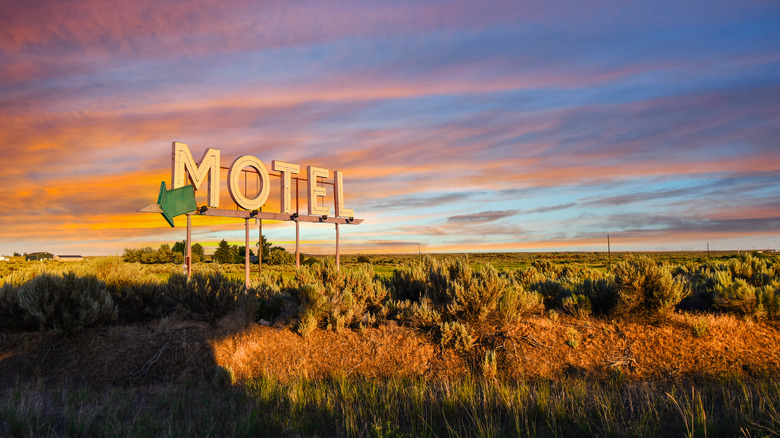 Kirk Fisher/Shutterstock
Traveling can be expensive and the most pricey part of a trip is typically finding a place to rest your head and refresh for another day of adventure. There are plenty of ways to cut costs when it comes to this though, such as staying in hostels, roughing it along the way by utilizing camping sites, or traveling in an RV or sleep-in vehicle. While the latter two are good plans while traveling across the U.S. and can make for a cheap road trip, they also are not for everyone. Hostels, while popular in other countries, are sparse in America and campers can cost a pretty penny even when DIYed and converted.
A great, more affordable option for a cross-country trip is staying in motels along the way. Not only are they popular, but they can be quite easy on the pocket — though maybe not as much as they have been in the past. It's getting harder and harder to find an affordable room, which can be frustrating if you are genuinely only using the room to get some shut-eye on a cross-country trip. Fortunately, these budget motels provide a quick and easy place to recharge before heading back out on the road, though longer stays are always an option as well.
Safety and expectations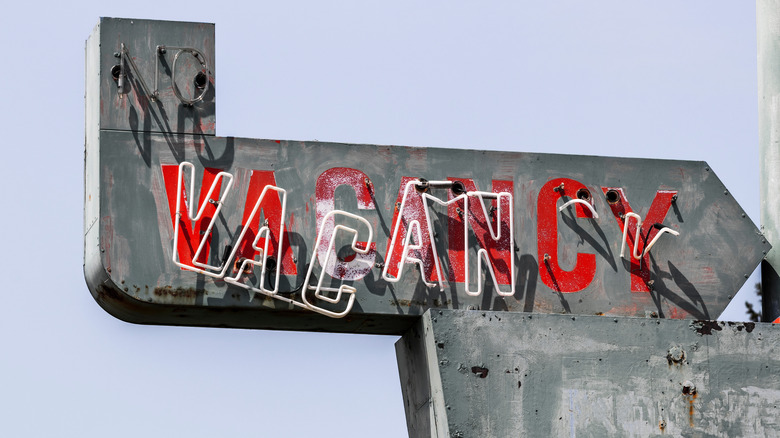 Jonathan Weiss/Shutterstock
When looking for ways to make your travel budget go further, it's easy to cut back when it comes to lodging. There are so many different ranges of accommodations, but it's important to remember that you usually get what you pay for. There's a vast difference between a hotel that costs a couple hundred a night to a budget motel that may run you just a fraction of that. Some of the best motels found in the United States are high in the rankings because they are so affordable — just make sure you're not expecting lavish furnishings with a waterfront view.
It may be tempting to book the cheapest room you can find, but when staying in a budget motel it's wise to do a little research on the area before committing to a reservation. Franchises can vary from location to location, especially when they are super affordable, and when you are traveling into an unfamiliar location, doing your due diligence when it comes to looking at reviews and crime rates in the area may make your stay safer and more comfortable. Reviews can also give you an idea of how clean and sanitary a particular franchise location is, so don't discount the experiences of other guests just to save a few bucks.
12. Days Inn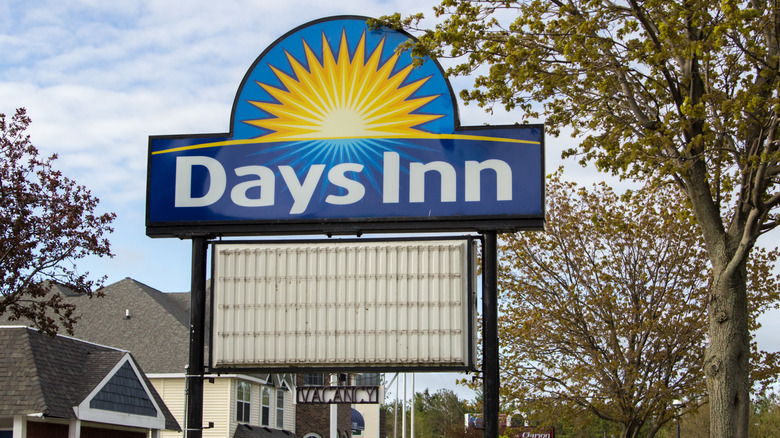 ehrlif/Shutterstock
Days Inn secures the title of the worst best budget motel on our list for a number of reasons. Not only are their rooms drab, but they are also more expensive than a number of better, more trusted options on this list. Where it's relatively common to be able to find a decent motel room for around $50, a stay at a Days Inn will regularly cost you at least $70.
The ambiance in a Days Inn is somewhat depressing and very reminiscent of the '70s — and not the groovy, colorful version of the decade. While a retro room sounds like a cool and niche experience, it's really not when the effect is unwitting. With that being said, though, Days Inn is an old faithful choice for an affordable and expected experience. You can't be disappointed if you already know what's coming, and if it keeps your wallet from getting lighter, some mercy can be shown to an outdated and sad room.
11. Super 8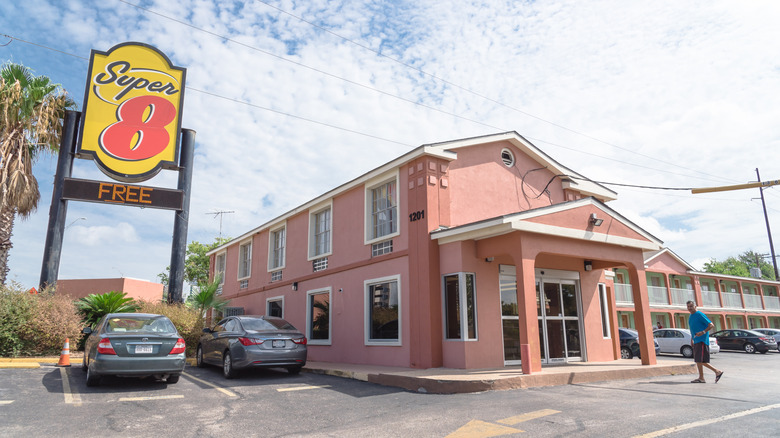 Trong Nguyen/Shutterstock
One of the most well-known budget motel chains that rose to popularity decades ago and is still very much around today, Super 8 is evidently named for its original room rate of $8.88 — a rate that it, of course, could not keep static through inflation over the years. Owned by Wyndham Hotels & Resorts, Super 8 is a part of Wyndham's Rewards program which makes an already relatively affordable stay even more budget-friendly. Regular room prices without any rewards or discounts are on par with Days Inn, if only slightly cheaper.
Super 8 makes the lower part of the list for not being quite as affordable as some of its biggest rivals while also being of overall poorer quality, typically. While there may be some locations that shine much brighter than the majority, the motel franchise as a collective has received a whole lot of one-star reviews and those that patronize the chain seem to be wholly unhappy with their experience.
From dirty rooms and hotels in disrepair to downright rude staff, Super 8 has a lot of shortcomings in the eyes of reviewers. It would seem that while Super 8 has a long history of being an affordable lodging option, you may want to opt for a chain that ranks higher on this list if available.
10. Knights Inn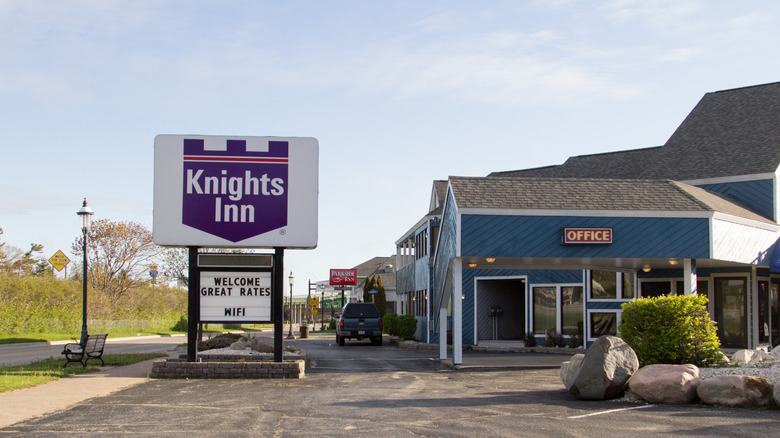 ehrlif/Shutterstock
Knights Inn motels are ideal for travelers looking for a place to stay after a plane trip, as they are typically located very close to airports. An affordable option that a lot of people don't consider right away, Knights Inn is much less of a household name than some of the more popular franchises on this list. While there are fewer locations throughout the country compared to Motel 6 or Super 8, they are worth a try if you come across one and are on a tight budget.
Knights Inn offers one of the most affordable stays on this list, but the lower price, of course, doesn't come with a very good rating or review history. In fact, the appropriately low price is the only reason this motel franchise didn't end up with the lowest ranking because people who have stayed with the chain typically don't leave too happy. They also may not be the safest stay, either, as one Reddit user claims around 60% of the locations seem to be in questionable areas. This is one franchise in particular that could be a great choice for your wallet if you look into the individual location you are hoping to book.
9. Econo Lodge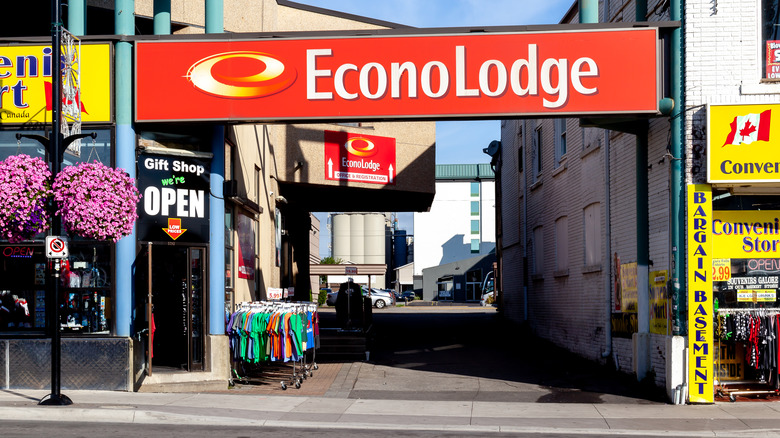 JHVEPhoto/Shutterstock
If you're looking for somewhere to stay that gives you everything you need to recharge and head out again in the morning fully refreshed with little to no fuss, an Econo Lodge is probably pretty right for you. Not only are they affordable, but everything about them is easy — in fact, making things easy is kind of the brand's main goal.
As is with life, though, the easy way is not always the best path to take. When it comes to motels especially, sometimes easy and affordable can be kind of a red flag. In the case of Econo Lodge, the red flags keep stacking up and it seems like a bad experience is more likely than a good one. Former guests have reported some pretty unsanitary rooms at some locations, so catch up on reviews of a location before booking — it may save you from a late-night checkout and scrambling to find another option.
8. Travelodge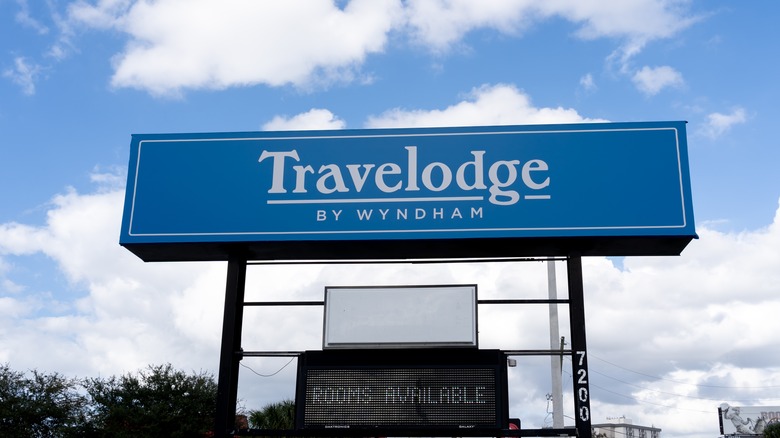 JHVEPhoto/Shutterstock
Travelodge, as the name would suggest, is a great option for long-distance travelers. With over 300 locations in the United States, it's a relatively trusted hospitality brand. A lot of the locations are ideal for stops along major attractions and coastlines. With common customers being travelers and people just passing through rather than those in the city with more long-term plans in mind, Travelodge creates a better environment for guests. Another affordable motel chain owned by Wyndham, Travelodge is part of the hospitality giant's rewards program and free nights are easy to earn.
Typically more affordable than Days Inn and Econo Lodge but not quite at the low rate of Knights Inn, Travelodge is a solid choice for an affordable stay and seems to be much safer than some chains that rank lower here. There are no frills or extras, and if you keep your expectations reasonable, Travelodge will likely meet them with no hiccups.
7. America's Best Value Inn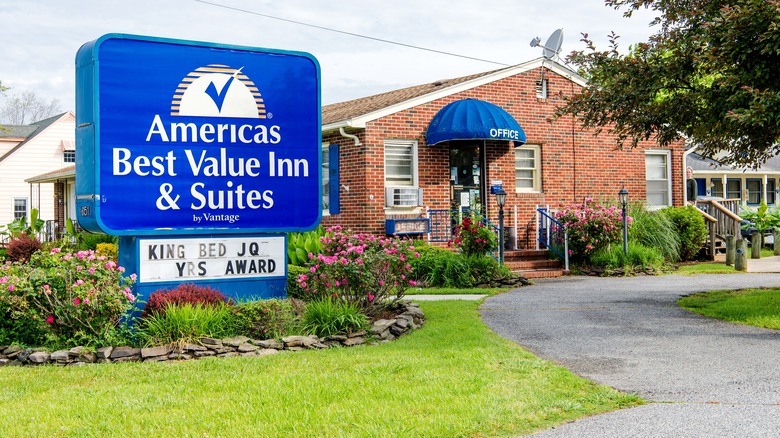 Kosoff/Shutterstock
As its name would suggest, America's Best Value Inn actually does have a good amount of value to it. Just be sure to research the location in which you are staying before booking, as there are some patrons who think a lot of the locations are in seemingly not-so-safe areas.
While this may end up being true, it may not actually be the chain's fault totally. America's Best Value Inn has been around for a while and it has a large number of locations that span pretty much all over America. With that many locations, some are bound to be in not-so-great areas. Even still, the safety concerns bump the chain a little lower on our list and inspire us to plead further with explorers to do a quick Google search about the places where they will be staying on vacation.
6. Rodeway Inn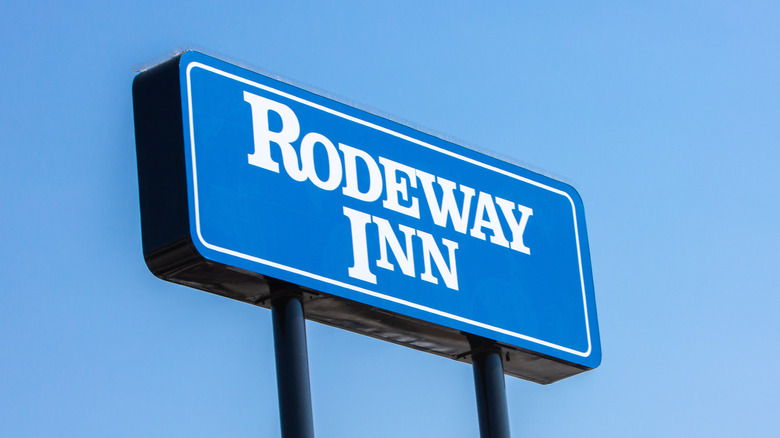 Juan Llauro/Shutterstock
One of the lesser-known motel chains on the list, Rodeway Inn provides a consistently affordable place to stay, even when getting to more popular and largely populated areas. The brand is also consistently reviewed with around a 3-star rating average and above, which can be difficult to achieve with just under 500 locations countrywide and as a budget motel both in reputation and practice. The brand prides itself on providing a simple stay for guests wanting to save a few bucks, so if you are looking for a place to stay and you'll largely be out of the room exploring a new place, Rodeway Inn is a great option for having a place to come back to.
Rodeway Inn can be comparable to Motel 6 in its average quality and reliability, and it is relatively well-received by patrons and reviewers. The franchise gets knocked down a rank due to some of the locations being in a little more dodgy locations. If you do your research on the area and pay attention to the reviews, you should be relatively happy with a stay.
5. Howard Johnson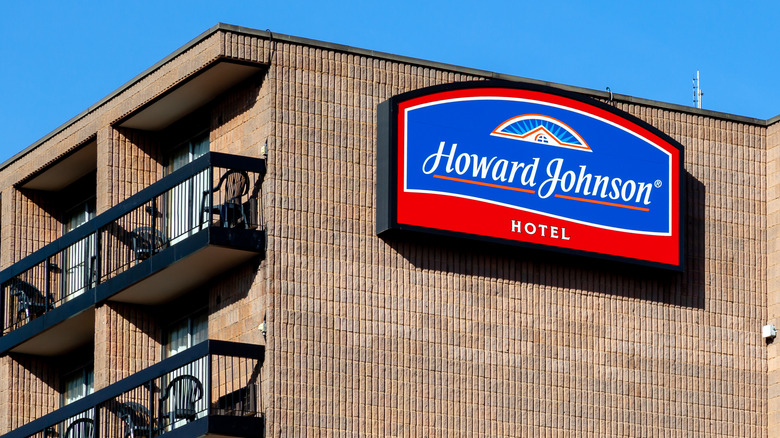 JHVEPhoto/Shutterstock
If you're able to find a Howard Johnson on your travels, you should go ahead and book a room — even if just for nostalgia's sake. The classic hotel chain used to be quite popular and Howard Johnson was pretty much a household name from the chain of restaurants and even more when the company expanded to a motor court franchise. While the brand is nowhere near as big or unique as it once was and all the restaurants have actually closed, there are still a few hundred hotels spread out around the country.
The stays are some of the most affordable you will find and the rooms are actually pretty chic — or at least they are more purposely designed than the majority of budget hotels. There are just a handful in most states, with some states being home to only one Howard Johnson location, and the lack of availability gets the chain knocked down a spot. If you're looking for an affordable motel that's nostalgic and retro without feeling dated, booking here will likely be a solid choice.
4. Candlewood Suites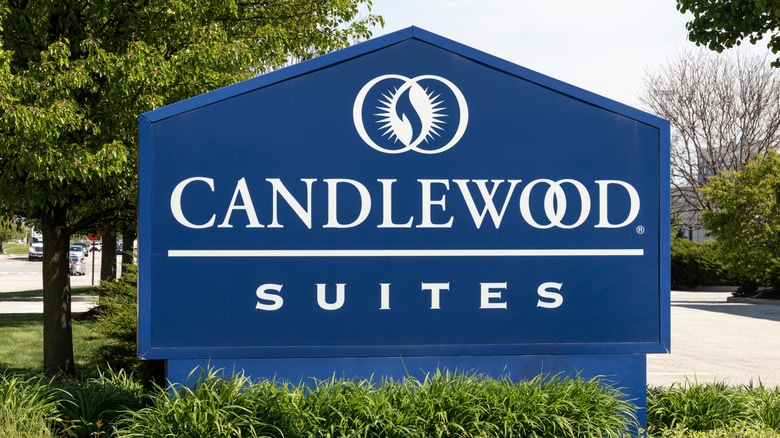 Jonathan Weiss/Shutterstock
If you're only looking for a place to get some shut-eye before heading back out on the road or you are already planning to spend money exploring the food scene at your destination, you can find cheaper accommodations at another motel on this list. However, if you are staying for longer than a night or two and want the opportunity to save money by cooking and having some at-home comforts, Candlewood Suites is regarded as one of the most affordable options for longer stays.
Even if you are only staying for a night and would like a little bit of an elevated room with more space, the increased price may be worth it to you to stay at Candlewood. In fact, the price isn't that much more than some of the most popular brands mentioned here, and you may even be able to find one more affordable.
Candlewood is typically a reliable stay, so the slightly increased price could be worth not having a negative experience somewhere else. Additionally, if you've been on the road a while and need to wash your clothes, the franchise has a free laundry service to guests — a perk not to be discounted.
3. Best Western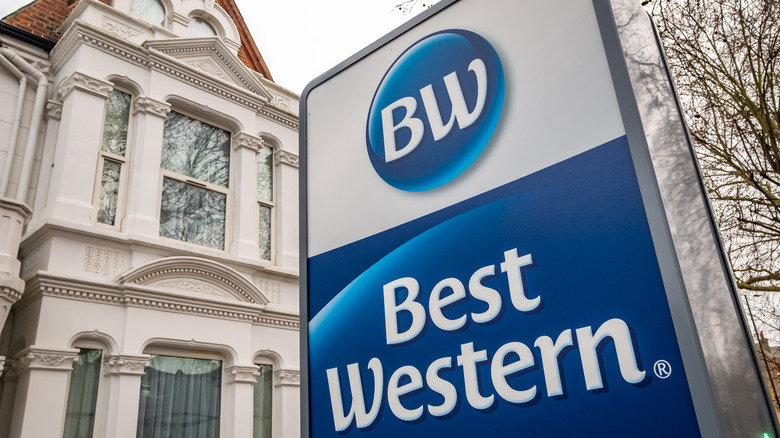 William Barton/Shutterstock
A true American staple for decades, Best Western became the first motel or hotel chain to span the entire United States back in 1962. Today the brand remains a recognizable giant in the industry, is in over 100 countries, and stands as one of the most affordable hospitality options available to travelers.
The popular and classic motel chain is now more than just a budget franchise, as it has expanded to include a number of brands that all have varying personalities and price scales. You can trust the OG Best Western to deliver some of the lowest price points. BW Premier Collection, meanwhile, is a more luxurious option and while the hotels are more pricey, they have some of the most affordable prices for more upscale accommodations. Of course, they are still not comparable to some of the world's very best hotels.
Best Western has its own points system that acts as a rewards program, and if you stick to the brand, your stays can add up to free nights. The different economy levels mean that your rewards can go on to claim nights in a more upscale accommodation as well, so no matter what you're looking for at any given time, you do not need to settle for the cheapest around.
2. Country Inn & Suites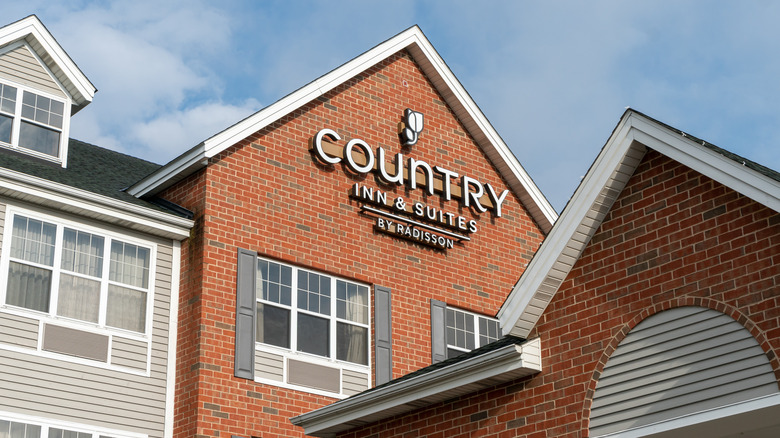 Ken Wolter/Shutterstock
Country Inn & Suites is an option that is both affordable and offers more of a sure thing in terms of comfortability. Compared to most chains on the list, Country Inn delivers more updated, stylish, and well-appointed rooms that don't immediately transport you decades into the past.
The franchise brings to mind Southern charm and hospitality, and it consistently delivers clean rooms and a reasonably reliable, safe stay. The prices are some of the highest on this list, but they are warranted, and Country Inn is still more affordable than most other hotels.
The franchise also has a complimentary hot breakfast that is actually quite good that includes eggs, waffles, French toast, gourmet coffee, and some pretty solid pastries. The chain is continuously growing with more locations being built — but even the newest of the lot can be booked at an affordable price.
1. Motel 6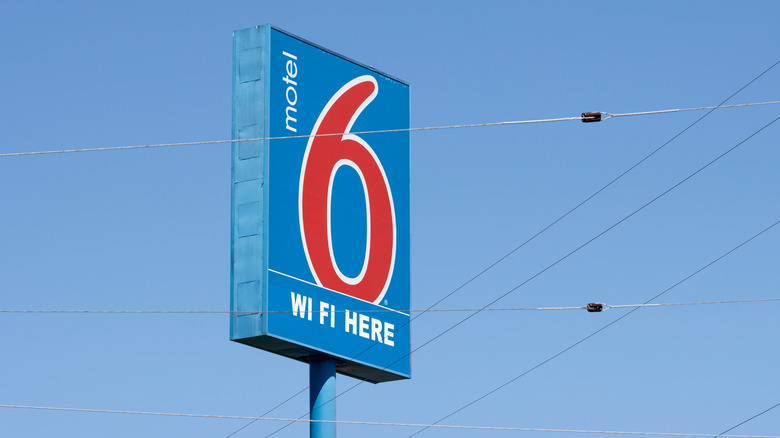 Tada Images/Shutterstock
Motel 6 has established a deep comfort with its iconic and timeless ads that feature author Tom Bodett. Beginning in the '80s the ads promised an experience akin to a family homecoming when Bodett told potential patrons they'd "leave the light on" for them, and they have never stopped. On top of the genius marketing campaign, the motels are both affordable and readily available with well over 1,000 franchises across the U.S.
In fact, the company is named after its affordability, with the 6 representing the original room price of $6. While the motel has certainly raised its prices over the decades, it still remains one of the most affordable options out there in terms of a quick place to rest your head. Motel 6 remains a go-to franchise for travelers and has kept their loyalty intact.
Even though the vast majority of Motel 6 locations remain some of the most affordable options in terms of rooms that you can typically rely on, there are some locations that are a tad more luxurious with slightly elevated prices. Even if you do come across one of the locations that have a doubled or more price, the increased quality is worth a price that is likely still more affordable than comparable local accommodations.