Should You Tip The Hotel Valet (Even When You Paid For Parking)?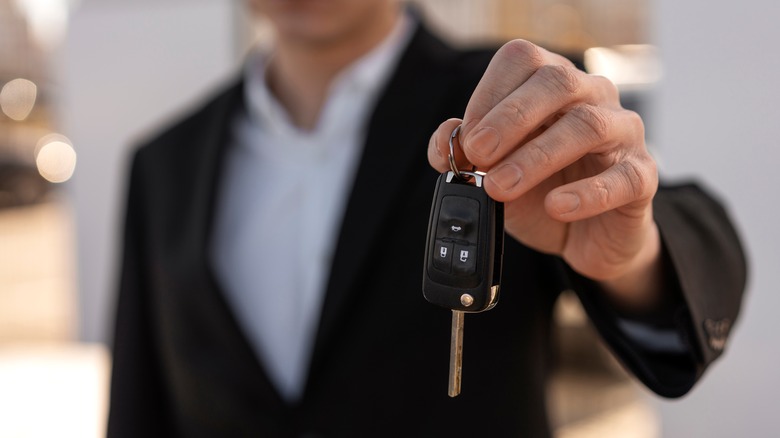 Joseph Steven/Shutterstock
Tipping — knowing when to tip, how much, to whom, and where in the world it's appropriate — can feel uncomfortable at times. In places where it's not the cultural norm or even unacceptable to tip, Americans may feel bad forgoing the gratuity, and those of other nationalities may find the idea of tipping entirely preposterous. After all, shouldn't the employer pay their employees an appropriate wage? In a world that is fair and just, sure. In hospitality, good luck.
Here's a quick rundown of hotel tipping conventions around the world: almost everyone appreciates a tip except for Japan, China, and South Korea, where it might be considered rude. There are some exceptions in more Westernized regions, but if in doubt, don't tip. Staff in Malaysia, Vietnam, Thailand, Australia, and New Zealand don't expect a tip but won't consider it a slight if you do. Pretty much everywhere else in the world, tips are very much accepted and even expected in some places.
For hotels large and small, guests often know they should tip the porter and housekeeping at the beginning or end of their stay. But then there's the hotel valet — to tip or not to tip (even when paying nightly for parking)? Regardless of your destination, we say yes. Here's why.
What to expect (and tip) when you valet your car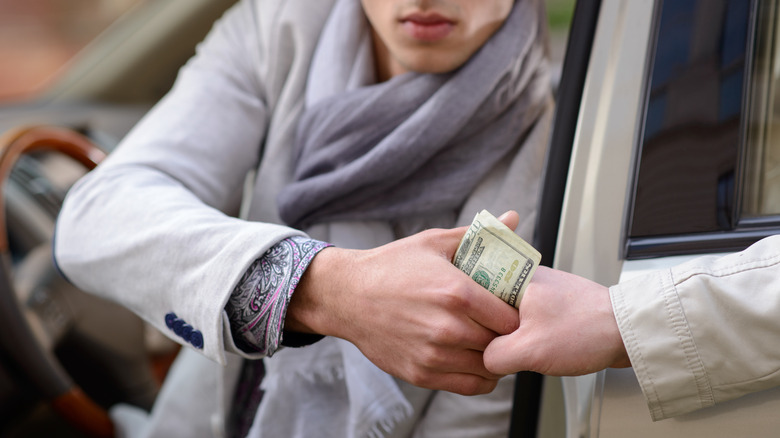 Dmytro Lobodenko/Shutterstock
Tipping your valet is a lot like tipping at a restaurant. You pay for your food and tip your waiter for their stellar service. Similarly, valets provide an additional service that is not covered by the nightly cost of parking your car. Your tip is a nice addition on top of their base pay, but in some cases, they depend on gratuities.
It's obviously not appropriate to ask if they're paid well to decide whether or not (or how much) to tip them. So, we recommend around $2 to $5 dollars for each time you have them bring around your vehicle. In general, valets treat every car with care, but it doesn't hurt to tip them a bit more (and be extra polite) if you have a particularly nice car.
As for what else to expect when you valet your car, don't be surprised if you find your car seat and mirrors have shifted. While this can be annoying, it's actually far safer (for your car and the valet) if the peddles are at an appropriate distance from their feet and they can see out the back of the car. Also, if you'll be needing your car back soon, let the valet know so they don't park it too far away. Lastly, if your car has any weird quirks or has a tricky manual transmission, let them know before they take your keys.
Other people you should remember to tip at your hotel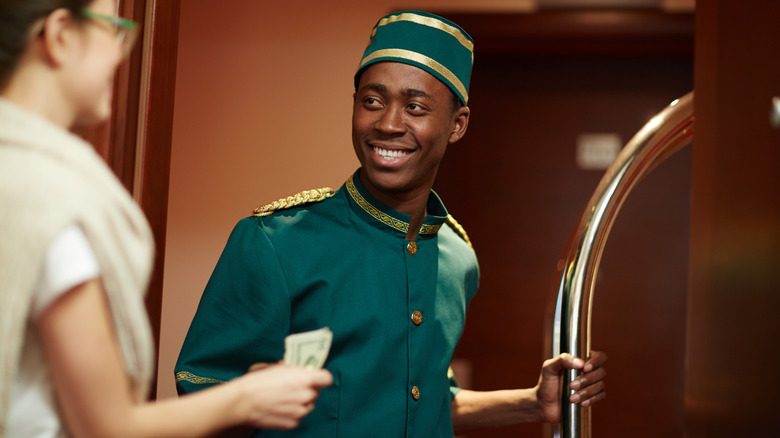 Pressmaster/Shutterstock
Not every hotel will have a valet, but almost all of them have bartenders and servers if there's a restaurant on the property, concierge, porters, and housekeeping. Typically, you don't tip the front desk staff, but if they've been particularly helpful such as booking excursions or giving you a free upgrade at check-in, it doesn't hurt to slip them an extra $5 as a token of thanks. For porters, bellboys, bellhops, etc., expect to tip around $1-2 per bag or more if your bags are particularly cumbersome or heavy.
And don't forget to tip the housekeeping! Budget accordingly so you have enough to tip between $2-5 dollars per day of your stay or more if they've gone the extra mile with turn-down service or shown special attention to detail in some other way.
Finally, you should still tip if you're at an all-inclusive resort because all-inclusive doesn't always include gratuities. Make sure you've got plenty of singles (or whatever the equivalent is in the local currency) on hand and tip well throughout your stay to the many people who make your stress-free vacation possible. This includes bellhops, housekeeping, waiters, bartenders, pool staff, and the staff who run resort activities.
Wherever you go, always research the tipping culture. Even countries as geographically close as Germany and Italy have quite different expectations. You may be surprised to find how diverse some countries can be when it comes to tipping.