Your Guide To Disney World's Annual Pass
After almost a two-year hiatus, Walt Disney World resumed its Annual Passholder (AP) sales in April. Disney Vacation Club (DVC) members were able to buy them before the general public, but a lot of folks are now wondering what the purpose is of shelling over potentially thousands of dollars to WDW. Annual Passes can be expensive at the jump, though there are a lot of considerations to make before getting one or not.
Saving on merchandise, hotel stays, and food is one of the main reasons that guests choose to get an annual pass. It also means your tickets are covered for the year, so you don't have to buy individual or multi-sets of tickets for the year. So it's a bit like paying for part of your vacation ahead of time, like a timeshare, but without several years of commitment.
Especially for out-of-town Annual Passholders, a big reason for getting an AP is to pay for Disney World tickets upfront. If you think of it that way, you're paying for the times you'll be visiting anyway at a discount depending on how many days each year you visit. All that said, here is everything you need to know about Walt Disney World Annual Passes before buying one.
Disney Pixie Dust Pass
The Disney Pixie Dust Pass is the cheapest of the Disney World Annual Passes. This pass can only be purchased by Florida residents and can be paid off upfront or paid monthly through Disney's payment program. These passes have the most blackout dates and can only be used on weekdays, but passholders get the same discounts as the rest of the passes. You can also use the pass as a park hopper or park entry ticket to any of the four theme parks.
With Walt Disney World tickets ranging from $108-$189, the Pixie Dust Pass at $399 would equal two to three and a half single-day tickets, not including park hoppers, which are included for Annual Passholders. The significant downside for these tickets though is the numerous blackout days during peak tourist periods and holidays. Not being able to use the passes on weekends may not be worth it for some looking to take full advantage of their Annual Pass.
Disney Pirate Pass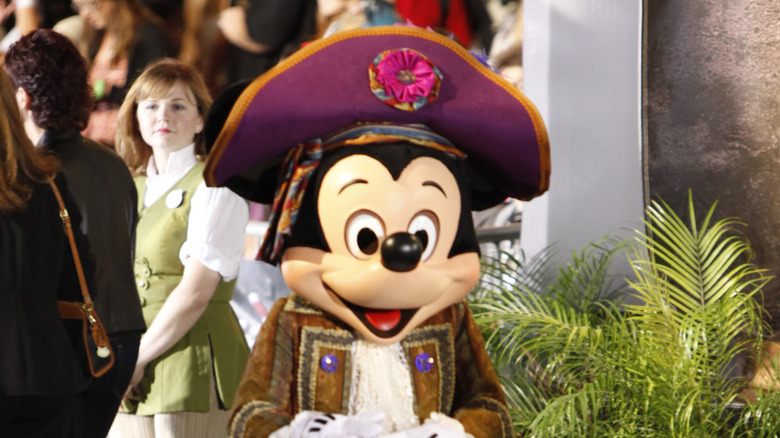 Joe Seer/Shutterstock
Another one of the cheaper pass options is also available for Florida residents only using the payment plan or paid upfront. While these passes also have blackout dates, they're able to be used on weekdays or weekends, unlike the Pixie Dust Pass. You also are eligible for the same AP discounts as the other pass types. And, like the other Annual Pass options, the Pirate Pass also acts as a park hopper, so you don't have to worry about adding that.
When compared to the same single ticket price point as above, the Pirate Pass at $749 would equate to nearly four to seven individual tickets, not including park hopper options, which cost extra with ticket purchases. Also unlike the Pixie Pass, the Pirate Pass has fewer blackout dates. There are still peak periods and holiday-based blackout days, but there is a lot more availability to enter the parks with this more expensive pass option for Floridians.
Disney Sorcerer Pass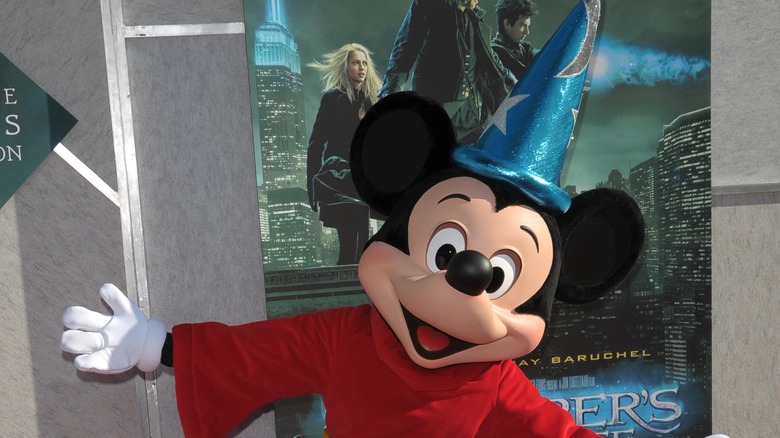 s_bukley/Shutterstock
Still less expensive than the Incredi-Pass, the Sorcerer Pass is available for Florida Residents or eligible Disney Vacation Club owners. Florida residents are still able to pay for this pass upfront or through the monthly payment plan. Unlike the other Florida resident passes, these only have blackout days on select days during the holiday periods but still qualify for the various discounts available to Annual Passholders.
At current Disney World ticket prices, the $969 Sorcerer Pass is equal to approximately five to nine single-day tickets, without park hoppers. This is the first pass type that's an option for out-of-state guests, so long as they are eligible DVC members. Though it could be considered a discount for DVC owners, the blackout days during some of the most popular days at the parks are still a downside even at nearly $1000 for the pass. This pass is also where guests have to start seriously considering how often they'll visit the parks to make the pass worthwhile in comparison to purchasing individual tickets.
Disney Incredi-Pass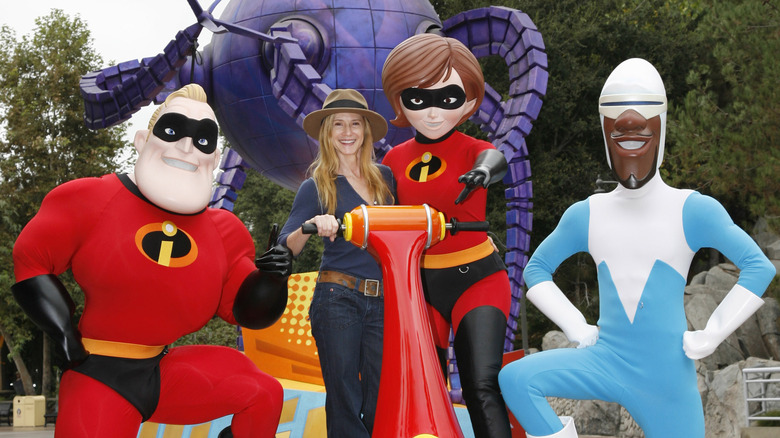 Handout/Getty Images
Definitely the most expensive of the four Annual Pass types, the Disney Incredi-Pass is the only option available for all guests, which includes out-of-state guests who aren't Disney Vacation Club members. While they're the most expensive, these passes have no blackout dates, even during peak or holiday seasons. They're eligible for all the same discounts, free parking, park hopping, special events, and all the rest of the stuff other Annual Pass types have but at the highest pricepoint of the four.
At the steep price of $1399, you'll have to go to the parks several times to make the pass comparable to buying tickets as you need them. Seven to twelve park days, depending on the individual ticket prices, will equate to the Incredi-Pass cost. For casual parkgoers, these passes would be difficult to justify. However, for folks who go to the parks several times a year, it makes sense to invest in this Annual Pass.
Perks that no longer apply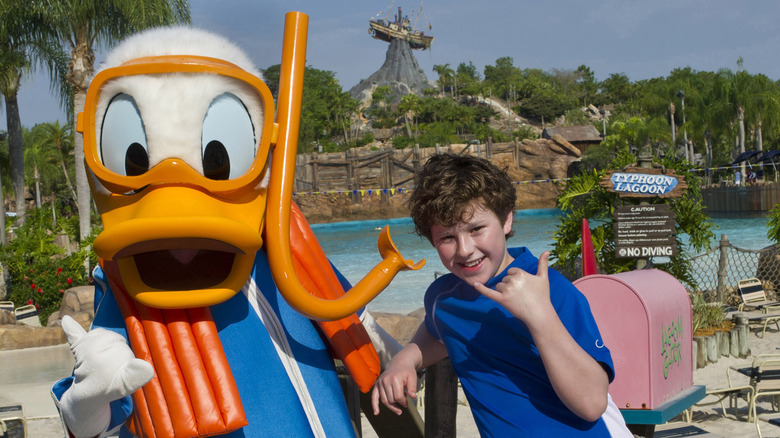 Handout/Getty Images
While Disney World Annual Passes are still a great option for frequent parkgoers, there are several perks that have been discontinued through the years. A big change that made a lot of APs upset was when Disney made Photo Pass downloads and water parks an add-on instead of just including them with the cost of the Annual Pass.
Discounts have also flattened out in the last several years, especially in dining, which used to have a higher percentage saved. Now Annual Passholders only save 10% at certain table service restaurants.
Especially since parks still require reservations, just having an Annual Pass doesn't mean you'll be able to just pop into the parks at will. While reservations are still required, even APs can find themselves out of luck if the park reservations are full. Flexibility used to be a huge perk, but those days still haven't fully returned yet.
Eliminating the full-day park pressure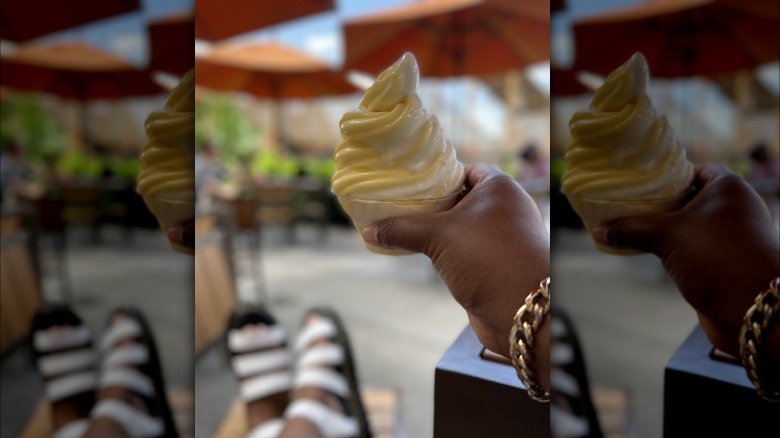 Taquanna Barnes/Getty Images
When you're buying individual park tickets, especially if you pay extra for the park-hopper option, you inevitably feel pressured to spend as much time as possible in the parks. When you are an Annual Passholder, those pressures are gone.
You don't have to push yourself to endure a 12+ hour park day, hop to other parks, and totally exhaust the family. Instead, you can enjoy the parks as long as you want before heading back to the resort or Disney Springs or elsewhere on the property to enjoy Disney magic on your level.
There is no better Disney magic than that experienced without the burden of overbooking a Disney World vacation. Sure, people with APs might still do rope drop days, but they don't have to stay until park close to get full use of their tickets. How about breakfast at Magic Kingdom, heading back to the resort for a nap, spending the day at the pool, and then riding the Skyliner over to EPCOT for a drink followed by nighttime fireworks? Chill Disney days are the best Disney days.
AP-exclusive merchandise and treats
Throughout the year, especially for EPCOT-based festivals, Disney World releases merchandise and food or beverage products exclusively sold to Annual Passholders. From Mickey ears to cups, home decor, and clothes, there are all kinds of things APs can sport. It can be a great way for APs to make friends with other APs in the parks or just feel a little extra special with their Annual Passholder popcorn buckets in hand.
Plus, festivals at EPCOT bring special treats you can only get as an AP. Special cocktails, cakes, or different foods are on offer for those with a pass. That might not appeal to everyone, however, if you're a frequent parkgoer it's a lot of fun to try these different kinds of treats. These snacks are also limited time only, giving passholders another excuse to head back to the parks to try them before they're gone. Sometimes the drinks even come with their own souvenir AP cups.
Passholder preview events
Probably the most special of the Annual Passholder perks, APs can attend special events or experience things at Disney World before other guests. For example, before the TRON coaster opened, APs had the chance to sign up for a few preview dates to be among the first to ride it. Sure, the site was laggy and a lot of people had a hard time securing those preview spots, but the opportunity was still there, imperfect or not.
APs also got the chance to be among the first riders when Guardians of the Galaxy: Cosmic Rewind opened in EPCOT. Other than passholders, the folks who get to experience the new rides first are cast members (as it should be). But unless you plan on getting a job at Disney World, this AP perk will be the closest you'll get to that ride preview experience. It's a lot of fun to be part of these events, and sometimes you even get exclusive swag or other merch to commemorate the event.
Hotel discounts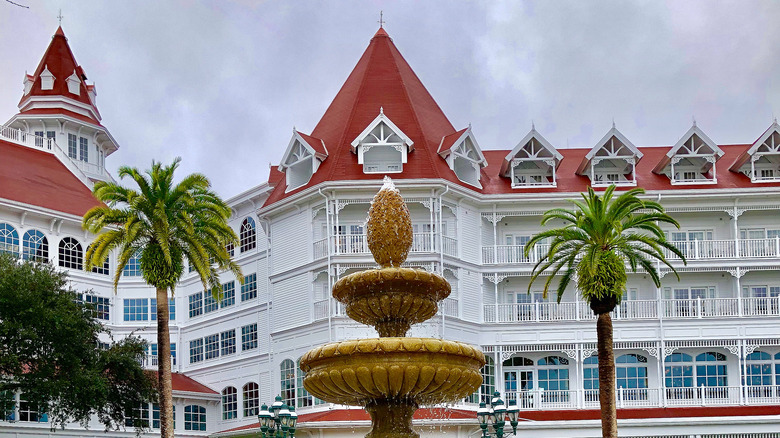 Brett Moody/Shutterstock
Unlike other discounts, these aren't always available. But when they are, Annual Passholders can save some serious cash on their hotel reservations. Throughout the year, Disney releases hotel discounts for APs that can save them hundreds, if not thousands, of dollars on hotel stays depending on how many nights they spend on the property. It's not uncommon to see discounts range from 15% to 35% when these hotel specials crop up.
Don't think these hotel discounts are only offered at unpopular times of the year either. Often, these hotel discounts will show up several times a year, at least once per season. Even summertime, one of the most popular times for tourists to go to Disney World, frequently has at least one set of AP discount dates if not several. Keep in mind you cannot combine these deals with others offered by Disney like free dining cards or other discount perks.
Merchandise discounts
Gerardo Mora/Getty Images
Merchandise discounts are the most consistent of the Annual Passholder discounts. The 20% discount applies across Disney World property, even some shops in Disney Springs, and are a huge perk for folks who would be buying merchandise anyway. Sometimes, Disney throws extra discounts out too, like around the winter holidays when sometimes those discounts rise to 30% or more online or in person.
As Disney merch continues to skyrocket in price, these discounts are nothing to overlook. When you can get an $80 spirit jersey for just $64 plus tax, that's more money for Mickey pretzels! For designer lovers, rejoice! The discount even applies to the park-exclusive Dooney & Bourke products and the brand also has AP-specific merchandise you can pick up while you're at it. The higher the price of the merch you want to buy, the better that discount becomes. If you're a big merchandise buyer anyway, the Annual Pass is a no-brainer.
Restaurant and miscellaneous discounts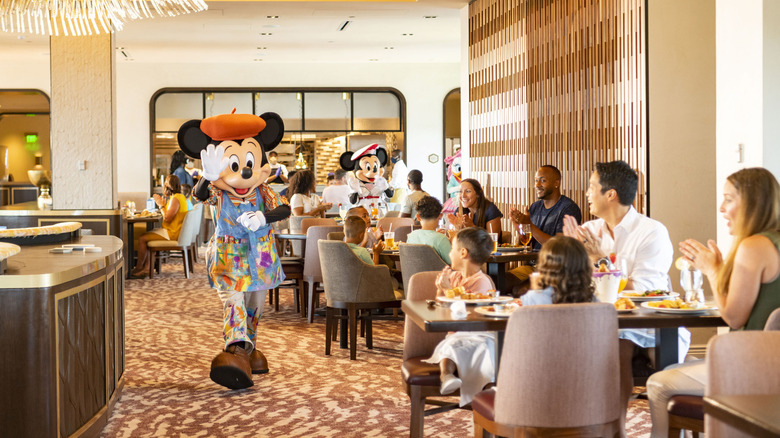 Handout/Getty Images
This is the trickier discount for Annual Passholders to keep track of. Generally, the discount, which used to be higher, applies only to table-service restaurants. But it never hurts to ask, especially if you're new to AP or don't feel like trying to memorize the list of applicable locations. There are some table service locations, like Oga's Cantina for example, that don't accept the AP discount. And coffee fans will be happy to know that Joffrey's gives APs a 20% discount on all their non-alcoholic drinks and food.
Although Annual Passholders don't get discounts everywhere on Disney World property, they do sometimes get special random discounts. For example, After Hours events, holiday parties, and specialty tours often come with Annual Passholder discounts. But things like fireworks dessert parties, for whatever reason, do not. You can get a discount for VIP tours and other extra activities around the parks and resorts though, so it never hurts to ask.
Separate entrance at the gate and free standard parking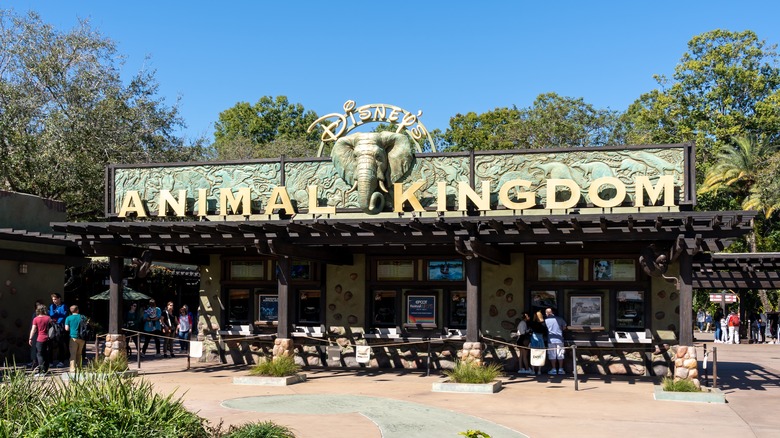 JHVEPhoto/Shutterstock
This isn't always super helpful, especially since they can change the Annual Passholder entrance during off-peak entrance hours, but sometimes the separate AP entry gate is a timesaver. Especially for morning rope droppers (people who head to the park to get in right at the opening), you can sometimes effectively skip most of the line by utilizing the separate AP entrance. Be sure your whole party is AP though before trying to use this entry area because you may or may not all be able to get through when the line is for pass-holders only. It really depends on who is working that day.
When standard parking at Disney World parks starts at $25 a day, the free parking perk to Annual Passes isn't anything to sneeze at. It'll save you at least $100 over the course of just a few days at the parks. This is great, especially now that Disney World resorts are offering free guest parking again, making the road trip option to Disney more affordable.
How Annual Pass discounts can be applied to a whole party
If your entire party is eating at a restaurant or loading up on merch, so long as you (the passholder) are paying the bill, you'll most likely get a discount applied to the whole thing. But that's not always the case. For example, at the Be Our Guest restaurant, the discount only applies to the passholders themselves, rather than everyone at the table, but sometimes it works out.
This is also the case if you're buying multiple tickets to an After Hours or holiday party event. The passholder can most likely purchase enough tickets for their whole party with their discount. This also works when buying tours or VIP offerings through the resort. Discounts for these events aren't huge, but every little bit helps when you are trying to live your best Disney life. After all, those extra few dollars here and there add up to more souvenirs or tasty treats to fill your days with.
Renewal discounts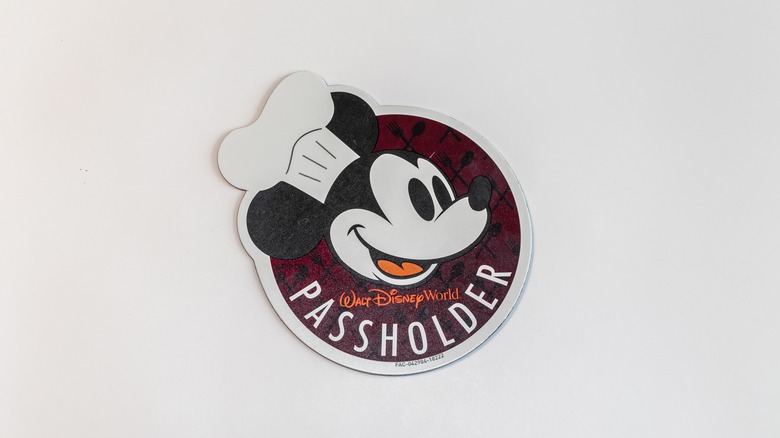 Red Lemon/Shutterstock
Like most things, Disney Annual Passes tend to get more expensive as time goes on. One way Disney rewards current APs is by offering a renewal discount which can help ease the burden of that increase. While it's only 10%, it makes a difference – especially at that highest cost level. For example, the $1399 Incredi-Pass with a 10% discount reduces the cost by nearly $140, which is the equivalent of about one and a half single Disney World tickets.
Obviously, the renewal discount doesn't help when you're first purchasing an Annual Pass. This is the kind of perk that only pays off over time. Passes aren't going to somehow get a lot cheaper, so this is one way to keep APs in the pass program for years to come. If you think about it as a vacation investment, however, the discount helps make being an AP worthwhile year after year.