What We Know About The TRON: Legacy Ride At Disney World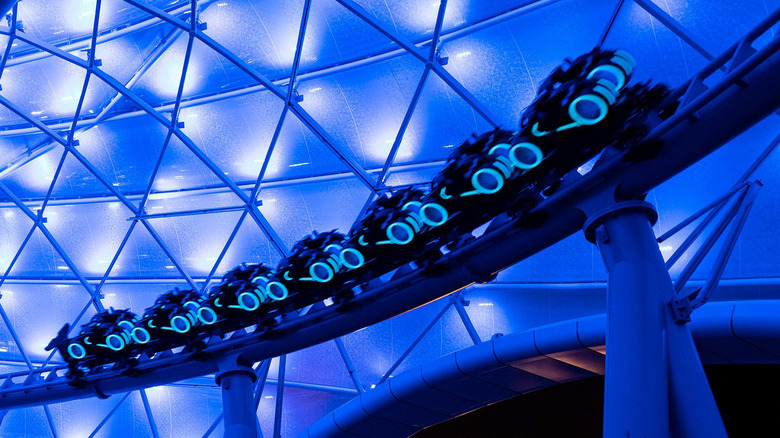 Magic Kingdom Park
There's a new ride at Disney World. The theme park has announced the opening of a "Tron: Legacy" roller coaster this spring. With construction now in the final stages, Disney park and "Tron" fans are all abuzz with excitement over the new Tron Lightcycle / Run.
"Tron" is the story of computer programmer Kevin Flynn who gets transported to the Grid, a digital dimension inside a mainframe computer, where he interacts with software in his attempt to escape. The original film of the franchise was released in 1982 and a sequel hit theaters nearly 30 years later. The ride follows the events of the 2010 sequel, "Tron: Legacy," where Kevin's son, Sam, has opened another gateway to the Grid.
Disneyland Shanghai's Tron: Lightcycle Power Run opened to park-goers in 2016. The Florida park's "Tron" ride was announced back in 2017 and, after five years, will finally be open for the public to enjoy.
A visually exhilarating ride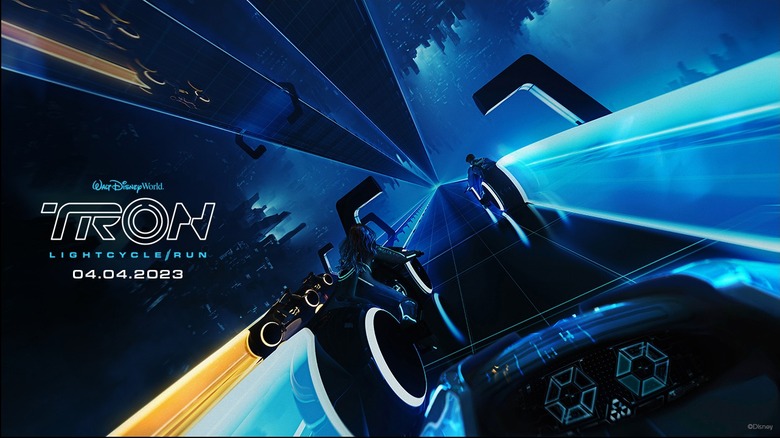 Magic Kingdom Park
The Tron Lightcycle / Run ride takes inspiration from the Lightcycle battle scene between Sam and the software — only this time you'll be the one behind the wheel. You'll be part of Team Blue and your goal is to win the race against Team Orange by crossing through eight Energy Gates. Stunning blue and orange neon lights reminiscent of the visual effects in the film and electronic music complement portions of the speedy runs. At night, the attraction's wave-like canopy lights up looking like glowing hexagons. The light show is eye-catching and you can get caught up with the ride's visuals, as Disney Tourist Blog experienced at the "Tron" ride in Shanghai Disneyland.
Park Savers describes the ride as having similar feels to the Avatar Flight of Passage attraction at Animal Kingdom, except it won't be stationary. In fact, you won't be staring at a big screen: You'll be going at what Disney experts expect to be 60 miles per hour. At this rate, you're going as fast as the Guardians of the Galaxy: Cosmic Rewind ride at Epcot, making the Tron Lightcycle / Run one of the fastest roller coasters in Disney parks worldwide. The Tron Lightcycle / Run doesn't go upside down, according to Park Savers. But it's still an intense ride, so you'll need to store your valuables or any loose items in a locker, according to USA Today.
Location, entry, and release date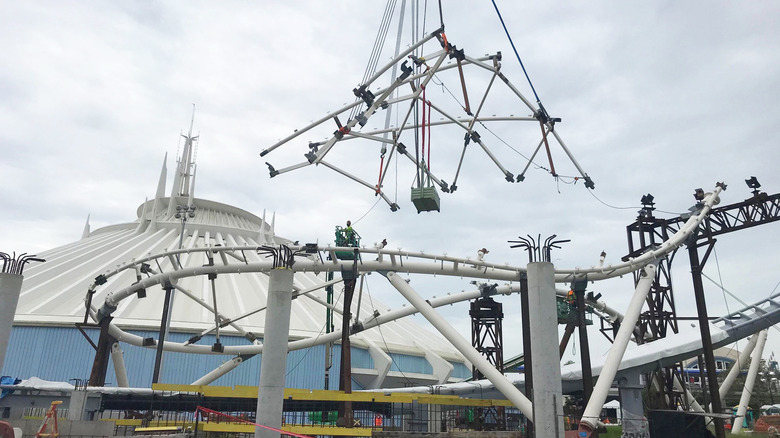 Magic Kingdom Park, Walt Disney Imagineering
The "Tron" ride will be located in Tomorrowland at Magic Kingdom, in the area behind Space Mountain's exit and Tomorrowland Speedway, reports Disney Tourist Blog. This location used to connect Tomorrowland to Fantasyland's Storybook Circus, according to Mouse Hacking. As the attraction's opening date approaches, all park-goers will see as of this writing is an almost-finished ride as construction is still ongoing. Speaking of the opening date, the much-anticipated new ride is scheduled to open on April 4.
On opening day, you'll need valid theme park tickets, park reservations, and a spot in Tron Lightcycle / Run's virtual queue because there's no standby line available. To join a virtual queue boarding group, access the My Disney Experience app and enter the attraction. You can only request to join the virtual queue once per day, and spots are limited and subject to availability. The futuristic ride has a height requirement of 48 inches. This is more than Space Mountain's 44 inches, making Tron Lightcycle / Run's height requirement the tallest in Magic Kingdom, notes Mouse Hacking.