The Best Way To Get Around Disney World In Order To Make The Most Of Your Trip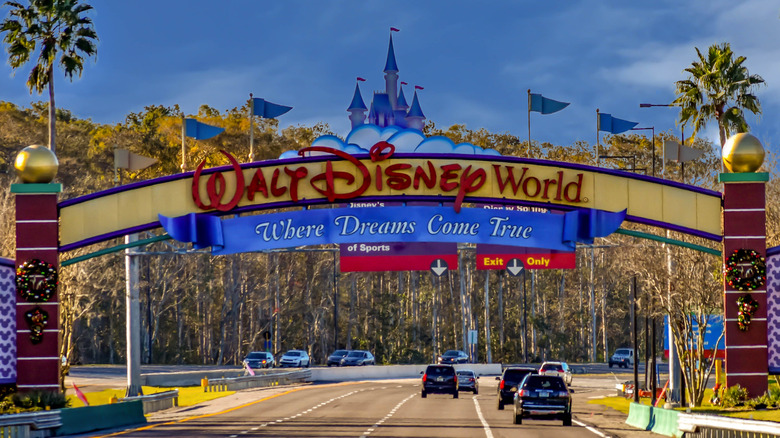 VIAVAL TOURS/Shutterstock
At 43 square miles, Walt Disney World is a huge property, and depending on where you're staying and which park you want to go, walking might not be practical nor efficient. For instance, the closest parks are Hollywood Studios and Epcot at 1.1 miles from each other, which is about a 15- to 20-minute walk.
Fortunately, the theme park offers many transportation options, most of which are free, not only for Disney's resort hotel guests but also for those not staying on-site. This network of buses, monorails, and boats take visitors from resort hotels to the theme parks, water parks, shopping venues, and vice versa. There are also third-party transport providers, such as car rentals and rideshares, which can transfer you from park to park, hotels, and attractions outside Disney World.
With so many choices, which of these transportation options is the best way to move about Disney World in terms of comfort, speed, and efficiency?
The best way to get around Disney World for free
When it comes to accessibility, Walt Disney World's network of buses has all the other modes of transport beat. These air-conditioned buses can take you almost anywhere throughout the Florida theme park.
From Disney resort hotels and the theme parks, buses are available 45 minutes before opening until an hour after closing. They can also take you from Disney's resort hotels to Blizzard Beach Water Park, via Animal Kingdom, and Disney Springs one hour before opening and an hour after closing. Disney says buses generally run until 2 a.m. between Disney resort hotels and Disney Springs. Check the My Disney Experience app and then "Get Directions" or ask a cast member to learn the most direct route from your hotel to the parks. Or, call (407) 939-7433 for help.
According to Disney Tourist Blog, buses run regularly and waiting time is shorter compared to other transport options. Of course, expect more people to ride the bus during opening and closing times, while fewer people will be riding the bus during midday, the blog adds. If you have an active Disney resort hotel reservation, you can check bus wait times by accessing "See Bus Times" from the My Disney Experience app, according to Disney.
The best paid options to get around Disney World
If you have money to burn and love the convenience of having a vehicle on call, then booking a rideshare would be your best option. You have three choices: Uber, Lyft, and Disney World's very own Minnie Van.
Those wanting to experience Disney magic in everything they do at the park, riding on a Minnie Van should be a must-do. The ride is all decked out in Minnie's signature polka dots and driven by a cast member to provide that Disney brand of service. It comes with two car seats, can drive you to anywhere within Disney World, and has an accessible option. To book your ride, open the Lyft app from anywhere within the park and enter your destination, confirm your pickup location, and tap "Select Minnie Van" or "Select Access. Minnie Van" (for an accessible Minnie Van). WDW Travels says wait times are typically under 10 minutes, but Mouse Hacking says it's sometimes much longer due to fewer drivers. Also, the Minnie Van only operates from 6:30 a.m. to 12:30 a.m. and the cost is significantly higher than Uber or Lyft by around $10 or more, per Mouse Hacking.
If you prefer the cheaper option and don't mind missing out on the magic, get a Lyft or Uber instead. They can typically get you where you need to go in Disney World, with a few exceptions, such as Magic Kingdom, and they have a short wait time of about five minutes.