Fun Family-Friendly Things To Do On Your Next Trip To Amsterdam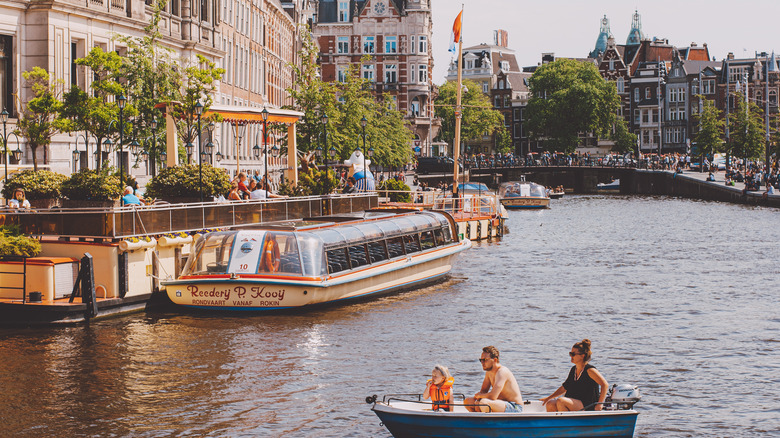 Eva Carre/Shutterstock
Amsterdam doesn't necessarily have a reputation as the best destination to travel with children, but there are actually a bunch of activities for kids across the area. It's a surprisingly family-friendly destination. Whether you're traveling with babies, toddlers, or teens, everyone will get a kick out of this Amsterdam and have plenty of fun stuff to do. Not to mention parents accompanying minors will be fully entertained along the way. 
Amsterdam offers informative, hands-on museums and revolutionary zoos that your kiddos will never forget. There are intriguing toy stores filled with plush souvenirs, farms with friendly goats, and massive theme parks that Disneyland allegedly pulled inspiration from. Plus, Amsterdam offers tasty desserts galore to satisfy your kid's sweet tooth during a Dutch vacation. Honestly, this city has it all for families. 
Out of the amazing experiences with kids here, these are the 14 fun family-friendly things to do in Amsterdam.
The Nemo Science Museum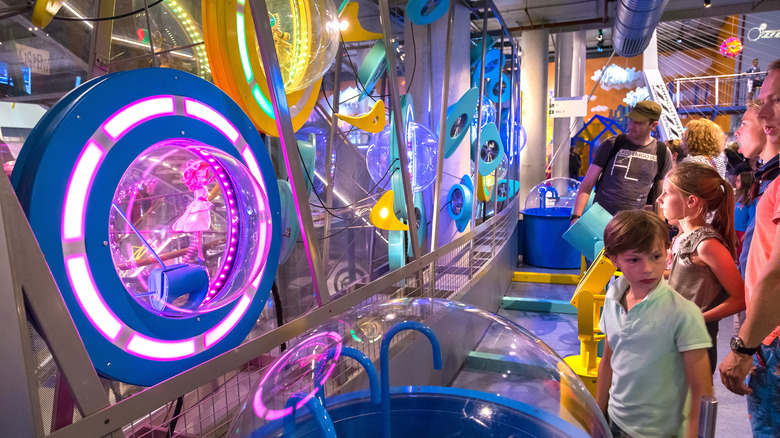 Sergii Figurnyi/Shutterstock
The Nemo Science Museum is the place you always dreamed of visiting when you were young. It's an exploratory museum geared toward children, but it is equally as exciting for the adults coming on the journey with them. This isn't a boring art museum with pieces lining the walls or untouchable exhibits throughout the building. It's a hands-on experience unlike anything you've seen before, with exhibits that teach little ones (and adults) about the world around them. 
The displays include things like an aging machine that shows you how old you'll look in 20 years if you keep up your current lifestyle, a waterfall controlled by a series of wind turbines, and optical illusion rooms where you can take funny photographs. There is even a room that allows participants to harvest energy from light, wind, and water to make various objects move. The more optimally they collect energy, the faster the stuff will move. It's definitely the type of place that will leave young kids in awe and even older ones totally intrigued. You may want to spend an entire day at NEMO because your kids will likely want to spend hours and hours discovering everything this museum has to offer.
Vondelpark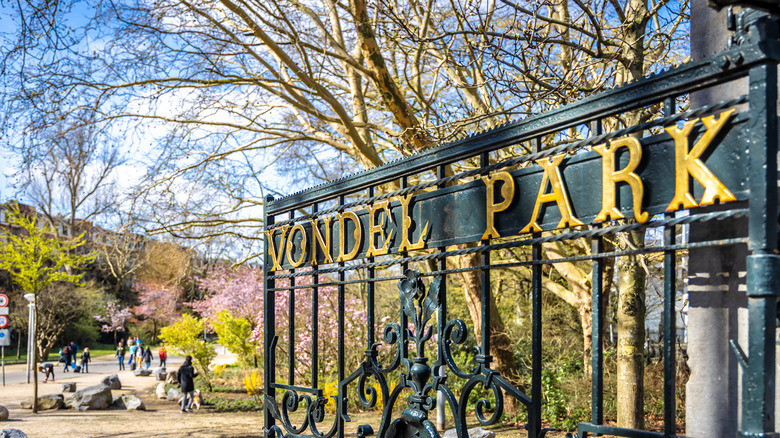 Alexey_fedoren/Getty Images
Every city has that one big park that provides the perfect venue for a low-effort, fun hang out with kids. In Amsterdam, that park is the historic 150-year-old Vondelpark. One of the most simple and free activities to do in Amsterdam with kids is spending an afternoon in Vondelpark. It's the ideal spot for families that are traveling on a budget or just want to spend a day in nature. 
This huge park provides idyllic scenery for lounging, picnicking, bike riding, or even roller-skating with your little ones. There is also a well-equipped playground inside the park called the Groot Melkhuis. The best part is that practically every one of the activities at Vondelpark is affordable or free. While Vondelpark is open all year round, the best time to visit is throughout the summer. During the warmer months, you can catch free concerts at Vondelpark's open-air theater.
Efteling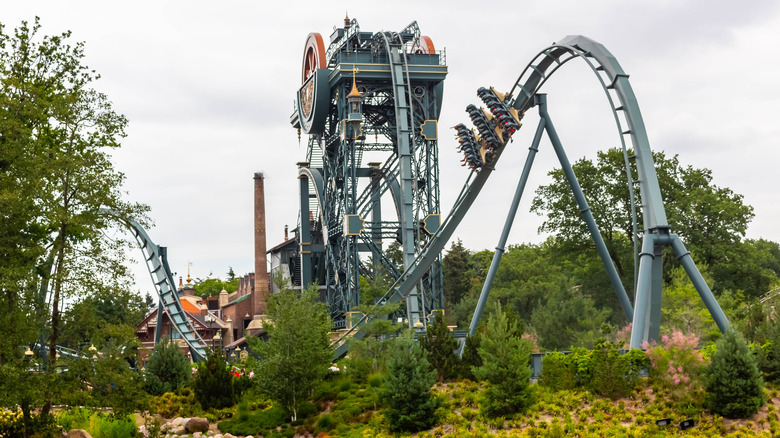 Photos by D/Shutterstock
Nothing captures a child's attention quite like a buzzing theme park filled with upbeat characters, thrilling rides, and yummy snacks. Efteling in Amsterdam is about as magical as it gets when it comes to theme parks. Set right in the middle of a forest, this fantasy-style amusement park is full-blown whimsical and has tons of rides that will get your heart pumping — namely, the park's dive coaster called the Baron 1898 and a traditional wooden rollercoaster named Joris en de Draak. The second option features the park's signature, a giant dragon, so there are a few reasons why this ride will get your heart rate up. 
For families with children too young or timid for big rides, there are still plenty of activities to discover at Efteling. There is a river rapids ride, a calmer roller-coaster for young kids, and 4D films to watch. You can catch free shows throughout the park, like a sporadic water show and scheduled puppet shows. If all that still leaves you wanting more, take a walk through the Fairytale Forest and get lost in a different world. 
Efteling is easily one of the most epic theme parks in the world. Legend has it that the creators of Disneyland even took a great deal of inspiration from Amsterdam's Efteling before building their own park. That's a pretty impressive backstory and makes Efteling worth a visit for that reason alone. 
Van Wonderen Stroopwafels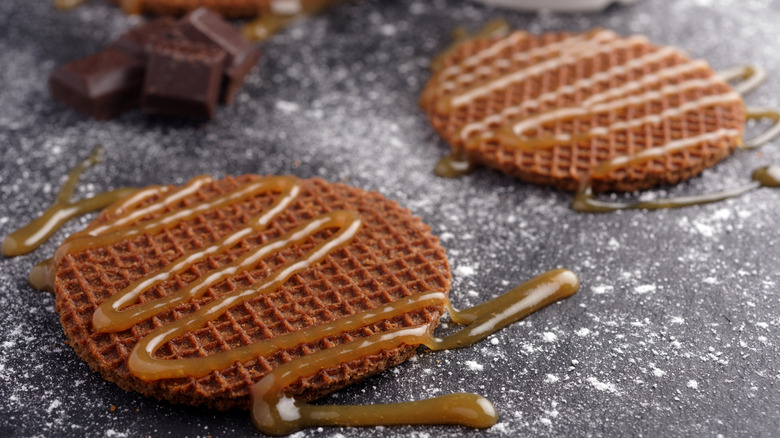 StockphotoVideo/Shutterstock
When you take your family on vacation, it's time to indulge. Why not start with the sugary specialty of stroopwafel when you're visiting Amsterdam? Stroopwafels are a type of cookie made from two freshly-made thin waffles with gooey, spiced caramel in between the layers. Trying the Dutch dessert is a must when you're visiting Amsterdam, especially when you have kids in tow with a wicked sweet tooth. 
Across Amsterdam, there won't be a shortage of places to try stroopwafel, but the one you should visit with kids is Van Wonderen Stroopwafels. The thing that makes this particular store stand out from all the others is its wide variety of stroopwafel toppings and styles. Here you can munch down on anything from a chocolate-covered stroopwafel with nuts for adult pallets to stroopwafels coated in colorful candy for sugar-loving little ones. Even if you're traveling with the pickiest of eaters, there is something to please everyone in the family at Van Wonderen Stroopwafels.
The Anne Frank House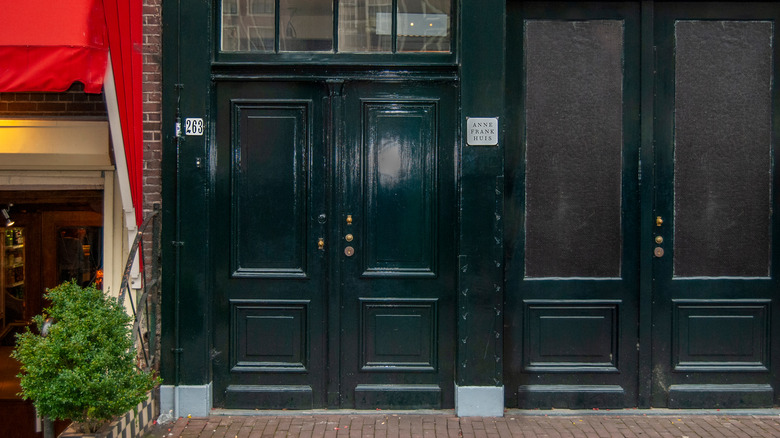 Rob Atherton/Shutterstock
When you're visiting Amsterdam, the Anne Frank House should be on your to-do list no matter what type of traveler you are. It's one of the city's most important museums. Exploring the world isn't solely about mindless fun — it should also include a bit of insight into a city's history and local culture. Anne Frank and everything she represents are a huge part of Amsterdam's history — and indeed, world history. 
The Anne Frank House will teach you and your family about Anne Frank's life, her diary, and influence in the real house where her family was hidden for more than two years.  It really gives you a new perspective to be inside the actual space. Throughout the rooms, you'll cross paths with historical documents, photographs, and items that belonged to the Frank family and the people who helped hide them. There are even displays with entries from Anne's original diary. Even though getting into World War II might seem a little heavy for a family vacation, it's an opportunity to learn and understand in a much deeper way.
ARTIS Amsterdam Royal Zoo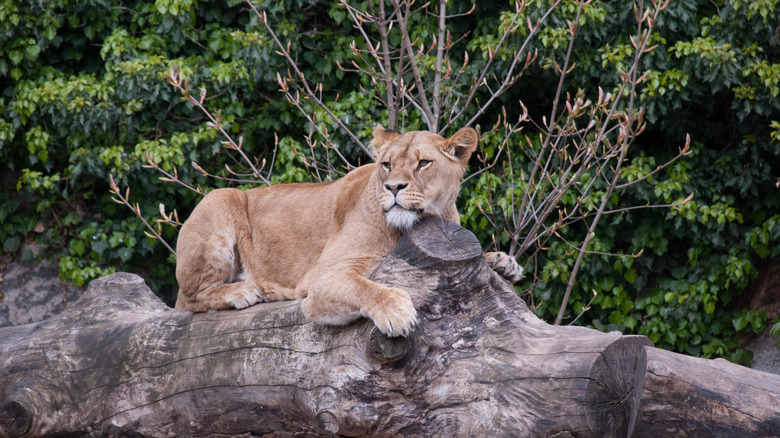 Luna2631/Shutterstock
Young animal lovers will get to come eye to eye with some of their favorite creatures at the ARTIS Amsterdam Royal Zoo. The enormous zoo is home to more than 500 exotic species, including apes, lions, elephants, giraffes, and so much more. The grounds of ARTIS are immaculately kept and include sculptures, historical buildings, and even a botanical garden. 
Kids love seeing animals in real life, but nobody wants to visit and support a zoo where all the animals look miserable and sickly. That's the great thing about ARTIS — they try to avoid traditional bars or cages in their animal enclosures that would usually leave animals feeling trapped. Instead, the zoo opts for intricate landscaping to mimic their animal's natural environments and make them feel more comfortable. It's not just better for the animals, it's a great time for families as well, giving kids a more realistic glimpse into the lives of animals from around the globe. 
Amsterdam Canal Cruise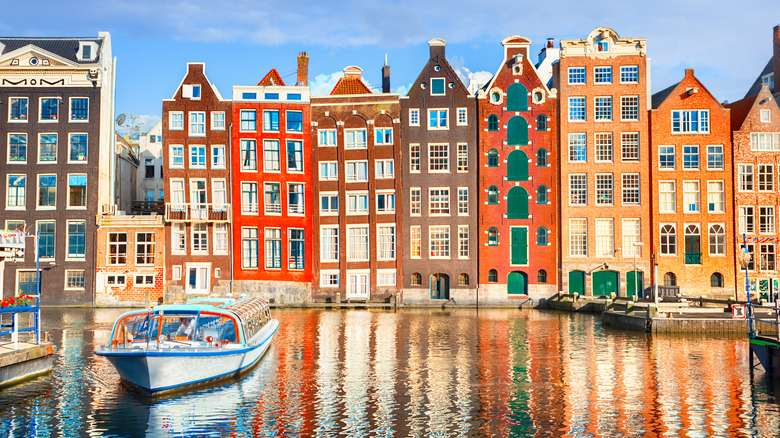 Adisa/Getty Images
An activity that's great for adults, teenagers, and young children is taking a cruise on Amsterdam's canal. It's one of the most emblematic activities for tourists to join on their first time in Amsterdam because it provides a new, fun perspective on the beautiful Dutch city. Even if it's your fifth visit to the city, you may be tempted to hop on a quick boat tour and escape for the afternoon — particularly if you have children in tow. 
There are a bunch of cruise options in Amsterdam, including wine and cheese cruises, evening cruises, and even a New York pizza cruise that comes with complimentary pie. These are probably better for a night when a babysitter is lined up, though. The best ones for families traveling to Amsterdam with children are the Light Festival canal cruise or the kid-friendly pirate ship cruise if you're feeling extra adventurous. 
Theater De Krakeling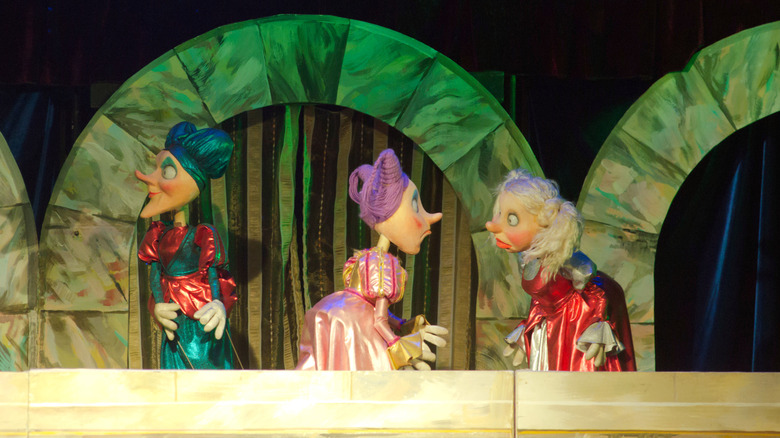 Igor Bulgarin/Shutterstock
Many theaters don't allow young kids to their performances, but you won't have that problem at Theater De Krakeling in Amsterdam. The name literally translates to "theater for children". This venue was designed just for an audience of kids and puts on more than 200 performances throughout the year. 
The shows at Theater De Krakeling are suitable for kids aged 4 to 18. They range from lively musicals and dancing performances to puppet theater and musicians. Usually, even if your family isn't fluent in Dutch, you can still catch an entertaining show at Theater De Krakeling — seriously, your eyes will be glued to the stage. Their schedule varies, so some performances may be better for younger children, and others will be more interesting for older ones. Make sure you check their website to know exactly what you're getting into. You don't want to waste an evening in Amsterdam on a show that flops with your kids!
The Mouse Mansion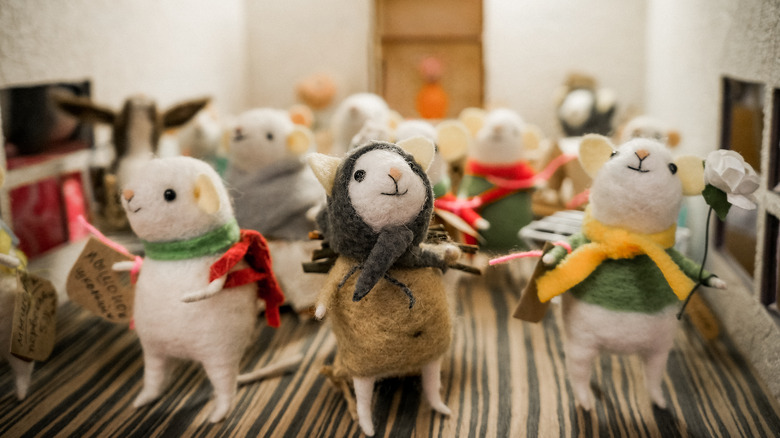 YaNastya/Shutterstock
There is something about the Mouse Mansion in Amsterdam that will tug on your adult, nostalgia strings. Plus, it's also a fun, little stop in Amsterdam for kiddos. The Mouse Mansion is a real-life world that's inspired by the children's book series of the same title. Even if you're not familiar with the books filled with tiny felt mice, there is still something reminiscent and comforting about seeing their smiling faces in the, uh, flesh. 
In every nook and cranny of The Mouse Mansion, you'll find the book's signature felt mice living their lives through a variety of scenes with incredible detail. There are mice-sized homes, playgrounds, bakeries, and even bustling markets. There is truly an itty, bitty world to discover inside this cute Amsterdam attraction. Admission is free and there are a bunch of adorable souvenirs to pick up on the way out. They even sell arts and crafts sets that allow your family to build their very own Mouse Mansion. 
Knuffels Toy Shop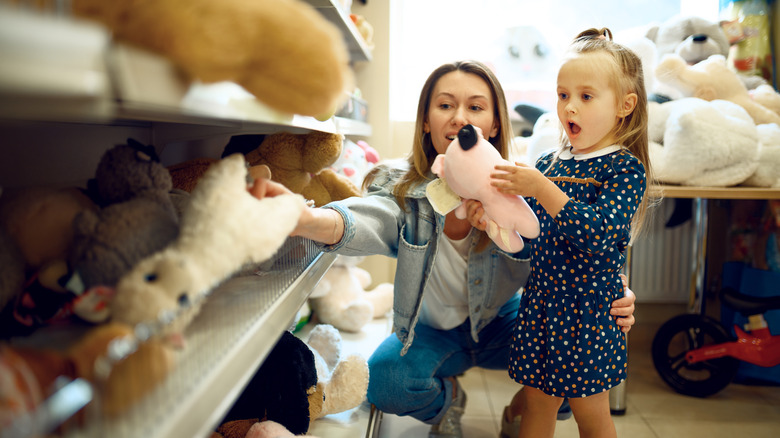 Nomad_Soul/Shutterstock
Finding a souvenir to take home from a trip to Amsterdam is a little more complicated when you're traveling with kids. The standard postcard or keychain will hardly do anything to excite them. On the hunt for something a bit more exciting for your child to remember your Amsterdam trip by? Check out Knuffels Toy Shop. 
Your kids will run wild in Knuffels Toy Shop — you'll probably find it equally amusing as you uncover new things around every corner. Knuffels Toy Shop is filled to the brim with a wild assortment of stuffed animals, toys, trinkets, gifts, and souvenirs for children. They also have a huge stock of brightly colored traditional Dutch wooden shoes. Even if you don't buy a thing, browsing this cute Amsterdam toy store is entertaining. There are no promises that your children will let you walk out the door without a toy in hand, though!
Hortus Botanicus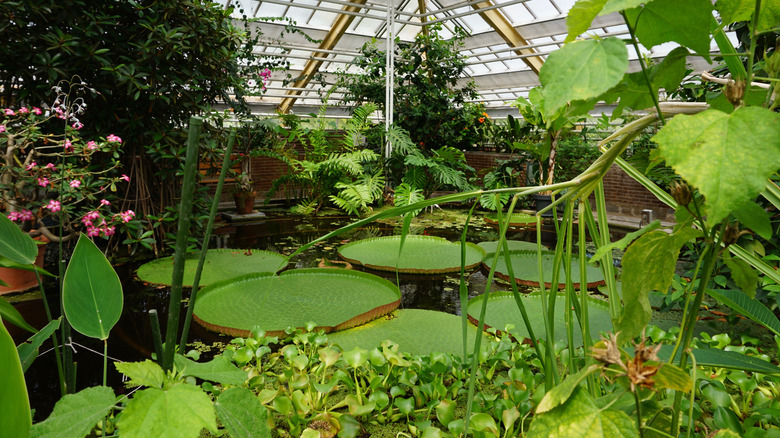 Adrie Oosterwijk/Shutterstock
Want to take your family on a nature adventure without leaving the city of Amsterdam? Take your children on a journey through one of the oldest botanical gardens in the world at Hortus Botanicus. These mystical gardens are 385 years old and counting. 
Hortus Botanicus is known for boasting one of the largest collections of unusual plant life. There are things like a 2,000-year-old agave cactus and a variety of greenhouses including desert, tropical, and flower ones.  In total, there are more than 6,000 types of plants living out their days inside Hortus Botanicus and you can see them all. If you're hungry after wandering the plants, stop by the on-site cafe for a bite. 
Visiting this botanical garden is one of those family-friendly activities that perfectly walks the line of being both informative and engaging for adults and children. It's also located near a ton of other Amsterdam attractions, like ARTIS Zoo and Rembrandt's House. So, it's very easy to squeeze in a visit to Hortus Botanicus between other activities. 
Tony's Chocolonely Superstore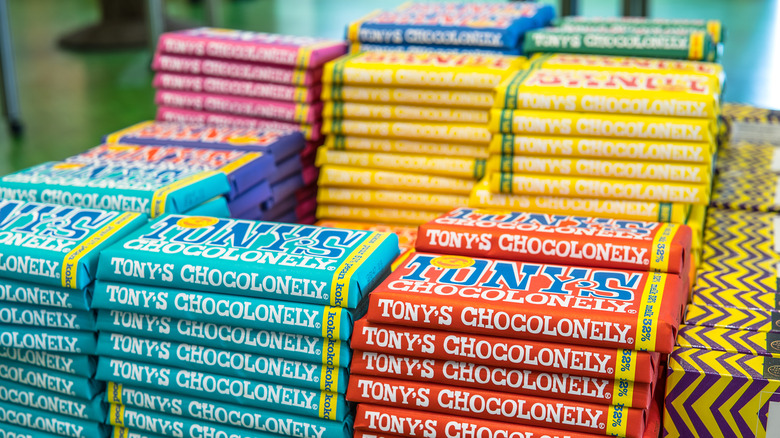 Grzegorz Czapski/Shutterstock
There are lots of places to take your children for sweet treats on a trip to Amsterdam, but one of the most notorious around the world is Tony's Chocolonely Super Store. Even if you've never been to Amsterdam, there is a fairly high chance you've seen one of these brick-sized chocolate bars. When you're in Amsterdam, you can take your family for a peak behind the scenes and, of course, eat lots of delicious chocolate. 
At the official Tony's Chocolonely Super Store, you'll get the full chocolate treatment and learn a bit about the cocoa industry. Start by tasting every flavor from classics like milk chocolate with salted caramel to more innovative bars such as white chocolate strawberry cheesecake and the esteemed milk chocolate everything bar. Once you've gotten your fill on chocolate tasting, it's time to design your very own wrapper for a personalized bar. 
Each participant will get to choose a background color, photo, decoration, and personalized text to put on the bar. What's better than a souvenir you can take home and eat? Tony's Chocoloney Super Store is definitely one of the tastier family-friendly things to do in Amsterdam. 
Ridammerhoeve Goat Farm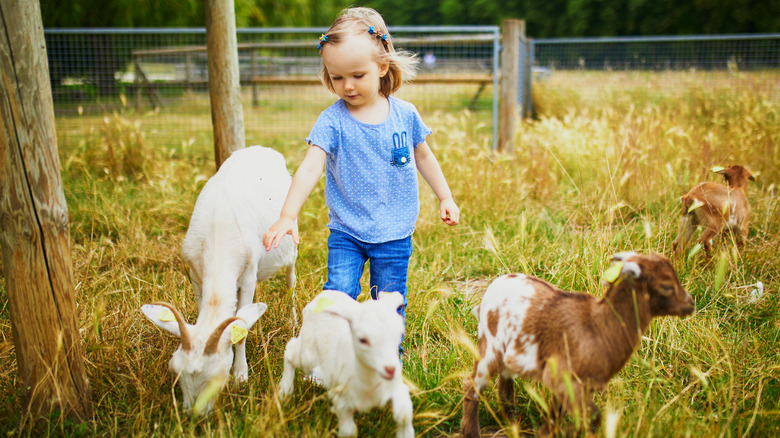 Ekaterina Pokrovsky/Shutterstock
A heartwarming thing to do with children in Amsterdam is to spend some time at the organic Ridammerhoeve Goat Farm. The 35-year-old farm offers a litany of goat-centered activities that you'll absolutely want to have your camera out to capture. You and your family can do out-of-the-box activities like goat yoga, breakfast with the goats, and kid-friendly meet-and-greets with the goats. You can even give milking the goats a try if you feel so inclined. 
The goats aren't the only star of the shows at Ridammerhoeve. There are chickens, pigs, cows, and horses roaming around, too. It's the entire farm experience that your family will never forget. And there's other things to do on the farm that might interest your kids if they get bored with meeting the animals. You can go on an egg-picking adventure, take a workshop that teaches you how to make cheese, have fun at the playground, and there's a big maze to explore.
Bike Rental & Tours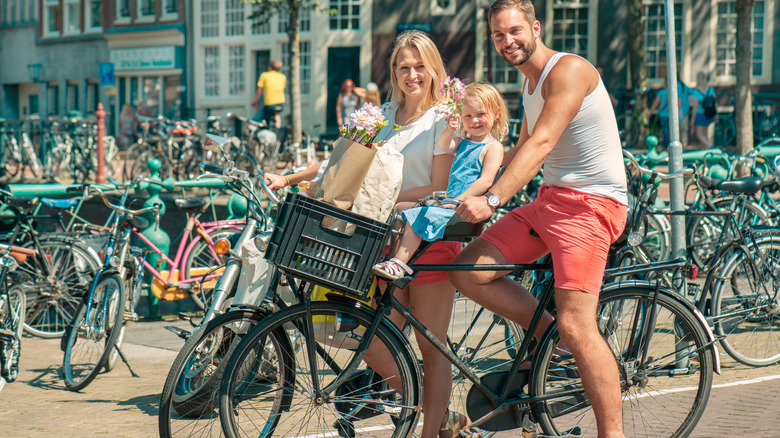 2xSamara.com/Shutterstock
Biking through this beautiful city is one of the most popular things to do for families and childless visitors alike. Not only is riding a bike one of the easiest ways to get around Amsterdam, but it also gives you a more intimate perspective of the city. Luckily, Amsterdam makes it simple for every visitor to get their hands on a bike that will suit their needs. 
Bike rentals and tours are available for adults and children in Amsterdam. As an adult, you'll find city bikes, tour bikes, and e-bikes that you can rent for days or as little as one hour. And when it comes to biking, Amsterdam would never leave out the little ones. 
If you're traveling with very young children, plenty of bike rental companies can provide cargo bikes that allow parents to peddle around up to two children at a time in a safe little compartment. For older kids, there are tandem bikes or children's bikes. One thing that might come as a culture shock is that most bikers in Amsterdam don't wear helmets. However, that doesn't mean you shouldn't hop on a bike with a helmet and peddle around on a trip through Amsterdam with the family.