13 Off-The-Beaten Path Ideas For Your Next Trip To Los Angeles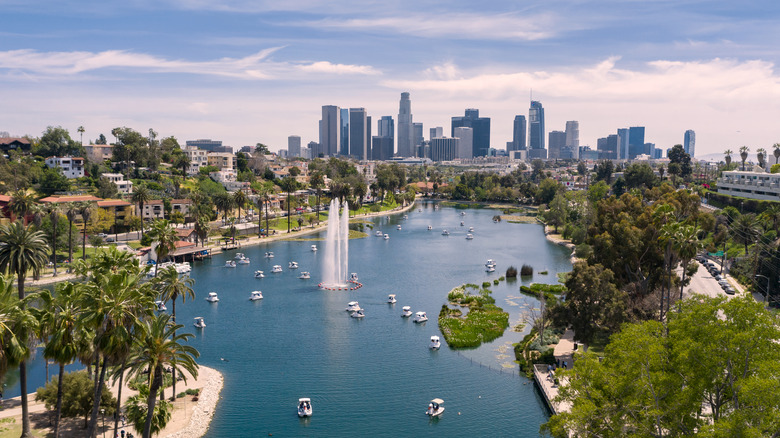 Strike First/Shutterstock
Los Angeles is a popular destination with millions of tourists visiting the city every month, making tourism a pretty important element of the local economy. With the city being home to everything Hollywood has to offer as well as being bordered on the west by Venice Beach, the city has plenty of popular attractions to keep guests busy. For travelers who want to dive into its underbelly and see the more gritty, bizarre side of a city that, at its surface, seems to glitter with glam, you should take a different route than what is on most guides to Los Angeles.
LA is an artistic city full of people who let their individuality show with pride, so there are naturally a lot of interesting hole-in-the-wall businesses to explore. In addition to locally owned attractions that are of the unexpected variety, the city of Los Angeles itself has an interesting past and is littered with references to a rich and almost forgotten history.
Finding the hidden gems of the city, both new and old, can really give travelers a good feel of the city and let them in on what locals likely know and love about it. For a trip you're unlikely to forget, take a look at our list of unusual things to do and see in Los Angeles.
Explore forgotten parts of the city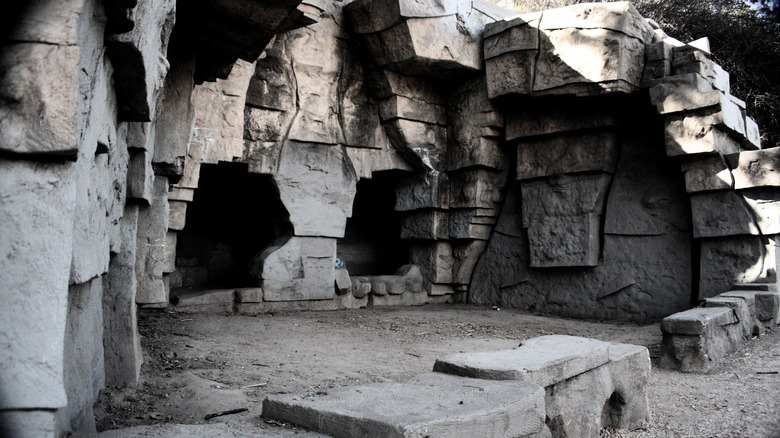 Petrinad/Shutterstock
As glamorous as LA is thought to be, it certainly has its fair share of large, barren places that are reminiscent of a time long gone. While it's not a widely known characteristic, Los Angeles has miles of old service tunnels running underneath it that were used back in the days of prohibition for bootleggers and smugglers. There used to be a tour that would safely show participants a section of the tunnels, but most are inaccessible today and the only way to see them is if you know where to look. Allegedly, there is an entrance behind the Hall of Records –- enter at your own risk, though, as it's easy to get lost down there.
Los Angeles is also home to a quite large abandoned zoo that closed down in 1966. You can access the ruins of the Old Los Angeles Zoo for free in Griffith Park, where you can see the old enclosures covered in graffiti. It's a pretty small area and will not take long to explore in full, but you're more than welcome to bring some lunch for a picnic among the ruins. While plenty of people have explored Griffith Park and had a great adventure, do note that the park and its many attractions are said to have been cursed long ago, and the park's history has been full of death and misfortune. You're welcome here, but be aware of the park's grisly past.
Visit bizarre museums
Exploring a museum or even dedicating a whole day to museums when visiting a new destination isn't exactly unique, as most large cities have some kind of educational gallery or exhibition that is a popular attraction. Los Angeles, though, has quite a few museums that are unique to the city and entice a niche audience.
The Museum of Jurassic Technology, for example, is likely one of the weirdest museums you'll ever step foot in. Part of its appeal is the difficulty in explaining what the museum is even exhibiting, and those who enter are guaranteed to be equally confused as they are inspired. The best way to experience this museum is to walk in knowing nothing — you'll either walk out full of newfound knowledge or in a dazed dream state wondering what just happened.
For travelers interested in a much more lighthearted yet equally niche museum, the Bunny Museum is a great place to visit on an adventure in Los Angeles. Where the Museum of Jurassic Technology is obscure in its meaning, the Bunny Museum is exactly what it sounds like –- it's a museum filled to the brim with bunnies. Such a cute and cuddly idea sounds like it would be targeted toward children, but it in no way is. Instead, the museum showcases the many depictions of rabbits in history and pop culture, which includes anything from horror movies to the experimentation on rabbits.
Prepare to travel through time
If time travelers are among us, there's only one place in Los Angeles for them to get gear for their next trip through time, and that's the Time Travel Mart. At least, that's the only market openly advertised as a time travel readiness and convenience store. Their motto is "whenever you are, we're already then," and they not only offer goods to blend in while traveling down different timelines but also claim to sell products taken from the past, present, and future.
The Time Travel Mart has been around for over a decade – at least on this timeline – and there's really no telling how many travelers have sought its goods and usefulness in a timely emergency. For sci-fi fans or lovers of all things weird, the unique store is a necessary stop. It is located in Echo Park, which is a popular destination for people visiting the city, so feel free to drop by while visiting the park. If you are making a special trip to see the mart, you may want to spend some time exploring the park as well.
Feed your curiosity at the Mystic Museum
If you're a fan of everything dark academia, goth, and horror, the Mystic Museum has grown to be a place that offers many oddities and curiosities that you and people of like-mindedness will enjoy. Whether you're into old and creepy toys, horror flick props and memorabilia, or monster-related merchandise, there's a whole lot to feast your eyes on in this horror lover's paradise.
Not only a place to view interesting exhibits, the Mystic Museum also acts as a shop for all things dark. You can find home decor to turn your house into the ideal goth lair, clothing to look the part, and books of a similar nature to the museum itself.
Travelers who decide to dive into everything the Mystic Museum has to offer should be prepared to be hit with some major nostalgia, as exhibits here include Lost Toys and Slash Video. Lost Toys focuses on decades of toys that are inspired by horror, from monster figurines to cute and cuddly gremlins. Slash Video is like walking into the coolest VHS store for cult classic horror flicks — it's just a shame you can't actually rent out any of the tapes on display.
Watch a movie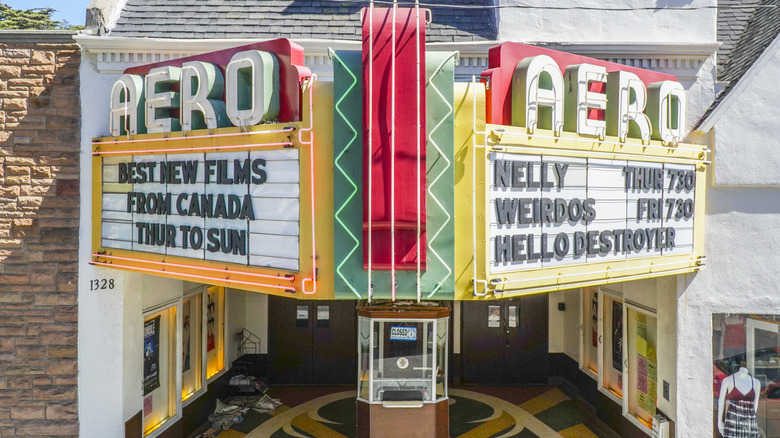 4kclips/Shutterstock
You may not be able to scratch that old film itch with just a museum display, but there are plenty of places to watch an old film in Los Angeles. Watching a movie on vacation in a new destination may sound like a cop out, and definitely not a unique activity, but it's LA and the city really knows how to put on a good film. There are various old and iconic theaters in the city, each worth a visit for different reasons.
The Aero Theater and Landmark's Nuart Theater are both great for a vintage film experience. The Aero Theater plays both classic and new films but focuses on older horror flicks with a few other genres of vintage films thrown in their schedule. Double features are particularly delightful when a new film is shown back-to-back with the original or a similar, older film. The Nuart Theater has a regular, weekly showing of Rocky Horror Picture Show with a live shadow cast that acts out the film simultaneous to the film playing.
The Electric Dusk Drive-In offers a different, but just as fun, film experience to travelers who enjoy older films. Just pull up your car, get some popcorn, and watch a film with the city of Los Angeles surrounding you and the audio streaming through your car's speakers. It's a wonderful way to watch a film and spend an evening.
Fully immerse yourself in art
There is art all over LA, from awesome graffiti and people performing on the streets to esteemed art in museums. Cakeland LA offers something different, though, and in a huge way. The single-artist immersive gallery is going on two decades of providing a unique and "boutique" art experience to both LA residents and travelers looking for something a little extra to add to their visit.
Even though the entire gallery of Cakeland is only 1300 square feet, there are so many details and directions to look at that the exhibit appears enormous. Entrance into the exhibition is timed so that it doesn't get too crowded and visitors usually spend around a half hour taking in all there is to see in the icing-clad gallery. The displays are maximalism at its finest, and those who venture into the art installation should be prepared for a sensory overload as every inch of the walls, floor, and ceiling is covered in deliberate design. If you're looking for the perfect selfie spot, Cakeland fits the bill.
See an architectural wonder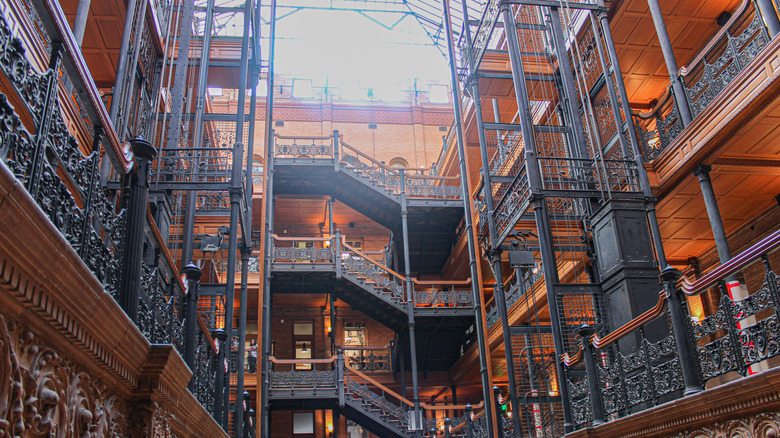 Malin Lewis/Shutterstock
The Bradbury Building in downtown LA is bizarre, in both its design and its background. The building was beautifully crafted and the inside looks like something straight out of a sci-fi film. In fact, its design is said to have been inspired by a sci-fi novel and there have been various sci-fi films that have shot footage in the interior of the building.
From the outside, the Bradbury Building looks like a sturdy and organized classic city building, but the interior tells quite the story. The intricate iron railings are a huge eye-catcher, as the atrium is largely made up of railings and staircases that make up the exposed floors. These open levels lead up to a glass ceiling that allows plenty of light to enter the building.
The design and craftsmanship of the building are impressive, as is the inclusion of a number of styles, like Victorian and art nouveau. The history of the building is almost as intriguing as its presence, though, as the designer allegedly used a ouija board as an advisor before signing on to the project. The awe-inspiring building is absolutely worth a visit, even if for just a peek at its atrium.
Visit the funkiest art museum around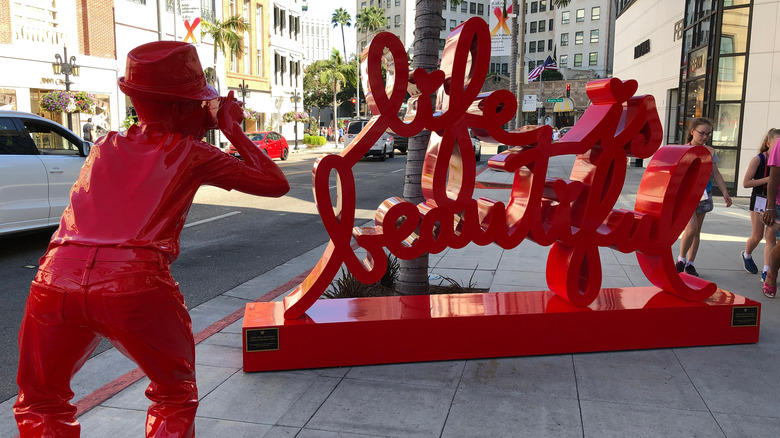 Michael Gordon/Shutterstock
There are plenty of big cities in the U.S. known for their art scenes and that have world-famous art museums, but LA likes to be different. Fortunately, being different is one of the best things you can be when it comes to art. Mr. Brainwash Art Museum is a pretty perfect example of how unique LA's art scene is, as it is jarring, colorful, and highly unexpected.
Just from the outside, Mr. Brainwash Art Museum makes it clear that they stand out from the crowd and offer a unique experience to art lovers. Vibrant cars that stand vertically from their back ends and a wall of windows that show off some of the museum's interior displays are enough to welcome visitors inside, where electric and more intricate art displays are waiting.
Opened recently in 2022, the museum calls itself an "art playground" and welcomes all ages to discover inspiration and art they love. The theme of Mr. Brainwash Art Museum is "Life is beautiful" and patrons are hopefully reminded of just that while browsing the art collections here. 
Get inspired by Watts Towers
Created from hard work and the desire to create, Simon Rodia crafted one of the most unexpected and impressive art installations in Los Angeles. He used any material he could get his hands on to build the 17 spires that stretch as high as almost 100 feet in the sky and make up the art attraction known as Watts Towers. The colorful and convoluted towers can be found in southern LA and are made of all recycled materials.
The towering spirals are wondrous not only because of how incredibly tall they are for one person to have created it all with his bare hands, but also because they are covered in mosaics. Looking at the towers is surreal, and gives off the impression of an alternate or parallel universe version of Disney's castle.
Rodia crafted the sculptures over the course of decades at an almost obsessive pace. Oddly enough, the artist stopped work on the towers almost as abruptly as he started, possibly feeling as though the art was complete. Whatever the reason, though, Watts Towers has brought a lot of joy to both residents and visitors, so don't miss the opportunity to see the spectacular sight.
Stay at a haunted hotel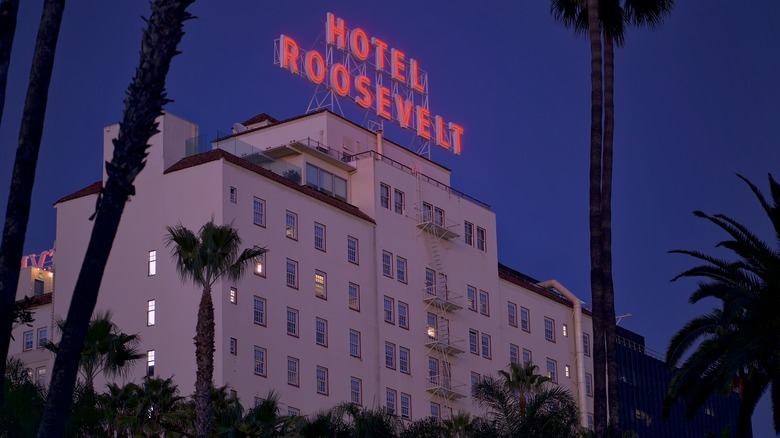 Elliott Cowand Jr/Shutterstock
Los Angeles is home to some seriously creepy hotels, though they are still very much in use. If you're looking for a spooky activity to add to a long weekend in LA that also hits some of the more iconic locations in the city, you may want to spend an evening visiting a haunted hotel or two. The Hollywood Roosevelt Hotel and The Biltmore in particular are both glamorous and high-end hotels that have some famous names attached to their paranormal reputation.
The Roosevelt Hotel has seen some of the most famous names in the film industry come and go, but rumor has it that one timeless figure is there to stay. Marilyn Monroe is among the many ghosts that have been reportedly seen in the hotel, and her spirit is often spotted throughout the hotel either dancing in the ballroom or in one particular mirror that used to be in her personal suite. As for the Biltmore Hotel, a number of vintage stars have passed through, but the most famous ghost said to haunt the halls is Elizabeth Short, better known as the Black Dahlia, one of the most famous unsolved murder victims.
The Cecil Hotel is much less glamorous in appearance, but that doesn't mean ghosts haven't decided to stick around there. Its dark and grisly history has made the hotel famous, even being the inspiration for a docuseries and a season of "American Horror Story."
Have an eccentric food experience
Philadelphia has cheese steaks and Chicago has deep-dish pizza, but LA's food scene is a conglomerate of different styles and creative inspiration, with no signature dish to be found. There are numerous restaurants and bars that have made a name for themselves for their creativity and all-around quirkiness when it comes to some of their menu items.
Barton G provides a food experience that is more like an art piece you can eat and their menu includes a 4-foot tall ice cream cone, a whole lobster stuffed with mac and cheese, and shrimp served in a popcorn machine. They don't come cheap, though, so be ready to drop some serious cash –- at least you'll have fun doing it, though.
For travelers looking for a fully immersive food experience, Opaque invites patrons to dine in complete darkness. The waitstaff is made up of legally blind individuals who help guests through the experience. Not only are guests put in a position to appreciate the difficulties that come with the loss of one sense, but they also are able to rely on their sense of smell and taste to dive more fully into the dishes and flavors before them.
Find peace outdoors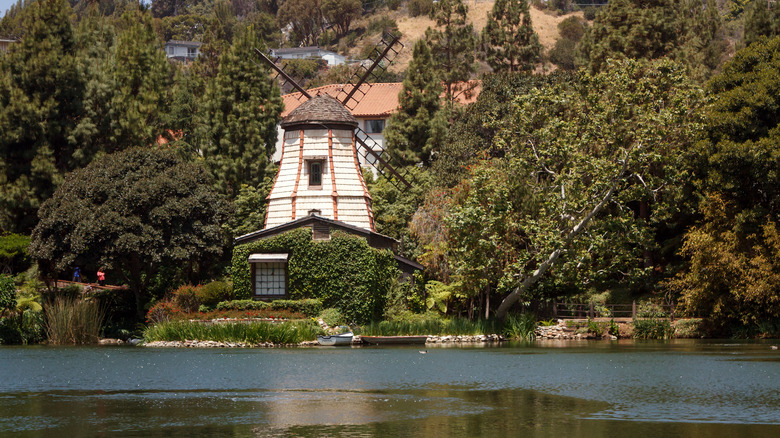 Roka/Shutterstock
LA is a busy place, and the city can get overwhelming at times. Luckily, there are plenty of hiking trails in the area that lead to some pretty awesome places if you don't mind taking the time and energy to get there. While getting out in nature via hike is a popular outing for residents and visitors alike, there is actually a much more peaceful and relaxed alternative right in the heart of the city.
Lake Shrine is an oasis within the city located on Sunset Boulevard and is perfect for finding a relaxing spot for reflection and meditation. The shrine is made up of a relaxation garden and a temple, both of which are dedicated to being a place where people from different backgrounds and beliefs can come to meditate and find a connection to their particular acting higher power. The gardens are lush and lively with a lake and numerous species of blooming flowers, so virtually anyone would seemingly find the area to be a paradise for reflection and meditation.
Guests are welcome to come to the Sunday morning service at the temple, which includes a group meditation and access to the gardens afterward. You do need to plan ahead for a visit to their gardens otherwise, as reservations are required and open every Saturday for the coming week. It may take a little planning to fit into your LA trip, but will be worth it, especially if you need some revitalizing time with nature.