The Best Bachelor Party Destinations In The US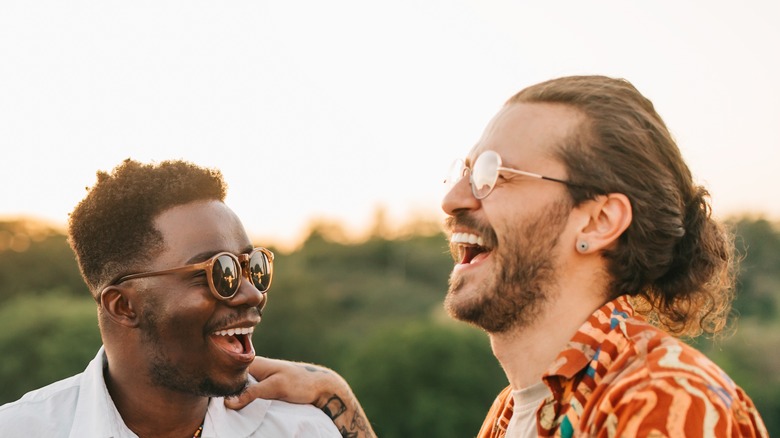 astarot/Shutterstock
There's a lot of pressure to plan the perfect wedding. It's the starting point of your marriage and couples want to start out the rest of their lives together on the right foot. The stress that comes with planning the big day is felt by the majority of engaged couples and can be offset, at least temporarily, by the bachelor and bachelorette parties. These hoorahs traditionally take place sometime before, but relatively close to, the wedding. For a lot of grooms, the bachelor party is a huge deal. There can be a lot of money and effort thrown into making the bachelorette party an event that he and his friends will not likely forget. Unless, of course, it's anything like the Hollywood portrayal of the wild night — crazy with hazy memories.
If you, like plenty of wedding party members who have come before you, have the budget for a destination bachelor party, there are plenty of places in the U.S. that are perfect for an end-of-bachelorhood bash. The U.S. is home to some of the most frequented bachelor party destinations, and grooms of all types can find a place that checks all their dream pre-wedding shindig boxes. From tropical beaches to snowy mountaintops, here are some of the very best U.S. locations that could make your bachelor party one for the books.
Las Vegas, Nevada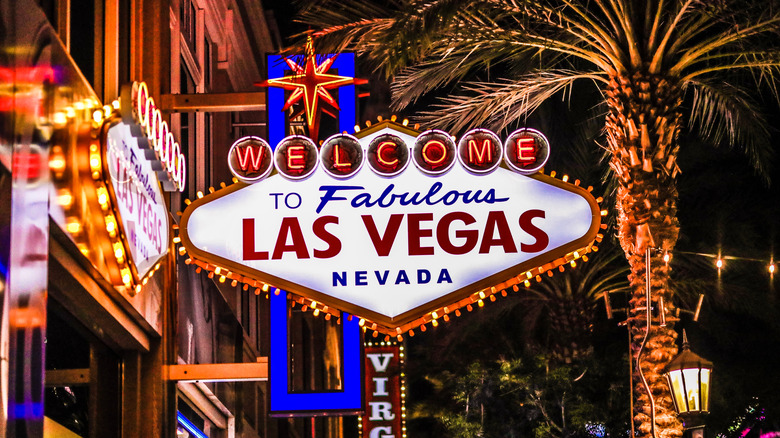 yawitthaya/Shutterstock
Since Las Vegas is largely considered the number one destination that grooms-to-be flock to for their bachelor parties, Sin City deserves the first spot on this list. While it's odd that a city named so deviously would be the place to celebrate getting hitched, it actually makes a lot of sense when you think about it. A bachelor party is meant to be the last hurrah of someone getting married, so why not celebrate it in the city that's known as the marriage capital of the world? Thousands of marriages happen in Las Vegas every month, which means a trip to the wild city could result in a bachelor/bachelorette party combo with an actual wedding the following day — that is if Elvis impersonators in unique, make-shift chapels are your thing.
As far as the bachelor party goes, there are so many fun and niche things to do in Las Vegas. There are, of course, many grand and themed casinos for those that want to test their luck, but the wild city has much more to offer than just potential jackpots. Live performances like drag shows, burlesque, and even nude theater are great options for lovers of the performance arts. The adventurous groom may also be interested in getting a bird's eye view of the neon city by SkyJumping, zip lining, or even taking a helicopter ride. 
Nashville, Tennessee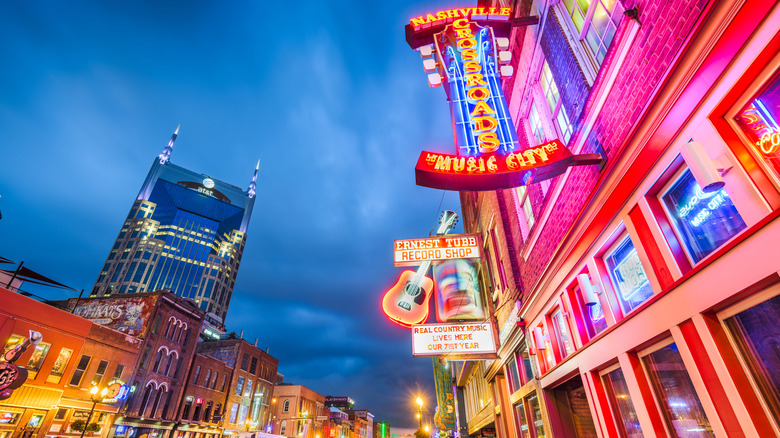 Sean Pavone/Shutterstock
Nashville's most popular street is known as NashVegas, thanks to its late-night honky-tonks and neon lights. But this nickname for the Broadway area could also very easily be attributed to the massive amount of wedding parties that flock there for their before-the-wedding celebrations. Bachelor and bachelorette parties are incredibly common in Nashville, the city even snagging the title of 'bachelorette party capital of the world,' and for great reason. It's seemingly impossible to have a bad time in Nashville thanks to the live music, unique bar scene, and all-around enthusiastic vibes that seem to naturally encourage dancing and laughter from locals and visitors alike.
While there may be more bachelorettes heading to NashVegas than bachelors, Nashville is still a great place for the boys to have a fun and wild time out on the town. Broadway is certainly the place to be for busy nightlife, as bars are typically packed with parties enjoying live bands and dancing. The many rooftop bars in the area, like Acme Feed and Seed, are great for a more easygoing night with great views of the strip. The classic spots to hit are the various honky-tonks like Tootsies, Nudie's, and The Stage. Even if you're planning a bachelor party that won't be centered around the city nightlife, Nashville is one of the very best places for music lovers and a long weekend dedicated to music is perfect for grooms who enjoy the art form.
The coasts of Florida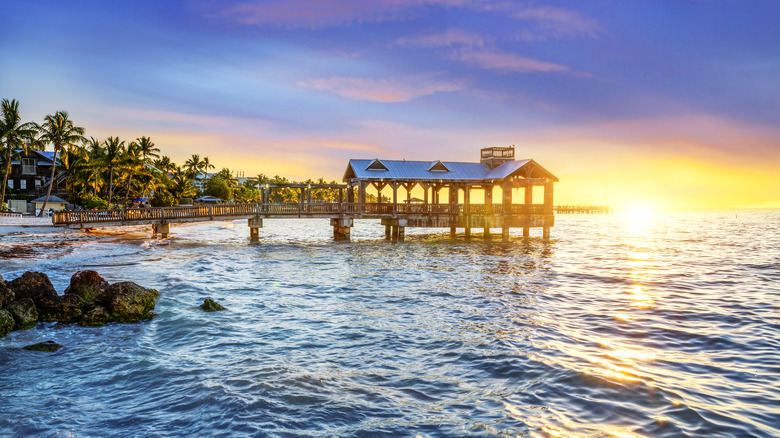 Ventdusud/Getty Images
There are over 800 miles of coastline in Florida, most of which are popular destinations for travelers. Despite being popular places for retirees to migrate to in the later stages of life, there are plenty of destinations along the Floridian coast that have great nightlife scenes perfect for the bachelor who likes to let loose in a city on the coast. Miami and Panama City both fit this bill and promise a wild night, but are also cultural wonders ripe for exploring.
If your wedding party is the type of group that likes the outdoor scene, the Florida Keys are packed with places for deep-sea fishing. Take your party to Key West and you can spend the day on a boat while enjoying the town's popular bar scene at night. West Palm Beach and Daytona are also great for deep-sea fishing, and the groom and his party are likely to catch some monster fish. Basically, this is the perfect opportunity to get a group photo with a goliath grouper or marlin.
Besides the nightlife and out-at-sea bachelor party options, you have the obvious beach scene that is available in practically any coastal city of Florida. The state is littered with wonderful beaches and practically all coastal cities have their fair share of nightlife, good food, and plenty of places to relax in the sand, surrounded by blue waves and an ocean breeze. 
New Orleans, Louisiana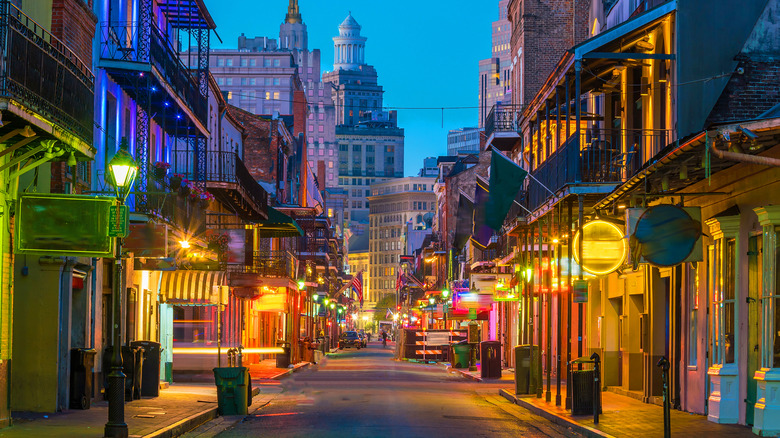 f11photo/Shutterstock
New Orleans is another destination that has drawn in wedding parties from all over the country, and it is thanks to the city's optimal nightlife and contagious energy that can not be found anywhere else. New Orleans perfectly blends its historic buildings and streets with an energetic late-night bar scene that promises an experience to remember. Where else can you chance an encounter with the paranormal? Here, it could be a vampire or one of the many ghosts that are rumored to haunt Bourbon Street and the French Quarter.
New Orleans is a great destination for wedding parties who like to go out on the town and also have a penchant for the spooky and bizarre. The two are combined in the form of haunted bars, hotels, and Voodoo shops all throughout the French Quarter and nearby neighborhoods. There are plenty of ghost tours to experience in New Orleans, each with its fair share of lore and legends about the infamous city.
If you're looking for a city that knows how to party, New Orleans certainly should make the cut. Their parades and street festivals are legendary and locals and tourists alike take part in the city's celebrations. While you can certainly have a good time in New Orleans during its off-seasons, booking your bachelor party during Mardi Gras or any of The Big Easy's other popular festivals could result in an experience matched only by the wedding itself.
Hawaii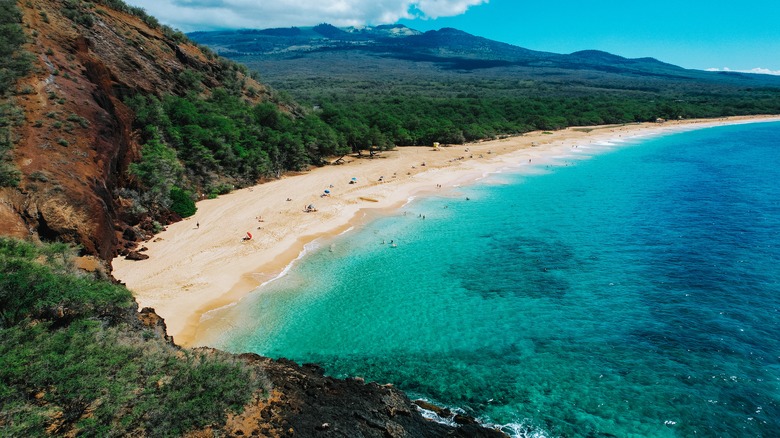 Aspects and Angles/Shutterstock
If your wedding party is willing to splurge for the ultimate destination bachelor party, Hawaii should most certainly be at the top of your list. Visiting Hawaii is like stepping into a completely new world, as the lush landscape and rich culture are apparent from the very beginning and remain until you step foot back home after your return flight. There are plenty of options when it comes to partying in Hawaii, as you can head to the beach, chill in a resort, or even channel your inner outdoorsman and explore rainforests and volcanoes.
Waikiki and Haleiwa on the island of O'ahu are both great options, and both cities have stunning views of nature with opportunities to head into the water for surfing or even shark cage diving. Waikiki has some great nightlife if you want to get out and socialize at night after spending the day on the water. If you'd like to stay on the Big Island of Hawai'i, Hilo offers the opportunity to explore the rainforest and climb some lava rocks while also meeting locals and exploring island culture.
Speaking of culture — if a destination bachelor party to Hawaii sounds like something you and your wedding party would enjoy, make sure to travel responsibly. As a visitor to Hawaii, it's important to have respect for the land and its people. Researching the culture, leaving the land as you found it, and spending money at local businesses are all ways to be a good tourist in Hawaii.
Savannah, Georgia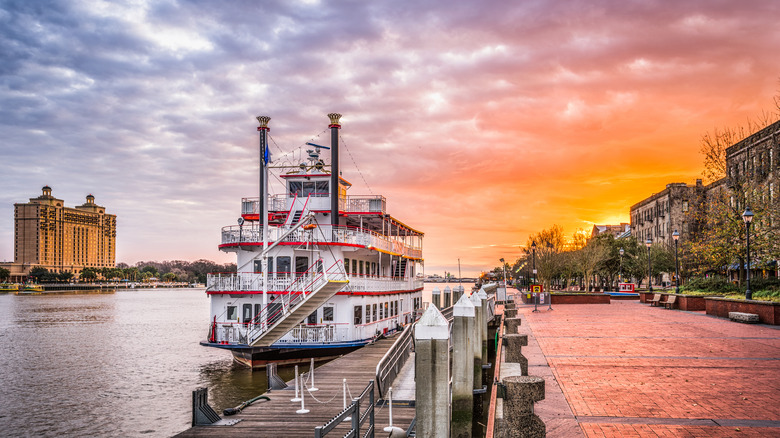 Sean Pavone/Shutterstock
Savannah is one of the most classic, gentlemanly cities out there. It oozes southern charm, but it also knows how to have a wildly good time. The old city is great for whiskey connoisseurs, food lovers, and history buffs, but travelers who love to party and enjoy a trip to the ballpark will also have something to fall in love with. In fact, the newlyweds might just have to consider relocating to the city after the groom explores everything it has to offer, as the city is steadily attracting more people to move in.
Seeing the city via the Hop On Hop Off Trolley will allow your party to bail out anytime you see anything worth exploring, and the Historic District of Savannah's long list of interesting sights and attractions practically ensures that any type of traveler will find something that piques their interest. Heading a little further south of the Historic and Victorian District, sports fans will find Grayson Stadium, which is home to the Savannah Bananas. The comedic sports team not only puts on a stellar game of baseball, but also fills the game with entertainment in the form of dances and TikTok trends, and it's the perfect bachelor party activity for dinner, a show, and to see a professional sports team in their home space.
California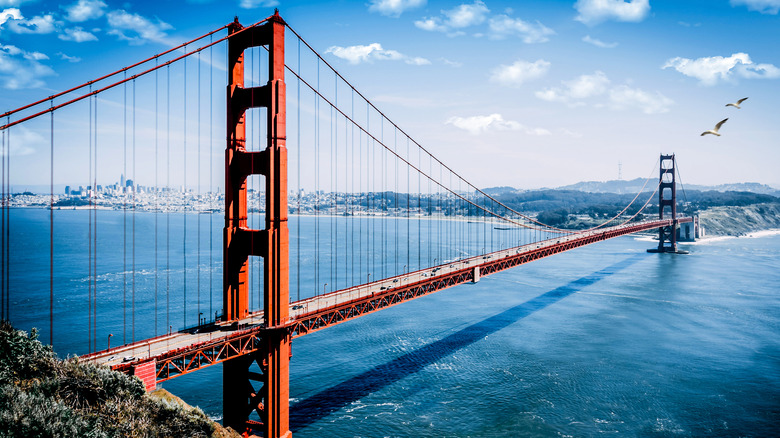 Bogdan Vacarciuc V/Shutterstock
Yes, California is a huge state, but there are so many great places that make for a solid bachelor party destination that the whole state gets a place on our list. Beaches, wondrous nature, and breathtaking views are just a few of California's draws, and they all can be achieved on a bachelor weekend with a group of guys who love the outdoors.
California is home to a number of unofficial natural wonders including, of course, the Redwoods, which is one of the seven natural wonders of North America. For the groom and wedding party that loves nature, the Redwoods are a must-see. California is host to nine national parks, each very different from one another. While pretty much impossible to see it all on a bachelor party weekend, heading to Joshua Tree, Yosemite, or Death Valley would make for a memorable trip and cross off one or two destinations on the outdoorsman travel bucket list.
In addition to wondrous nature destinations, California has some unique and world-famous cities. Los Angeles is perfect for the groom who is Hollywood-obsessed or who would enjoy an increased likelihood of seeing a TV or movie star walking down the street. San Francisco is the perfect starting point for a scenic drive up the coast or a wild night spent club hopping. For a more upscale bachelor party, head to Catalina Island for golfing, boating, and wine tasting.
New York City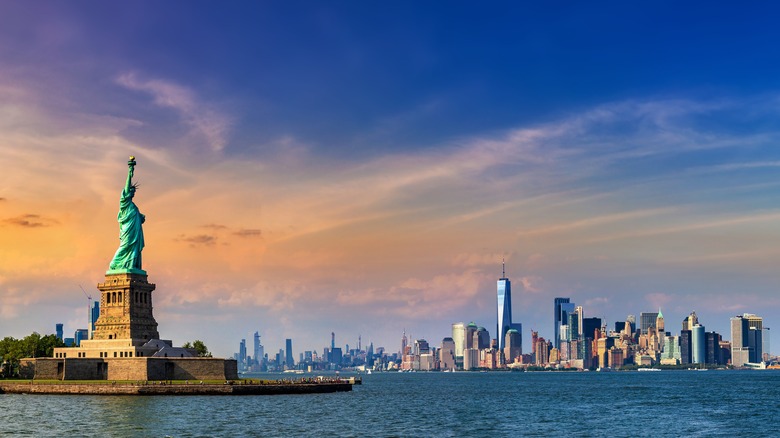 Sergii Figurnyi/Shutterstock
New York City is on practically everyone's vacation bucket list, so it naturally is a top choice for grooms and their wedding parties when choosing a destination for their pre-wedding getaway. Not only is NYC full of world-famous monuments and views, but the city is much more than just the Statue of Liberty and Central Park –- especially for those of us who are hoping for a few wild nights.
There are thousands of bars in New York City, and quite a lot are solid choices for a fun night out. The Slipper Room is great for those who want to see a burlesque show over drinks and the city is also home to a number of Barcade locations, where patrons can indulge in nostalgic, classic arcade games while sipping on exclusive craft beers and cocktails.
The fun of the night isn't limited to any one establishment, though, even though bar hopping in the city is a great experience. The unexpected is a common occurrence on the streets of NYC, and embracing bizarre sights and encounters will lead to a peak experience. Who knows, you might even see someone famous! And while ride-sharing is certainly an option, be sure to make use of the subway system and take a stroll down some of New York's unique neighborhoods.
Chicago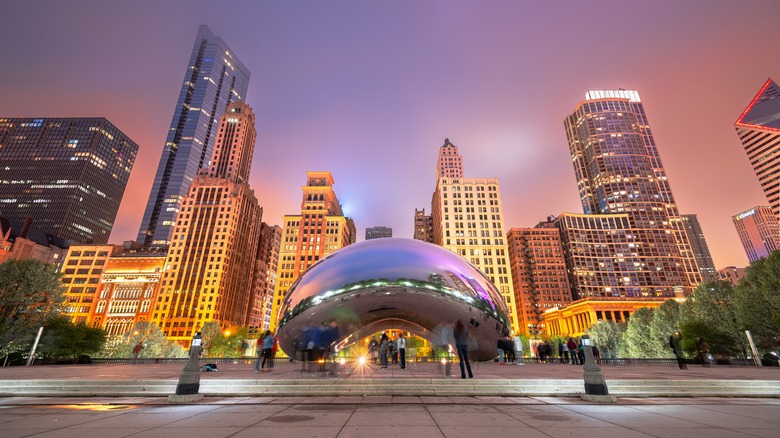 Sean Pavone/Shutterstock
Chicago is a culture bomb of a city, and if you can get past the wind and wildly cold winters, it makes for an incredible destination for a long boys' weekend. The music scene is almost unparalleled as the jazz, blues, and piano bars that can be found throughout the bustling city are pretty much always a good time. Chicago's art scene doesn't just stop at music, though, as both theater and public art are everywhere, offering a real treat for first-time visitors. While there are probably better party cities on this list for bachelors who want to let loose on the town, Chicago is a beautiful choice for those who want their bachelor party to be both fun and full of substance.
Even if art in its many forms isn't your or your wedding party's thing, Chicago's bar and food scene is both amazing and very much a part of the whole Chicago experience. You can't leave Chicago without trying the city's style of hotdogs and pizza, which can easily be found on practically every corner of the city. Portillo's is a classic, must-stop destination for anyone visiting the city for the first time and the Map Room is a great choice for bachelors who have a taste for beer, as they carry local beers as well as drafts from all over the world.
Denver, Colorado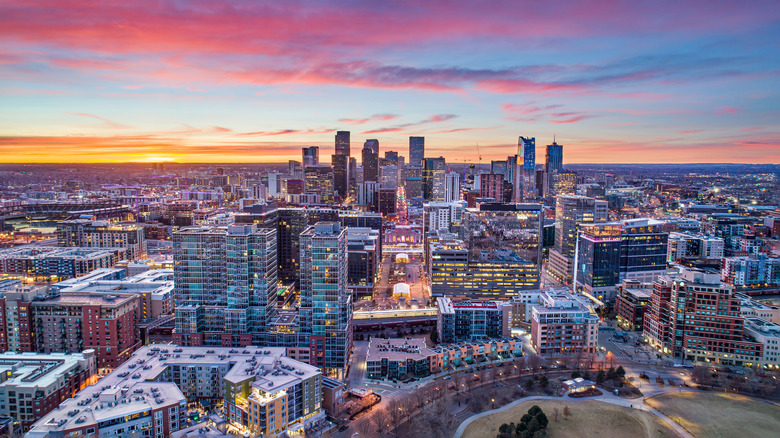 Kevin Ruck/Shutterstock
Denver is one of the fastest-growing cities for young people, which makes it a perfect spot for wedding parties that want to get away for a weekend and see what all the hype is about. Not only does Denver have a developed bar and beer scene, but the avid outdoorsman will find himself in pure bliss here.
The social scene in Denver is a little more elevated than in other cities around the United States, depending on how you look at it. There are lounges and clubs where you can legally smoke marijuana. Denver is one of the top cities in America for dispensaries and The Tetra Lounge was one of the first cannabis consumption lounges to exist in the country. If all of your bachelor party participants are down, heading there or to one of the city's many dispensaries can give an experience not found in many other destinations.
Denver's outdoor and recreation scene is both unique and diverse, as the city is situated between a desert and the Rocky Mountains. Visitors can enjoy a hike, a concert at Red Rocks, or skiing and snowboarding, depending on the time of year. There are also numerous bodies of water available for recreational sports in or near the city. Kayaking, paddle boarding, and rafting are popular activities. In fact, you can even scuba dive in the Downtown Aquarium if your wedding party is certified and looking for something a little more niche for your last weekend of being a bachelor.
Austin, Texas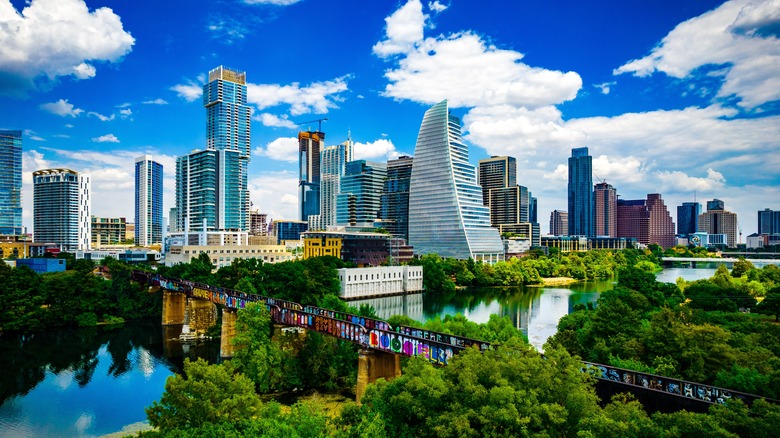 Roschetzky Photography/Shutterstock
Austin has been a growing hotspot for some time now, both for visitors and people moving to the city. As young people flock to the city, the nightlife scene in Austin continues to grow. Unique experiences can be found everywhere here, and you don't even have to look too hard. If you don't feel like bar-crawling, then seeing some live music, a drag show, or heading to an escape room are all excellent options for things to do at night. 
If you want a bachelor party spent on the water, Austin is a great choice. The city has a number of lakes to explore, and it's pretty easy to rent a boat and spend time relaxing on one with a spectacular view of the city. Stand-up paddle boarding, tubing, kayaking, and even bat-watching on Lady Bird Lake are popular pastimes here.
For more mellow wedding parties, the south side of Austin is a great place to explore during the day. It's a laid-back area with plenty of character and is a great counterbalance to the exciting, liveliness of Rainey Street, where you should head for some bustling nightlife.
Whitefish, Montana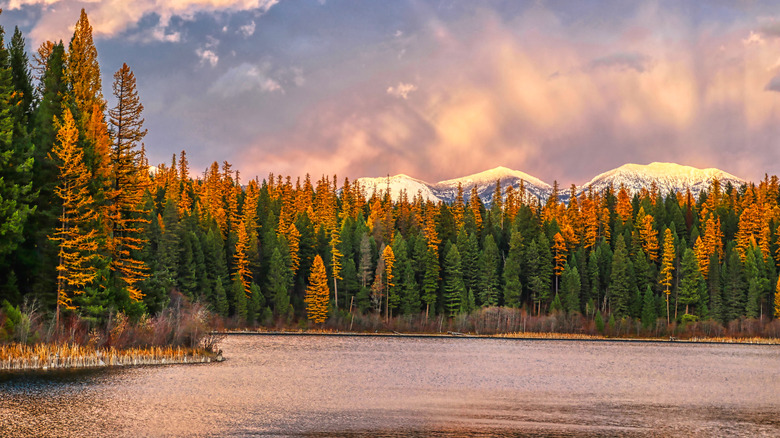 DanaForeman/Shutterstock
For the groom whose friend group is less about partying and more about being one with nature, Montana is widely considered to be one of the most beautiful states in the U.S. and Whitefish offers plenty of opportunities to see it from seemingly every angle. Not only is Whitefish located just down the road from Glacier National Park, but the small city also offers lakes, a river, and plenty of mountain views to enjoy.
If being out in nature sounds like paradise, spending your bachelor party camping with some of your closest friends could be a solid choice. It's certainly possible to fill a long weekend driving around Whitefish and the surrounding area to visit all the scenic wonders around every corner. Or, you could find one good spot to spend the weekend that will not only offer a relaxing bachelor party vibe, but also a bonding opportunity between friends before the big day.
If you want to leave nature behind and hit the bars, Whitehead also has a decent amount of drinking establishments. Spotted Bear Spirits is a distillery in the city that offers handcrafted cocktails and guests can participate in a tour that explains their processes. If beer is more your speed, Blackstar is a brewery and restaurant with a prime downtown location that has balconies and a rooftop to take in the sights with a drink in hand.