The Best Museums To Visit On A Trip To Paris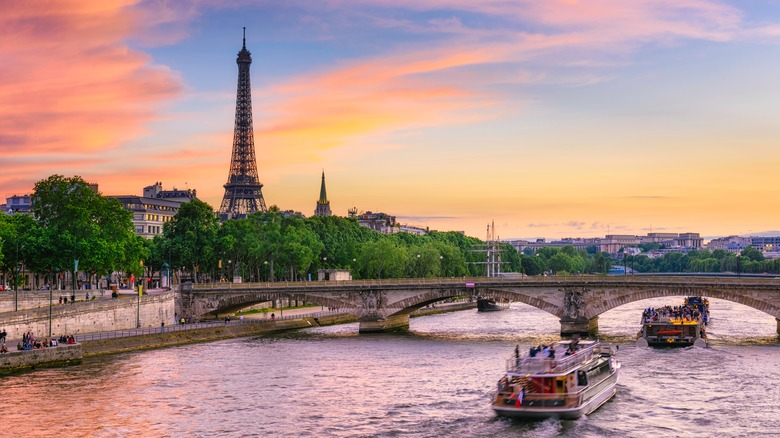 Catarina Belova/Shutterstock
The city of Paris is a lot of things — love, romance, history, fashion, cuisine, and, of course, art. Almost everyone has heard of the Louvre and knows it is home to some of the rarest pieces of artwork in the world, making it a definite must-see on any Parisian getaway. But there is a whole city of art beyond the Louvre, more museums, countless galleries, and exquisite art houses that are also worth a tour.
So, whether you are a lover of the fine arts, fashion, history, contemporary artwork, and great artists like Picasso, or enjoy marveling at interesting masterpieces, plenty of fantastic museums (or musées) are waiting for you in Paris. From the most visited museums to the smaller and less crowded hidden gems, travelers who plan to spend only a few days in the City of Lights may find settling on a few art spots for their museum day a bit difficult. To ensure you use your time wisely then, here are the best museums in Paris to visit on a rainy day, as a leisure activity, or simply because you're in the neighborhood.
The Louvre is still a must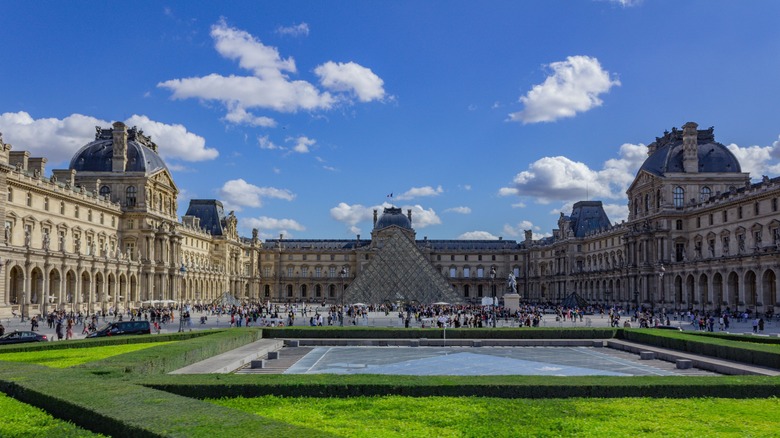 Wirestock Creators/Shutterstock
Of course, one cannot speak of the best museums in Paris and leave the Louvre off the list. So, if this is your first time visiting the City of Lights, you should definitely make it a point to visit this marvelous collection of world-famous art in the 1st arrondissement. You could schedule a guided tour and see as much of this Parisian wonder as possible or walk through by yourself, but either way, be sure to feast your eyes on the portrait of "Mona Lisa" by Leonardo da Vinci.
After marveling at the Mona Lisa, Louvre goers can check out several other main attractions like the French Crown Jewels and the Chambre de Parade du Rio (a lavish and royal area used by the likes of Charles V, Charles VI, Charles IX, and Henri III). The "Vénus de Milo," "Psyche Revived by the Kiss of Love," and the "Victoire de Samothrace," which are three renowned sculptures, also deserve a look-see. In fact, there is no shortage of amazing angelic statues around this glorious place — so be on the lookout. The Louvre even has its original Medieval foundations and moat from the early 13th century. These particular works of art, luxurious royal chambers, and the museum's own ancient ruins or artifacts only occupy a few rooms in the entire museum, so visitors definitely have their work cut out for them here.
Paris Museum of Modern Art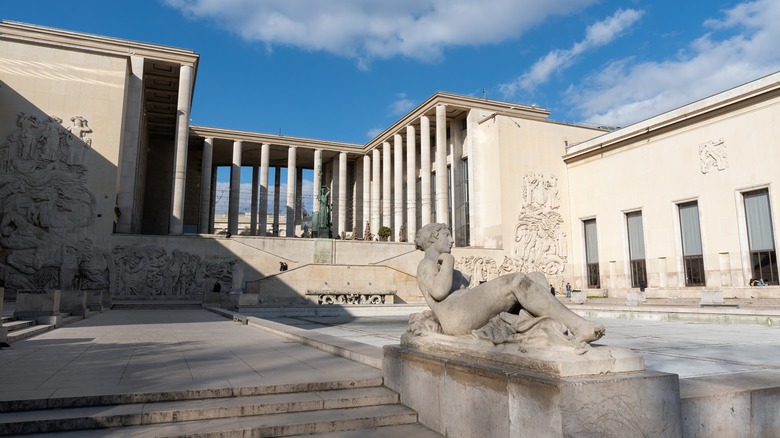 UlyssePixel/Shutterstock
After touring the Louvre, museum-goers should make their way over to the Paris Museum of Modern Art (MAM) in the 16th arrondissement. With over 10,000 works of contemporary art, plus incredible views of both the Eiffel Tower and the Seine River, this museum in Paris is simply delightful inside and out. Though this is a sizable space with artwork from 20th and 21st-century artists on display in two main wings, it is much easier to navigate than the expansive Louvre. 
Here museum-goers can delight in an abundance of thought-provoking exhibitions and fewer tourists. Before entering this house of art, visitors should really take the time to appreciate this particular museum's distinctive architecture and grounds, which are adorned with sculptures. Once inside, art lovers can embark on a journey through time via captivating photographs, renowned paintings, more beautiful statues, and even unique pieces of 20th-century furniture. And the best part of all — admission is currently free, so make sure you add this one to the itinerary.
Rodin Museum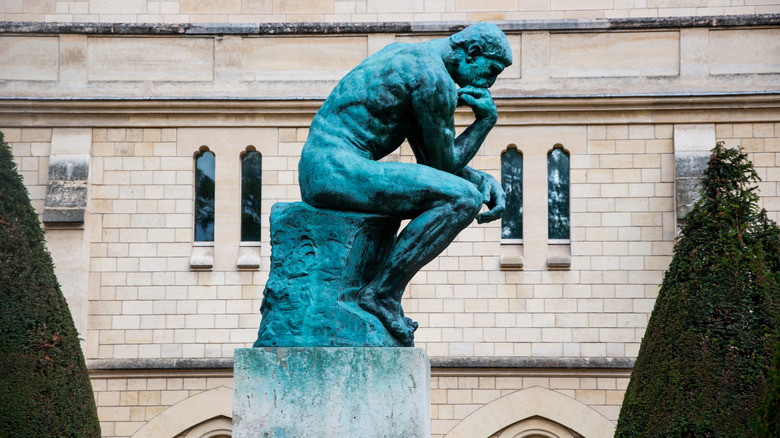 Yuliia Myroniuk/Shutterstock
Yet another great museum in Paris is the Rodin Museum. Located in an elegant 18th century hotel and mansion in the 7th arrondissement, the Rodin Museum is touted as one of the most beautiful museums in Paris. Dedicated to Auguste Rodin, a French sculptor who revolutionized the art of sculpture modeling, this house of art is very much an ode to the founder of contemporary sculpture art.
A true highlight of the Rodin Museum is that visitors are able to get up close and personal with the fine art statues on display here. Museum-goers can also check out the legendary "Monumental Thinker," "The Gates of Hell," and the over 20 other bronze sculptures in the gardens surrounding this private manor. Once you have had your fill of these statues, you can also marvel at this museum's painting collection, which showcases work from some of the greats — Rodin, Monet, and Van Gogh.
Musée of Marmottan Monet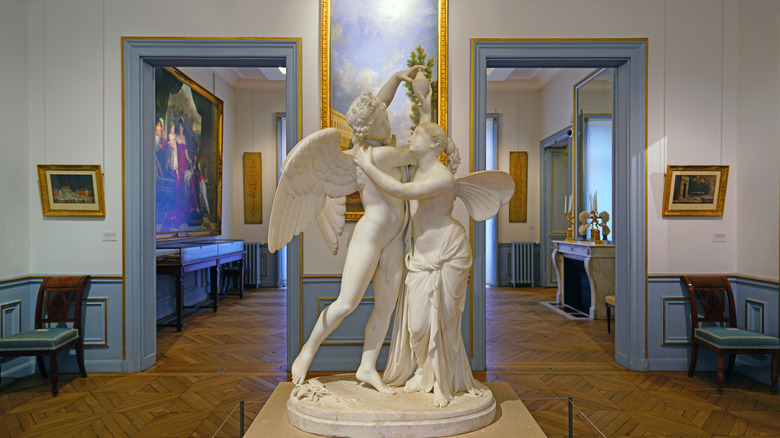 EQRoy/Shutterstock
Speaking of Claude Monet, art lovers are in for a real treat at the Musée of Marmottan Monet. Situated in the 16th arrondissement, Paris visitors will find a museum that feels more like a grand manor with an incredible art collection more so than anything else. With approximately 100 Monet paintings, this is definitely the largest Monet collection in the City of Lights. What's more, this art house is also home to Monet's pivotal piece "Impression, Sunrise." So first things first, make sure you catch a glimpse of this significant Monet masterpiece from which the style of Impressionism was born.
That said, much like the Rodin Museum, the Musée of Marmottan Monet showcases other artists, including Edgar Degas, Édouard Mandy, Berthe Morisot Pierre-Auguste Renoir, and more. Here, museum-goers can enjoy Impressionism and Post-Impressionism masterpieces in under three hours or less — making it the perfect midday adventure for all travelers. So if you are a Monet fan or just appreciate a good Impressionist piece, then stopping by this famous art house is an absolute must.
Centre Pompidou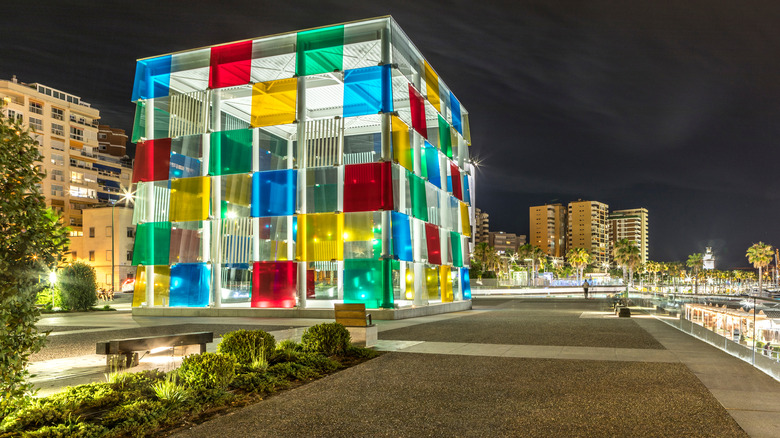 David MG/Shutterstock
Upon first sight, vacationers will see why the Centre Pompidou is nothing short of iconic. With such a colorful and intriguing exterior, one can only imagine what wonders await inside. Brightening up the 4th arrondissement, Centre Pompidou definitely makes the list of best museums in Paris. Not only does this incredible museum have one of the city's most expansive modern art collections, but it also has a rather splendid collection of contemporary art, and that's not even half of it.
Centre Pompidou has so much more to offer, as there are several other collections, including design art, photography, cinema, new media, and even books. Museum-goers can also enjoy a rather impressive view of Paris from the 6th floor in the museum. To top it all off, the rave-worthy Restaurant Georges (reservations are required, so book ahead) and the Mezzanine Café also call this incredible center for the arts home. So if you happen to work up an appetite while perusing this spectacular place, you can grab a light lunch or a phenomenal dinner in Centre Pompidou as well.
Musée de Cluny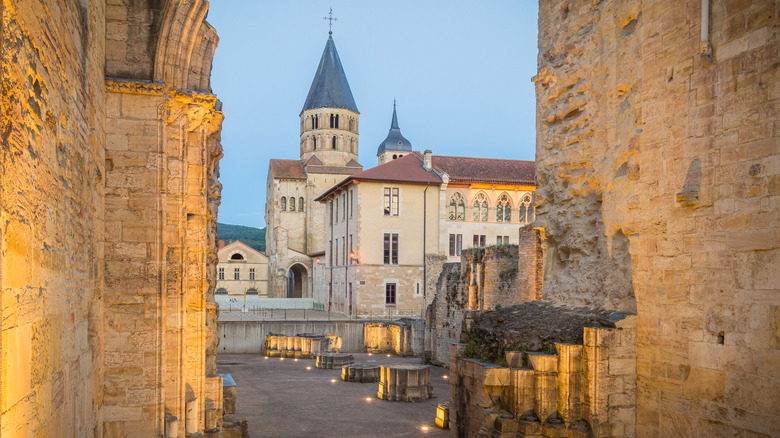 tichr/Shutterstock
With a plethora of art exhibitions, collections, and galleries, you may think that the City of Lights has forgotten about the history buffs. Well, there is no need to panic, as there are more than a few amazing history-focused museums in Paris. In fact, the Musée de Cluny is a wonderful museum in the traditional sense. So, history lovers, especially those fascinated with the Middle Ages, medieval customs, and ancient artifacts, should head to Musée de Cluny in the 5th arrondissement or the fun-filled Latin Quarter.
Here, museum-goers can marvel at the acclaimed tapestry series of "The Lady and the Unicorn," also known as the "Mona Lisa of the Middle Ages." Musée de Cluny visitors can also take a gander at the remnants of the ancient Galo-Roman Thermals Bath, the sculptures from the Cathedral of Norte Dame, Votive Crowns, plus the Chapel of The Hôtel de Cluny and the Sainte-Chapelle Of Paris relics. There is also an entire room in this historical treasure trove dedicated to daily life in the Middle Ages. Don't be surprised when you lose track of time in this enchanting place.
Musée de l'Orangerie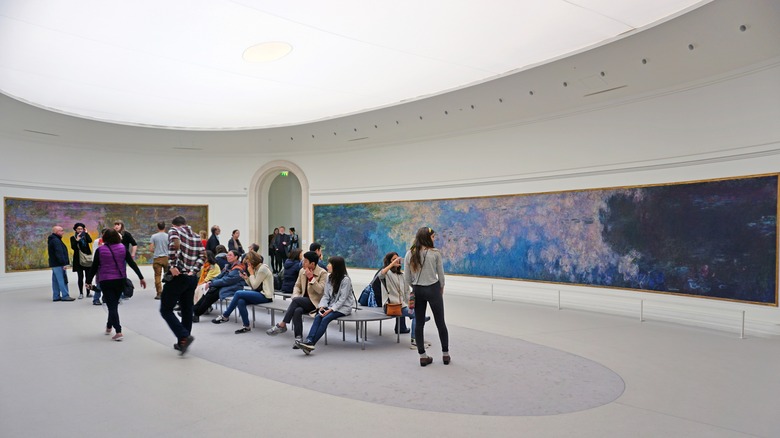 EQRoy/Shutterstock
Though the Musée de l'Orangerie is, in fact, one of the smaller art houses in the City of Lights, it definitely knows how to make an impression. Also located in the 1st arrondissement with stunning views of the Seine River, Musée de l'Orangerie has an attention-grabbing way of displaying the one and only "Les Nymph," which is a breathtaking series of water lily paintings by none other than Claude Monet. By using two large panels in oval-shaped rooms, museum-goers can take in all the surrounding beauty here — and for many visitors, this is truly where the magic happens.
That said, Musée de l'Orangerie has other rooms filled with both permanent and temporary exhibitions. Several masterpieces by Auguste Renoir, Paul Cézanne, and Henri Matisse are a forever staple in this gorgeous venue. Plus, other notable impressionist and post-impressionist artists are highlighted throughout the year as part of short-term exhibits. So if you happen to be in the neighborhood, then you should definitely check this bucket-list-worthy place off of your Paris itinerary.
Musée d'Orsay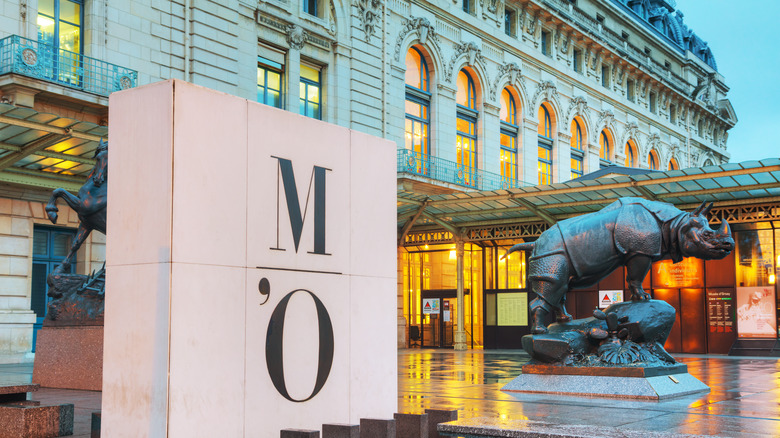 photo.ua/Shutterstock
Almost as well-known as the Louvre, the Musée d'Orsay actually has the largest Impressionist and post-Impressionist artwork collection in the world. Located in the 7th arrondissement, this museum is a fan favorite for both Parisians and vacationers alike. This former railway station from the late 1930s turned fine arts museum is simply enthralling for all who encounter it.
With Manet's controversial "Olympia" and one of the must-see "Starry Night" paintings by Van Gogh, there is no denying the fact that this particular venue ranks high among the best museums in Paris. This world-famous art gallery also has numerous sculptures and statues, indoors and out, that have become so iconic they are often used as meeting points for tour groups and meet-ups with friends. And in two hours or less, you can marvel at all the incredible works of art that this historic and distinguished place has to offer.
Musée de l'Homme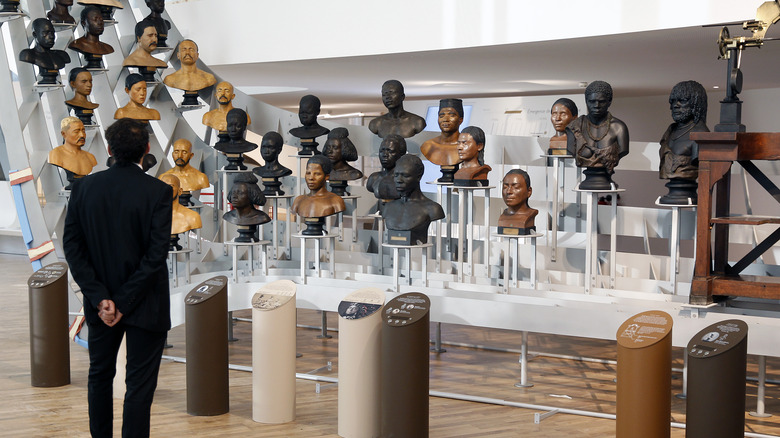 Chesnot/Getty Images
Musée de l'Homme is just one more thought-provoking art exhibition center every traveler should consider adding to their itinerary while in town. Situated in the 16th arrondissement, this non-traditional museum is on a mission to find the link between people worldwide while still respectfully highlighting what makes us all different. Besides this honorable and visually stunning task at hand, this museum offers visitors the perfect bird's eye view of the Eiffel Tower on practically every floor of the building.
Here, visitors can also travel back in time and marvel at various societal advancements from all over the globe, thanks to Musée de l'Homme's partnership with the National Museum of Natural History. With frequent new exhibitions, a lack of crowds, incredible vistas, and so much more, Musée de l'Homme is absolutely worth a visit. This riveting anthropology venue is also a great option for Paris vacationers with children (of all ages).
Picasso Museum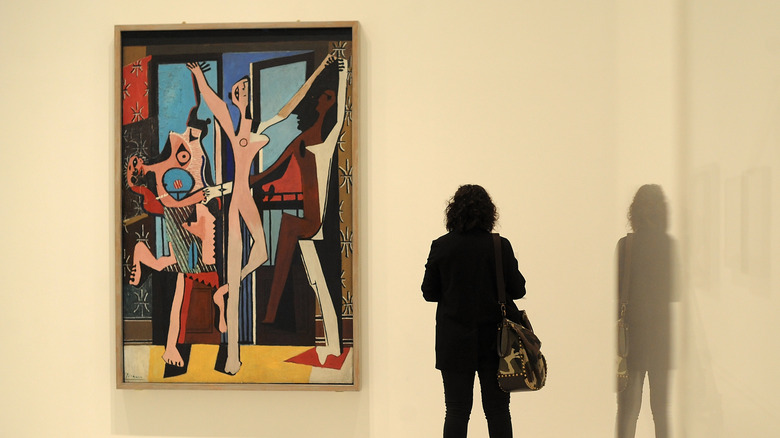 Denis Doyle/Getty Images
For self-proclaimed art lovers, stopping by the Museé National Picasso-Paris is almost a rite of passage. This magnificent single-artist gallery is overflowing with some of Picasso's most famous works of art and where some of his rarer pieces can be found. Though the former Hôtel Salé is more of a private mansion than a traditional museum, it is open to the public and worth a tour during business hours. Located in the heart of the historic Marais district (which stretches across the 3rd and 4th arrondissements), this Picasso treasure trove is quite extraordinary.
Besides being able to marvel at countless Picasso masterpieces in a fairytale-like estate, visitors can also delve deeper into this remarkable artist's comprehensive catalog and better understand how his work evolved throughout his life. And unlike most of the other single-artist galleries, Picasso is the only star of the show here. So come check out this museum's extensive collection of Picasso's mesmerizing engravings, drawings, paintings, and sculptures for an art experience of a lifetime.
Musée du Quai Branly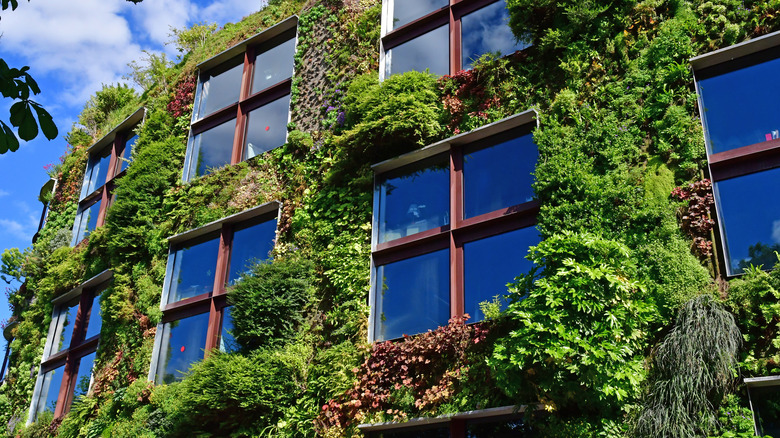 Pack-Shot/Shutterstock
Right in the heart of the 7th arrondissement, vacationers cannot miss the uniquely designed Musée du Quai Branly. This wondrous, creative venue is one of the only indigenous and non-western civilization art museums in the City of Lights. What's more, this particular art house and cultural museum is actually one of the newer additions of its kind to the overall art scene in Paris. So travelers looking to see something a little different on their museum day will be pleasantly surprised here.
The Quai Branly museum exceeds all expectations with its massive and diverse collection of art from across the globe. In fact, the museum is divided into four major sections — Africa, Asia, Australasia, and America. So, if you find creative works, art, artifacts, and more from faraway places fascinating, this museum is for you. Quai Branly also has a beautiful botanical garden, which offers city wanderers a culture-rich oasis in the middle of Paris where they can appreciate diverse works of art or simply take a load off amongst the lush landscape.
Jeu de Paume Museum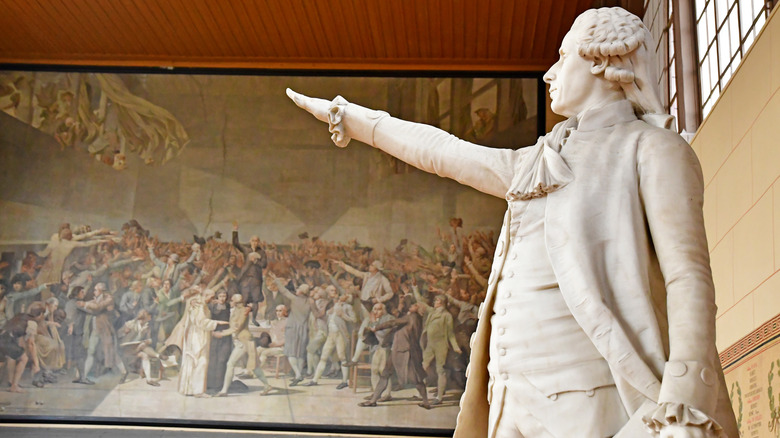 Pack-Shot/Shutterstock
Jeu de Paume is one of Paris's most interesting cultural venues and art institutions. For starters, this former tennis court and sports field turned museum is nestled in the middle of the Tuileries Gardens in the 1st arrondissement. Known for its international gallery of artists, vacationers and city explorers will find a creative space dedicated to modern and post-modern visual media arts. From cinematic and photographic works of art to media installations, Jeu de Paume is so much more than just a museum.
While experiencing Jeu de Paume, visitors can marvel at the thrilling visual creations on their own or via a group tour. Though this multipurpose art venue does not host any permanent exhibitions, there are still several events worth checking out throughout the year here. Jeu de Paume also offers seminars and courses for anyone looking to hone their craft. Of course, if you are only going to be in town for a couple of days, then it is perfectly acceptable just to enjoy the phenomenal sights and sounds here. Plus, visitors can peruse this art venue's bookstore and library, mingle with others, grab a light bite to eat at the onsite café or revel in the gardens. With ample things to do at this ever-changing museum in Paris, it is not too hard to see why this one made the list.
Yves Saint Laurent Museum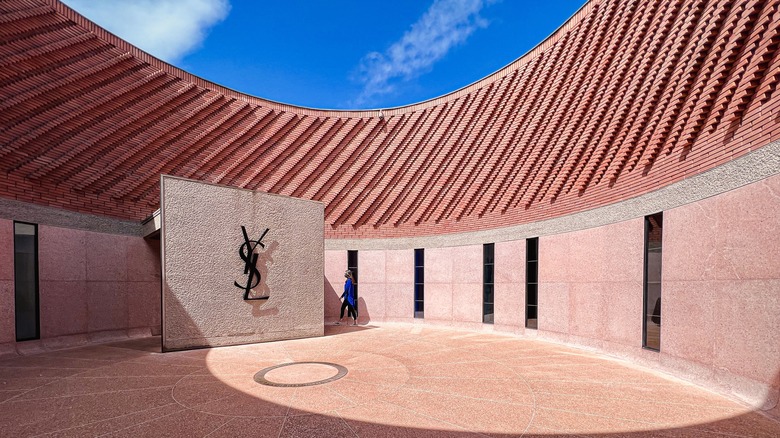 ali caliskan/Shutterstock
Last but not least, Yves Saint Laurent Museum is a must for fashion enthusiasts visiting the City of Lights who cannot help but love a world-renowned brand name, French designer, and style icon. Arguably, one of the best museums in all of Paris and located in the 16th arrondissement, this fashion house shrine is housed in the very same structure where Yves Saint Laurent spent thirty years tirelessly building his legendary designer clothing and accessories line. Notably, the first museum of its kind, at least on this scale — even non-diehard fashionistas can appreciate this creative space.
Not only can visitors obsess over priceless high fashion pieces and style extras they may have only once dreamed of in person, but they can also appreciate the skill and pure artistry that is on display here. This magical place also provides YSL lovers with a peak behind the curtain when it comes to the overall creative process and design. But that's not all — the Yves Saint Laurent Museum hosts a variety of in-house events, external exhibitions, thematic displays, and more. The Yves Saint Laurent Museum is even available to rent out for private parties. And besides, who doesn't love Yves Saint Laurent? Exactly. So, you might as well add this one to the activities schedule when visiting, too — and get ready to marvel at all 20th-century style traditions, haute couture, gorgeous dresses, and dazzling fashion accessories.