The Complete Walt Disney World Guide For Guests With Disabilities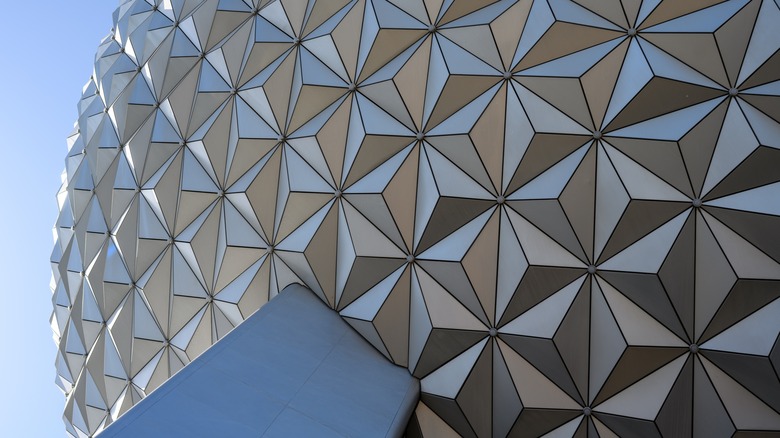 Ayman Haykal/Shutterstock
A trip to Disney World often elicits thoughts of Mickey ice cream bars, fireworks, and magic. But it can also bring up thoughts of a lot of walking, waiting in long lines, and crowds. While those elements of a Disney World trip can be an annoyance for some travelers, for others they can be insurmountable obstacles to enjoying the magic. Luckily Disney has implemented many programs to increase accessibility at Walt Disney World. While it isn't perfect, Disney World has come a long way in what they can offer guests with a wide variety of needs. 
Because disabilities are complicated, seen, and unseen, Disney does not require proof of disability to utilize the services they offer to guests. For example, myriad mobility devices can be rented from the parks or other companies around the Disney World area to help those who may need additional mobility support during their visit. From the Disability Access Service (DAS) pass program to accessible park materials, interpreters, and service animal allowances, this guide will outline the different ways guests with disabilities can still partake in the wonder.
Getting a DAS pass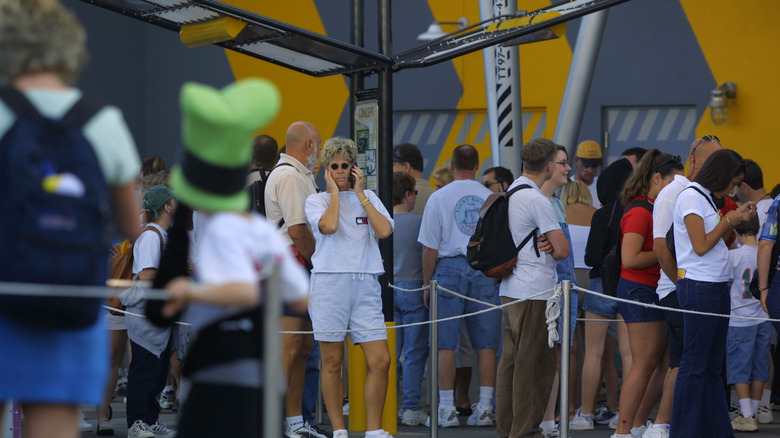 Joe Raedle/Getty Images
Disability Access Service (DAS) is Disney's accessibility program to help those who have extreme difficulty or inability to wait in lines for attractions. These passes allow the DAS holder and members of their party to be assigned a return time for attractions so they can leave the queue area and come back to enjoy the ride at a later time. This way guests who cannot wait in the long lines can still enjoy the attractions around all of the parks. 
Thanks to technology, pre-planning a DAS pass before your Disney World vacation has never been easier. Guests needing a DAS pass can arrange to do a qualification interview with Disney from two days up to 30 days before their trip. In order to get the pass ahead of the trip, the interview must be done at least two days ahead of arrival.
By getting the pass taken care of ahead of time you can pre-plan attractions for certain days to acquire return times and have more planning abilities for your entire party. You can only get two return times per day ahead of time, though you can arrange other attraction return times throughout the day while you're in the park. This functionality is similar to the bygone Fast Pass system but using the current Genie+ system.
Enrolling in DAS at the parks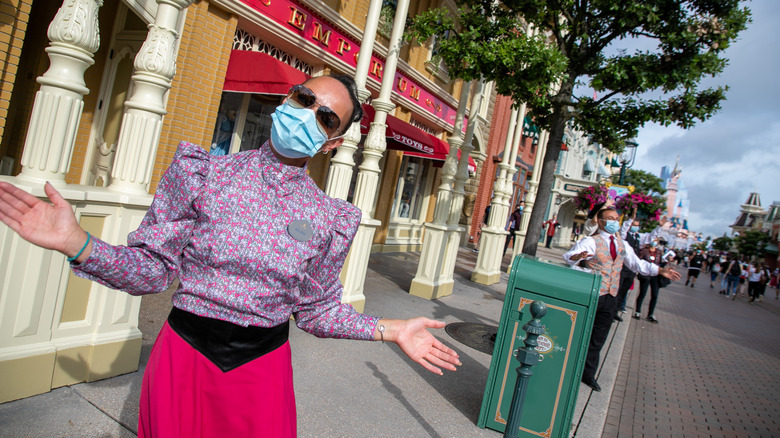 Marc Piasecki/Getty Images
Sometimes the unexpected can create the need for a DAS pass at the last minute for a trip or a member of your party changed their mind about getting a pass beforehand. That's no problem at Disney World because you can enroll in person with ease at various locations around the resort property. The easiest way to register for DAS in person is by stopping by the guest relations locations at each of the parks. This only needs to be done once during your trip (not each time you go to a different park) and the DAS pass is good for 60 days after it's created.
In order to apply in person, the individual requesting the DAS pass needs to be present. This is also true for the pre-registration as well. Please note that a photo of the individual will be taken when the DAS pass is requested. You don't need to bring any documentation or proof when applying for DAS, the program is established in good faith.
What qualifies for a DAS pass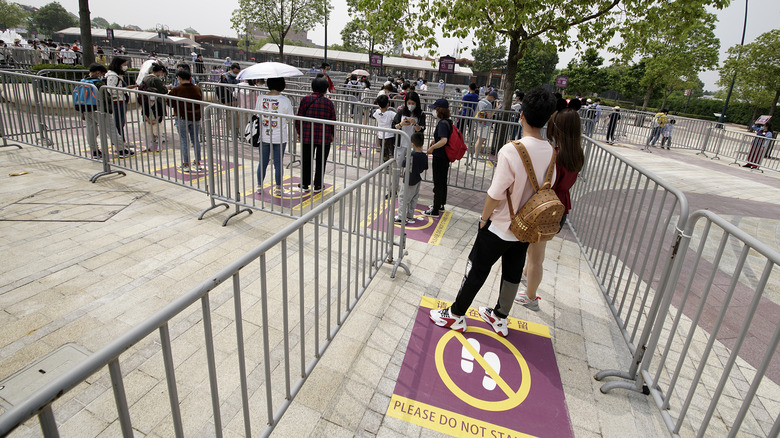 Hu Chengwei/Getty Images
Contrary to what some may think, qualifying for a DAS pass is not really about mobility or the ability or inability to get around. Qualifying for a DAS pass is about being unable to wait in line for a medical reason. Being in a wheelchair or an electric vehicle does not automatically qualify someone to use the DAS program. The program is for both seen and unseen disabilities that make lines extremely uncomfortable for the visitor or an impossible barrier to enjoying the park.
You do not need a doctor's note or prove to Disney that you need DAS. Explaining why the program would make your park experience more enjoyable and how waiting in line is a barrier is enough to qualify. That said, if you lie to the company about your accommodation needs to acquire a DAS pass, you can be permanently banned from U.S.-based Disney property for life. That means no visiting Disney World or Disneyland ever again. And no, there are no refunds for anyone found falsifying their information.
How does a DAS pass impact your travel party?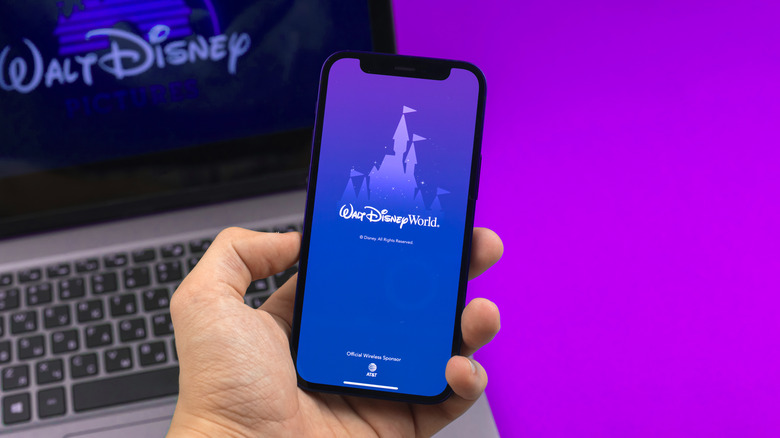 FellowNeko/Shutterstock
Five other guests and the person with the DAS pass can be added to a travel party through the My Disney Experience app. For larger parties looking for accommodation, they will need to contact Disney directly or stop by Guest Relations at the park to see if their larger group can be accommodated via the DAS pass to stay together for attractions. Party members can be connected to the guest with the DAS pass regardless of whether they applied for the DAS program ahead of time or in person. 
When people are connected through the My Disney Experience app with a party member holding a DAS pass, those party members are allowed to be with that pass holder when they do their return times for attractions. While larger parties may not always be able to stay together for attractions if parties are five plus the DAS pass holder, they are able to stay together for attraction admissions. 
Disability stroller and vehicle tags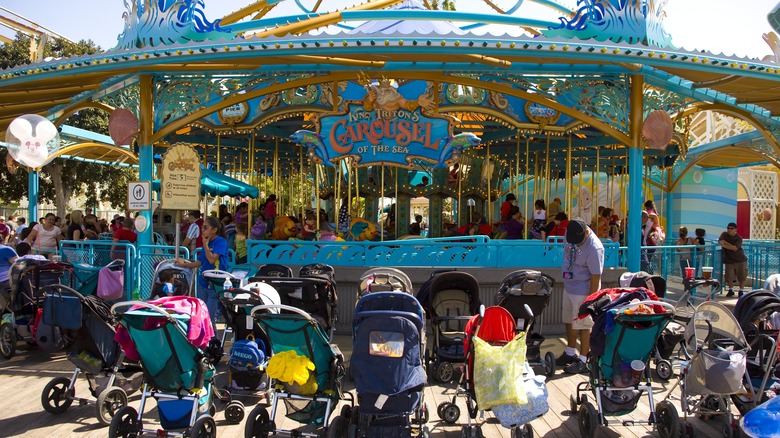 George Rose/Getty Images
Because of crowding, there are a lot of stroller parking areas around Disney World. That means having to leave your stroller or sometimes other mobility aids like large electric vehicles away from an attraction ahead of waiting in line. But guests with DAS passes can request stroller or vehicle tags from Guest Relations that identify the need to keep the stroller/vehicle with them in line due to a seen or unseen disability of the mobility device user.
These stroller and vehicle tags can be acquired at Guest Relations at any point during your Disney trip when you need them. You only need to get the tag once for use at all of the parks for the entirety of your stay. Be sure to securely attach the tag to your stroller or other vehicles so you don't have to get a new tag and waste precious minutes not experiencing the magic in the parks.
Showtime disability viewing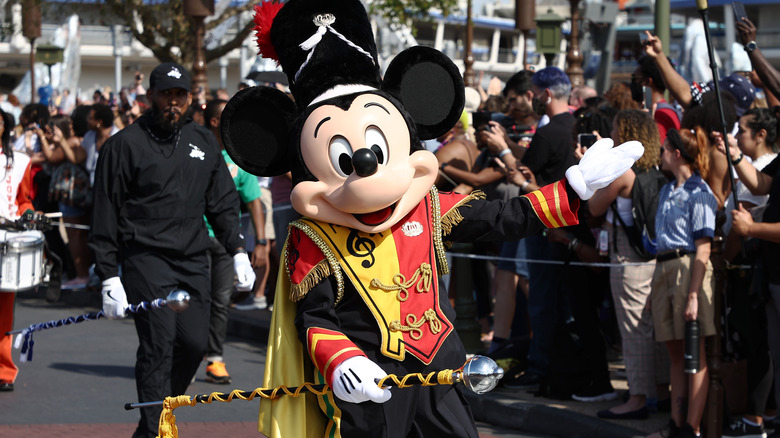 Arturo Holmes/Getty Images
Programs like DAS do not include reserved seating areas for shows and parades at the parks, though there are viewing areas for guests with disabilities. These spaces cannot be reserved, however, and are on a first come first served basis like all other show viewing areas. Even so, having these specified areas for guests with disabilities makes the shows more accessible, though on a limited basis.
These areas are designated for visitors with disabilities but your party can also stay with you to see the show too. If you have a group larger than six (including the person with the disability) be mindful of other folks who may also need to utilize the disability viewing area. Obviously, as a first-come, first-served basis of finding spots to see the show, securing these spots is a matter of timing.
When it comes to events like fireworks and parades, keep in mind that the crowd around you will be densely packed. You may be unable to leave once you take a spot for watching the event. Keep that in mind when finding a location for your party to enjoy the show. If you're seeing a seated show like Festival of the Lion King, you can also let a cast member know the kinds of needs your party has before seating. Like if you need to be placed closest to an exit, it's important to tell a cast member.
Acquiring assistive devices
Another way the Disney World parks seek to be more accessible is by offering assistive devices for a range of services. These devices are available on a first-come, first-served basis and may require a daily deposit for use which is returned after the device is given back to the park. The Assistive Listening system, for example, is a handheld listening device for guests with mild to moderate hearing loss. These devices help increase the sound on certain attractions throughout the parks, though they do not work on every attraction. Handheld captioning devices can also be rented with a returnable deposit from Guest Relations at each park.
Some of the other devices at Disney include reflective captioning devices. These LED screen devices help guests at show-type attractions like the Hall of Presidents or It's Tough to Be a Bug. Getting one for each individual attraction is easy, the guest simply needs to ask a cast member working at the attraction to use it. Once the attraction is over you can hand the device back and be on your way.
Making use of break areas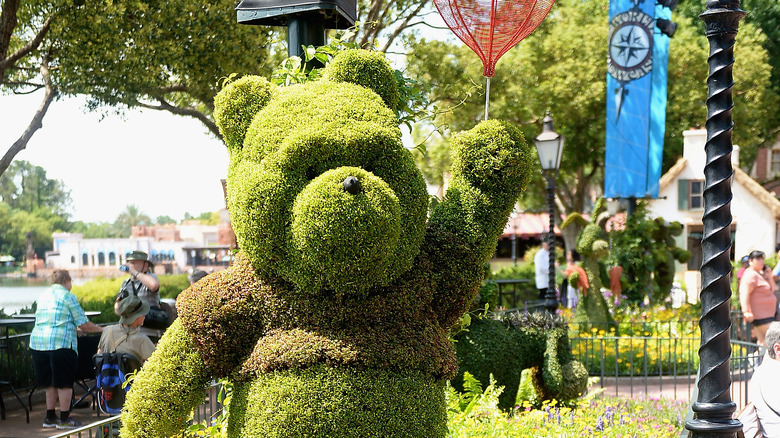 Gustavo Caballero/Getty Images
Other than the baby care centers at each of the parks, there aren't specific break areas for guests to make use of. However, there are several areas that are lesser used that can be made into a space for a quiet moment. This can be especially helpful for folks with cognitive disabilities that need a break from the crowds even for a brief moment.
Some of these identified areas include the open area outside of the Big Thunder Railroad exit in Magic Kingdom, the area surrounding The Odyssey Center in EPCOT, the Cretaceous Trail near the Dinosaur ride in Animal Kingdom, or the covered sitting area outside of the Tower of Terror in Hollywood Studios. If you find yourself in a park and in need of a less crowded area to take a break, a cast member can also tell you a nearby spot. They are in the parks day in and day out so they can let you know what your best option will be.
Utilizing the rider switch option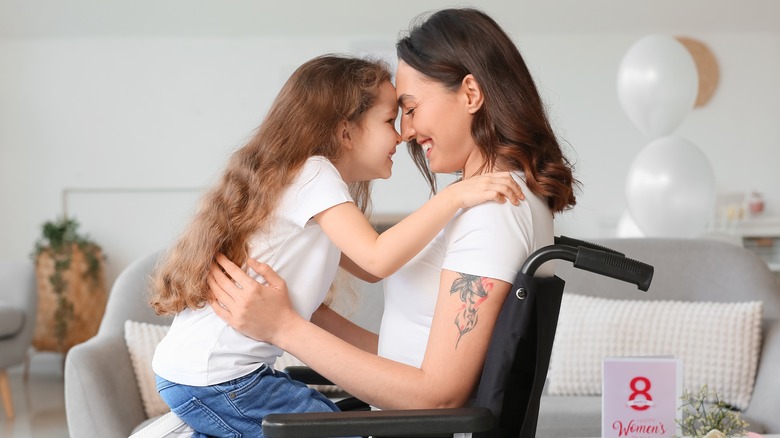 Pixel-Shot/Shutterstock
Disney World offers something that many folks with young kids will recognize which is known as "rider switch." This option lets guests wait in line at certain attractions and then swap out with the person who will actually ride the attraction near the end of the line. By switching out, the person being swapped in does not have to wait in line (hence why kids are frequent swappers) and the person who waited in line for them does not have to ride.
Anyone (so long as the person being waited with is over the age of 14) can utilize the rider switch option if an attraction allows it. So if a guest with a disability (with or without a DAS pass) does not want or cannot wait in line, they can send a non-riding companion into the line on their behalf. What's excellent about this program is that guests can use it once and never again or frequently based on their individual needs while visiting the park.
Sign language interpreters at the parks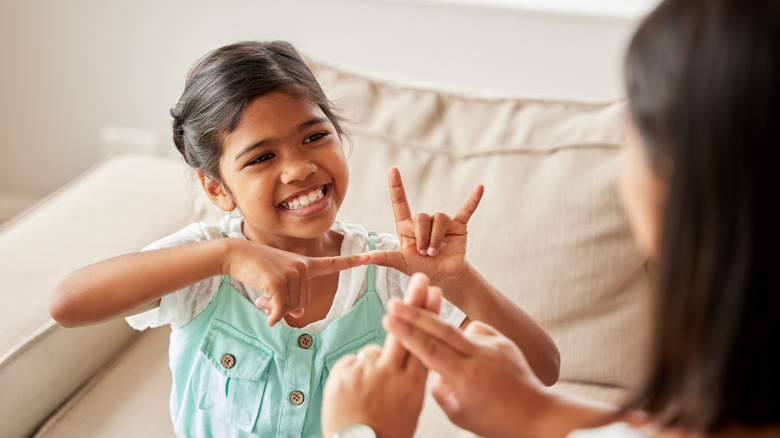 Peopleimages/Getty Images
Interpreters are not always on hand at Disney World parks all day every day. However, on certain days of the week the parks will have sign language interpreters (American Sign Language, ASL) at those parks' shows. Those days are Saturdays at Animal Kingdom, Sundays and Wednesdays at Hollywood Studios, Tuesdays and Fridays at EPCOT, and Mondays and Thursdays at Magic Kingdom. If utilizing the interpreter, let the cast member know at the show you're attending to make sure you can sit in a better viewing distance of the interpreter.
Other special events or shows like Disney's "Spirit of Aloha" can have interpreters upon request so long as the request is at least two weeks ahead of time. If the presence of an interpreter is a concern for your party, try to confirm with Disney at least a week before you go to the specific park you're worried about. The cast members will do their best to help make your trip as magical as possible.
Specialty maps and guidebooks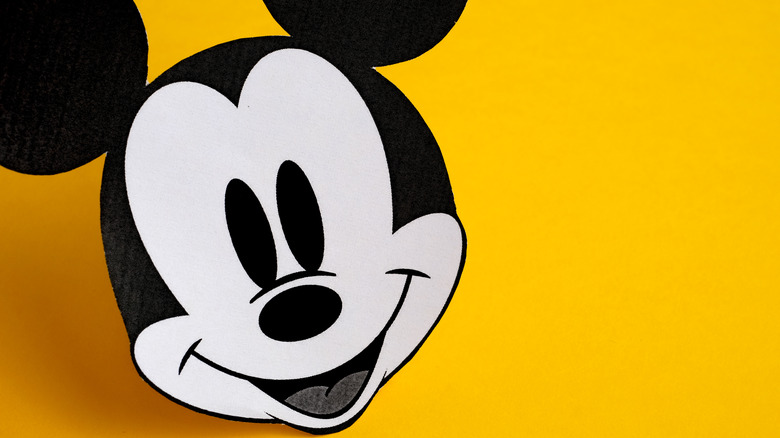 ilikeyellow/Shutterstock
For guests with visual disabilities, each Disney World park offers specialized guidebooks and maps to assist guests around the park. A guidebook with larger text, braille maps, and audio devices for descriptions are some of the accommodations offered at the parks. These aids can help guests, especially those who haven't been to the parks before or in a long time, find their way around. More than that, they can help guests determine what the attractions entail throughout the parks.
The audio devices also include a lot of other map information that could prove helpful for users throughout their time at the parks. They showcase area and attraction descriptions, toilet locations, entertainment options, service animal relief areas, and what food or beverages are available around the park. Knowing all of these spots, especially for first-time visitors, can make all the difference during a hectic park day.
Keep in mind the audio descriptors may not be as up-to-date as the My Disney Experience app, however, so having someone in the party with an updated app will be very handy as well. It can tell you what attractions are down, showtimes, and other up-to-the-minute information you may want.
Boarding attractions with mobility devices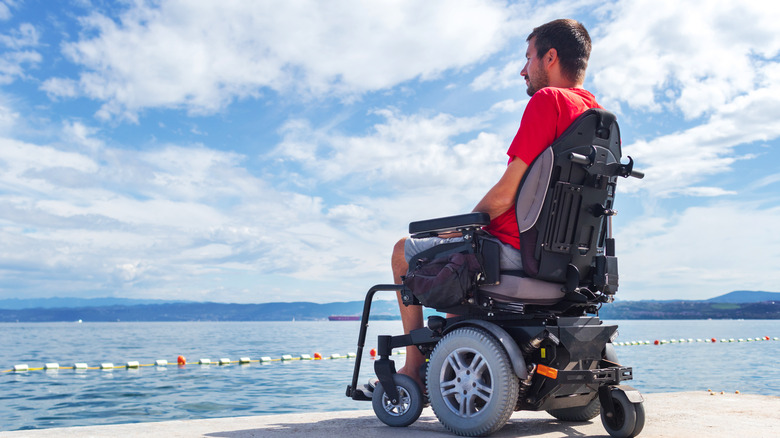 24K-Production/Shutterstock
Many of the attractions at Disney World are equipped so that wheelchairs and electric vehicles can navigate the standard queue with everyone else. Though that isn't the case with every attraction, in which case the cast member shows you where to go from there. One of the worst ways to spend a Disney day is getting stuck in a queue because it can't accommodate an electric vehicle — so pay attention if a cast member directs you elsewhere. If for some reason a cast member is not at the front or you have a concern about the line, wait for a cast member to return.
Most of the attractions cannot accommodate electric vehicles on the ride itself, in which case the user will have to transfer to a manual wheelchair. Cast members have wheelchairs on hand to lend to guests at each attraction. Wheelchair users do sometimes have the option to stay in a manual wheelchair on the ride, though it will reduce wait time if a transfer to the ride seat can be accommodated.
A few rides at Disney World have sample cars to practice boarding into if you want to be sure you can easily get into the ride cars. The rides that have these are ones that are known for having different kinds of rider experiences like Expedition Everest and Mission Space. Rides also have alternative cars to accommodate wheelchair users or other folks who need a different kind of ride experience.
Navigating the parks with service animals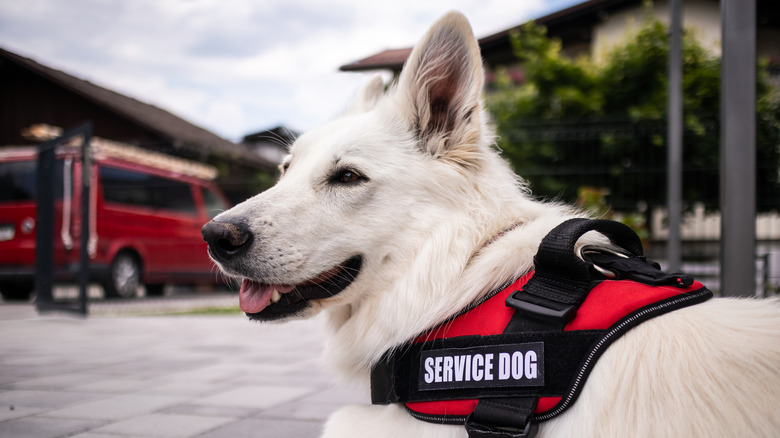 24k-production/Getty Images
Service animals (not to be confused with emotional support animals which are not allowed in the parks) are more than welcome at Disney World. That said, these animals are not allowed on certain attractions like intense coasters such as Space Mountain or other attractions like Soarin'. If a guest with a service animal goes on a ride that cannot accommodate their animal, a cast member will bring the guest and their service dog to a large crate. The service dog will remain crated while their owner is on the ride and they will be reunited after the ride is finished.
There are service animal relief areas throughout the parks for pups to use the bathroom. Don't forget that ice water is available for free at quick-service food locations and some carts. Ice can be kept in a portable pet water bottle to provide very cool refreshment on the go — it works for humans too!