Disney World's Cheapest Accommodations Are A Lot Nicer Than You Expect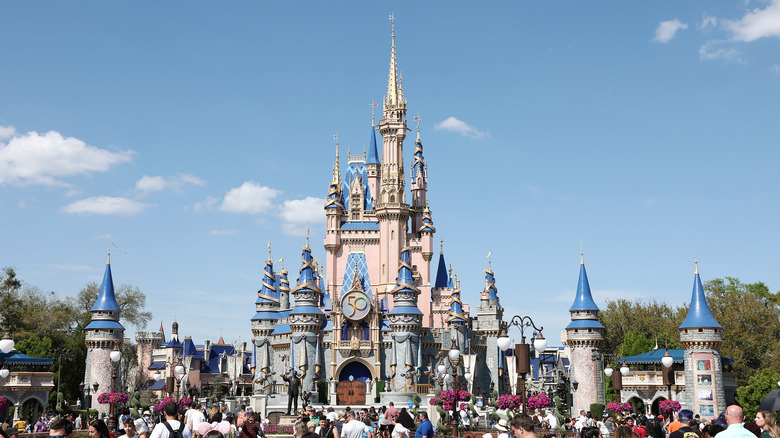 Arturo Holmes/Getty Images
The magic of a Disney World getaway is something that appeals to tourists from across the globe. Disney World brings in more than 58 million visitors annually and proudly hosts the title of the world's most-visited vacation resort. As visitor numbers have risen, so have the costs to enjoy the experience. On average, Disney World raises its ticket prices once annually with prices fluctuating seasonally as well.
For visitors looking to stay on-site, the cost of booking a Disney World Resort hotel can be a significant portion of their budget. There are more than 25 options within the collection of Disney Resort hotels for guests to choose from and some boast breathtaking nightly price points. Destinations like Disney's Polynesian Village Resort highlight the alluring tropical spirit of the South Pacific while the Grand Floridian is designed to embody the very definition of lavish living.
Ranging from sensationally sophisticated to wonderfully whimsical, these hotels are one-of-a-kind. Unfortunately, they can feel out of reach financially for some travelers. The good news is there are options available within the greater collection that are cost-friendly too.
Cost-conscious travelers will find that many of the more affordable Disney World Resort hotels come with unexpected benefits. Those who consider themselves to be outdoor adventurers can even find options perfectly tailored to their travel style. One of the most budget-friendly stays at Disney World is the campsites at Disney's Fort Wilderness Resort. Here visitors pair immersive moments in nature with easy park access.
Camping at Disney World is affordable and fun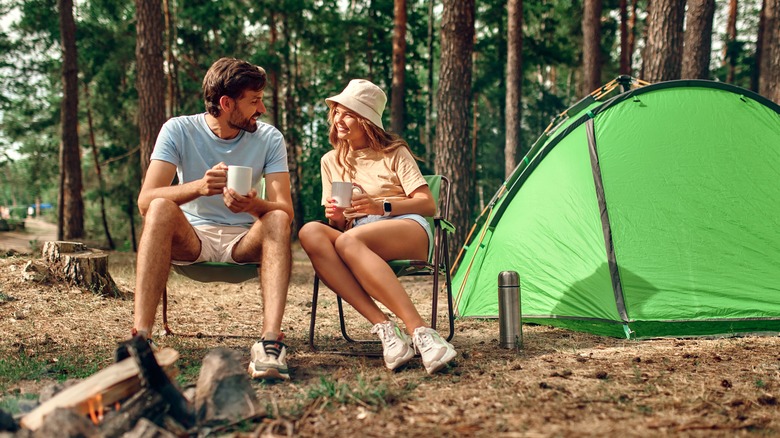 ORION PRODUCTION/Shutterstock
Tent camping might not come to mind first when Disney Resort hotels are mentioned. However, that's exactly what adventurers can affordably enjoy at the campsites at Disney's Fort Wilderness Resort. Sprawling across 750 acres of wilderness, the Fort Wilderness Resort is an ideal option for those who have a passion for nature and are looking forward to Disney magic too.
The campsites are close enough to Magic Kingdom for campers to view fireworks each evening. They're also remote enough that you'll likely see animals like rabbits, ducks, and deer wander by. The great outdoors, Disney, and budget-friendly accommodations find their balance here, but that doesn't mean it's an entirely rugged experience.
The campsites at Disney's Fort Wilderness Resort offer tent campers a variety of amenities to enjoy during their stay. Surrounded by towering pine and cypress forest, each campsite is fully-equipped. Guests who choose to camp at Disney will find a site waiting that includes electrical hook-ups, picnic tables, a grill, and great landscaping.
Outdoor enthusiasts will love the privacy provided by this experience as well as the easy access to the comfort stations. Each station is set up with shower and bathroom facilities. There are also ice machines and laundry rooms available.
Golf carts can be rented to get around conveniently, and a variety of on-site activities are available too. Horseback riding, canoeing, and archery are all top choices. Campers can also spend time cooling off at the resort pool.
Pair outdoor adventure and theme park thrills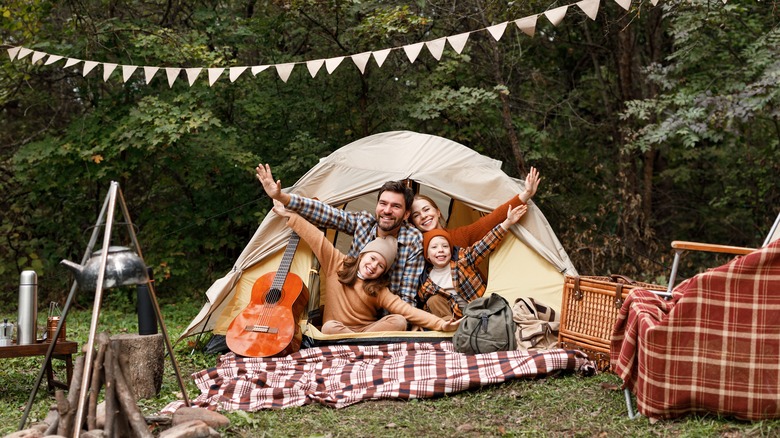 Evgeny Atamanenko/Shutterstock
RV sites and cabin stays are available at the campgrounds as well, but tent camping is the most affordable and adventurous route for guests. When campers aren't out fishing, hiking the campground trails, or biking their way through an outdoor stay, they can just as easily spend time at the theme parks. While the affordability of the campsites at Disney's Fort Wilderness Resort is appealing, campers will also love how close the resort is to Magic Kingdom.
There are plenty of easy options for making your way to the parks when you camp here. Just as with other Disney Resort hotels, those who camp at the Fort Wilderness Resort Campground enjoy complimentary parking at all of the theme parks. That means if you've arrived with a vehicle, you can drive over to your theme park of choice without added costs included.
If you prefer to leave your vehicle behind entirely, that's fine too. The campground hosts a complimentary boat transport that drops passengers off right in front of the main entrance to Magic Kingdom. There's also a complimentary bus that campers can take that leaves from the Outpost Depot and heads out to the theme parks.
This value-friendly camping experience at the Fort Wilderness Resort perfectly pairs time in nature with theme park fun. It also helps travelers save significantly on their Disney World stay. Ultimately, it's a refreshing change of pace for outdoor adventurers who equally love their in-park thrills.