How To Make The Most Of Your Trip To The Art Institute Of Chicago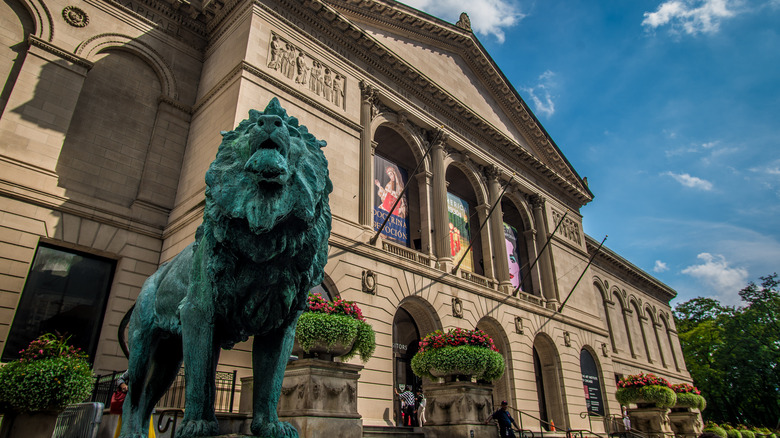 Joshua Fawzy/Shutterstock
The Windy City: Vibrant, iconic, historic. From its mobster days to its sports plays, the city of Chicago is known the world over for its diverse culture, fascinating architecture, and legendary music. It's also a foodies' haven, historians dream, and art lovers paradise. From its unprecedented amount of art galleries, according to TimeOut, to its 67 museums, as recorded by Museum Hack, the cultural mecca of Chicago has something for everyone to enjoy.
One specific art museum in the Chicago area provides the best of both worlds, and that's the world-renowned Art Institute of Chicago. Founded in 1879, and going strong into the present day, this art museum is so popular, it welcomes approximately 1.5 million people passing through its doors each year, making it Chicago's most prominent museum. Home to rotating exhibitions, literary works, and a globally diverse, and extraordinary collection of historic art exceeding 300,000 pieces, planning your visit ahead of time is key when visiting the Art Institute of Chicago to make the most of your trip.
Spend a day at the museum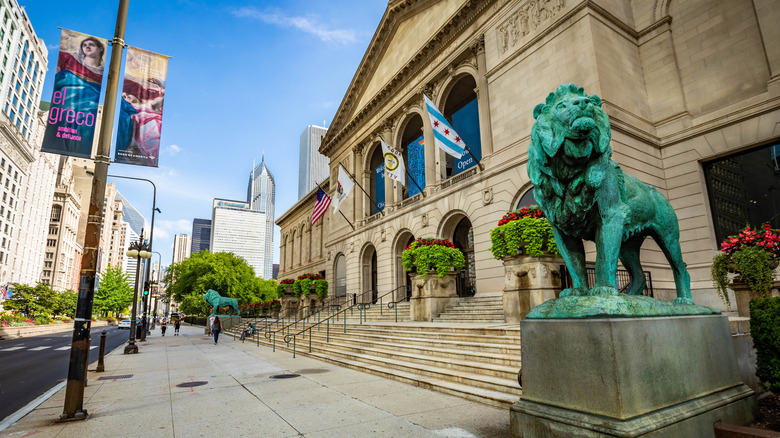 Photo Spirit/Shutterstock
The Art Institute of Chicago spans a staggering 1 million square feet, and in order to assist visitors in their quest to see everything they can while there, the museum has created a Visitor's Guide that can be printed before arriving. Mapping out the entire floor plan of the property, noting exhibits, artwork collections from varying countries around the world, architecture, photography, themed art rooms, and more, having this guide in your pocket before arriving is essential to a well-planned visit to the museum. Please note, that when visiting the Museum Floor Plan page on their website, the Visitor's Guide is updated regularly to accommodate incoming and outgoing pieces, so make sure you have the correct guide with you before you go.
The museum is also open during specific days of the week, and set times, offering perks for Illinois residents and free entry during certain seasons. Whether you're visiting on your own, with friends, or your entire family, the museum caters to both adults and children. Tickets must be purchased to enter the museum and can be obtained directly online, and in advance, which is highly recommended by the Art Institute of Chicago.
A monumental exhibit of impressionists and non-impressionists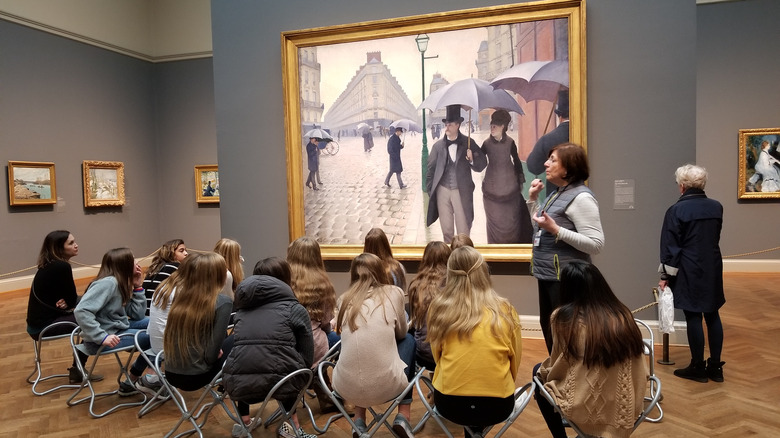 WhiteBlush/Shutterstock
If you're an art lover, in order to enjoy the vast amount of artwork within the museum, plan on spending a full, leisurely day walking its halls. However, the Art Institute of Chicago offers a host of options for those on a tighter schedule. If you have an hour or less to spend during your visit, refer to their "What to See in an Hour," section for recommendations on collections and exhibits to take in while you're there. The museum also offers a wide choice of tours and activities, ranging from 45 minutes to 3 hours, each free to visitors with paid admission tickets.
Ranking high alongside prestigious museums such as The Met in New York, and the Louvre in Paris, the Art Institute of Chicago has dutifully earned its place as being one of the most visited and most admired museums in the world. So much so, that TripAdvisor has recognized its gallant feat, and awarded it four years straight, making it the first time in any museum history that this recognition has taken place year-after-year. That speaks volumes about the Art Institute of Chicago's long-standing reputation, quality of artwork, and historical traditions. By definition, it's a museum in the Chicago area that should not be missed when visiting.