Which Airlines Have The Best Vegan In-Flight Options?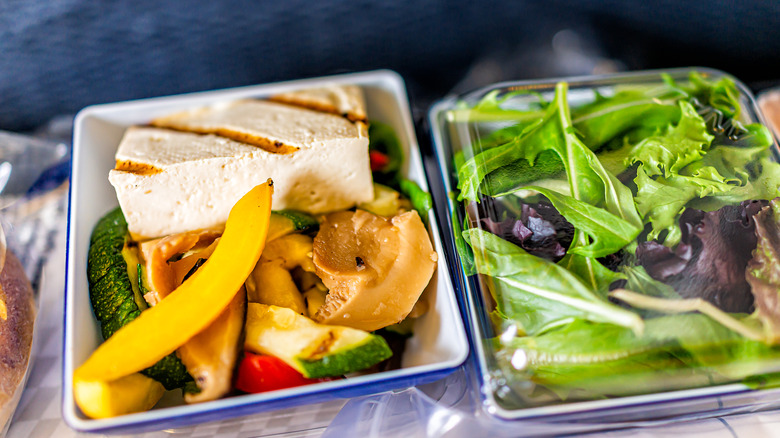 Kristi Blokhin/Shutterstock
Long gone are the days of the in-flight vegan option being a droopy salad leaf or a measly plate of overcooked vegetables. As more and more people order vegan meals on flights, airlines have stepped up their game. While growing numbers of people are vegan, many others choose vegan meals at times in an effort to reduce their meat consumption and lighten their impact on the environment. Vegan meals are often seen as the healthy choice for in-flight food, too; they usually contain lots of vegetables and are made with fresh ingredients.
Not all airlines have kept pace on all of their flights, though. Proof of this is a recent report of a business class passenger being served a single banana as their vegan meal option by an airline we won't name and shame here. However, we've picked five airlines that have done more than keep up with the move toward plant-based cuisine and serve some of the best vegan in-flight food. So, leave behind your emergency crackers and dive into the world of jackfruit biryani, plant-based meatballs, and barbecue tofu.
1. Emirates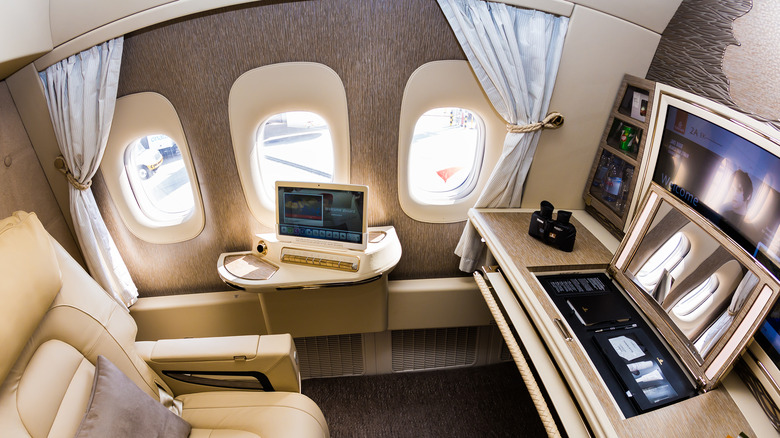 M101Studio/Shutterstock
Dubai-based airline Emirates noted a whopping 154% increase in the number of vegan meals served on board from 2021 to 2022. The airline offers its customers a wide variety of plant-based meals, with over 180 recipes including "multicoloured quinoa with succulent caramelized pear and celeriac purée," "creamy spinach and avocado mousseline," and barley risotto. And that's just in economy class. Passengers in business or first class can look forward to jackfruit biryani; king oyster mushrooms; and chocolate truffle cake with gold leaf. Mouthwatering desserts such as dark chocolate custard cake and lemon tart are among the 195,000-plus plant-based desserts served on Emirates flights in 2022.
The airline has a long history of catering to vegans, but it has come a long way from its first foray into vegan food in the 1990s. At that time, plant-based meals were offered only on specific routes and at certain times of the year. Now, however, passengers can request vegan meals on all routes up to 24 hours before departure.
2. Delta Air Lines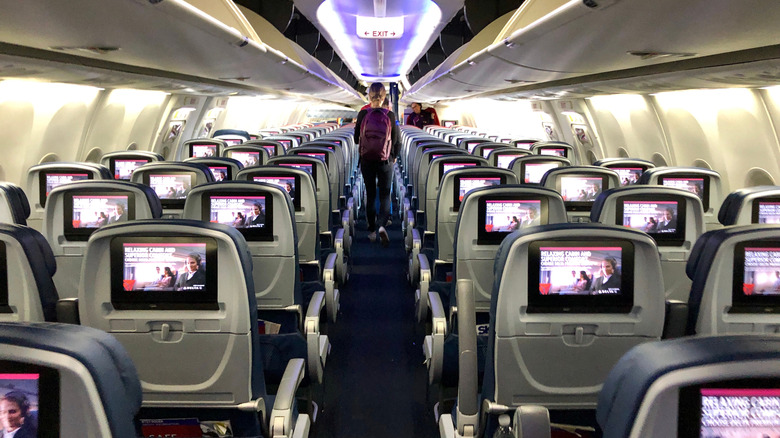 Cassiohabib/Shutterstock
Delta is a U.S.-based airline that is doing exciting things with vegan food. In 2022, Delta announced five new plant-based meat dishes for first class and Delta One (business class) customers on select flights. Some of the items include the classic Impossible Burger, Black Sheep Foods' plant-based lamb meatballs, and pan-fried cauliflower cakes. While this fare isn't currently being offered to passengers in economy class, vegan meals are available to pre-order for all passengers.
Delta describes the introduction of more plant-based menu items as part of its holistic approach to wellness in the skies. The production of plant-based products emits less greenhouse gas and uses less land and water than that of conventional meats. Other prongs in its approach include sourcing local, organic food on board and instructor-led meditation and stretching classes on the in-seat TVs. So enjoy your Impossible Burger and then stretch it off afterward.
3. Alaska Airlines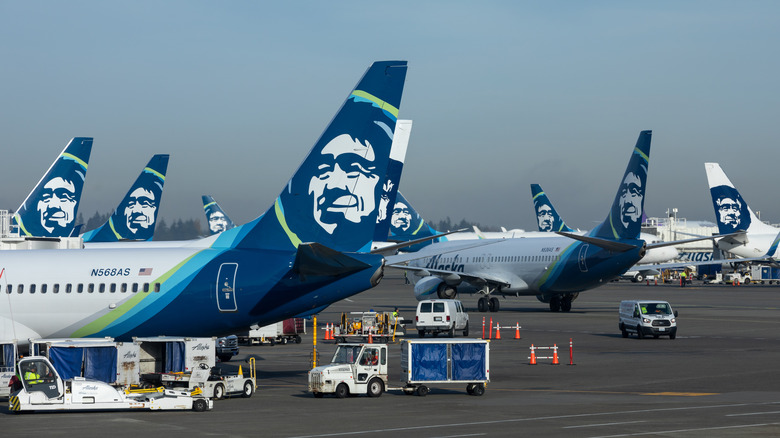 VDB Photos/Shutterstock
Alaska Airlines always has vegan options available on its flights, and those looking for a plant-based meal will never be bored, as the items change with the seasons. In the fall, the airline has offered a tasty "Brusselin' vegan salad" designed in partnership with West Coast-based restaurant Evergreens, featuring Brussels sprouts and red quinoa among its ingredients. Another seasonal salad with an interesting name — "soy meets world" — has also been seen on the menu. Comedy and vegan food all on one airline.
The airline uses fresh ingredients and bright flavors to help passengers make healthier choices while on board. And, of course, there is a range of drinks that anyone can enjoy, from tonic water to Elysian Brewing's Space Dust IPA. You can pre-order your meal from two weeks to 20 hours before your flight on the Alaska Airlines website or through their app.
4. ANA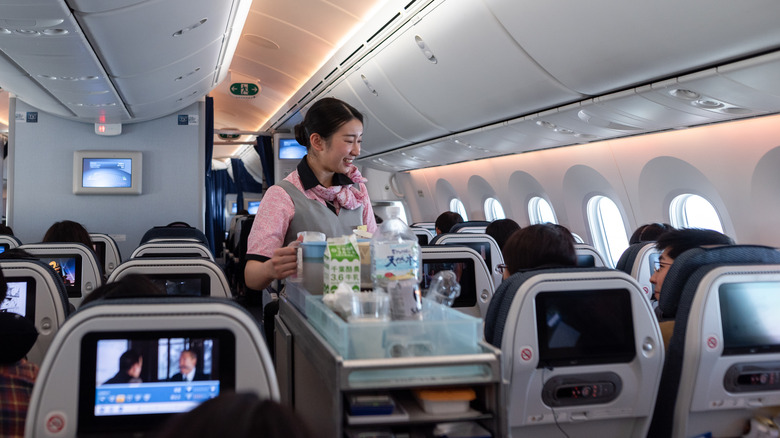 photosounds/Shutterstock
For gorgeously presented vegan meals, look no further than Japanese airline ANA. In fall 2022, the airline announced that it would be serving new special meals on its flights, expanding its offering for passengers with dietary needs. The airline collaborated with chef Hideki Takayama to create exciting and high-quality menus for passengers in all classes. Available on all flights departing Japan, the menu includes green curry with five-grain rice, and vegetable pilaf with lentils — though dishes will change seasonally.
Takayama said that it was challenging creating a strictly vegan menu, which also excludes all root vegetables in order to suit a wider group of passengers. However, he proudly stated, "As we worked on the menu development, we were able to reconfirm the appeal of vegetables, and I believe we have completed an in-flight meal that is unlike any other" (via ANA). Special meals should be ordered at least 24 hours before your departure for flights departing Japan, and 48 hours before departure on flights going to Japan.
5. Qatar Airways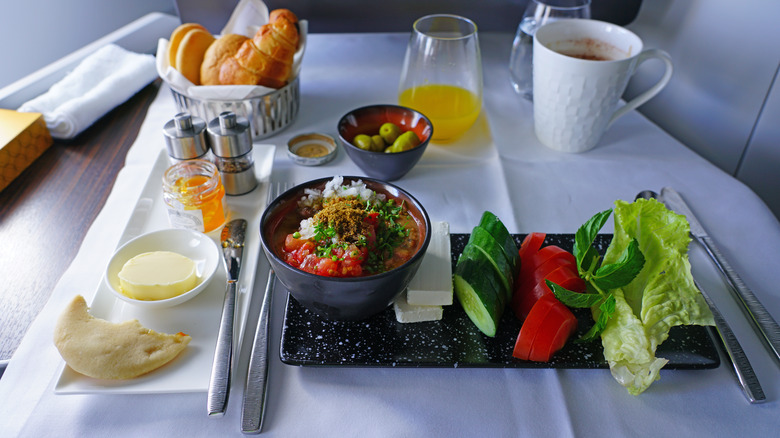 EQRoy/Shutterstock
Back in 2020, Qatar Airways introduced a range of gourmet, fully vegan dishes. In response to the growing demand for plant-based dining, the airline added the dishes to their a la carte menu for business class passengers. The meals available include delightful items like "spiral courgettes and arrabbiata sauce" and "cauliflower couscous and kalamata bruschetta." The meals are also served with alcoholic and non-alcoholic drinks, including wines and cocktails. Passengers can enjoy these meals when flying out of the airline's hub at Hamad International Airport in Doha, and on select flights into the city.
Those flying economy are also able to order a range of meals suitable for vegans. All special meals must be ordered 24 hours before departure. A passenger who tried the vegan meals on Qatar Airways said, "[The meals] were delicious and better than expected" (per Fly Vegan), with foods served including empanadas, soups, and lentil and bean-based dishes.