Why You Should (Or Shouldn't) Upgrade To First Class From Business Class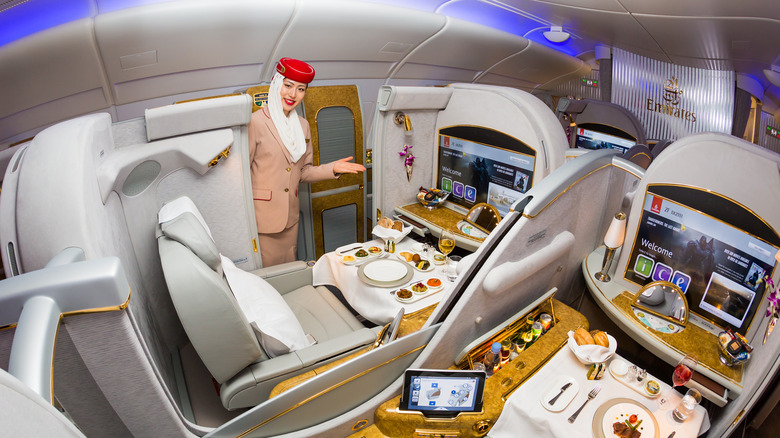 M101Studio/Shutterstock
From a cramped seat in economy class with a tiny $7 bag of cookies to nibble on to your own suite in the sky in first class, there is a stark difference between sitting in coach and heading up front. But, how big is the difference between business and first class, and is it worth upgrading?
A first-class ticket tends to cost at least double the price of a ticket in business class, though this varies widely depending on the airline and where you're going. Unsurprisingly, business and first class differ between airlines too, especially on short-haul or domestic flights versus long-haul or international flights. In domestic first class in the U.S., for example, you'll typically have comfortable, reclining seats, extra baggage allowance, and plated meals. That's all very nice, but it hardly compares to long-haul international business class, let alone first class. And those are what we're going to concentrate on.
Though not all airlines offer first class, those that do are weighed against each other every year by Skytrax to determine the best first class airline. In 2022, the top five were Singapore Airlines, Emirates, Swiss International Airlines, Air France, and ANA All Nippon Airways. No U.S. airlines made the top 20.
Lounges, boarding, and seats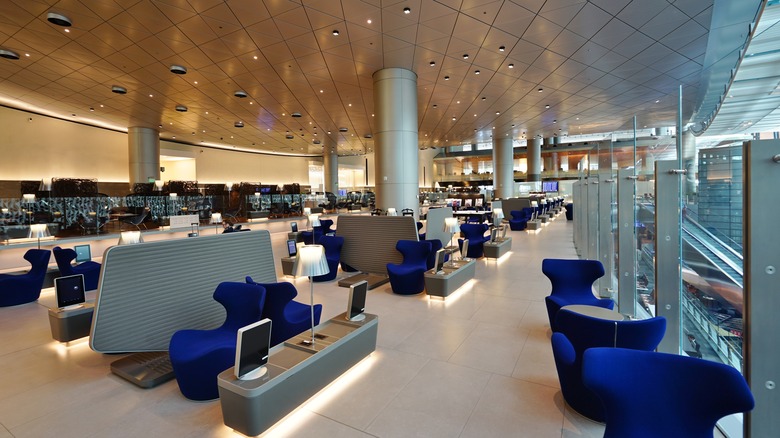 EQRoy/Shutterstock
Whether you're in business or first class, your journey is likely to start in the lounge. Business-class lounges usually offer comfortable seating, buffet food, showers, and workspaces, while first-class lounges often provide an à la carte menu and tend to be less crowded. There may also be a spa, and private suites to take a nap for first-class passengers. The same Skytrax survey pits first-class lounges against each other and rated Swiss International Airlines' lounge in Zurich as number one in 2022.
The boarding experience is quite different between business and first class. While business-class passengers usually have to line up to board, first-class passengers are often driven directly to the aircraft and may board via a dedicated jet bridge. Comfort and privacy are unparalleled when flying first class.
And now, the seats: these too vary hugely depending on the airline. Most business-class seats on long-haul flights are either lie-flat or angled. Some airlines have semi-closed suites in business class. In first class, many airlines provide a private suite with a door, and some, like Singapore Airlines, may even have a full double bed waiting for you. Emirates' first-class seats also have closing doors and there is a shower spa onboard for passengers to use. On other airlines, like Cathay Pacific, first-class lie-flat seats are simply more spacious than in business class. If you're planning on booking a ticket, always check the seat configuration.
Amenities, food and drinks, and service
LightField Studios/Shutterstock
On to the amenity kit. First-class amenity kits are usually stuffed with luxurious products, and come with pajamas, slippers, and the usual socks and eye masks (though not the same ones you find in economy!) Business-class amenity kits also have a good selection of high-quality toiletries, and you may get pajamas, depending on the airline.
The food in business class is usually excellent, and passengers can expect premium food and wine service. However, in first class, you'll feel like you're in a world-class restaurant. The food is often cooked by noteworthy chefs, and the wine will be an award-winning vintage. Finally, the service. Again, the service in business class is very good, but there are often 20 or more passengers for flight attendants to focus on. In first class, the service is completely personalized as there are so few passengers.
Whether first class is worth it for you or not depends a lot on what you value as well as where you're going. If you're on a red-eye from New York to London, you likely won't appreciate the bells and whistles in first class as you'll be asleep. However, if you're on a 19-hour trip from New York to Singapore, you'll have a lot more time to enjoy first class. Think of it like this. Business class was designed for business travelers, so it's comfortable but practical. First class was designed for people who want to fly in luxury, enjoying exceptional service and privacy.