Combine Food With Exercise On A Boston Seafood Walking Tour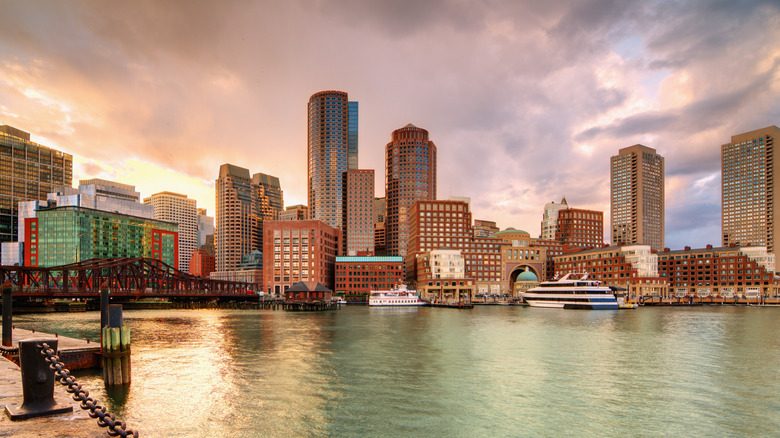 Seanpavonephoto/Getty Images
The history of seafood in New England runs deep and Boston is at the heart of it. The Massachusetts capital is the site of the biggest seafood trade show on the continent: Seafood Expo North America/Seafood Processing North America. Meanwhile, the Union Oyster House, which first opened in 1826, isn't just Boston's most historic restaurant but also the oldest continuously operating eatery in the United States. Then there's the Boston Fish Pier, which is on the National Register of Historic Places. The heart of Boston's seafood industry for more than a century, the pier has seen numerous changes in fishing over the decades. Today, it's still a thriving place that's home to numerous commercial vessels and seafood companies. With all this in mind, it's pretty safe to say that Boston has some of the best seafood in the country. Given the city's reputation as a seafood Mecca, you may be asking yourself: What's the best way to experience it all?
Boston Seafood Lovers Food & History Walking Tour
The Boston Seafood Lovers Food & History Walking Tour is a must for seafood fanatics, whether they are Boston locals or visitors to the New England metropolis. The intimate, two-and-a-half-hour tour combines seafood, history, and exercise into one memorable experience. What's not to love?
Highlights of the tour include landmarks along Boston's legendary Freedom Trail, including the iconic Paul Revere House, built in the late 17th century and later bought by its namesake, who famously took his midnight ride at the dawn of the Revolutionary War. You'll also take in the sights of Boston Harbor and historic Long Wharf, which is not only a National Historic Landmark but also a Boston African American National Historic Site. Meanwhile, you'll get to sample award-winning chowder, indulge in shellfish, and finish with a dessert from a well-known local bakery. The tour begins and ends in North End.
Other options
There are a few other similar tours, like the Boston Seafood Lovers Tour, organized by Binge on Boston. The enlightening excursion weaves together Boston's historic past with some of the city's most famous eats. Sample everything from clam chowder to lobster rolls and beyond, topping it all off with a tasty sweet treat. Booze lovers can also choose a two-drink beer or wine option. The walking tour winds down close to the bronze statue of Boston native and world welterweight boxing champion, Tony DeMarco.
Another walking tour, this one from Food Tours Boston, also takes visitors on what they call a Seafood and "Chowda" Tour. Beginning at the Boston Harbor Hotel, this three-hour trek takes you through the Seaport District along the HarborWalk. You'll stop to eat seafood at both historic and contemporary eateries.
Whichever tour you take — or if you decide to set out on a seafood adventure of your very own — Boston is clearly a great place to do it. And even if you're not into eating fish, you can break off from your friend group to enjoy a day at the New England Aquarium instead. Still, this is Boston, and chances are that wherever you find yourself, a seafood restaurant will probably be nearby.