Mistakes To Avoid When Traveling With Your Partner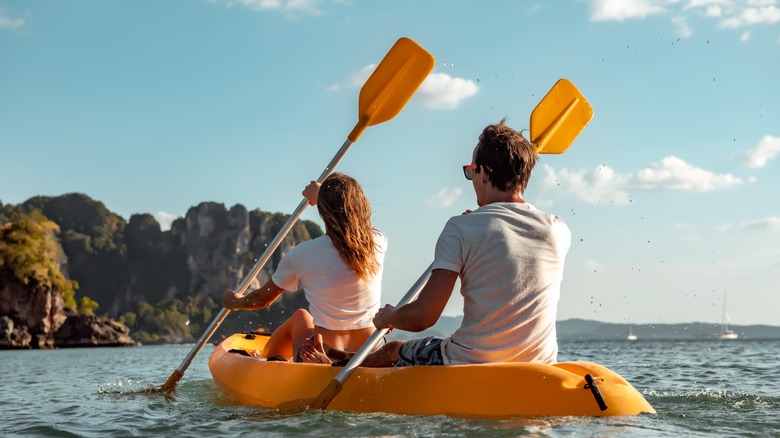 Dmitry Molchanov/Shutterstock
The possibilities seem almost endless when jet-setting off to faraway places or road-tripping to nearby points of interest with your partner. All the places you wanted to experience with someone special are now yours for the taking. Still, whether you have been together for a long time or are only a few months in, let's face it, making travel plans with your significant other can sometimes be tricky, if not mildly stressful. What's more, disagreements can happen if you are not careful, as this likely is new territory for your relationship.
Of course, you both have high hopes for a romantic, action-packed, and perfect getaway — one you hope will bring you closer together. Yet, in rare instances, a couple's vacation gone wrong has the power to make or break the relationship. So to ensure that your lover's escape goes off without a hitch and that you two come home stronger than ever, here are the most common mistakes to avoid when traveling with your partner.
Not clearly defining the purpose of the trip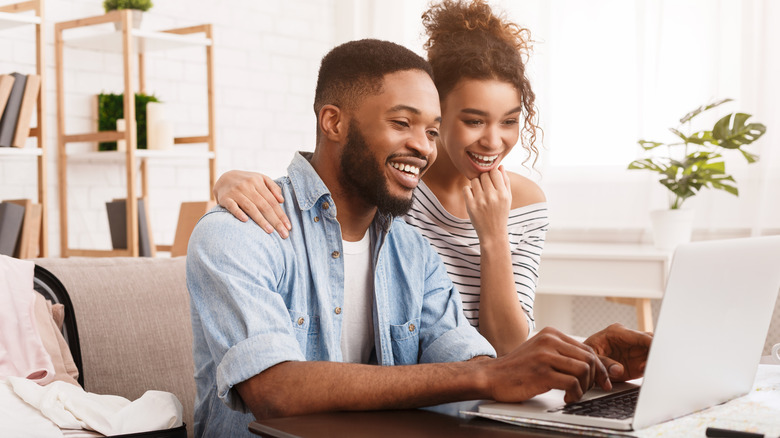 Prostock-studio/Shutterstock
It is important to get on the same page during the planning stages of your trip. Things can quickly turn from exciting to irritating if you two have not clearly defined the purpose of the journey early on when planning. For instance, if one of you needs a relaxing getaway and the other wants a fun-filled adventure, then it is in your best interest to go back to the drawing board to figure out what needs to happen next.
Typically, this means coming to some kind of compromise to ensure everyone is happy. However, if being able to compromise is not normally one of your strengths, you may have to step outside your comfort zone to have a fun getaway that works for both of you. That said, if you choose not to clearly define your vacation's purpose or overall goal before booking, then you will likely need to prepare for some turbulence ahead.
Playing it by ear instead of planning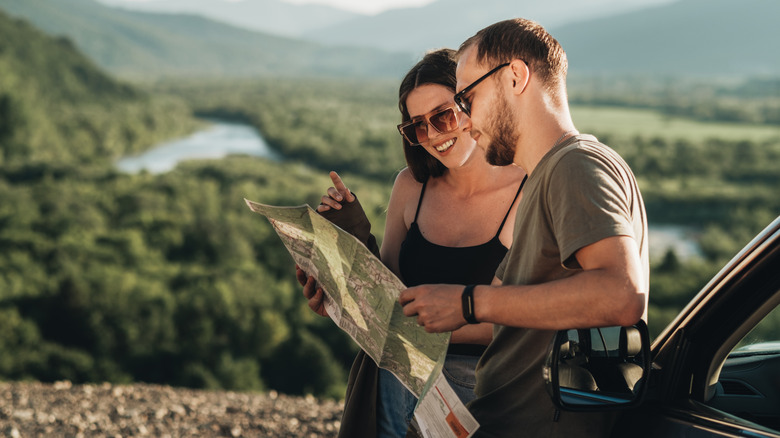 Romvy/Shutterstock
Along those same lines, not planning out the details of your trip together is another contention point for most couples. No one should have to take care of everything, and this is especially true if one of you prefers to go with the flow. It may even feel a little uncomfortable at first, but the truth is there are just some trip details that must be firmed up and booked beforehand.
Whether you are venturing out in the world with your significant other, friends, family, or even alone, there should always be room in your itinerary for some much-needed downtime and spontaneity. But you and your partner will quickly run into trouble if absolutely nothing is on the agenda. So do yourselves a favor and avoid trying to play important details like your trip itinerary, flight times, road trip departure date, accommodations, or transportation by ear.
Failing to create a budget that works for both of you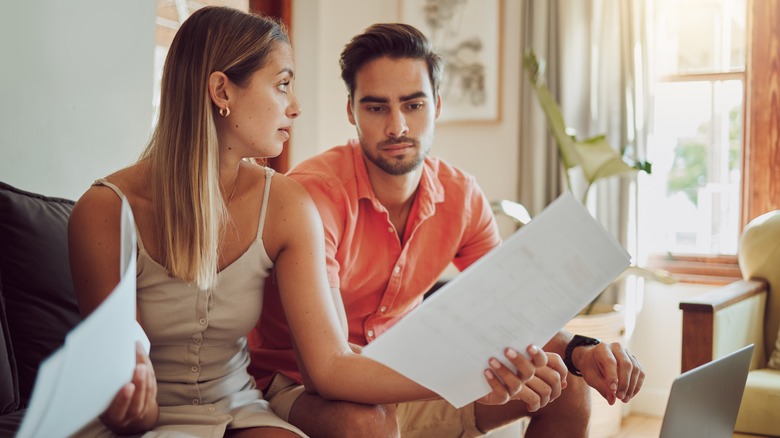 PeopleImages.com - Yuri A/Shutterstock
Finances in relationships can be sticky, even with no trip on the horizon. Still, when planning a couple's getaway, however, you need to be able to come to an agreement on how much everything will cost, what you both can afford, and who will pay for what. In contrast, some couples prefer to split costs right down the middle.
Married couples, on the other hand, may have a little more wiggle room, especially if they have combined their finances. But a discussion about your vacation budget definitely needs to happen, even if this is the case. No one wants to argue over the costs of things on vacation or months later after what you assumed was a nice little getaway. So, whether you are making travel plans with your significant other or someone else, creating a budget that works for both of you is always necessary.
Making decisions without your partner's input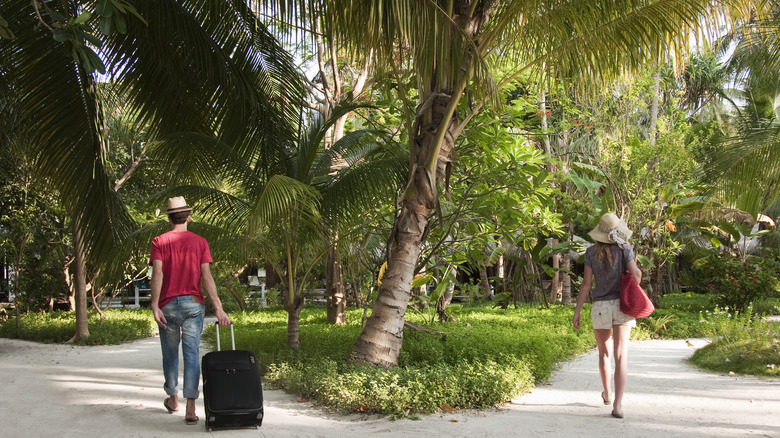 Lost Horizon Images/Getty Images
As suggested, the ultimate goal here is to have a trip you and your partner will enjoy. But when one of you finds yourself handling crucial trip details without the other person's input, it is almost a guarantee that drama will ensue. Remember, you both are going on this vacation and contributing financially so you can both have a wonderful time.
Even if it comes from a place of good intentions, your partner may not see it that way. So to avoid any arguments that start with: "When did we agree to that?" touch base with your significant other before finalizing any decisions. Whether big or small, things like how you are getting there, where you are staying, how many suitcases you are bringing, what activities you are planning, or when your downtime will be, are all decisions that should not be made unilaterally. Instead, communication is key.
Going overboard on your first trip together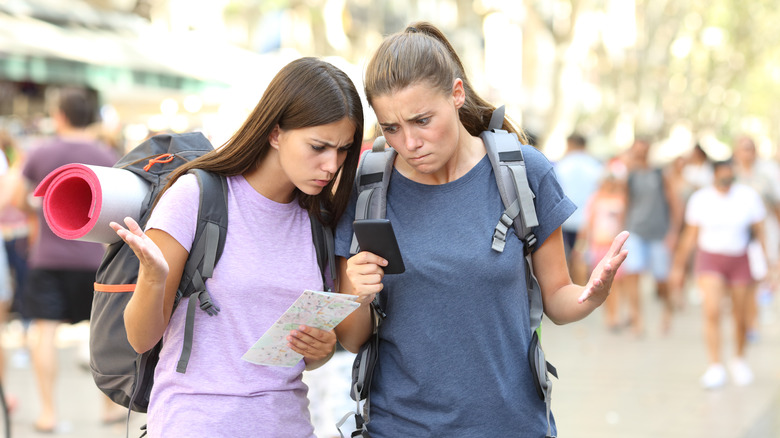 Antonio Guillem/Shutterstock
If this is your first couple's excursion, you and your partner may be so excited that neither of you notices you are going overboard. When traveling with your significant other, going overboard can show up in many different forms, including booking back-to-back activities, scheduling a multiple-week vacation, and overdoing it with romantic gestures. You can also overdo it in countless other ways — so it is highly recommended that you tread lightly here.
It is your first trip together so the pressure may be on, but no one needs to add to it by doing too much. Thus, the best way to go about your first getaway together is by keeping it short and simple. Doing so will ensure that no one gets unnecessarily overwhelmed. Remember, a quick jaunt with just the right amount of activities and romance is the perfect way to test the couple's "vacation waters" for your next adventure and is an easy way to create fond memories together.
Being inseparable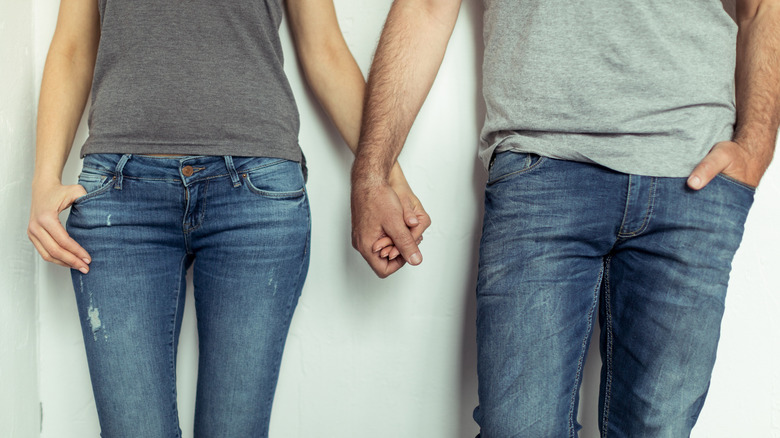 LightField Studios/Shutterstock
Yes, it is a couple's vacation. But that does not mean you must spend every waking moment together. There is a whole host of things you and your partner can do without each other. For instance, if one of you is an avid runner, then a quick solo jog on the beach may be in order.
Likewise, if one of you loves luxurious spa days, then a solo massage is the perfect opportunity for some self-care sans your sweetie. One partner can play a round of golf or go for a swim while the other does some serious shopping — whatever you decide to do, it is important to give each other a mini-break. Not only will this give you things to talk about later on, but spending even an hour or two apart will also allow you two to get some space on vacation — if for nothing more than to miss each other for a few hours.
Forgetting that loving feeling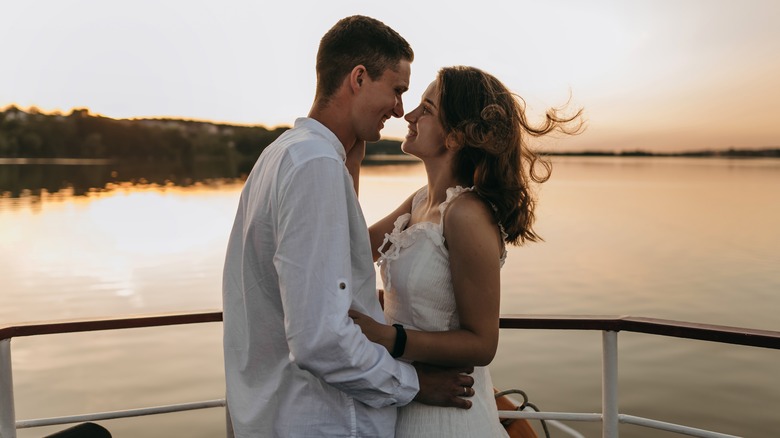 LL_studio/Shutterstock
Romance — or rather making time for some — should also be on your couple's getaway itinerary. Of course, it does not need to be over-the-top, just something special to show you care. This could look like a nice dinner, a sunset cruise, picnic on the beach, or some other activity that allows you two to feel close. You can also do various things for free if you don't want to go over budget.
Adding a dash of romance to your couple's escape does not mean that every moment needs to be a lovefest, nor should it be. Rather, traveling with your partner is the ideal opportunity to get out there, have some fun, enjoy each other's company, try new things, and see the world together. That said, make sure you and your partner don't completely forget that loving feeling while on holiday — and save the over-the-top romance for your honeymoon or anniversary trip.
Overly preoccupied with social media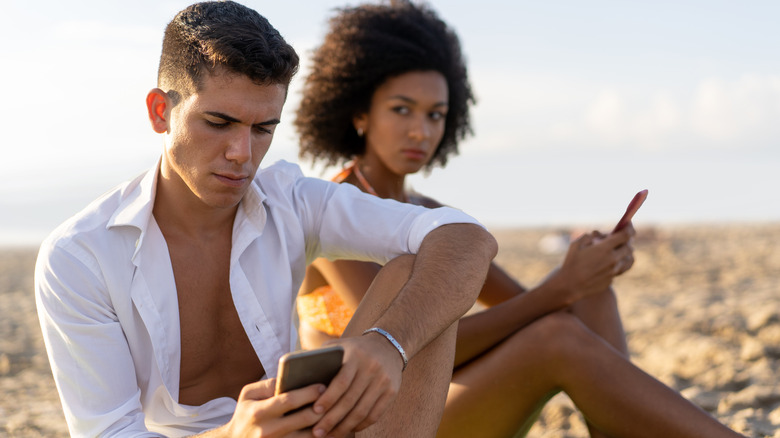 Giuseppe Lombardo/Getty Images
Everyone loves a good social media post, video, or reel of their vacation, especially with their significant other in tow. But couples should avoid becoming overly preoccupied with making posts and taking pictures for the gram. Of course, you can take a few cute couple photos for yourselves and post about your trip — just don't let it become the main focus of your getaway.
Though it may be difficult initially to resist the urge to impress people back home, it is important to remember that this is most likely not the purpose of the trip. Moreover, your time can be better spent living in the moment rather than striving to create the illusion that you are on the best couple's getaway ever. You and your significant other carved out this time in your busy schedules to bond and enjoy new experiences together — don't let #RelationshipGoals take away from that or turn your vacation into something it is not.
Forgetting to compromise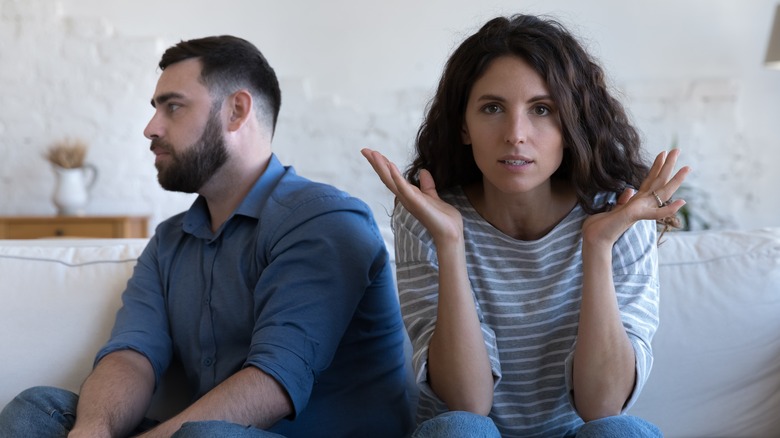 fizkes/Shutterstock
Photoshoots for social media aside, you and your partner probably have some interests in common. Furthermore, you both presumably have your own likes and dislikes that may not always line up — which is okay, as you are two separate individuals. But it is often here where couples need to learn to compromise, especially when traveling together.
On vacation, compromising usually looks something like deciding to go hiking for the outdoorsy partner and wine tasting for the more laidback partner so that everyone wins. Another example of compromising on a couple's trip might be booking the nicer accommodations for the person who likes the finer things in life and opting for the less expensive plane tickets for whichever one of you is a frugal traveler. The point is that concessions were made to make both individuals happy with their upcoming getaway plans. When couples forget to compromise or be patient and understanding with one another on holiday, rarely is anyone happy, and even worse, nobody wins — so avoid being that couple.
Getting stuck on the unimportant stuff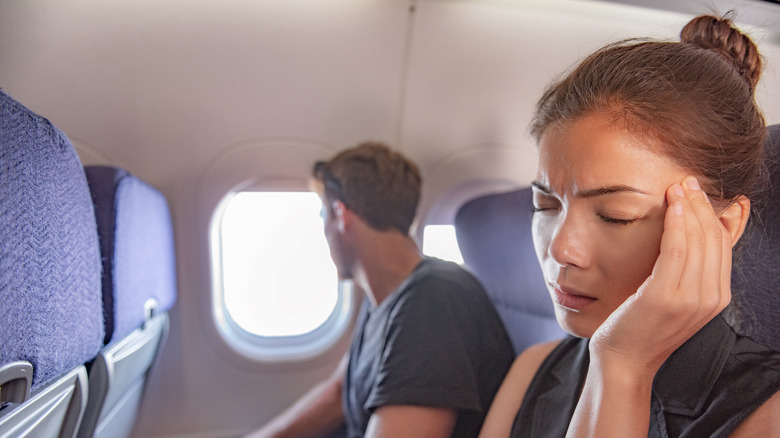 Maridav/Shutterstock
If you and your partner are not used to spending so much time together, then vacationing as a couple for the first time can easily lead to little disagreements here and there. This is perfectly normal. A little bickering on your getaway is also not necessarily cause for concern since couples eventually get a handle on these things and feel more comfortable with one another as the trip progresses.
What does not bode well for your trip is when you or your partner get stuck on the small or unimportant stuff. Silly things like who drank the last beer, who's music to listen to in the car, or who gets the window seats and other non-significant details should not make or break your vacation. Rather, you and your partner need to be able to see past trivial things that, in the grand scheme, are not that important or can easily be remedied. You also need to realize that fights over inconsequential matters will ultimately ruin your getaway if you do not get a handle on them sooner rather than later.
Not respecting each other's boundaries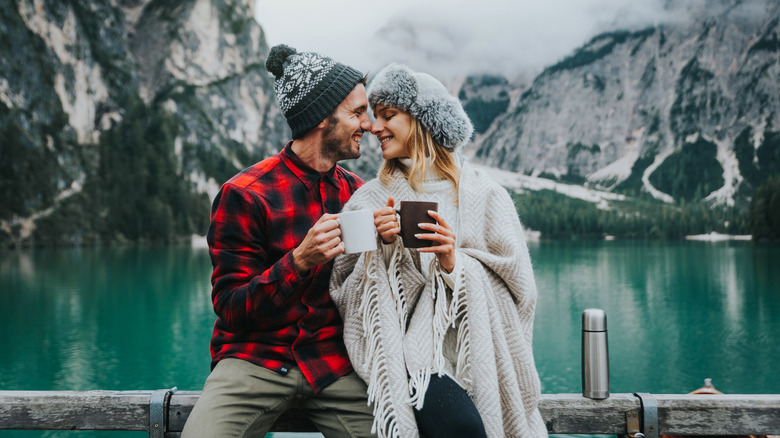 DavideAngelini/Shutterstock
Personal boundaries matter in relationships, and there is never a scenario where disrespecting your partner's boundaries (or vice versa) makes for smooth sailing ahead. On vacation, couples tend to push each other beyond their respective comfort zones, which is not necessarily bad. That said, nothing good follows when one party disrespects another's boundaries in the name of fun or trying something new.
For example, maybe one of you loves hiking to insanely high altitudes, but the other is deathly afraid of heights. The respectful thing to do in this instance is not to push your significant other beyond their comfort zone. Instead, try respecting their boundaries by finding a thrilling adventure closer to the ground. Eventually, you guys will learn to read each other better, resulting in everyone's boundaries being respected. But, in the meantime, take it slow and learn how to respect each other's differences on vacation so your quality time together is not ruined.
Having unrealistic expectations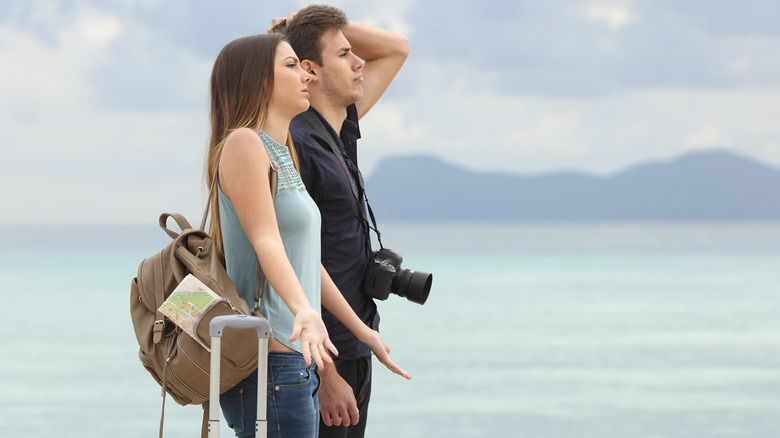 Antonio Guillem/Shutterstock
Most wanderlusters dream of the perfect vacation or holiday, and the same is true when it comes to a couple's getaway. Of course, you and your partner want to have the best trip ever. But rarely is everything ideal for anyone on vacation, least of all for couples. Whether you are off to some faraway island resort or planning a convenient road trip escape, you cannot predict how things will go. So, having realistic expectations about your upcoming adventure with your sweetie is important.
Though it may be tempting to fantasize and daydream about your getaway for two, do yourselves a favor and don't over-idealize it. Having reasonable or semi-hopeful expectations may seem a little counterintuitive, but it is much easier to adjust accordingly when and if necessary. Remember, traveling generally comes with its possible share of hiccups, delays, and last-minute changes, so avoiding unrealistic expectations will help you both be more patient when the unexpected occurs.
Not fixing any breakdowns in communication or arguing non-stop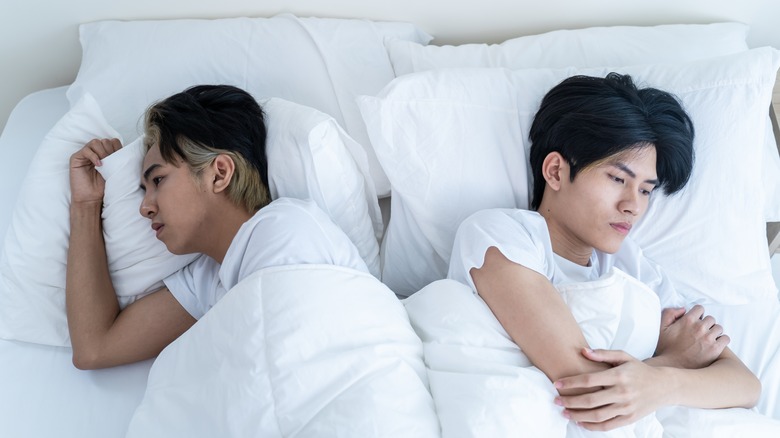 Hananeko_Studio/Shutterstock
In addition to having realistic expectations, you and your partner must be able to properly repair any breakdowns in communication or find a healthy way to avoid arguing non-stop. As previously mentioned, disagreements while on vacation are almost unavoidable at some point. But you should both try to resolve any conflict as quickly as possible — otherwise, you risk the whole trip being tainted.
Similarly, if you guys are bickering all the time, then it is highly recommended that you each invest in some quality you time for a bit and come back when cooler heads prevail. Chances are you and your partner may just be cranky, jet lagged, hungry, or frustrated about something minor. But even if it is something major that is causing trouble in paradise, avoiding the issues or each other will not improve the situation and will definitely not add to the overall trip experience in a positive way.
Working on your couple's trip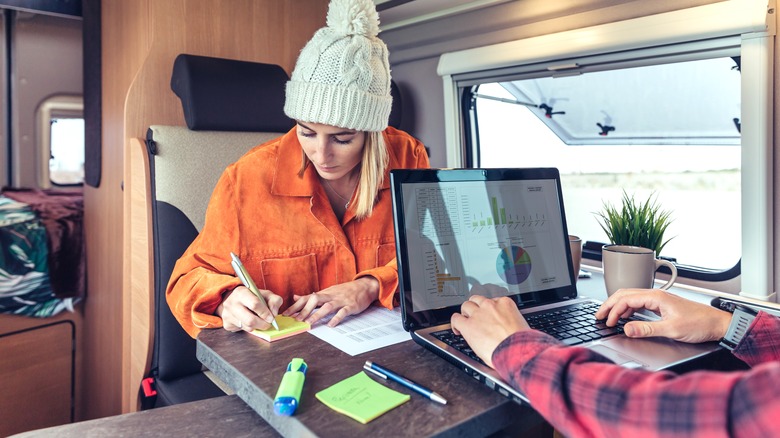 David Pereiras/Shutterstock
With remote work taking the world by storm, it has never been easier to work on the go or engage in what is now known as bleisure — business and leisure travel combined (via Forbes). But if this is supposedly a couple's escape, then there is likely never been a better time to turn on your vacation notice. In fact, you and your partner should consider using PTO for your getaway so you can both be present in the moment.
Alternatively, if you both don't mind a little bleisure time, then work away. More than a few couples have no problem adding telecommuting to their trip itinerary. So if you guys are a work hard, play hard kind of couple, there is no shame in getting some of the administrative things done on holiday. Just make sure you are both working for a few hours only, and don't forget to figure out when quitting time is so you can get back to the leisure portion of your vacation.
Fixated on what's happening at home
GaudiLab/Shutterstock
Finally, couples looking to have a wonderful time away together should avoid being overly concerned with what's happening at home. There may be several reasons why one or both of you cannot stop checking in with family, children, friends, or your furbabies back home. But, unless there is an actual emergency going on, then it is a mistake to give all your energy to something that is likely thousands of miles away and out of your control.
Remember, you purposely scheduled relaxation and adventuring with your partner. So don't let the mundaneness of life or whatever else it is that has got you fixated on what's happening back home take away from your couple's getaway — especially if it is something small. Instead, couples should actively avoid this big no-no and get back to the business of enjoying themselves and spending quality time with their significant other.