How To Get Around Renting A Car At The Airport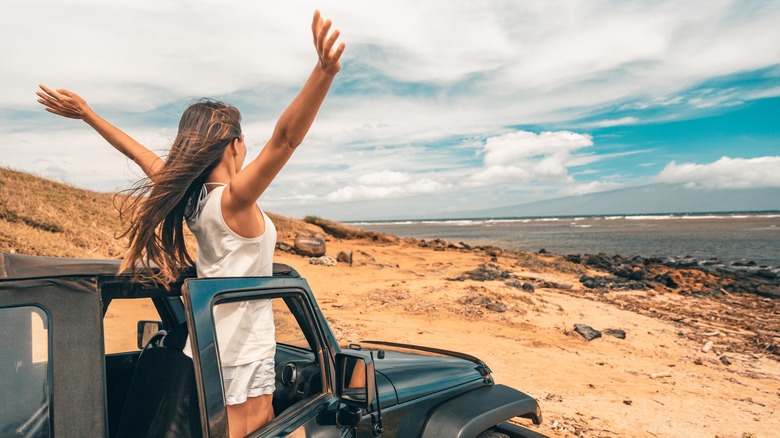 Maridav/Shutterstock
Do you enjoy paying over 20% more to collect your rental car from the airport? No, neither do we. And yes, that figure is right. Rental car companies have some quirky pricing policies, and you can almost certainly expect to pay more when picking up your car from the airport. There are many reasons for this: the taxes, the fact that airports themselves impose fees on onsite rental car companies, and the simple element of high demand. Airports, naturally, are places where many people rent a car.
If you want to save money, renting a car from an off-airport location might be the way to go. There are more benefits than just saving money, too. First, you might save time. On-airport locations aren't always directly in the terminal, and you often have to take a shuttle bus to reach them. And, airport locations are often crowded with long lines of people waiting to check out their cars. Secondly, you may not need a car for your entire trip. Let's say you've flown to Boston and plan to spend a couple of nights there before heading out on a New England road trip. Do you need a car in Boston? Nope, so you can save more money by renting later.
Where to rent a car off-airport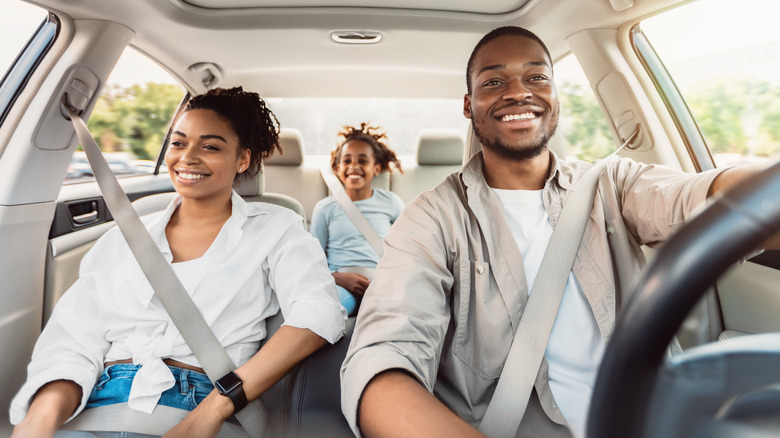 Prostock-studio/Shutterstock
The first thing to do is get yourself on the internet to do some research. If you have a preferred provider, first search for their car rentals at the airport and note the price. Then search in the nearest city to the airport. You're very likely to have found a cheaper car. If you don't prefer one company over any other, use a booking site like Kayak. (There are lots of sites — choose your own adventure!) When you search these sites, type the name of the city and a map will usually pop up showing different locations, including airport and downtown pickup points, so you can easily compare prices.
If traditional companies aren't showing you the discounts you were hoping for, look at peer-to-peer car rentals. Companies like Turo allow local vehicle owners to rent out their vehicles, and they are often cheaper than large companies. One note: when renting off-airport, check the opening hours of the rental agency carefully. If your flight arrives at 2 a.m., downtown agencies and peer-to-peer hosts are unlikely to be open or available.
How to get to your off-airport rental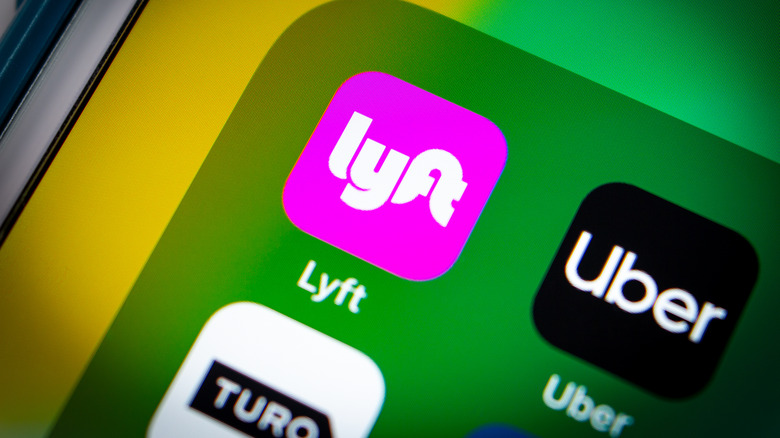 Koshiro K/Shutterstock
When you've established that you can save money, it's time to find out how to get to the location to pick up your car. A ride-share is often a great option, with the average cost of a ride between the airport and downtown coming out at $25. Some ride-share companies have partnerships with credit cards, hotels, and airlines; with Lyft, for example, you can earn points and cash-back when using a certain credit card, as a Hilton Honors member, or if you have a Delta SkyMiles account.
You can also check public transport; in many cities, trains and buses are convenient and reasonably priced ways to get downtown. If your hotel is located near the car rental point, check if they have a free or cheap airport shuttle available. Finally, if you've rented from a peer-to-peer rental agency, see if the owner offers an airport drop-off. You'll usually have to pay for this, but the convenience may be worth it. You need to make sure that the savings on the car rental aren't outweighed by the cost of reaching the rental location. And, of course, don't forget that you have to drop the car off and make the journey in reverse.