Budget-Minded Tokyo Visitors Should Book A Stay In These Two Districts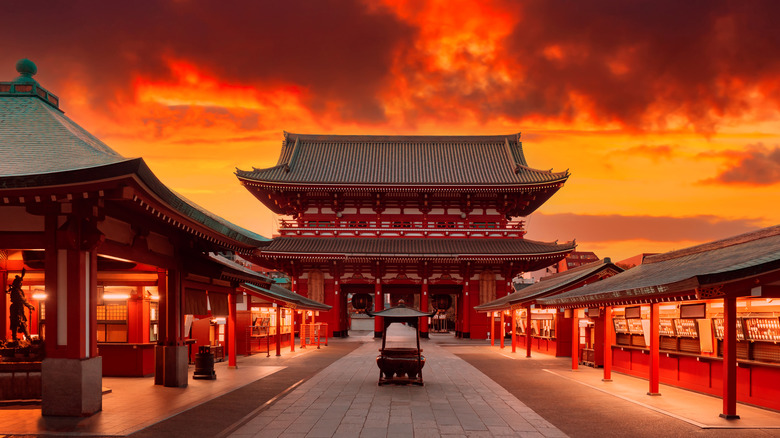 FOTOGRIN/Shutterstock
Do you want to have a little "Lost in Translation" moment at the Park Hyatt in Tokyo? It'll cost you. The cheapest rooms in this Shinjuku-area hotel clock in at almost ¥60,000 per night ($600). For most of us, that's pretty unaffordable, especially if we want to spend a few days or longer in Tokyo. Luckily, there are some districts that offer better value for money for budget-conscious travelers.
First, to put your mind at ease: Tokyo is a safe city, and there are plenty of things to do everywhere. Plus, you can easily travel around Tokyo thanks to the extensive metro system and the JR Yamanote Line that circles the capital. So, staying in one of the cheaper districts doesn't mean missing out. Two of the best districts for budget travelers to base themselves in are traditional Asakusa and the business district of Marunouchi, according to The World Pursuit.
Asakusa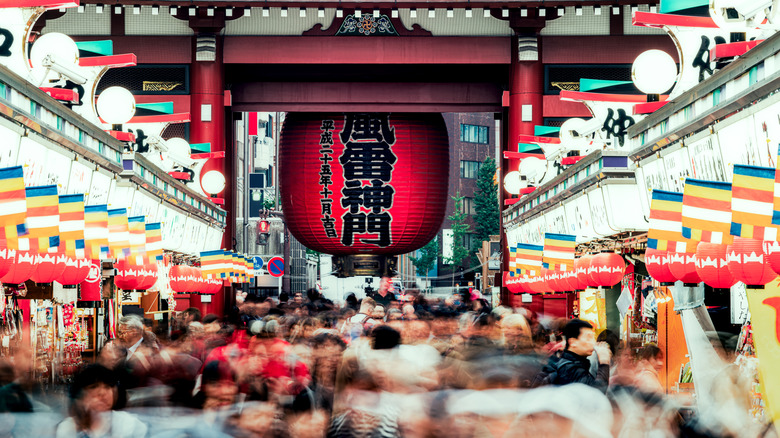 GOD_Cat/Shutterstock
Let's start with Asakusa in the northeast of Tokyo. Asia Travel Bug writes that Asakusa is an especially good place to stay for families or people traveling in larger groups, as more sizable hotel rooms can be found for cheaper than in other areas of Tokyo. It's also full of local and reasonably priced restaurants and shops, so you'll be able to get a cheap breakfast or reasonable dinner to bookend your day of exploring in Tokyo. Japan Wireless loves Nakamise Shopping Street for its food stalls and Hoppy Street for its izakayas (small bars).
There are tons of things to see and do in Asakusa too. Sights here include the famous Sensoji Temple — the oldest temple in Tokyo, dating back to the seventh century — and Tokyo Skytree, an ultra-modern skyscraper. The downside of Asakusa is that it is not on the JR Yamanote Line, though you can easily take the subway to nearby Ginza, which is.
Marunouchi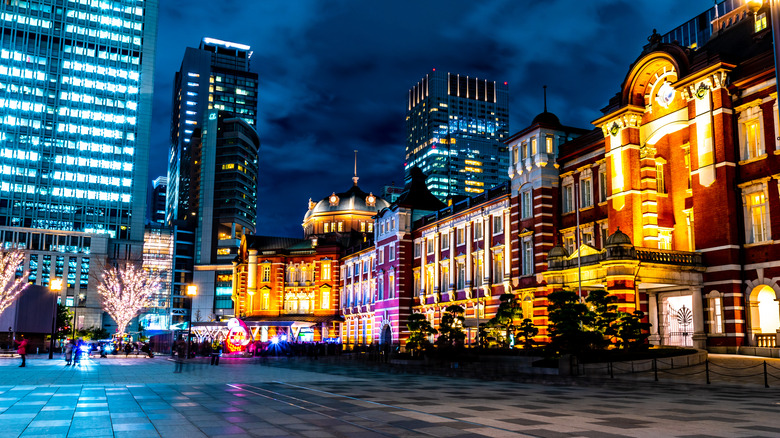 DRN Studio/Shutterstock
Next, there's Marunouchi, which Truly Tokyo writes is one of their favorite places to stay in the city. Marunouchi is the area around Tokyo Station, so it makes a great base for those who want to travel around and out of the city, to Kyoto on the bullet train, for example. Asia Travel Bug agrees with this, saying that Marunouchi's location is the best reason to stay here: It's got great links to the capital's main airports and Tokyo Disneyland. Blogger The Navigatio warns that hotels near Disney itself are pricey, so staying in Marunouchi is a great option.
You can also walk to some of Tokyo's more popular places from here, including the department stores of ritzy Ginza. The World Pursuit, however, recommends shopping in Marunouchi itself if you're on a budget. And, there's plenty to see in the area, including the Imperial Palace and its gardens. The drawback to staying near the Tokyo Station is that it lacks the traditional charms of Asakusa, according to The Navigatio, as it's full of skyscrapers and office buildings. If you're in love with the modern side of Japan, stay in Marunouchi. If you'd rather get a glimpse of old Japan, Asakusa is for you.