The Best Way To Get Around Tokyo To Make The Most Of Your Trip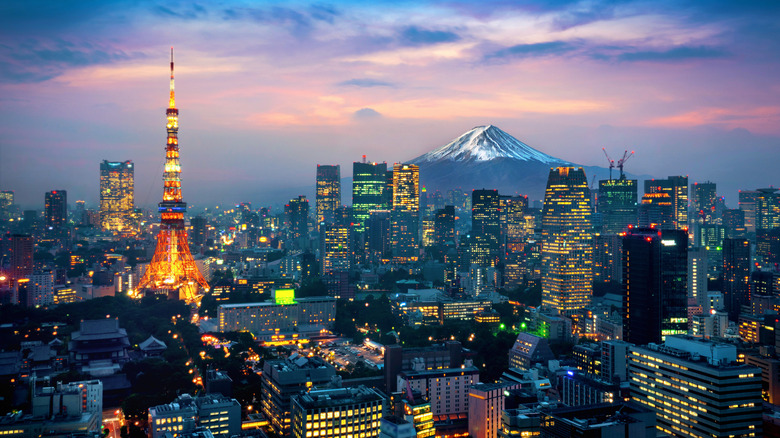 Tawatchaiprakobkit/Getty Images
Tokyo is large — very, very large. The city metropolis covers an area of 844 square miles, while the greater Tokyo area covers 5,240 square miles. New York City covers around 309 square miles – it's itty-bitty in comparison. Why are we telling you this? To convince you that you're going to need more than your own two feet to get around Tokyo.
However, that's not to say that you can't walk in Tokyo. In fact, it's a very pedestrian-friendly city, according to Tokyo Cheapo. Central Tokyo, they say, is fairly compact, and walking is the cheapest way to get around (if the name Tokyo Cheapo didn't give them away, they focus on budget travel.) They have even created a guide with six walking routes to inspire you in different areas of the city. Another Tokyo Cheapo option is to take to two wheels. Tokyo is bike-friendly, and there are plenty of rental shops. Now you're confused, right? To walk or not to walk?
Subway and trains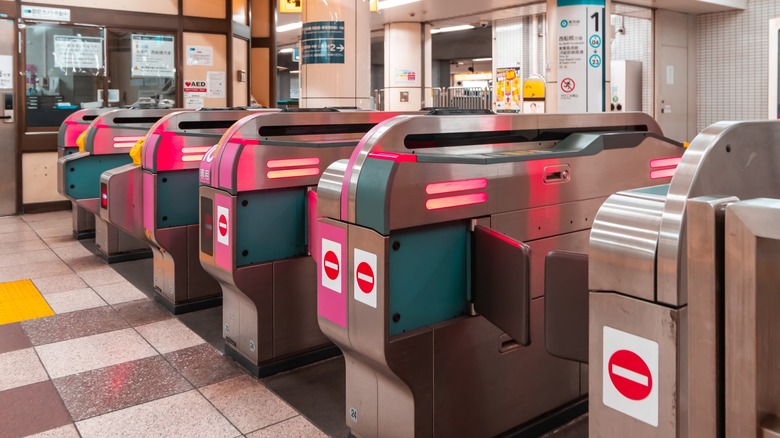 KenSoftTH/Shutterstock
The issue with sticking to two feet or two wheels in Tokyo is that you will only be able to see a small portion of the city. Truly Tokyo describes Tokyo as comprised of 14 urban hubs, all of which are like a small city in their own right. So, you can explore much of Shibuya in the west of Tokyo on foot, but you probably won't want to leg it over to Asakusa in the northeast (it's a 7.5-mile walk!)
It's time to take advantage of Tokyo's outstanding public transportation system. Japan Guide directs visitors to the JR Yamanote Line, a circular line that connects all of Tokyo's major city centers. As it's operated by JR East, anyone with a valid Japan Rail Pass can travel on it for free. There are five other major JR-operated lines in the center too.
The other best way to cross the city is by subway, according to Truly Tokyo, which lauds the Tokyo Metro. The fares are pretty cheap, with a day ticket costing around the equivalent of $7.50 (as of this article) for adults. Tokyo Cheapo recommends you get a rechargeable Suica or Pasmo IC card if you're in the city for more than 24 hours; these can be used all over Japan on trains, buses, and subway systems.
Buses, taxis, and cars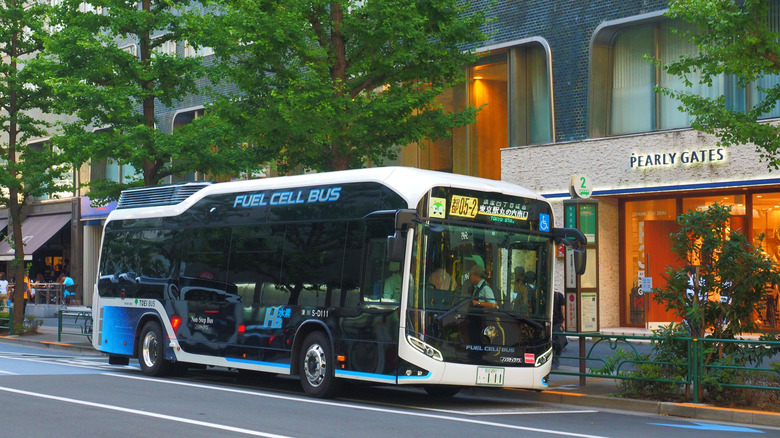 oasis2me/Shutterstock
Tokyo Cheapo writes that while the bus network in Tokyo is extensive, it's not ideal for tourists as it can be complicated to work out the routes and stops. They recommend using it only when the subway or train network fails you. The good news is that you can use a Suica or Pasmo IC card, so paying the fare isn't an issue. 
Another option is to take a taxi across Tokyo. On the positive side, according to Truly Tokyo, taxis are easy to find and the drivers are honest — you won't get scammed. But, they're expensive, this being the major downside.
And finally, how about driving yourself? The best way to rent a car in Tokyo is to put down the keys, slowly back out of the rental car place and head to the nearest subway station. We joke, but as Japan-Guide says, you probably don't need to rent a car in Tokyo when public transportation is so good. On top of the traffic problems, you'll also find it difficult and expensive to park. Save yourself the stress and enjoy the subway.