The Best US Cities For Food Lovers To Add To Their Bucket List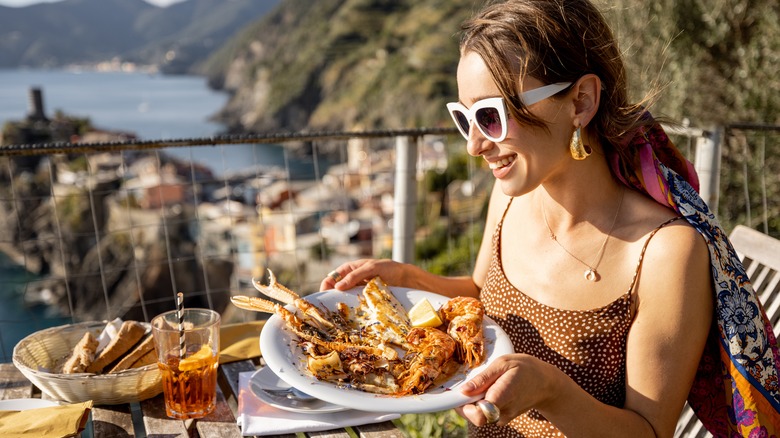 RossHelen/Shutterstock
There are so many reasons to travel around the United States, from natural wonders to mind-blowing tourist attractions, but perhaps nothing is more tempting than all the delicious food to try across the country. Americans absolutely relish the opportunity to eat something delicious, unique, or straight-up strange. According to one study by the New York Post, over half (53%) of U.S. citizens consider themselves to be distinguished foodies. 
America as a whole is a world-class food destination that is home to all types of cuisine and out-of-the-box dining experiences. Visitors can find traditional meals, cuisine fusions, and international dishes from the east coast to the west. While you can find good food almost anywhere in the country, certain U.S. cities seem like they are practically designed just for foodies. From the warm, buttery lobster rolls of Portland to the oozing deep-dish pizza in Chicago, there are plenty of U.S. cities for food lovers to add to their bucket lists. After careful consideration, these are the 12 best cities in America for food lovers in 2023.
New York City, New York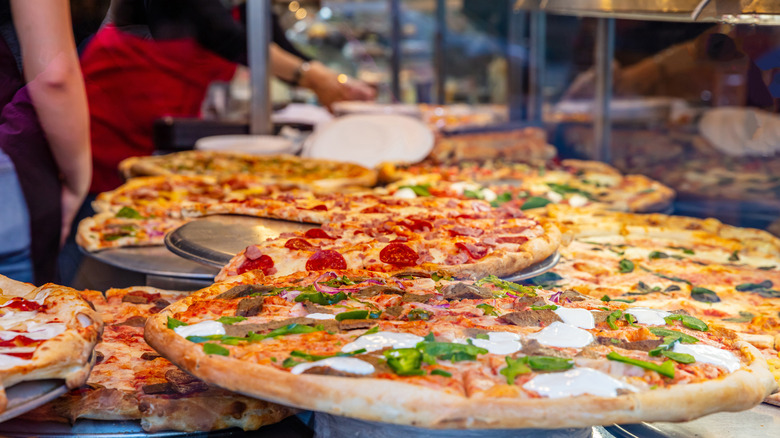 rawf8/Shutterstock
If there is one thing that New York is known for, it's pizza. The rumors are true: New York has the best pizza on the planet (sorry, Italy and Chicago!). There are slices all over New York City that will leave you feeling like you've never experienced a true pizza before. Whether you're looking for an affordable afternoon snack or you're hungry for the most luxurious piece of pizza in all of Manhattan, you'll find the slice for you in NYC. While the cheesy, saucy local delight of pizza is definitely a must-try NYC specialty, there is a myriad of foods to try when visiting the Big Apple. 
New York is home to some of the finest dining establishments in the entire world, like the Michelin star-rated L'Appart, Daniel, and Ai Fiori. According to The Richest, the top restaurants in NYC have a reservation waiting list that's a mile-long, so it's best to book these types of places in advance. If you're traveling on a budget and looking for a lower-cost food adventure, there are still plenty of places in New York for you, too. Food joints like Katz's Delicatessen, Los Mariscos, and Spicy Village can fulfill your wildest cheap eats fantasies (via The Infatuation). The only problem with visiting NYC as a foodie is that there are so many different places to try. That's why it can be beneficial to join an organized food tour that can show you all the best spots.
Los Angeles, California
Los Angeles is the destination for travelers with a major sweet tooth who love to try foods that might even border on odd. There are some of the craziest desserts on the planet in the City of Angels. You can find rose petal pie at Birdie G's and buffalo milk soft-serve at Yangban Society (Via Los Angeles Eater). Los Angeles has ice cream tacos at Sweet Rolled Tacos, edible cookie dough served by the scoop at Edoughable, and frozen shaved ice treats at Oakobing (Via Yelp). Los Angeles' creative, Instagrammable concoctions aren't limited to just sugary desserts — there are plenty of avant-garde savory items to try, too! 
According to The Infatuation, some of the most unique, exclusive dining experiences happen in Los Angeles, California. At Go's Mart sushi bar, you can taste some of the most exquisitely-prepared seafood platters on this side of the earth and at 71Above you can eat in one of the highest restaurants in the country, over 1,000 feet above downtown LA (Via 71Above). The thing about being a foodie visiting Los Angeles is that almost all the places you go are going to be on the expensive side. Even the cheapest meals in LA can wind up costing more than a week of food at home. However, these exceptional culinary delicacies are well worth the splurge on a foodie vacation. 
Houston, Texas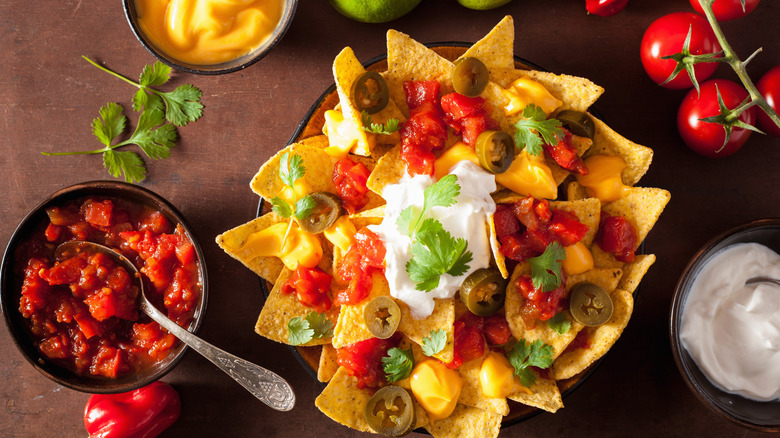 Olga Miltsova/Shutterstock
Houston, Texas is famous for its cuisine combinations that give rise to a completely new culinary experience. Start the day with a hearty breakfast of fried chicken and waffles dripping with syrup. Then for lunch, stop to try the signature Vietnamese-Cajun crawfish platters that give shellfish a whole new meaning. Once dinner rolls around, you'll be more than ready for Houston's main attraction — Tex-Mex. This Texan/Mexican specialty has been served up for over 140 years so far (Via History). The delicious blend of culinary cultures soared in popularity in San Antonio, where one of the most well-known Tex-Mex dishes was born — chili  (Via Draper and Kramer). 
There are tons of restaurants claiming to have the best nachos, tacos, and margs, but you can be sure you're having the real deal if you go to one of the legendary Houston Tex-Mex restaurants such as Armando's or El Tiempo Cantina (Via Visit Houston). Today, there are lots of variations of Tex-Mex food around the world. However, none is better than the stuff you can get in Houston.
Chicago, Illinois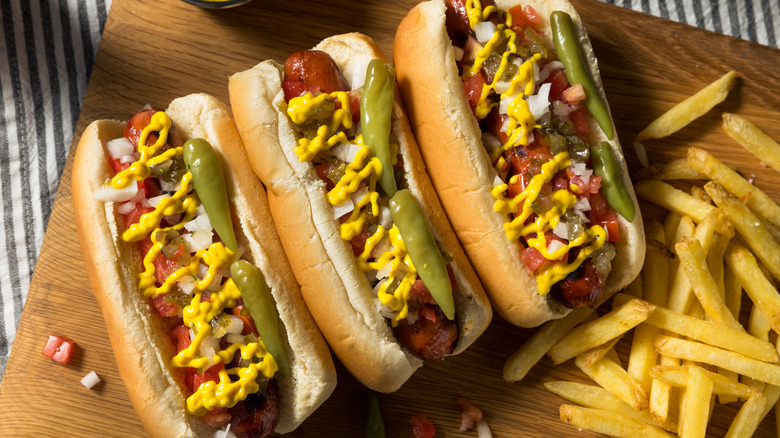 Brent Hofacker/Shutterstock
Sometimes you don't want the fancy culinary experiences and 5-star restaurants on a food vacation. You just desire convenient, delicious, snackable treats, like street food. If that sounds like your cup of tea, you'll have a blast exploring the food scene in Chicago. Chicago, Illinois is the capital for street food and quick eats. Loaded-up hot dogs, ultra cheesy pizza, and stuffed Italian sandwiches are all beloved traditions in the Windy City. 
Chicago is a very easy food city to visit because you can walk around to see the city's sites and grab all the local food staples along the journey without ever having to sit down at a restaurant. Some of the best spots to try out Chicago's street foods are Billy Bricks on Wheels for that traditional deep dish and Al's #1 Italian Beef for hearty sandwiches (Via Use Bounce). Chicagoans love their street food so much that there are even a bunch of street food festivals throughout the year that make for the perfect foodie getaway, like the Taste of Chicago, Chicago Food Truck Fest, Little Italy Festa, Ribfest Chicago, and the Great American Lobster Fest (Via Choose Chicago). That's only the tip of the iceberg when it comes to food events in Chicago. 
Portland, Oregon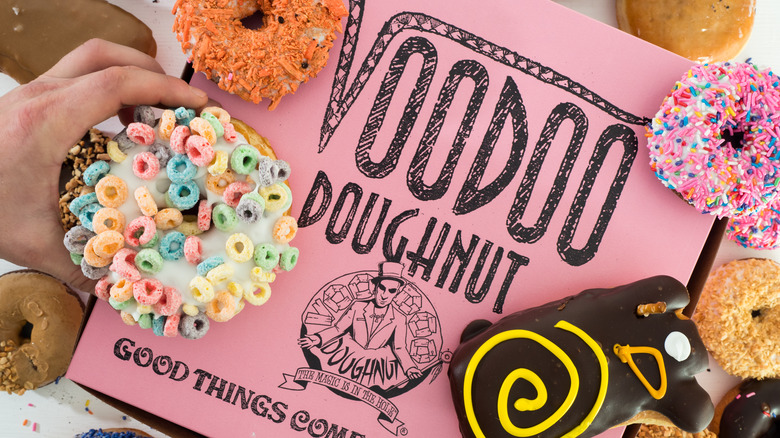 Agave Photo Studio/Shutterstock
Portland has a reputation for being lovably kooky and its food definitely supports this stereotype in the best way possible. Even though Portland, Oregon is a prized destination for its coffee drinks, it also has a lot to offer for food lovers, too. It has one of the best food scenes in the United States. If you're a food and coffee lover, well then, you may have to pick up and move to Portland, Oregon. There is a little bit of everything in Portland from a variety of savory cuisines to delectable dessert offerings. If you want a food destination that doesn't limit you to one type of cuisine, you'll appreciate Portland. In this city, you'll find Mediterranean, Vietnamese, Thai, Chinese, American Southern, Italian, South American, and Middle Eastern restaurants (Via Embrace Someplace). That's only the beginning of the list. 
Once you've tasted Portland's edible offerings from around the globe, your food journey isn't finished yet. Now, it's time to dive into all of Portland's sweet stuff. Colorful donuts from Voodoo Doughnut, professionally-made s'mores from 1927 S'Mores Company, and a handmade waffle cone from Salt & Straw. There is just so much tasty stuff to try in Portland that you could spend two weeks there and still be hungry for more. 
Atlanta, Georgia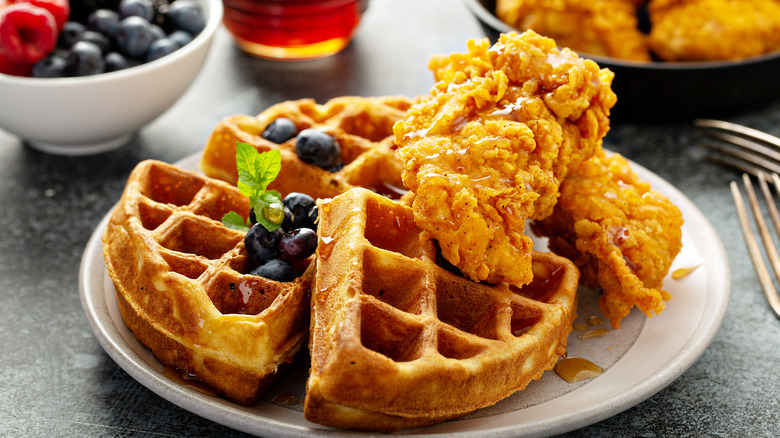 Elena Veselova/Shutterstock
A freshly made-with-love plate of southern comfort food is like a spa vacation for your soul, which must explain why Atlanta, Georgia is a such cherished destination among foodie travelers. The restaurants in Atlanta know how to pack their dishes full of soul better than most other U.S. cities and there are so many places to get your fill. Eat chicken and biscuits smothered with gravy at Homegrown, mac & cheese at K&K Soul Food, and honey wings from Twisted Soul Cookhouse & Pours (Via Atlanta Eats).
Atlanta has a creative, up-and-coming scene for vegan foodies as well. There is fun, fast-food-style vegan eateries like Tassili's Raw Reality Cafe, vegetarian soul food alternatives like Soul Vegetarian Restaurant, and vegan Caribbean spots like Healthful Essence (Via Eater Atlanta). No matter what your dietary preferences are, Atlanta is happy to serve every hungry traveler a plate that will satisfy their foodie cravings.
Grand Rapids, Michigan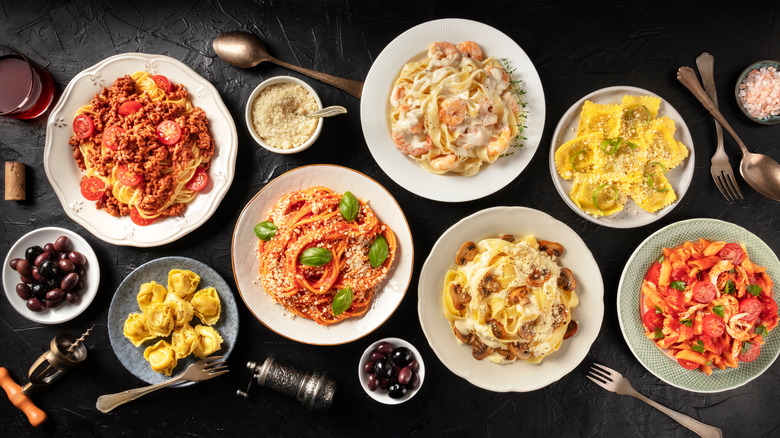 Plateresca/Shutterstock
There are veteran foodie states that everybody knows about, and then there are the lesser-known fresh faces on the culinary scene like Grand Rapids, Michigan. A newbie to the U.S. food travel scene, Grand Rapids has quickly worked its way up to being one of the top destinations for foodies. Its recent growth in the culinary world has made it one of the most popular destinations for food lovers who want to eat somewhere delicious that most people haven't tried before. Plus, there's something fun about being the first one to the party. 
Grand Rapids offers visitors creative brunch spots like Littlebird and traditional American fare like The Old Goat. However, the city is especially renowned for its Italian restaurants, such as Salvatore's Italian Restaurant & Pizza, Noto's Old World Italian Dining, and Pietro's Italian Restaurant (Via Foodie Flashpacker). The city also has a big wine culture, so rest assured that every meal can be accompanied by a tall glass of red or white. Wine tastings at places like House of Wine are also a popular side quest on a foodie adventure to Grand Rapids (Via Wander West Michigan).
Providence, Rhode Island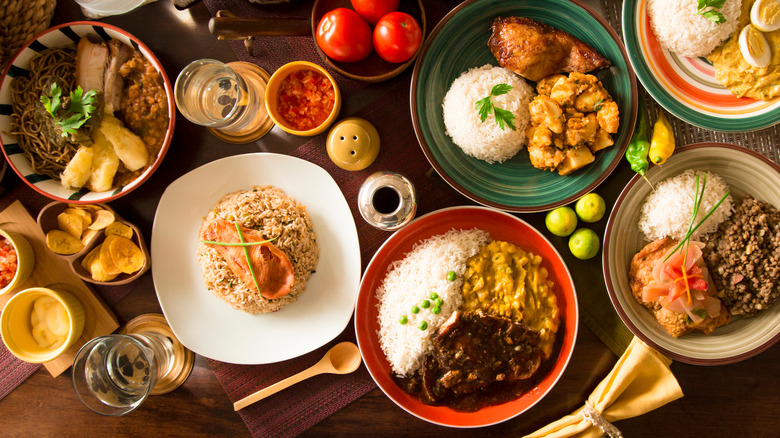 Natalie Rocfort Shigetomi/Shutterstock
Providence, Rhode Island is home to an eclectic food scene that has everything from tasty vegan restaurants to authentic Peruvian eateries. Los Andes is a terrific spot for testing out the Peruvian specialties in Providence and Kin Southern Table & Bar has all the biscuits and deep-fried goodness you could ever want (via Eater). For foodies on a plant-based diet, don't worry! According to It's Bree And Ben, you can get traditional American food vegan-style at By Chloe, eat a vegan (and kosher!) plate of Chinese food from Veggie Fun, and grab vegan baked goods at Wild Flour. 
There are a lot of options for all types of eaters in Providence. There are also quite a few trendy bars where you can wash down all the food you've eaten. Nightflow recommends Courtland Club, Justine's, or Ladder 133 Kitchen & Social after a day of eating and exploring in Providence, Rhode Island.
Sioux Falls, South Dakota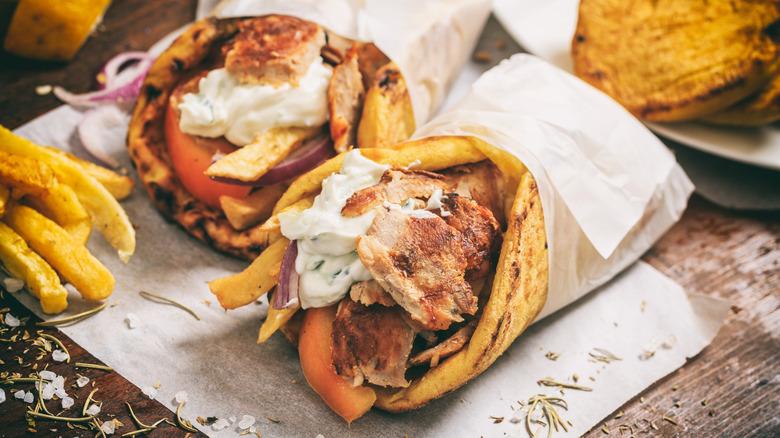 Rawf8/Getty Images
The largest city in South Dakota, Sioux Falls, is a little-known American food haven and the dream destination for foodies on a budget. Even if you're traveling on a strict budget during your culinary adventure, you can still satisfy all your cravings in Sioux Falls. 
Places like Nick's Gyros, Slim Chickens, and Giliberto's will give you a heaping plate of food at a very low cost. If it's your first time visiting the area, you'll want to go for all the local favorites, like a sandwich from Breadico Sourdough Bread and Company, some BBQ from Famous Dave's, or some well-cooked fish from Parker's Bistro, which is located right in the historic downtown Sioux Falls. There are also a bunch of famous budget dessert options in Sioux Falls, including Queen City Bakery and Prairie C: Prairie Cocoa and Confections Dessert Bar. The sugary treats at these dessert establishments will leave you with an intense sugar rush that will appease your sweet tooth for the next month.
Seattle, Washington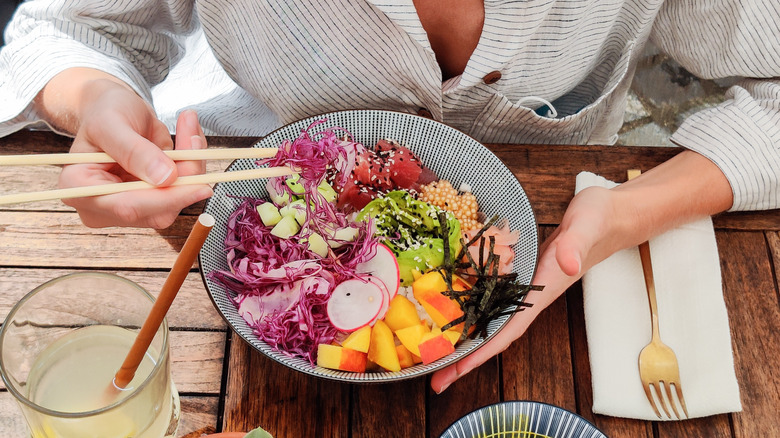 Matej Kastelic/Shutterstock
It's tough to find a list of U.S. cities for food lovers that doesn't mention Seattle, Washington. Seattle is consistently voted as one of the best cities in America for foodies, year after year. You might think that means the food there is overrated and underwhelming, but that is far from the reality. There is a big reason why Seattle has garnered the elusive title of being a foodie paradise: its food is out of this world. 
Food tourists are in for a diverse range of foods when they take a trip to Seattle. There are so many different cuisines for visitors to try from Chinese and Vietnamese to Mexican and Hawaiian Fusion. You can find a poke bowl just as easily as a pipping hot bowl of pho. If you don't have the money to go to the source, Seattle is your next best option for trying food from around the world. The city is also known for its lively food market, Pike Place Market, which gives visitors an entirely new type of food experience (Via The Culture Trip). 
Denver, Colorado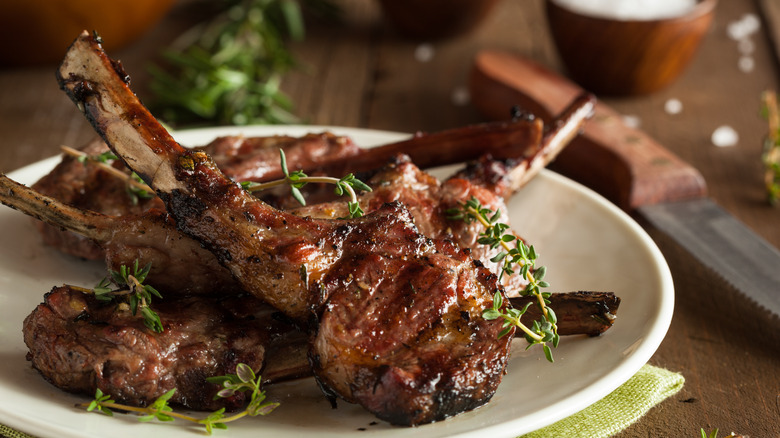 Bhofack2/Getty Images
Denver's restaurants range from upscale establishments that require a reservation six months in advance to laidback spots that are a blast to try on a whim. The city's food versatility makes it a popular food destination for both luxury and budget travelers alike. Whether you have money to burn or are sticking to a budget, Denver has food options for you. There are many colleges around the area, which may have inspired the tons of late-night munchies places and cozy spots for brunch in the morning.
The other neat thing about Denver's food scene is the layout of the restaurants themselves. Many of Denver's best restaurants are conveniently located right next to each other or in dining hall-style complexes. Maybe these were inspired by the local college culture, too! Some of Denver's best food halls are Stanley Marketplace, Mango House, and Denver Milk Market (Via 5280). These culinary dining halls make it easy to try a little of everything without driving between faraway locations on a quick trip to Denver.
Portland, Maine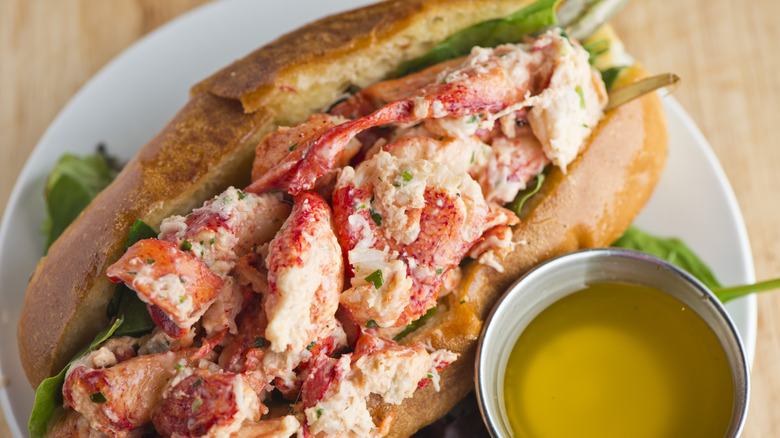 Rebeccafondren/Getty Images
Is there anything more luxurious that a warm, buttery lobster nestled inside a freshly toasted bun? If that sounds like your type of food heaven, you'll go crazy in Portland, Maine. The food staple here is lobster, lobster, and even more, lobster (via Portland Old Port)! The most famous lobster dish in Portland is the lobster rolls, but you can also find whole lobsters, lobster benedict, lobster pizza, lobster bao, lobster sushi, and more. There is probably even a lobster cake somewhere hidden in the city of Portland. There is no better place in America to indulge in the delicacy of a lobster than in Portland.
Even if you're not a lobster fan, just about any seafood you get here will knock your socks off. Crab rolls are a favorite alternative to lobster ones. Plus, there are also scallops, clam chowder, calamari, mussels, fish n' chips, tuna, cod, and so many more seafood delicacies to try in Portland. You know you're getting the freshest stuff possible because you can literally see the ocean from many of the coastal city's restaurants. There are plenty of places to eat for travelers who don't eat seafood at all, too. You'll easily find BBQ, Mexican, pizza, brunch, Indian, Thai, and American bar food all over the city. If you want a diverse range of food options all close by, Portland should be on your bucket list.