38 Most Bizarre Tourist Attractions In America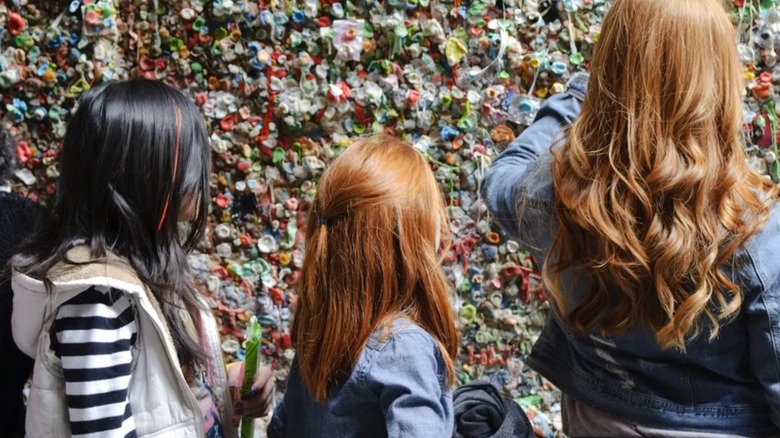 Joel Carillet/istockphoto.com
With a country as vast and diverse as the United States, there are bound to be countless interesting places to visit in just about every state — some more than others. When people think of tourist attractions, they tend to think of the popular ones like Chicago's "Bean," New York City's Empire State Building or even Los Angeles' Venice Beach, but what about the ones that are just off the beaten path?
The U.S. has plenty of bizarre tourist attractions that are hiding in plain sight and even more that are in cities less known by the public. There's a house in San Jose, California, with stairways and doors that don't lead anywhere; the world's most scenic urinal in Kealakekua, Hawaii; "mermaids" that put on elaborate underwater performances in Weeki Wachee Springs, Florida; and a wooden hot dog man in Winchester, New Hampshire.
Needless to say, that's only the tip of the iceberg when it comes to odd and unique places to visit when exploring the country. Whether you're flying somewhere or taking a road trip, try to visit as many of the 38 most bizarre tourist attractions in America as you can.
Grant County Historical Museum (Canyon City, Oregon)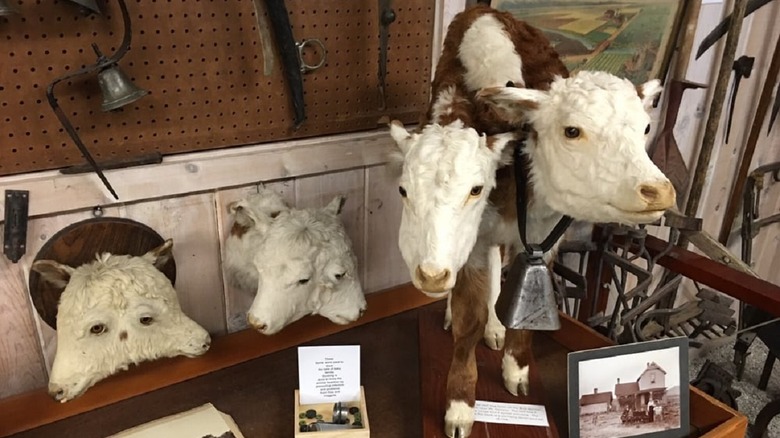 Rob G./Yelp
This museum in Canyon City, Oregon, has everything from human skulls to stuffed two-headed calves. The human skulls are of Barry Way and William Cain, the first two men to be hanged in Canyon City... how charming. As for the three stuffed two-headed calves, they were born on ranches in the area and have been on display in the museum since its opening in 1954.
Hole N The Rock (Moab, Utah)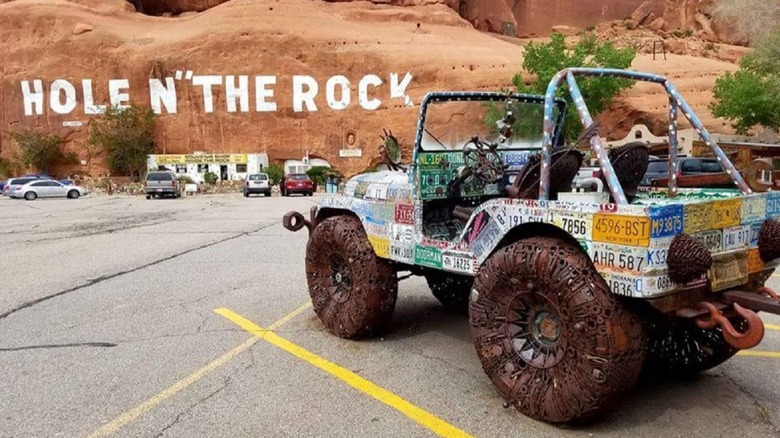 Leah W./Yelp
One of the weirdest roadside tourist traps in America, Hole N" The Rock is a 5,000-square-foot home carved out of a massive rock in Utah's Canyonlands country. The man-made home includes a 65-foot chimney, a bathtub built into the rock, and 14 rooms that visitors can now tour. To appeal further to tourists, the unique rock also features a gift shop, an exotic zoo (with camel, bison, and zebras), locally made Native American items (such as pottery, jewelry, and dream catchers) and other fun additions specific to its location.
Ben and Jerry's Flavor Graveyard (Waterbury, Vermont)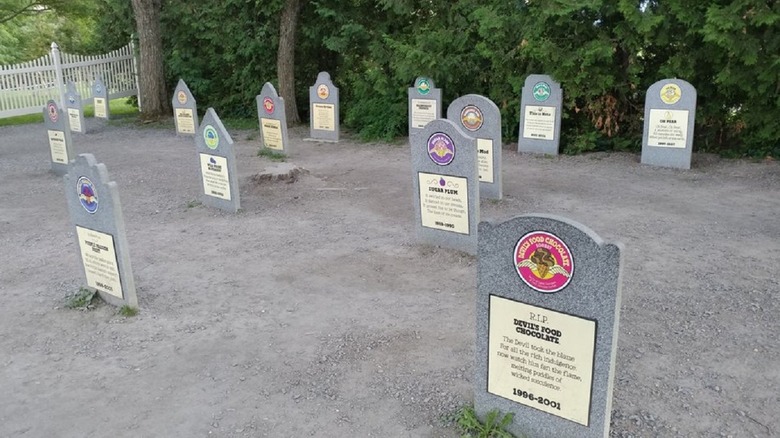 Bruce K./Yelp
Leave it to Ben & Jerry's to create an ice cream graveyard that can be physically visited and even host funerals in honor of some of the fallen flavors. The "dearly de-pinted" are buried at the company's factory in Waterbury, Vermont, each with a granite headstone and epitaph. There are currently 34 flavors in the Flavor Graveyard, but at this cemetery there are sometimes resurrections. Fans can request that a flavor be brought back from the dead through an online form on the brand's website. The graveyard is intended as a celebration of the company's failed flavors and can be seen on their factory tour.
Winchester Mystery House (San Jose, California)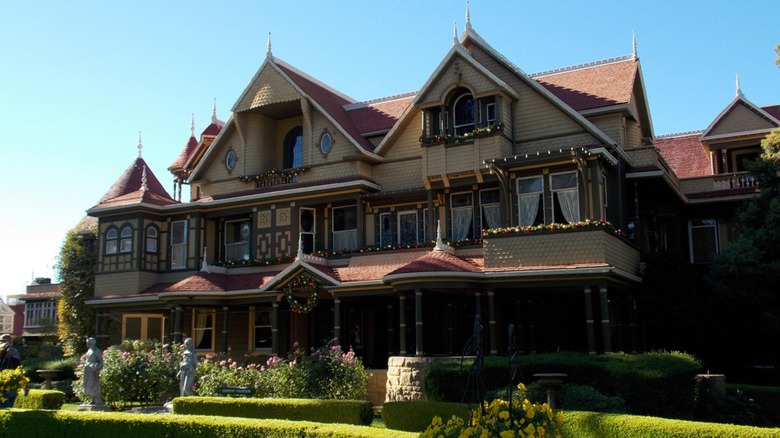 BrookePierce/istockphoto.com
Constructed in 1884, the Winchester Mystery House became a popular tourist attraction for its peculiar history and architecture, as well as the fact that it's allegedly haunted. The house is filled with random rooms, doors, and stairs that lead nowhere. Legend has it that a widow, Sarah Winchester, built this house with the direction from spirits and built it ceaselessly over the course of 30 years until the day of her death in 1922. Her family descendants now own the property but open it to the public for various tours.
Corn Palace (Mitchell, South Dakota)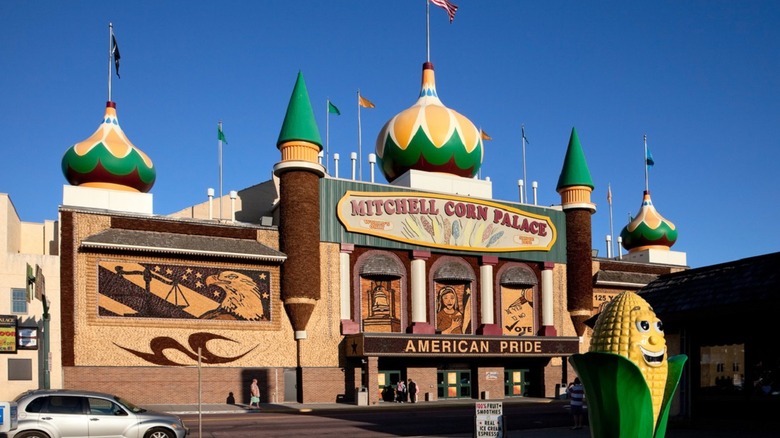 Terryfic3D/istockphoto.com
South Dakota's weirdest tourist attraction is its Corn Palace, a magnificent building covered in creative murals made out of corn to resemble various themes. 2016's theme, which coincidentally was 2017's theme (for monetary reasons) happened to be "Rock of Ages" and included corn depictions of the likes of Elvis, Willie Nelson, and John Travolta.
Market Theater Gum Wall (Seattle, Washington)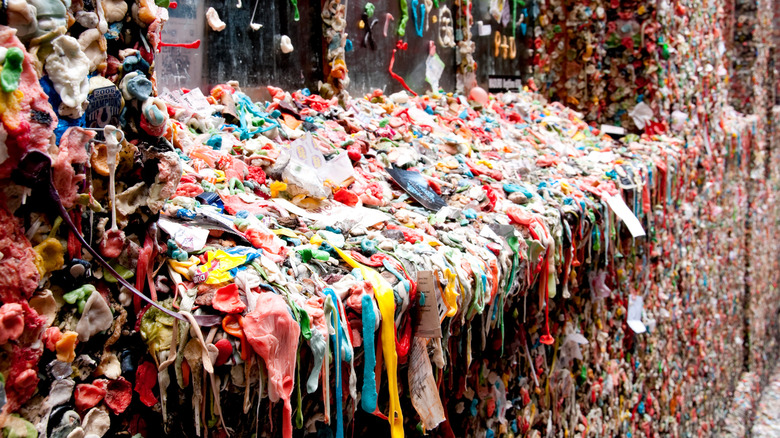 400tmax/istockphoto.com
There's a brick alleyway under Pike Place Market in Seattle that is covered completely in chewing gum. The gum takes over the space, which is 15 feet high and 50 feet long, and has been a tourist attraction since 1999. People sometimes create artworks with their gum, and the wall has even been featured on CNN's "germiest" tourist attractions.
National Mustard Museum (Middleton, Wisconsin)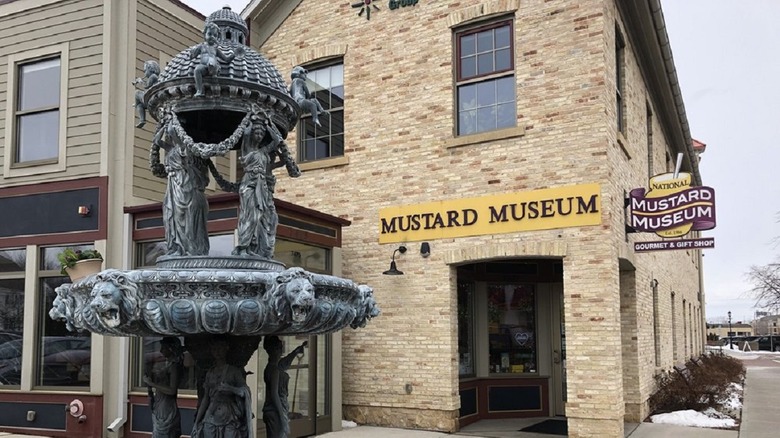 Emily Y./Yelp
If you find condiments exciting, then this museum dedicated to mustard will knock your socks off. The National Mustard Museum features a collection of countless prepared mustards from over 60 countries for visitors to explore. Try samples of new and antique mustards from around the world, and be sure check out the exhibit about the condiment's history while there.
Mermaids of Weeki Wachee (Weeki Wachee, Florida)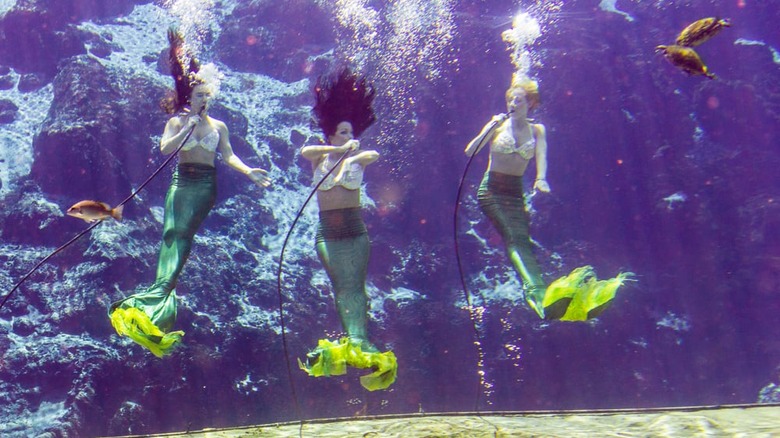 Bill O./Yelp
Florida — known for its swampland and... mermaids? At Weeki Wachee Springs State Park, visitors can watch "mermaids" (women dressed up and wearing fishtails) perform elaborate shows underwater through windows in an underground auditorium.
Gatorland (Orlando, Florida)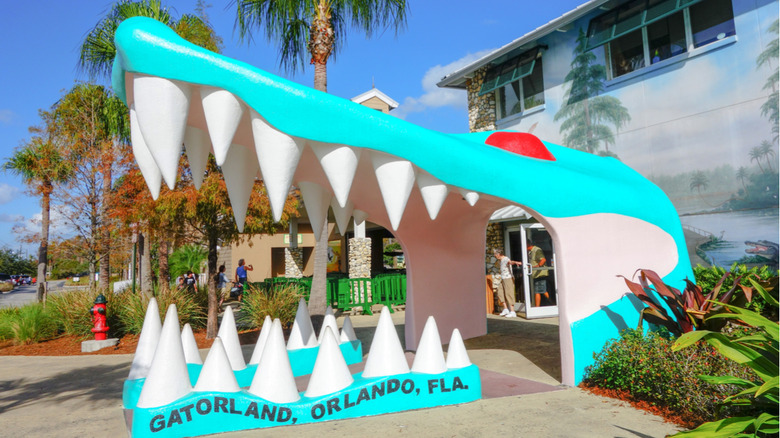 Shutterstock
Alligators may be common to Florida, but the idea of going somewhere on purpose to be surrounded by them is a bizarre concept and usually not recommended. For those interested, however, Gatorland is "The Alligator Capital of the World" and the best place to see both alligators and crocodiles. There's even a petting zoo where you can pet these wild reptiles!
Vent Haven Museum (Fort Mitchell, Kentucky)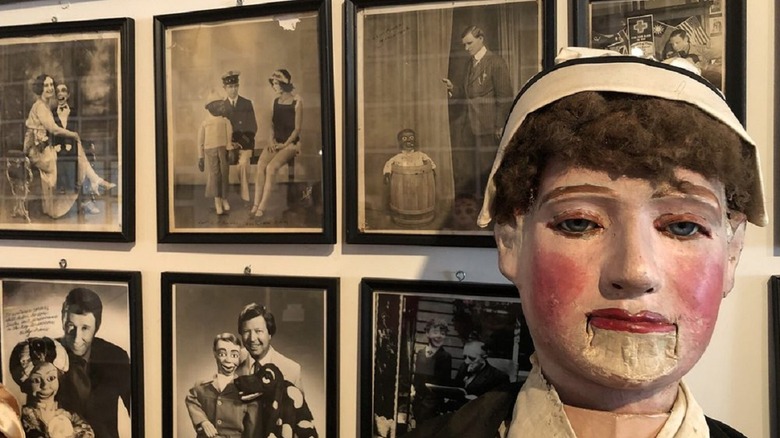 Mark K./Yelp
One of the weirdest museums on the planet, the Vent Haven Museum is the world's only museum of ventriloquism. With over 900 dummies alone spanning three centuries, nearly everything from puppets, memorabilia, recordings, photos, and scripts related to ventriloquism can be found here. Founded by W.S. Berger, who developed a large personal collection over the course of 40 years, Vent Haven Museum was opened to the public in 1973. We can't image how creepy it must've been to have so many ventriloquist dummies in one home!
Nuclear Waste Adventure Trail (Weldon Spring, Missouri)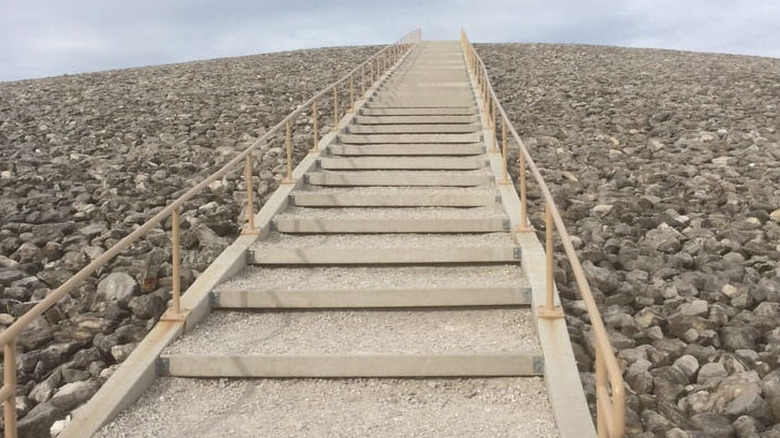 Nicole W./Yelp
In Saint Charles County, Missouri, sits a 17,323-acre nuclear waste disposal site that visitors can tour. Weldon Spring was a major manufacturer of explosives, producing over 700 million pounds of TNT by the end of the World War II. A decade later it became a uranium refinery during the Cold War for nuclear bombs. In the 1980s, all the abandoned radioactive material was buried in a man-made mini-mountain that people can now climb.
The Hammer Museum (Haines, Alaska)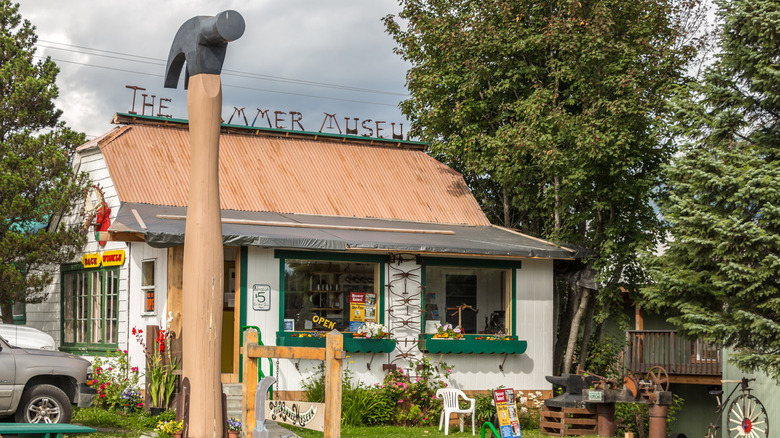 RUBEN RAMOS/istockphoto.com
The world's first museum dedicated to hammers features roughly 2,000 hammers. Some hammers date back to ancient times — one such artifact was used to craft perfect sugar cubes to win a woman's hand in marriage — while others include those used by miners, the railroad industry, and even medical industries.
The Thing (Cochise County, Arizona)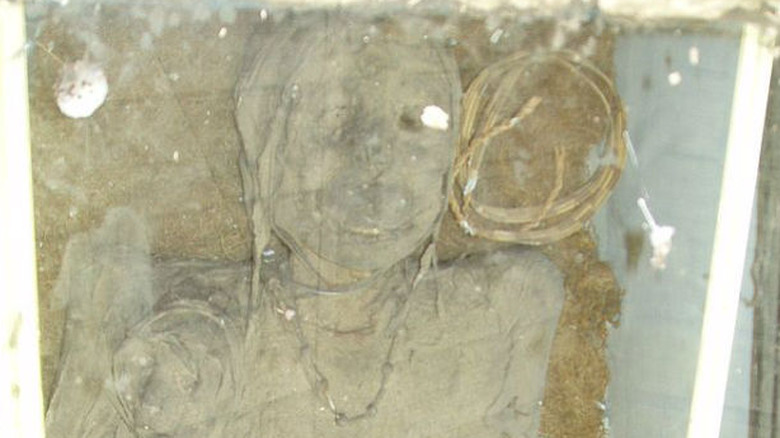 Thadrd28/Wikimedia Commons
A tourist trap at its finest, The Thing is a roadside attraction between El Paso, Texas, and Tucson, Arizona, off of Interstate 10. "The Thing" is said to be a mummified mother and child, but was likely created as a sideshow piece by exhibit curator Homer Tate — who was known to do that during his time. However, this hasn't stopped travelers from visiting the bizarre museum.
International Banana Museum (Mecca, California)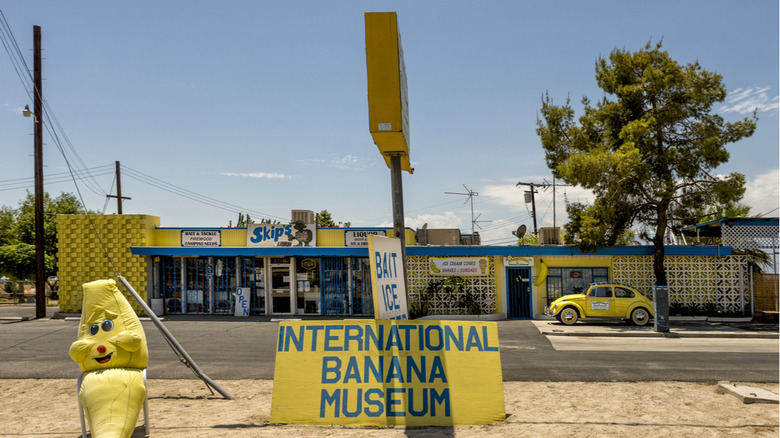 Ovidiu Hrubaru/Shutterstock.com
This museum is bananas... in every way. Not only will visitors find every type of banana-related item imaginable, but they also have an international banana ambassador called Platty who travels around the world. The bright yellow museum is located in Mecca, California, and holds the title of world's largest collection dedicated to only one fruit, according to the Guinness Book of World Records.
UFO Watchtower (Sagauche County, Colorado)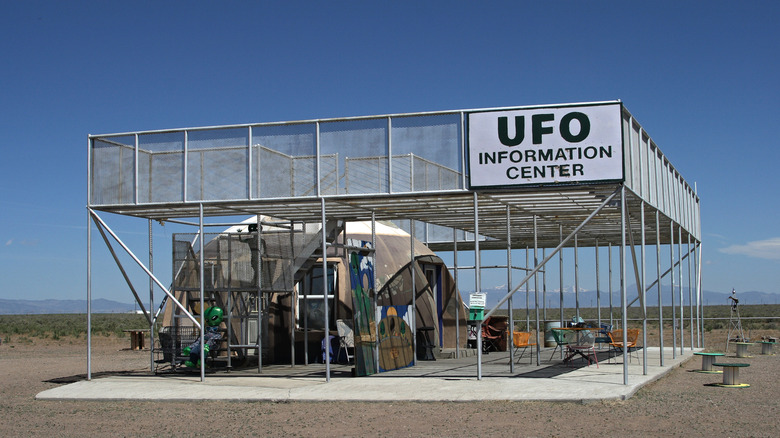 Faina Gurevich/istockphoto.com
This strange roadside attraction near Hooper, Colorado, was created in 2000. With 360-degree views of the San Luis Valley, this observation deck has garnered much publicity over the years. Created as a joke on Judy Messoline's property, she began making money charging admission, so she built a saucer dome gift shop and only a 10-foot-high platform that acts as the observation deck. Nevertheless, people still stop by to try their luck at seeing UFO activity above.
The World's Largest Toilet (Columbus, Indiana)
Nicole S./Yelp
This attraction is intended for children, but that doesn't make it any less bizarre. Within a massive playhouse, children can explore between the house walls and tubes. The toilet itself is the entrance to a slide that will take visitors through the plumbing system of this playhouse. It's certainly an interesting way to teach kids about how things function.
The Hobo Museum (Britt, Iowa)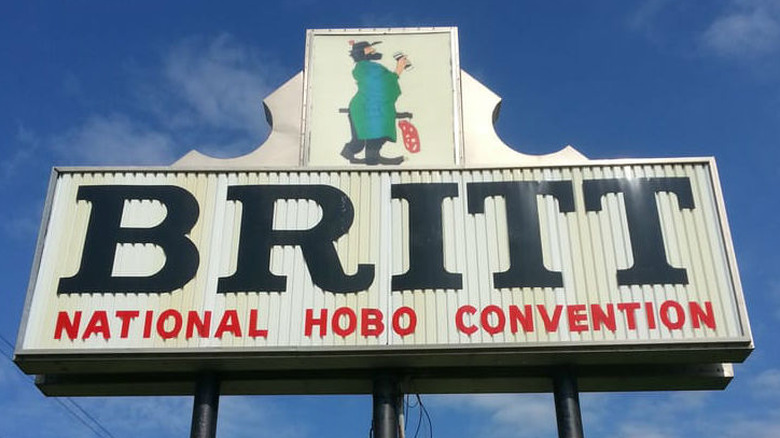 Pam D./Yelp
Britt, Iowa, has been home to the Hobo Museum since the 1980s, when the Hobo Foundation purchased the Chief Theatre and turned it into the museum it is today. The collection has been created with artifacts sent in from around the world including original photographs, videos, music recorded by hobos, books written by the community, paintings, doll collections, and plenty of other items depicting their lifestyle. It's an interest look into a part of American history rarely spoken about.
World's Largest Ball of Twine (Cawker City, Kansas)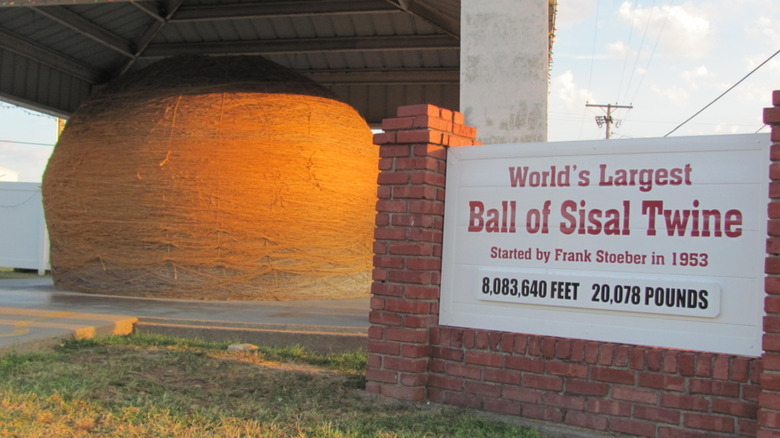 Larry Porges/Shutterstock.com
Surprisingly there are a few towns in the U.S. claiming to have the world's largest ball of twine, but as of 2014, the winner for largest circumference went to this one located in northern Kansas. With an 11-foot diameter, this creation by Frank Stoeber was made up of 1.6 million feet of twine — recorded at the point of his death in 1974. However, every year more twine is added to the ball during the city's "twine-a-thon." Its last known dimensions from 2014 are 41.2 feet in circumference, and 10.83 feet high; but the ball keep growing with each year. Visitors can stop by and take photos with it at any point.
Nicolas Cage's Pyramid Tomb (New Orleans, Louisiana)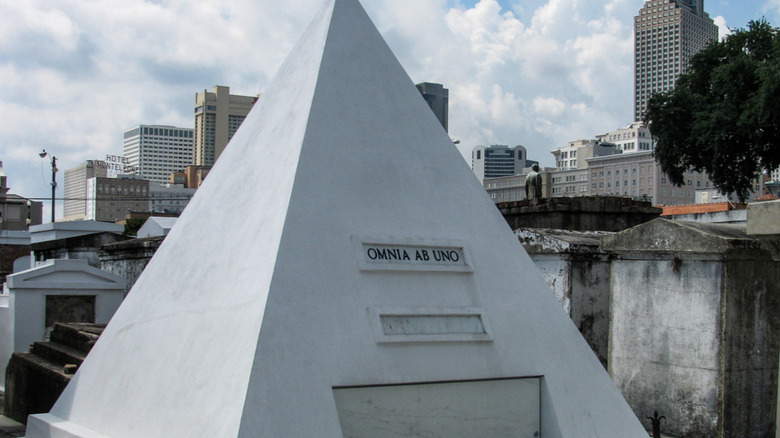 Underawesternsky/Shutterstock.com
Louisiana is home to several bizarre grave sites, but this one is particularly eerie because it is an empty grave purchased by Nicolas Cage and the reasoning has yet to be explained. Many believe the unnamed pyramid tomb was purchased as an homage to his movie "National Treasure." The only words on the 9-foot-tall pyramid tomb — which bears no resemblance to any other tomb in the cemetery — is the Latin phrase Omni Ab Uno, meaning "Everything From One." Regardless of the reason for his purchase, it's worth stopping by before or after visiting Marie Laveau's voodoo tomb. Oh, and don't forget to leave a lipstick kiss on the back of the pyramid (another oddity associated with this tomb).
Grave of Marie Laveau, the Voodoo Queen (New Orleans, Louisiana)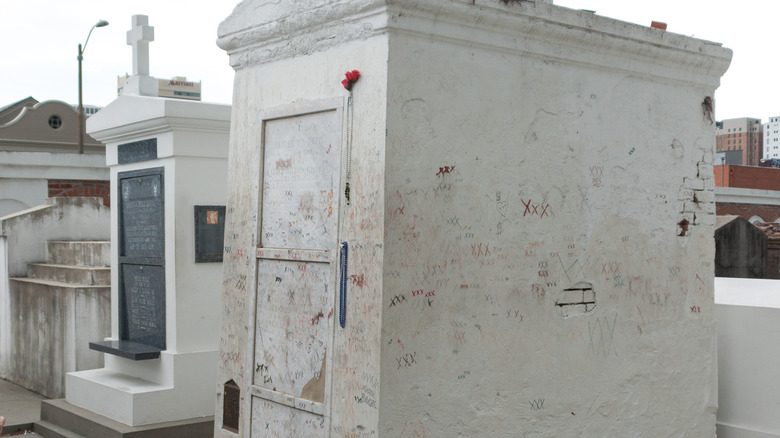 400tmax/istockphoto.com
Visit Marie Laveau's grave... if you dare. The notorious Louisiana Voodoo queen may have died in 1881, but it's still widely believed that her spirit will help you with whatever you need should you leave the right combination of offerings or draw three X's on her tomb, located in one of the most beautiful cemeteries in America. Unfortunately, due to tons of grave-defacing, the only way to visit her final resting place now is by taking a tour with a licensed tour guide.
Havre de Grace Decoy Museum (Havre de Grace, Maryland)
Decoy enthusiasts will enjoy the collections of Chesapeake Bay decoys on display here. Known as the Decoy Capital of the World, people — not waterfowl — flock to the Maryland town of Havre de Grace to check them out.
Leila's Hair Museum (Independence, Missouri)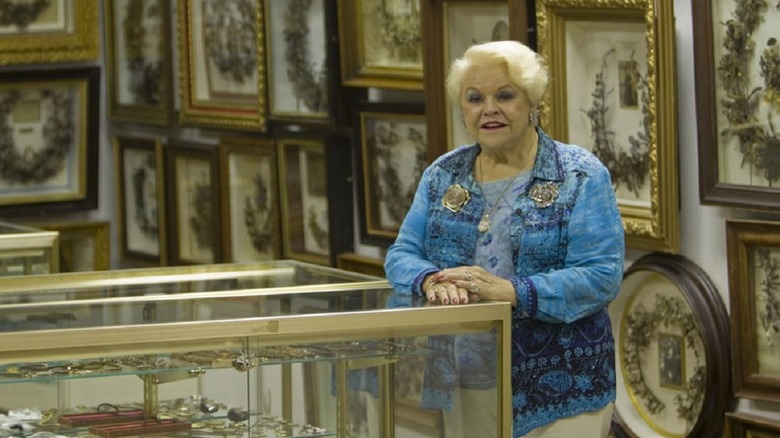 Leila's Hair Museum/Yelp
This underrated museum features over 400 wreaths and more than 2,000 pieces of jewelry all made from human hair. This form of art was particularly popular in the Victorian era, but lives on in Independence, Missouri. Some of the pieces on display here date back to the 1600s.
Talking Penguin Statue (Cut Bank, Montana)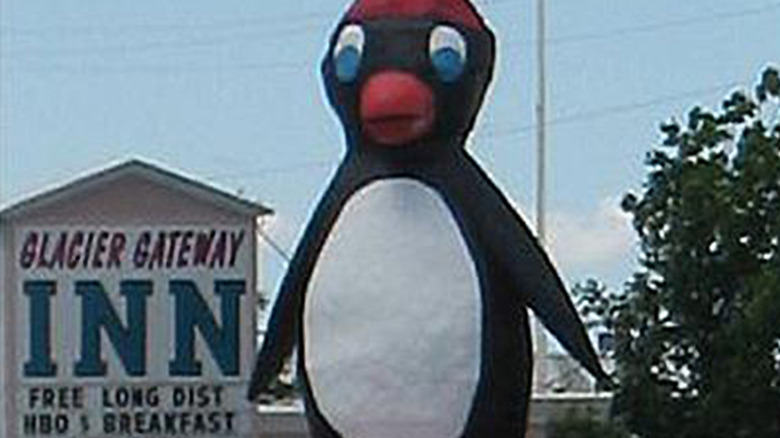 Nmpls/Wikimedia Commons
This terrifyingly large statue in Montana sometimes decides to speak (when the feature is actually functioning), making it an unintentionally creepy tourist attraction. The nameless talking penguin sculpture was created by Ron Gustafson out of concrete and metal. It weighs 10,000 pounds and stands at 27 feet tall.
Carhenge (Alliance, Nebraska)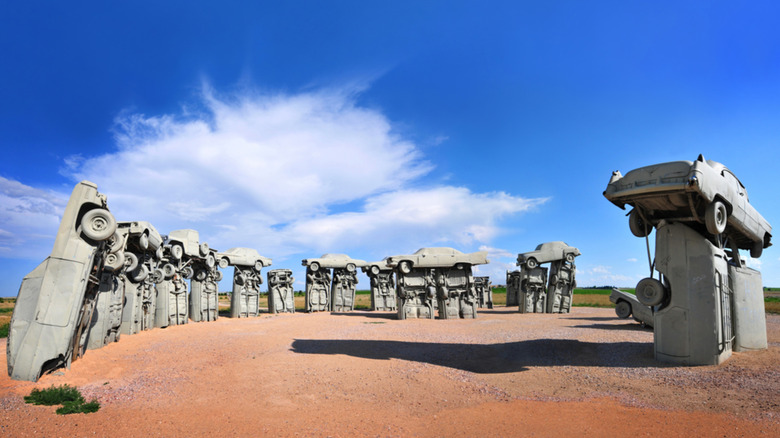 Edwin Verin/Shutterstock.com
Carhenge sounds exactly like what one might think it is — a replica of Stonehenge, but using cars. Made with vintage cars all painted gray to match the Stonehenge rocks, this Nebraska replica was originally created for the summer solstice of 1987 and has remained there ever since, perfect for your Instagram feed.
Ouija Board Inventor's Tombstone (Baltimore, Maryland)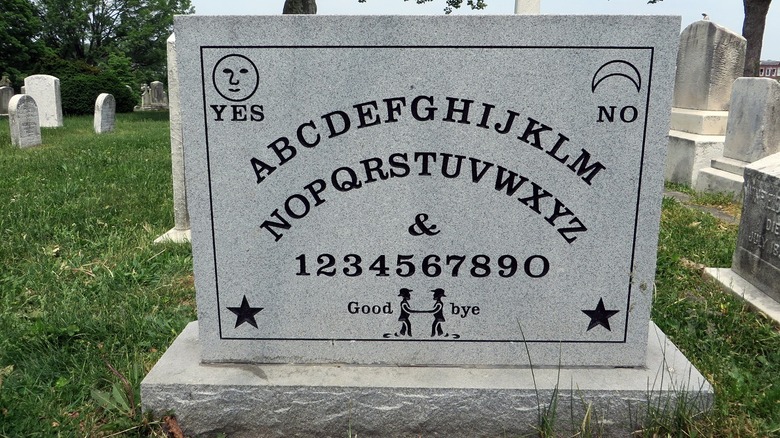 Something Original/Wikimedia Commons
The inventor of the Ouija Board has the coolest tombstone ever in Baltimore, Maryland. Carved into the back of Elijah Jefferson Bond's tombstone is a Ouija Board with the traditional "yes" and "no" in the left and right corners. It's the perfect spot to snap a cool Instagram-worthy shot or build your Tumblr aesthetic. Recently, someone left a crying-eye planchette on the Ouija Board part of the headstone. Would you dare try to communicate with Mr. Bond?
Pit of Buffalo Bones (Vore, Wyoming)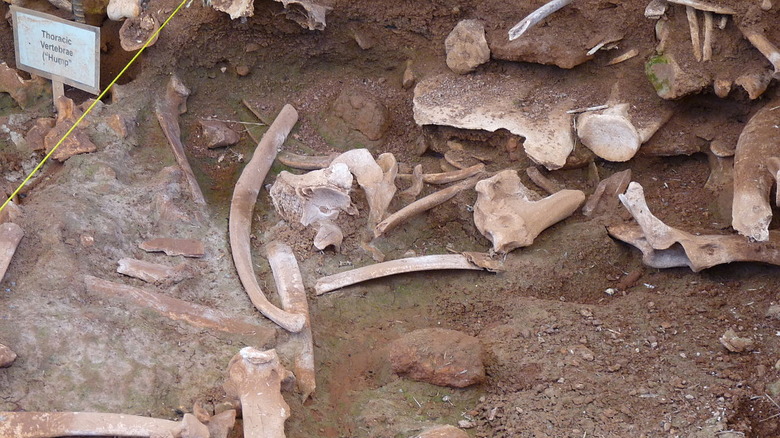 Jeff the quiet/Wikimedia Commons
Hunters in the Vore, Wyoming, area once drove herds of bison off the neighboring cliff into this pit to kill them, and over roughly 300 years of use, the site accumulated the remains of between 10,000 to 20,000 buffalo. Visitors and archeologists are welcome, but only 5 percent of the bones have been excavated, so no one really knows what could be under there!
The Clown Motel (Tonopah, Nevada)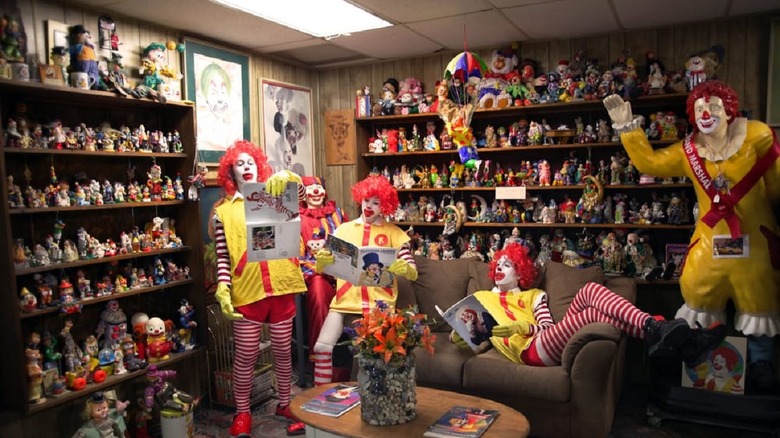 Weston A./Yelp
If you're scared of clowns you may want to stay far away from this strange hotel. The Clown Motel in Nevada is next to an abandoned graveyard and filled with a variety of clown dolls. This bizarre pit-stop in the middle of the desert seems like a place found only in nightmares or horror movies.
Shoe House (York, Pennsylvania)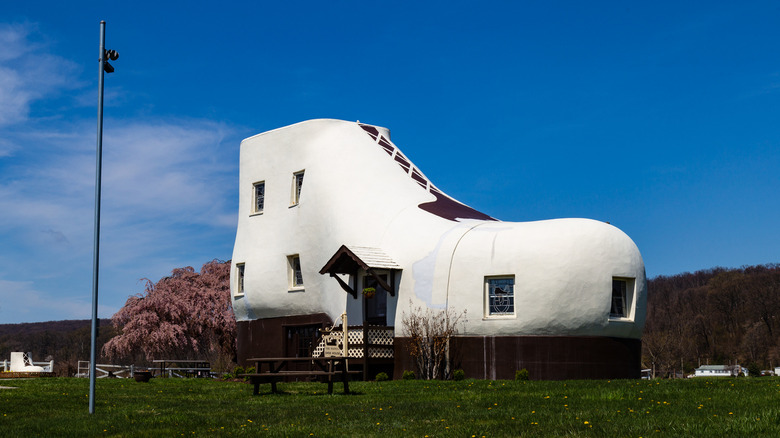 gsheldon/istockphoto.com
This shoe-shaped house sits on Shoe House Road and was created by none other than a shoe salesman called Mahlon Haines. The Haines Shoe House is a five-story home that is now open to the public for tours. Next to it is a shoe-shaped dog house to boot.
Gun Totem (Providence, Rhode Island)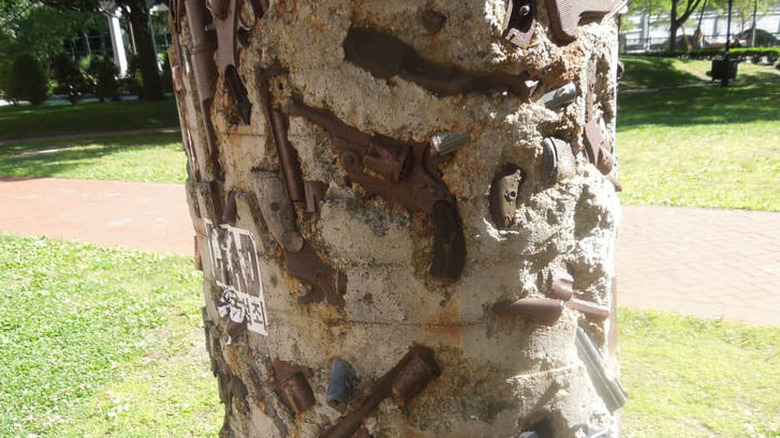 Dan R./Yelp
This interesting sculpture in Rhode Island was made using over 1,000 reclaimed guns and concrete. It's a 12-foot obelisk that was commissioned by the Providence Parks Department and stands across from the Federal Courthouse.
UFO Welcome Center (Bowman, South Carolina)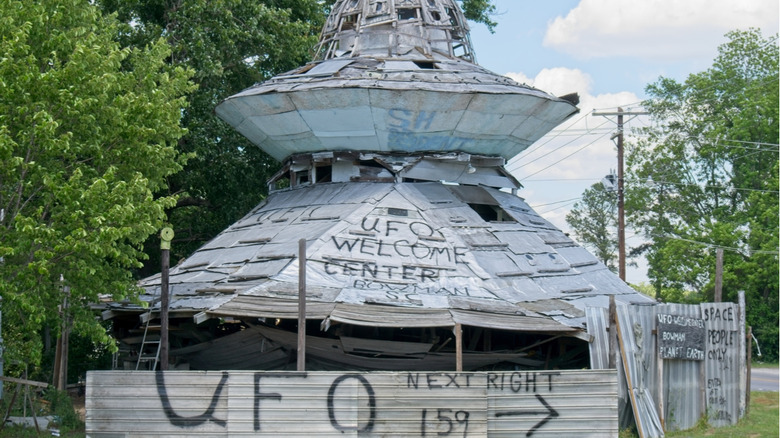 Jim in SC/Shutterstock.com
Built by a man named Jody Pendarvis, the UFO Welcome Center in the Midlands of South Carolina is intended to be a safe space for aliens and humans to meet. The saucer-shaped center has an additional, smaller saucer attached to the top. It's been put together using scrap metals and junk material, but it includes a shower, toilet and air conditioning for the long eventual ride into space.
World's Most Scenic Urinal (Holualoa, Hawaii)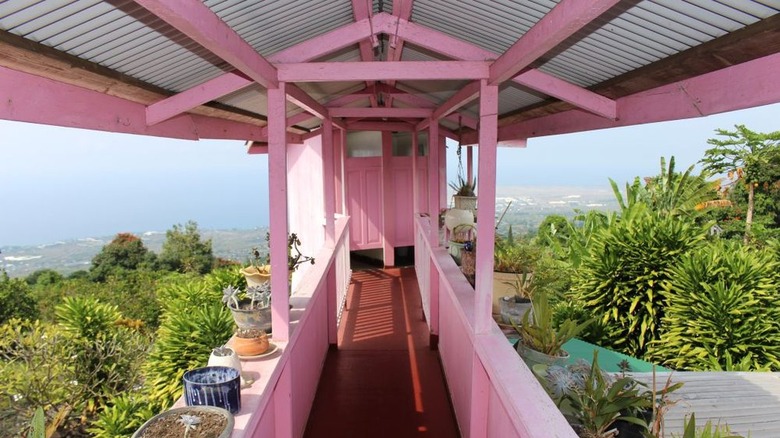 Kona Hotel/Yelp
Located in beautiful Hawaii, Kona Hotel hosts the world's most scenic urinal, and they are proud of it. Men using the facilities get to enjoy a gorgeous view of the ocean and the green terrain while they relieve themselves. The hotel's manager told Roadside America that she is very pleased with the bathroom's notoriety as an odd attraction.
White House Replica (Atlanta, Georgia)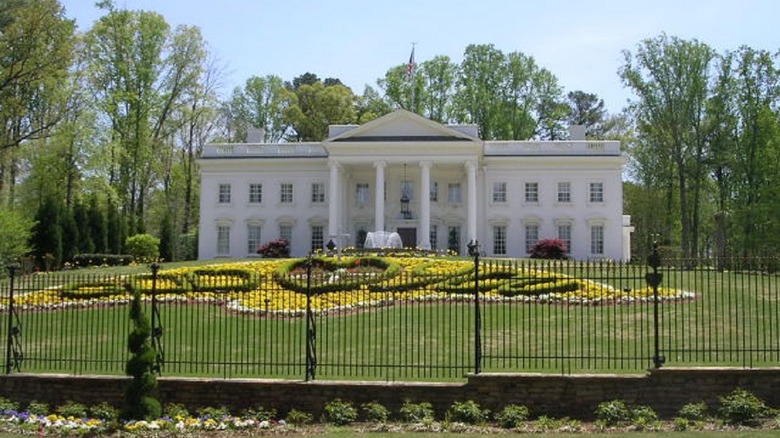 Wikimedia Commons
Want to see the White House without having to go to D.C.? Consider traveling to Atlanta, where someone built a replica three-quarters the size! The mini White House used to offer tours of its replica of the Oval Office and the Lincoln bedroom, but now it's a private home. However, it's still frequently photographed by on-lookers, because... it's basically the White House.
Man-Killing Clam (Cheboygan, Michigan)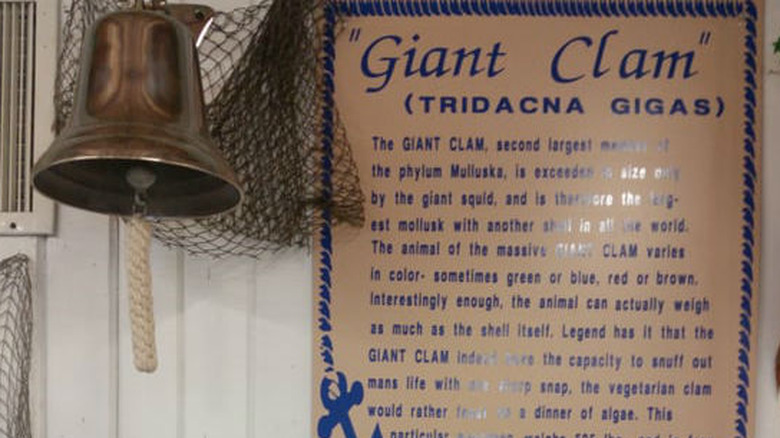 Margaret L./Yelp
Located inside Sea Shell City in Cheboygan, Michigan, this enormous man-killing clam is totally kitschy-cool — plus there are kooky signs for it on the road the closer you get. Although the clam is genuinely quite large, it's more silly than scary, and it's one of the most photographed items at Sea Shell City!
World's Largest Paul Bunyan (Akeley, Minnesota)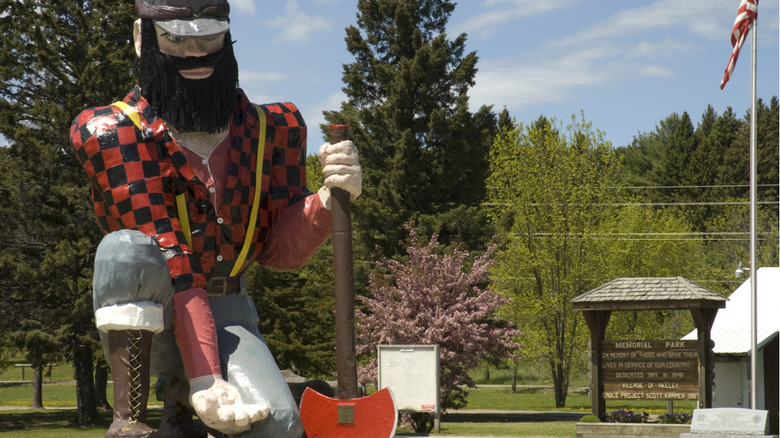 Pierdelune/Shutterstock.com
This Paul Bunyan statue in Akeley, Minnesota, stands out because you can sit in his huge palm and take the perfect road-trip vacation photo. Although the crouching figure is currently not technically the tallest Paul Bunyan statue in the U.S., his creators say that if he stood upright he would be about 60 feet fall, making him officially the largest Paul Bunyan.
Town Named Hot Coffee (Covington County, Mississippi)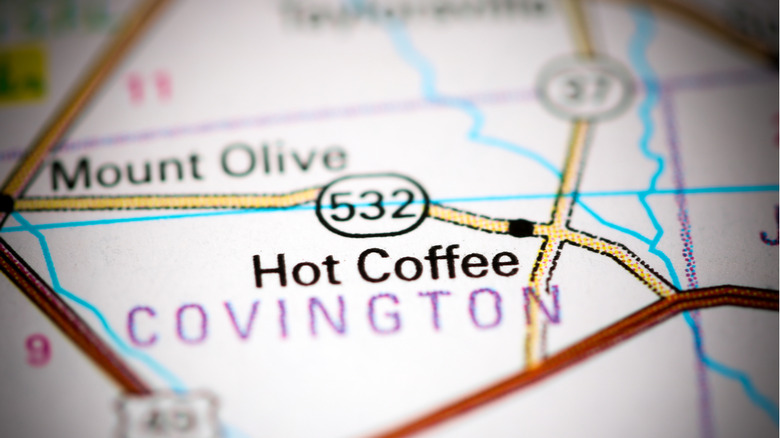 Shutterstock
There is a town named Hot Coffee in southern Mississippi, but if you blink you might miss it. The teeny tiny town is now just a green highway sign and an abandoned grocery store. People often stop to take photos that reaffirm their love of java.
Death Rock of Alexander Hamilton (Weehawken, New Jersey)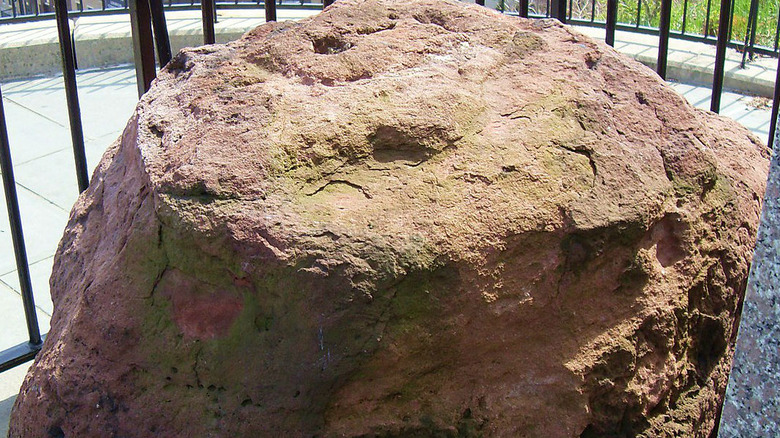 Theornamentalist/Wikimedia Commons
If you're a "Hamilton" fan, this is a must-see in Weehawken, New Jersey. The actual rock where Alexander Hamilton rested his head after he lost his duel with Aaron Burr is now a monument! Plus it's seriously close to the Lincoln Tunnel to New York City, so you could always see the Broadway show, hop in a cab, and go!
Plastic Flamingo Petting Zoo (Cedar Point, North Carolina)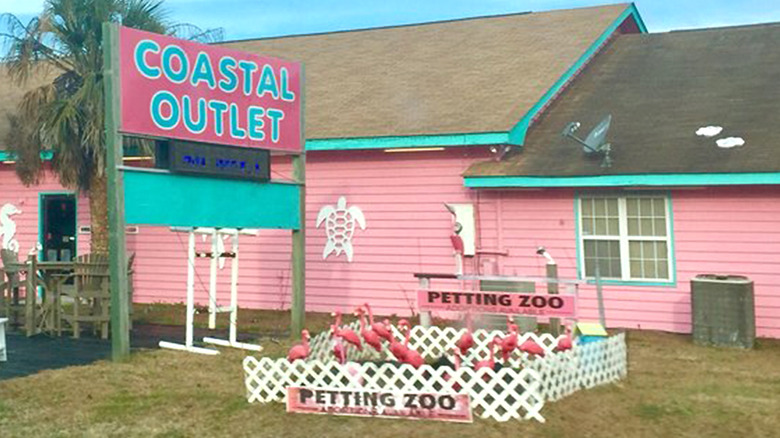 Alfred B./Yelp
Ever wanted to pet a flamingo? You can pet the birds without the fishy smell or the worry of getting pecked at this plastic flamingo petting zoo in Cedar Point, North Carolina! Located in the front yard of a tourist information center next to the highway, this is an incredible Instagram opportunity just waiting to happen. The flamingos aren't just for petting and photos — they can also be adopted (purchased).
World's Largest Peanut (Ashburn, Georgia)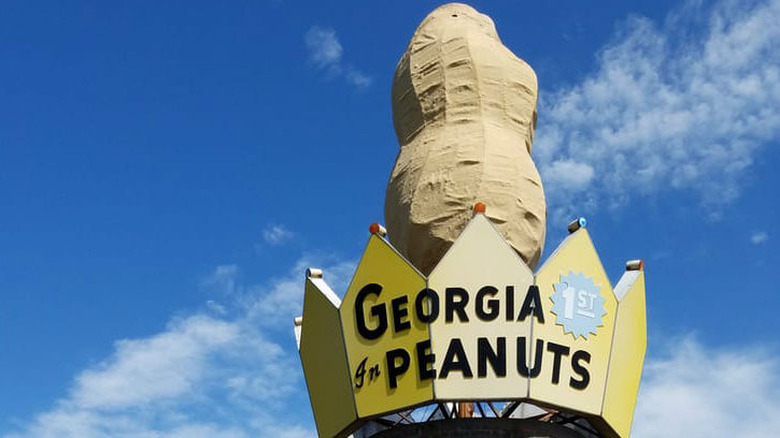 Caleb L./Yelp
The best and weirdest attractions are always large versions of everyday things. Durant's "World's Largest Peanut" in Ashburn, Georgia is no exception. Although the hefty peanut was taken down in 2010 because college kids kept stealing it, it is now back on its pedestal, looking enormous as ever and serving as one of the country's oddest attractions.​​​​​​​