This Rhode Island Trail Combines Beautiful Views Of The Ocean And Gilded Age Mansions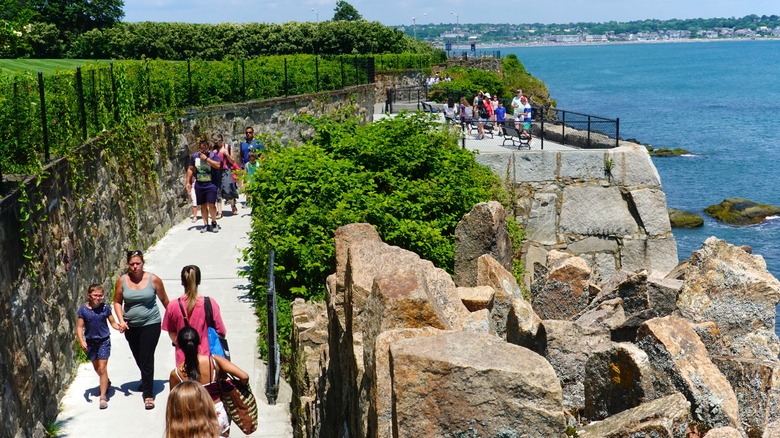 George Wirt/Shutterstock
Rhode Island is nestled on the East Coast and borders the Atlantic Ocean. According to Visit Rhode Island, it's nicknamed the Ocean State and offers more than 400 miles of coastline to view. The coast is covered in beaches and is a real treat for seafood lovers. There seems to be plenty to do here in this scenic state, such as viewing public art, beautiful mansions, welcoming villages, and rivers. If farms, breweries, trails, and walkable cities are your thing, you'll be happy to know this small yet adventurous place is full of those as well.
However, what if we told you there's a trail where you can view the beautiful ocean as well as alluring mansions? We're talking about the Newport Cliff Walk — a 3.5 mile trail with seven entrances across the coastline, per Discover Newport. If Rhode Island happens to be your next travel destination, check out the information we've found on one of its more serene walking trails.
An exciting and visually interesting trail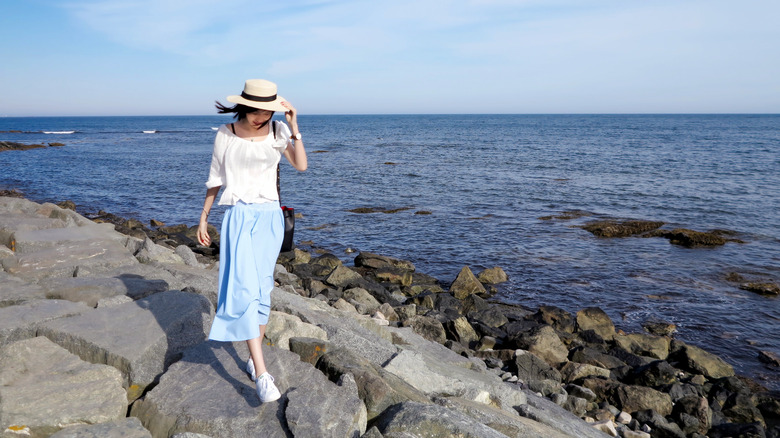 BingHao bingtravelbunny/Shutterstock
The Newport Cliff Walk is a sight to see for those who love nature. According to Cliff Walk, not only will you see the beautiful coastline, but also the wildflowers, birds, and interesting geology. The Cliff Walk was named a National Recreation Trail in 1975, making it the 65th in the U.S. and the first of Rhode Island. Additionally, it's quite a popular destination, with about 250,000 visits each year. Most of the trail is also pretty easy to walk across, however, as you approach the southern portion, it does become more rough and it's advised to be cautious as you navigate around the large rocks.
However, it seems like this trail is a great spot for surfers. Cliff Walk  says tourists can stop at the small beach on Marine Ave., and have fun with their surfboards when waves break out during hurricane season. Geology fanatics will also be excited to know that you can find Cold Age sedimentary rocks from Memorial Blvd. to Ochre Point. These rocks are 300 million years old and contain fossilized plants — which helps geologists to create a timeline of surface changes in the area.
And jaw-dropping mansions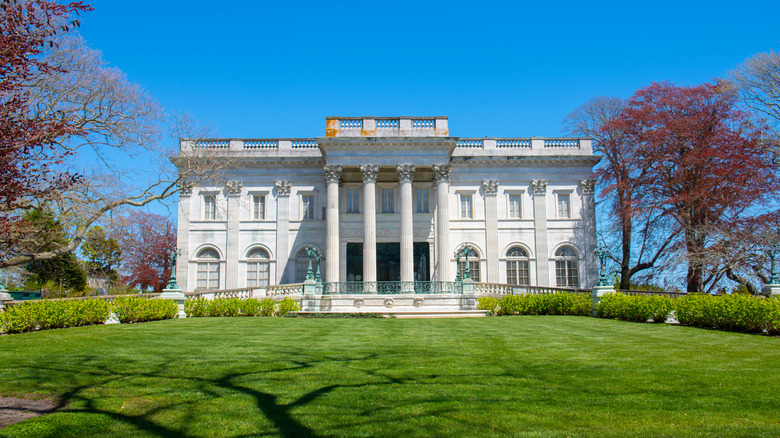 Wangkun Jia/Shutterstock
There are also magnificent, 100-year-old Gilded Age mansions to view on the other side of the trail, per Discover Newport. Not only are these mansions an incredible sight to see, but many of them were part of the film production of "The Gilded Age." Additionally, several famously wealthy families, such as the Vanderbilts, vacationed in these exquisite homes during the summer, and now many of them are available for tours. The most popular mansion is known as The Breakers, an incredibly detailed, large structure that the Vanderbilt family often visited. 
 There's also the Rosecliff, which was built by an heiress from Nevada and created to mimic the design of the Grand Trianon of Versailles. This mansion was also famously used as a background in the show "Antiques Roadshow," as well as several other film productions. It's also worth mentioning the Kingscote, designed with a Gothic Revival style that makes it more eccentric when compared to other mansions.