This LA To Malibu Hiking Trail Has The Most Incredible Mountain And Ocean Views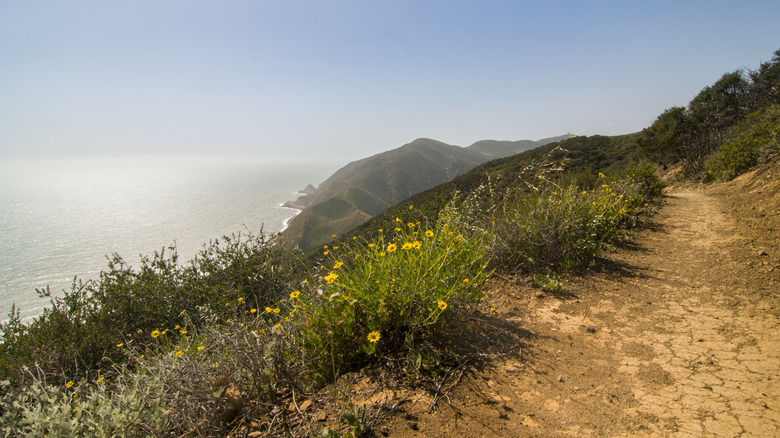 NatalieJean/Shutterstock
While the drive from Santa Monica to Malibu can be scenic, the really picturesque route can only be taken on foot. The 67-mile Backbone Trail runs along the spine of the stunning Santa Monica Mountains and is a designated National Recreation Trail. On this multi-day trek, you can escape LA's notorious traffic and have a true wilderness experience, right outside one of the U.S.'s largest urban centers.
On the trail, you'll trek through shady wooded canyons and up to 16-million-year-old rocky outcrops, and have views over the San Gabriel Mountains and the LA urban jungle, as well as coastal panoramas over the Channel Islands, according to the National Park Service (NPS.) This diversity of vistas and experiences has given the Backbone Trail a high rating among users of the popular site All Trails, with hikers praising the challenging trail. So, what can you experience on the Backbone Trail, and how can you take it on?
How to hike the Backbone Trail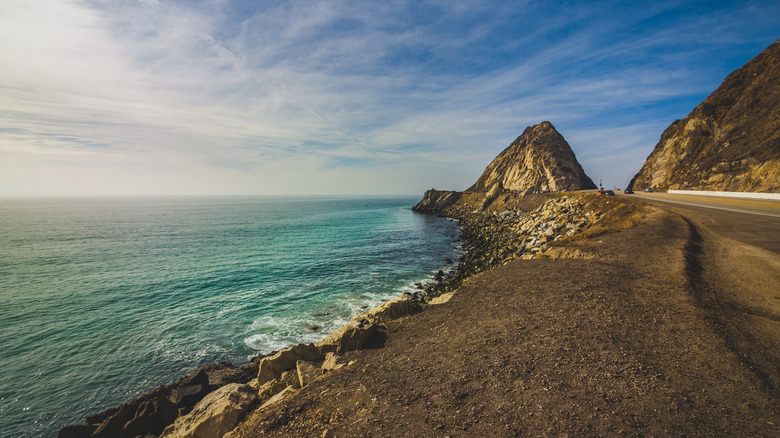 Andy Konieczny/Shutterstock
First, the logistics. The NPS website has a wealth of practical information for hikers. In the east, the trail starts at Will Rogers State Historic Park, less than 15 minutes' drive from Santa Monica Pier. In the west, it begins at Point Mugu State Park, right on the ocean. 67 miles are open to hikers, and there are 12 trailheads along the way, allowing users to get on and off the trail at several points.
The Backbone Trail can be done as a thru-hike, defined by REI as a long-range, point-to-point backpacking trip, but it can also be broken down into day hikes. The NPS actually recommends day hiking due to the sparsity of campgrounds along the trail. The Los Angeles Times has a guide to eight-day hikes, while for those who do want to thru-hike, the Santa Monica Mountains Trails Council has an itinerary for a group trip that lays out a seven-day hike.
You don't have to complete the trail on foot. The NPS shows that all 67 miles are open to equestrians, and 43 miles of the trail are open to bikers. Dogs are also welcome on the trail, provided they are kept on a leash.
What you'll see on the Backbone Trail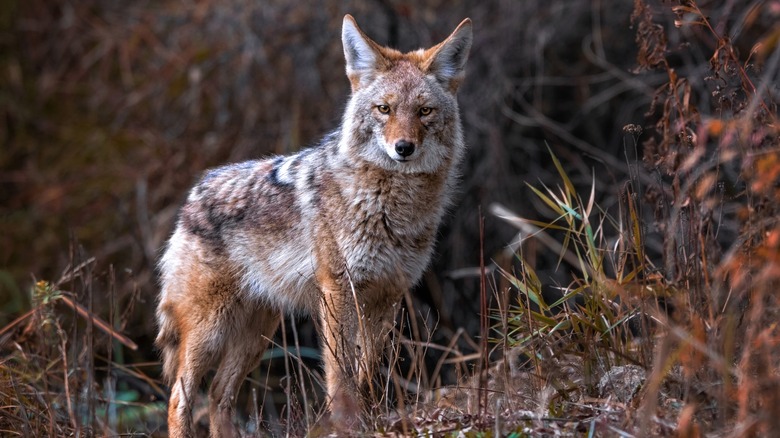 Annette Shaff/Shutterstock
This hike has a huge amount of diversity within its 67 miles: you can see LA's skyline, jagged ridges marching towards the horizon, and the vast, sparkling Pacific Ocean. The NPS praises the trail as crossing through the world's best-protected Mediterranean coastal habitat, with chaparral-covered hillsides, creeks, meadows, and soaring rock spires. To see the vegetation in full bloom, the NPS recommends a hike in late winter or early spring — this is when the weather is at its most pleasant, too.
Along the way, you'll also have a chance of seeing some of the local wildlife. The Mountains Recreation and Conservation Authority advises that visitors might see common local mammals like coyotes, mule deer, and bobcats, as well as many species of snakes and lizards. Angelinos are lucky to have this sensational hike right on their doorstep, with trailheads easily reachable by ride-share (or with the help of kind friends!)