Avoid Having Your Holiday Gifts Unwrapped At Airport Security With This Simple Switch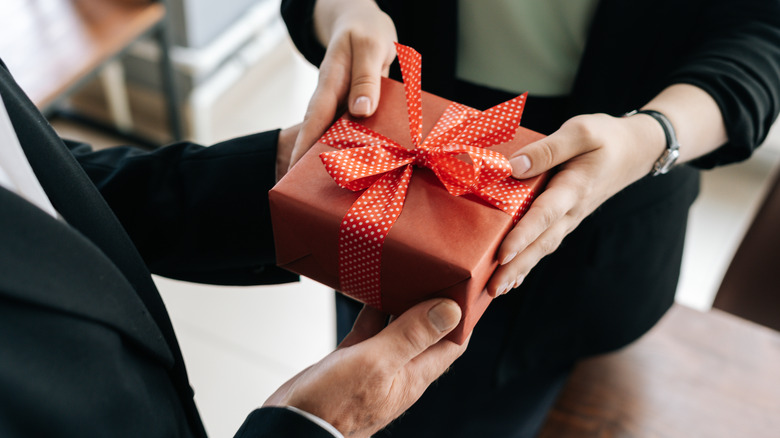 Dikushin Dmitry/Shutterstock
Traveling around the holidays can make some of the most wonderful winter memories for you and your loved ones. You could spend the season at one of the world's most magical Christmas towns, sipping hot cocoa, and getting into the holly jolly spirit. Perhaps you are more of a winter sports athlete itching to hit the slopes with your friends and family. No worries — the most popular ski resorts in America often host guests during the winter holidays. Or maybe you hate snow, ice, and all things cold. That's perfectly fine! There are tons of insanely affordable warm-weather winter destinations for your holiday travel.
Wherever you plan to spend your holidays, you're likely bringing gifts for your fellow travelers along the way. You don't want to ruin the surprise for your friend or family member with security unwrapping your gift before getting on the plane, though. With one simple step, you can ensure that opening presents stays magical even when miles away from home.
Use bags or boxes for gifts instead of wrapping paper when flying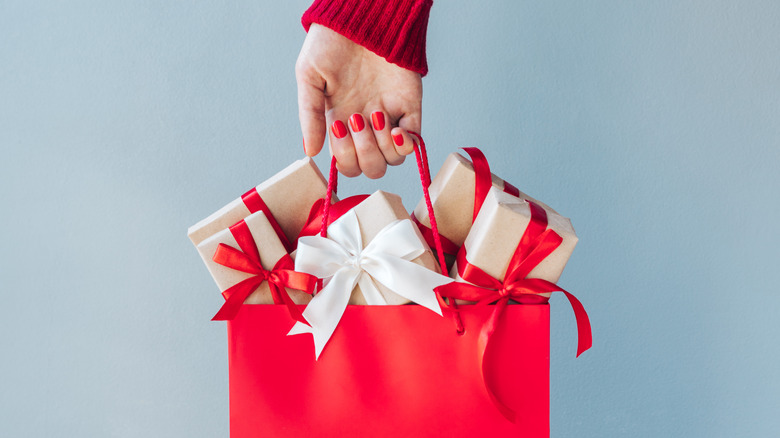 Wpadington/Shutterstock
Though wrapping your gifts helps create the magical atmosphere of holidays, you should avoid sending wrapped gifts through airport security. If you are bringing presents to give out on a holiday trip away from home, opt for bags or boxes instead of wrapping paper, the TSA says.
Not all wrapped presents will be unwrapped and opened by the agency, but certain ones that trigger alarms will need to be inspected, according to the agency.
"Wrapped items are screened like any other item," the agency wrote. "If a wrapped item alarms the security screening technology, it will need to be unwrapped to determine if it is a security threat. Consider traveling with unwrapped items, placing them in a gift bag or gift box or use a festive bow for easy access and resolution." If you are a die-hard gift-giver who loves festive wrapping, consider stowing your gift in your bag or gift box or waiting until you have reached your destination to wrap it.
TSA guidelines for gifts and holiday treats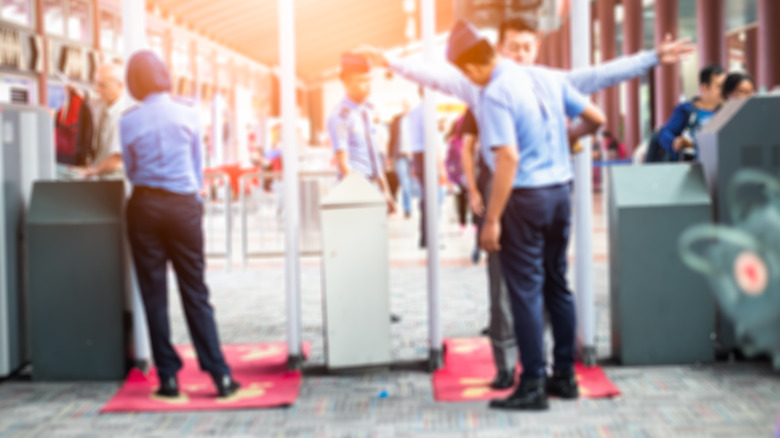 Thaspol Sangsee/Shutterstock
Veteran travelers might be familiar with the laundry list of TSA rules for flying. Still, it is worth double-checking the TSA's checklist before heading to the airport. And when it comes to common holiday gifts, the TSA has outlined how their requirements could affect your holiday gift-giving.
Electronics tend to be common gifts, but remember the TSA rules. Small electronics are allowed in carry-on luggage when packing. However, larger electronics will need to be removed and placed in a bin for TSA screening.
Chocolates, baked goods, and homemade liquids like jellies and jams are good to go for TSA screenings. The agency notes that cheeses can get complicated, so you may want to wait until you're at your destination to go on a grocery run to get yummy cheese for your holiday charcuterie board.
While traveling around the holidays can sometimes feel like a hassle, keep the season magical by following simple steps for a smooth start to your trip.