20 Cheap Warm-Weather Winter Destinations For December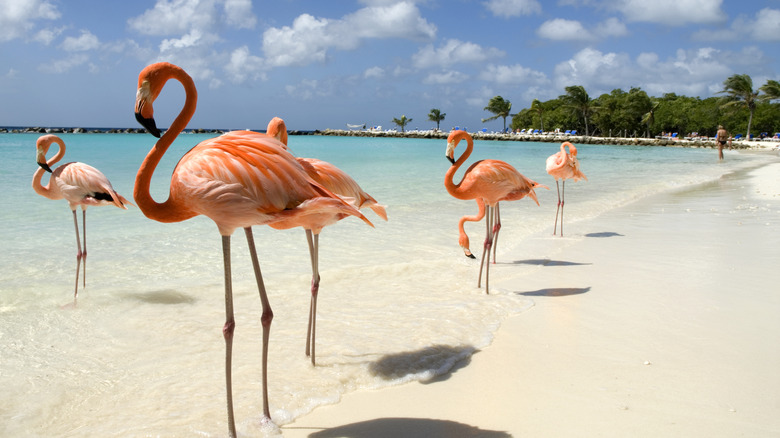 Vanwyckexpress/Getty Images
Winter blues got you down? There's a cure for that. From white-sand beaches to bustling markets and ancient ruins, escaping to a warmer climate during the colder months of the year might just be what the doctor ordered. That said, jetting off to a warmer destination doesn't always mean breaking the bank — especially with a lot of careful planning, scanning flights, and making the most of off-peak rates.
We've compiled a comprehensive list of destinations — from Mexico to Spain — brimming with culture, adventure, and warmth that won't break the bank, even if you're on a budget. So, whether you're dreaming of a Caribbean beach or the historic streets of a European city, there's a destination waiting to help you shed off the winter layers and slip into something a little lighter instead.
In order to gain a general understanding, the flight prices below are estimated for departures from New York City. Keep in mind, however, that ticket and hotel prices can vary unexpectedly. That said, it's recommended to book in advance and compare prices on multiple platforms — such as Google Flights and Google Hotels — before securing a reservation.
1. Antigua and Barbuda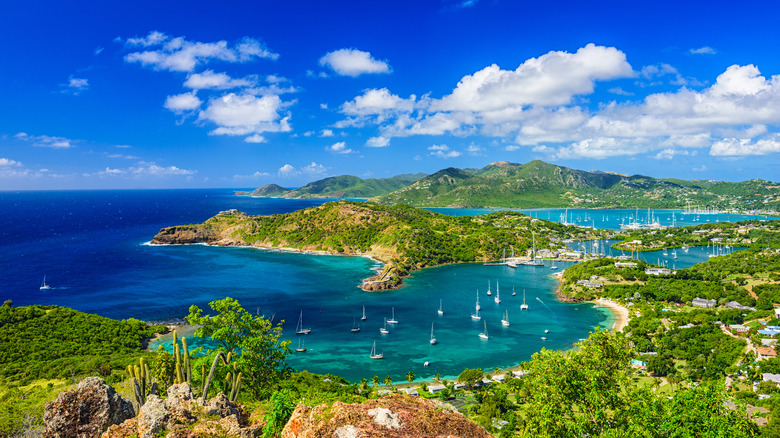 Seanpavonephoto/Getty Images
Nestled in the heart of the Caribbean, Antigua and Barbuda are twin islands that wear their history with pride. The preserved forts — remnants of British colonization — stand as a testament to centuries of historical importance. Every corner — from the bustling local markets brimming with handmade crafts and exotic fruits to the narrow streets of harbor towns — tells a story of ages past.
The islands also boast over 365 beaches, ensuring that every day of the year has its unique sandy retreat. While sun-worshippers can kick their feet up and soak up the rays, the more adventurous can try their hand at everything from snorkeling to swimming with stingrays or ziplining. Plus, with temperatures ranging between 73 and 83 degrees Fahrenheit, December provides a perfect balmy backdrop.
A ballpark figure for flight costs ranges from $375 to $700 for a roundtrip. Hotel accommodations — varying from luxury resorts to quaint inns — can average around $124–$326 per night.
2. Cancun, Mexico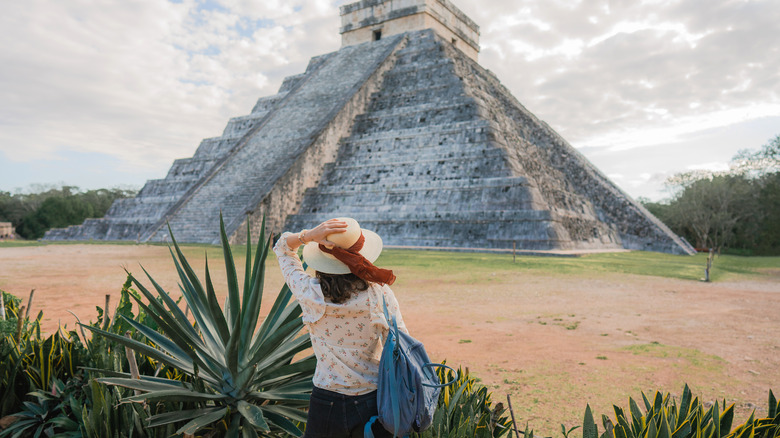 Oleh_slobodeniuk/Getty Images
Located on Mexico's eastern coast, Cancun is a beachside gem. On one hand, the region's scattered Mayan ruins  — like Chichen Itza, one of the New Seven Wonders of the World — showcase the area's rich past. On the other, its famous beaches and clubs — from Coco Bongo to Mandala Beach — provide the perfect spot for relaxation during the day and lively entertainment at night. Additionally, adventure seekers shouldn't miss the cenotes — natural limestone sinkholes filled with fresh water — that make for a scenic day out.
With an average temperature of roughly 80 degrees Fahrenheit, December is one of the best months to visit Cancun. With warm days, cooler evenings, low humidity, and conveniently outside of the region's hurricane season — you simply can't go wrong.
Hitching a round trip to Cancun can set you back between $250 and $670. In terms of accommodation, you can find hotels from $49–$129 per night. Want to make your money last a little longer? Opt for street food — which costs between $1 and $4 per meal — and make sure you always pay in the local currency (Mexican pesos).
3. Jamaica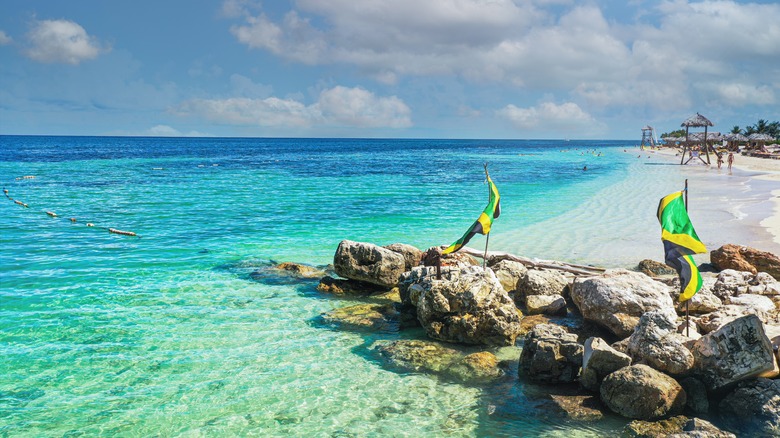 AeroPictures/Shutterstock
Set against the backdrop of the Caribbean Sea, Jamaica is a tropical haven that promises a peek into the country's cultural melting pot of African and European influences. However, it's the beaches — think Seven Mile Beach and Sandals Montego Bay Beach — that beckon travelers to soak up the sun or indulge in water sports.
With a climate hovering around 82 degrees Fahrenheit in December, Jamaica offers a warm escape. For thrill-seekers, the island has attractions like Dunn's River Falls and cliff-jumping spots such as Rick's Cafe in Negril. Plus, local dishes like jerk chicken and patties aren't just delicious but also pocket-friendly, ranging from $2 to $6.
Considering a flight to Kingston? Budget between $350 and $700 for a round trip, with prices higher around New Year's. As for accommodations, Jamaica's diverse range of lodgings means you can secure a room anywhere from $70 to $185 per night.
4. Peru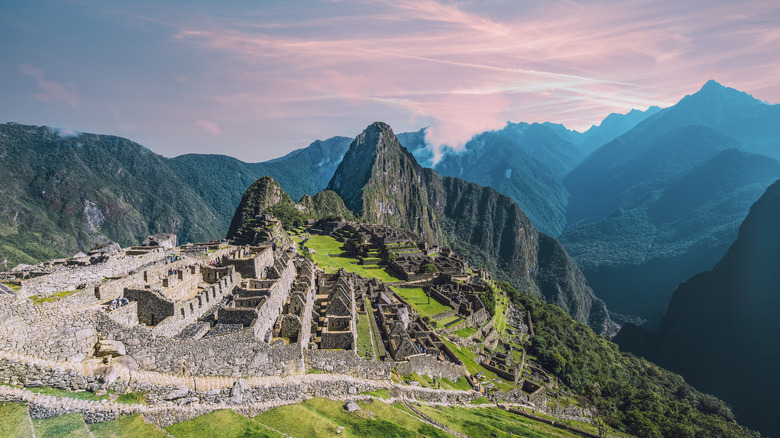 Tobiasjo/Getty Images
Peru offers a captivating blend of history, nature, and culture. Nestled in the Andes, cities like Cusco and Lima balance colonial architecture with indigenous influences, telling stories of a past where empires met empires. Beyond the cities, the Amazon Rainforest is enchanted with its rich biodiversity. However, the real star of any trip to Peru is the legendary Machu Picchu — a testament to the ancient Inca civilization.
December in Peru — especially in destinations like Lima and Mancora— hits a comfortable 75 and 85 degrees Fahrenheit, respectively. As for the Amazon region, visitors can expect highs of around 88 degrees Fahrenheit. Meanwhile, in high-altitude areas like Cusco, temperatures range from 45 to 68 degrees Fahrenheit. While December also marks the start of the rainy season — ensuring a lush, green landscape — travelers still have plenty of opportunities to explore its many treks, water sports, and jungle escapes.
Flight prices typically fall between $430 and $1,200 for a round trip. Meanwhile, typical hotel prices range from $30 to $150 per night, depending on location and amenities.
5. Seville, Spain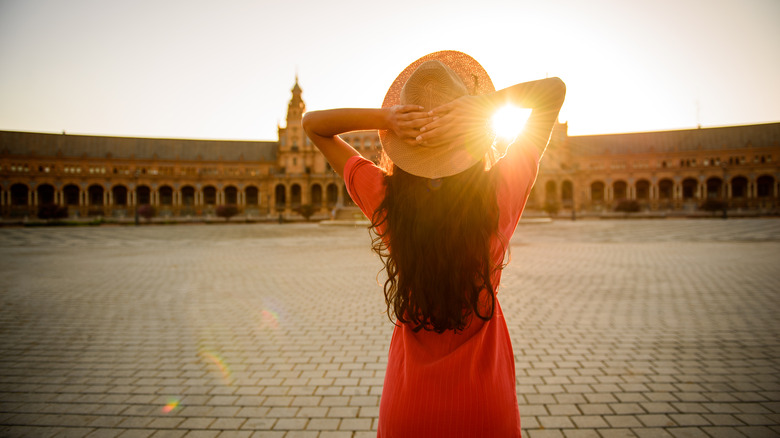 Mstudioimages/Getty Images
Located in the heart of Andalusia, Seville is a city of passion — from its fierce flamenco rhythms to its intricate Moorish architecture and mouthwatering local dishes. Iconic landmarks like the Alcazar Palace and the Seville Cathedral stand testament to its rich history. Additionally, the Santa Cruz neighborhood, with its narrow alleys and vibrant squares, encapsulates the city's soul.
In December, Seville offers a mild climate, with temperatures hitting 65 degrees Fahrenheit during the day. For a taste of Spain, tapas bars dotted across the city offer small dishes at around $3 to $8 each. And for sangria lovers, a glass of this wine-based cocktail will set you back roughly $6.
With December being peak season for visitors, direct flights to Seville can range from $450 to $1,000 for a round trip. Accommodation-wise, travelers can expect to pay anywhere from $50 to $170 for a night's stay in the city's hotels.
6. Cabo San Lucas, Mexico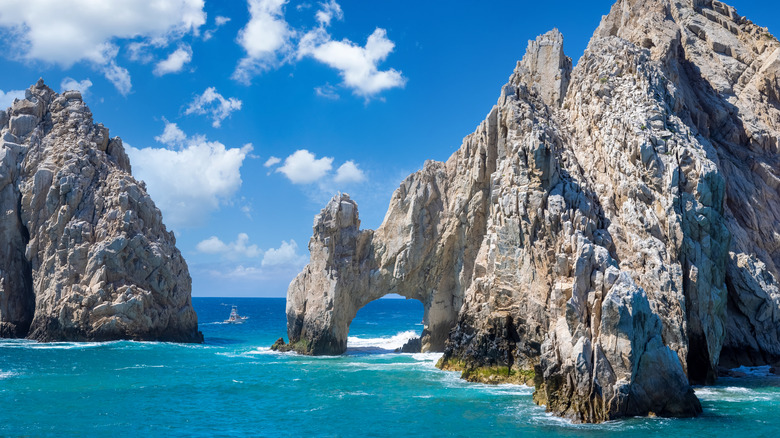 Elijah-lovkoff/Getty Images
On the southern tip of Mexico's Baja California Peninsula, Cabo San Lucas combines scenic beauty and vibrant nightlife. From its iconic El Arco rock formation to its golden beaches, this destination offers both relaxation and adventure while helping you stay within budget. The marina, lined with luxury yachts and bustling eateries, is the city's pulsating heart.
In December, temperatures reach 81 degrees Fahrenheit — making Los Cabos a sunny escape from the winter chill. As for dining, street tacos can be savored for $1 to $3 each, while dining at a restaurant can cost anywhere from $15 to $25. As for tours and experiences, budget around $35 for a boat trip to El Arco, around $100 to indulge in an Instagram-worthy camel ride, and $90 for an ATV adventure — just to name a few.
Flights to Cabo San Lucas generally fall between $330 and $530 for a round trip. Hotels — depending on their proximity to the beach — can range from $115 to $300 per night.
7. Cuba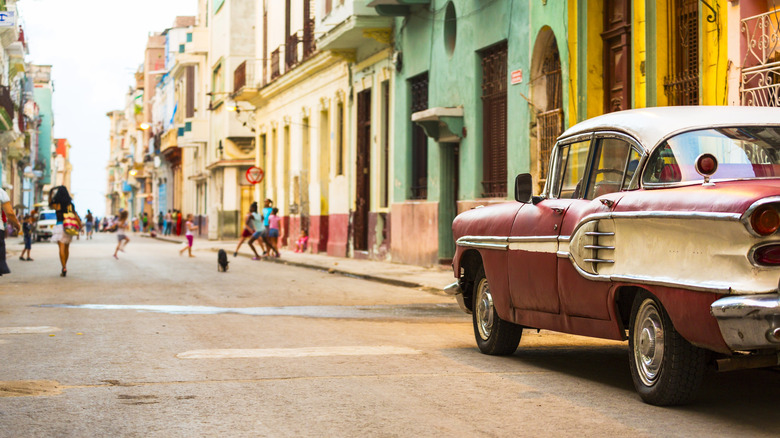 Spooh/Getty Images
Vintage cars, pastel-colored buildings, and pulsating salsa rhythms set the scene in Cuba. Coupled with Havana's Old Town colonial architecture and the UNESCO World Heritage site tobacco fields of Viñales, a visit to this magical country feels like stepping back in time.
Visiting Cuba during December means the weather will be pleasantly warm, with temperatures hovering around 82 degrees Fahrenheit. This is also in the middle of the country's dry season, which means unexpected rains won't dampen your plans. For meals on a budget, paladares (home-run restaurants) offer typical dishes — like ropa vieja and arroz con pollo — for $8 to $12. Meanwhile, you can also find plenty of street food for under $1. When it comes to exploring the city streets, almendrones — the country's picturesque vintage cars — are both an experience and a cost-effective mode of transport.
Flights to Havana can be budgeted between $300 and $600 for a roundtrip. For lodgings, consider casas particulares (private homes), where prices range from $20 to $80 per night.
8. Puerto Rico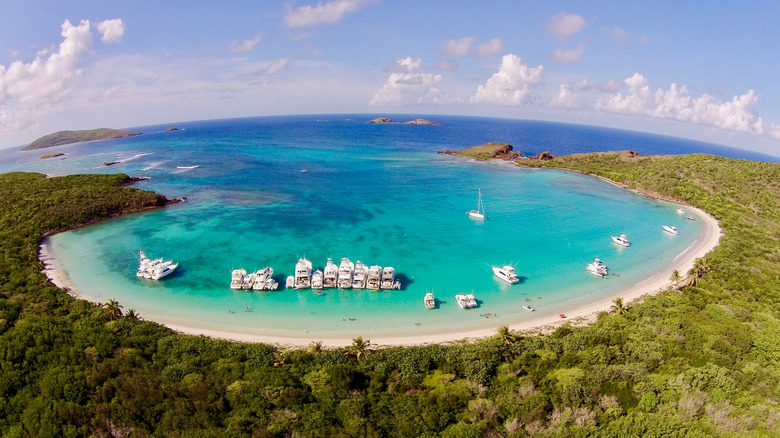 Claudia Salgado/Shutterstock
As an island territory of the U.S., Puerto Rico seamlessly blends Caribbean charm with modern amenities. Old San Juan — with its cobblestone streets and Spanish forts — contrasts with the tropical rainforests of El Yunque — the only tropical forest in the United States — and the bioluminescent bays of Vieques, known as the brightest in the world.
In December, Puerto Rico's temperatures hit around 83 degrees Fahrenheit, transforming the island into a sun-kissed paradise. While the local beaches are a sight to be seen — especially Flamenco Beach in Culebra — there are plenty more things to keep you busy. Love rum? Head to Casa Bacardi — one of the island's top attractions — for a 90-minute guided tasting tour priced at $75.
Flights into San Juan are typically priced between $150 and $500 for a round trip. In terms of accommodations, prices can vary greatly. Ranging from $90 to $200 per night, costs depend on the area and hotel grade.
9. Cartagena, Colombia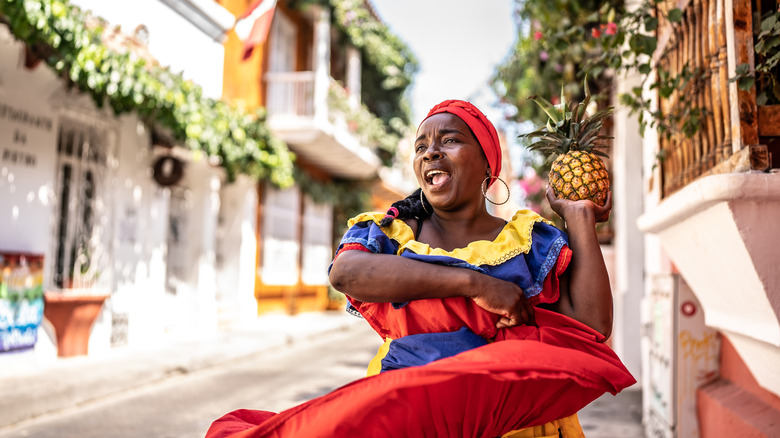 Frazao Studio Latino/Getty Images
Located on Colombia's northern coast, Cartagena's walled city exudes colonial charm with its colorful buildings and cobblestone streets. Dominated by the iconic Clock Tower and surrounded by centuries-old fortifications, this vibrant city is brimming with excitement, award-winning cuisine, and beautiful street art around every corner.
December sees Cartagena basking in warm tropical weather, with averages of 86 degrees Fahrenheit. Whether you're looking to savor local delicacies like arepas and empanadas from street vendors — costing only $1-$3 — or settling in for a meal at one of Latin America's top 50 restaurants, Celele, with an average price of $33 per person, dining in Cartagena is an experience of its own. Meanwhile, the Rosario Islands — a short boat trip away, with boat ride prices ranging from $16 to $25 — offer pristine beaches, luxe accommodations, and coral reefs worth exploring.
Round-trip flights to Cartagena vary between $295 and $700, and accommodations in the historic district typically range from $40 to $170 per night.
10. Punta Cana, Dominican Republic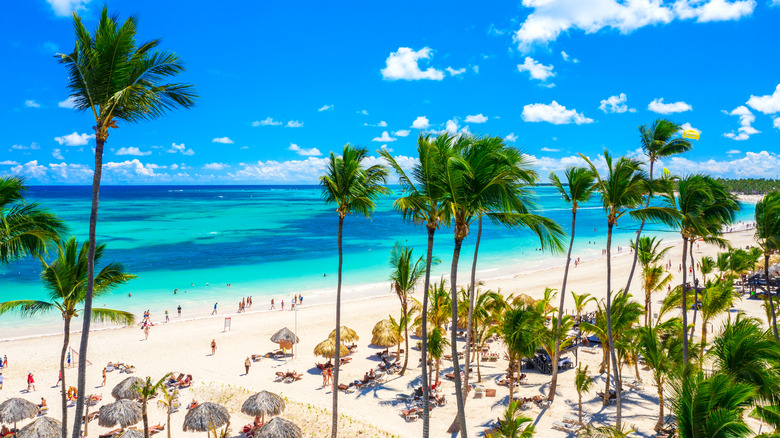 Nick N A/Shutterstock
Punta Cana — synonymous with beach resorts and palm-lined coastlines — is an idyllic Caribbean retreat. However, beyond its beaches, you'll also find plenty of other attractions like the Reserva Ecológica Ojos Indigenas — a private reserve comprised of 1,500 acres of land — and the lively Coco Bongo nightclub, a hotspot for tourists looking to let loose.
In December, you can expect temperatures to remain around 83 degrees Fahrenheit. Apart from lounging on a beach chair and working on your tan with a cold drink — cocktails cost around $8 at a beach bar, while beers sit comfortably at $6 — consider joining a locally guided trip such as a buggy adventure ($40 per person), an Isla Salona excursion ($75), or a Santo Domingo city tour ($95).
Flights to Punta Cana cost between $250 and $800 for a round trip. Meanwhile, hotels range from $100 to $400 a night, depending on how close they are to the beach.
11. Costa Rica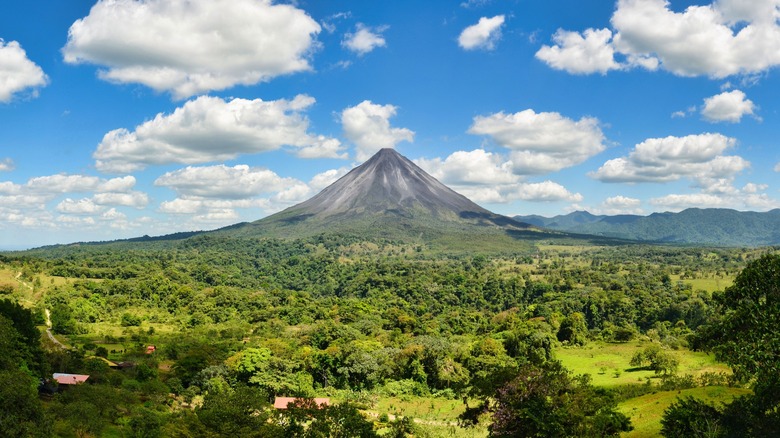 Ganz Twins/Shutterstock
Costa Rica is nature's playground. From lush rainforests to active volcanoes and serene beaches, this Central American gem is a hub for outdoor enthusiasts. Whether you're a nature buff or a city slicker, the country's most popular activities include hitting up the beaches of the Nicoya Peninsula, climbing the Arenal Volcano (starting from $59 per person), visiting the Monteverde Cloud Forest (tours average $40 per person), checking out Costa Rica's national parks, and exploring the bustling streets of San Jose, Costa Rica's capital city.
December in Costa Rica is warm at around 86 degrees Fahrenheit near the coast and about 72 degrees Fahrenheit in the mountains. To travel around, local buses are both affordable and sustainable — just make sure you book your tickets beforehand. In terms of food, prices vary depending on where you dine. While a full-course meal can cost between $10-$20, a simple dish at a soda (local restaurant) is more likely to cost about $5.
Round-trip flights to San Jose average between $150 and $650, and accommodations span from eco-lodges at $40 to beach resorts at $120 per night.
12. Savannah, Georgia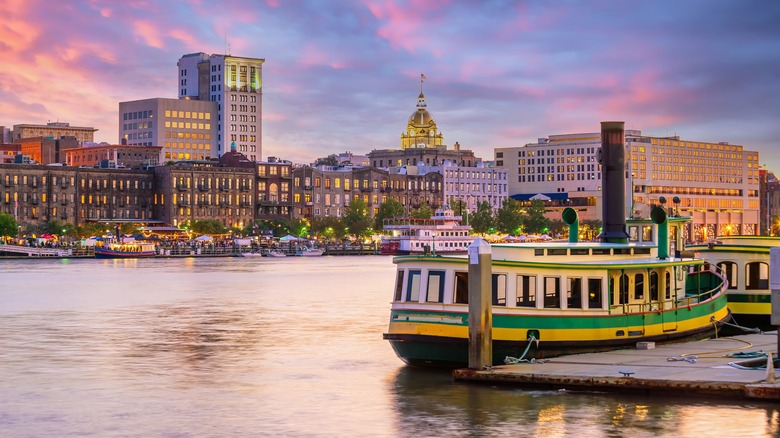 f11photo/Shutterstock
Draped in Southern charm, Savannah boasts antebellum architecture, verdant squares, and a ghostly allure. Crowned as one of the most haunted cities in the country, this stateside gem offers a myriad of experiences: from wandering the cobblestone streets for a touch of nostalgia — especially along River Street — to hopping on a trolley tour, signing up for a haunted pub tour, or exploring the vibrant Forsyth Park.
While December brings cooler breezes, the temperatures remain comfortable at around 64 degrees Fahrenheit. To delve deeper into the city's history, consider taking a horse-drawn carriage tour or visiting the iconic Midnight Garden of Good and Evil spots. Then, indulge in Southern classics like shrimp and grits or peach cobbler at local diners for an average of $23.
Looking to escape the cold? Round-trip flights to Savannah can be budgeted between $98 and $350. With crowds lessening around December, historic inns and B&Bs range from $100 to $250 per night.
13. Aruba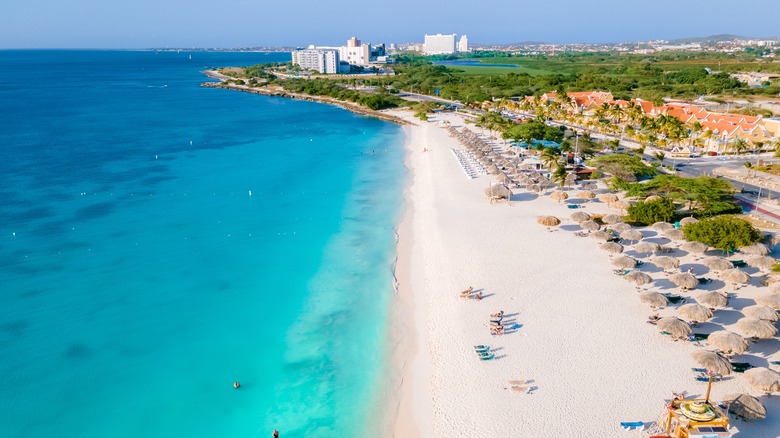 fokke baarssen/Shutterstock
Affectionately referred to as "One Happy Island," Aruba boasts turquoise waters, white-sand beaches, and the rugged landscapes of Arikok National Park, which takes up almost 20% of the island. Among sunbathers and nature lovers, some of the most widely-visited spots include Eagle Beach — hailed as one of the best in the Caribbean — and the famous California Lighthouse, which allows for 360-degree views from the top.
December sees Aruba enjoying steady trade winds and temperatures around 86 degrees Fahrenheit. If you feel like ditching the sun loungers for a more active day outside, renting a bicycle can be a great way to explore the coastline and hit up some of the island's most iconic attractions. 
Flights to Aruba fall between $300 and $600 for a round trip, while accommodations, depending on the location, range from $90 to $250 per night.
14. Belize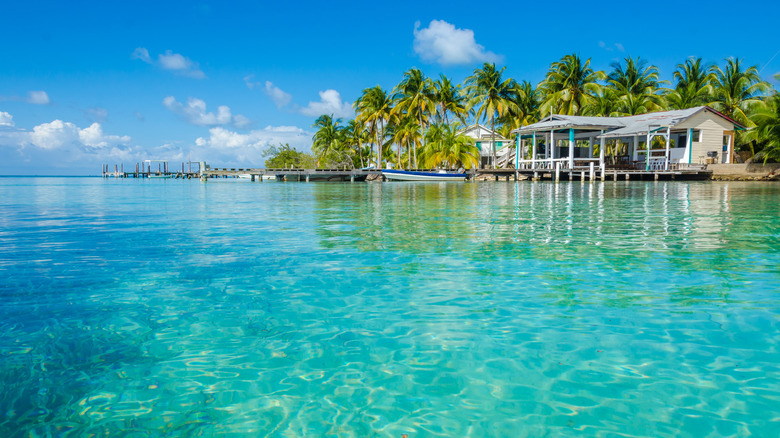 Simon Dannhauer/Shutterstock
A tiny country along Central America's beautiful Caribbean coast, Belize offers a unique blend of jungles and shores. Some of the country's most spectacular sightseeing highlights include the ancient Mayan ruins of Xunantunich and the world-renowned Great Blue Hole, a hotspot for diving.
With December temperatures averaging 82 degrees Fahrenheit, Belize is both alluring and pleasant. This is especially true when hopping aboard a sailing tour to one of the neighboring cayes or relaxing on one of the country's many pristine beaches — both top activities for tourists. In terms of dining, local meals — like rice and beans, stew chicken, or fresh seafood — are easy to find and range from $5 to $15, depending on where you eat.
If you're flying to Belize City, you'll find that round-trip tickets are typically priced between $500 and $1,000 — with steeper prices around the end of the month. As for lodging options — whether you're looking for jungle lodges or beach huts — prices range from $70 to $180 per night.
15. Gulf Shores, Alabama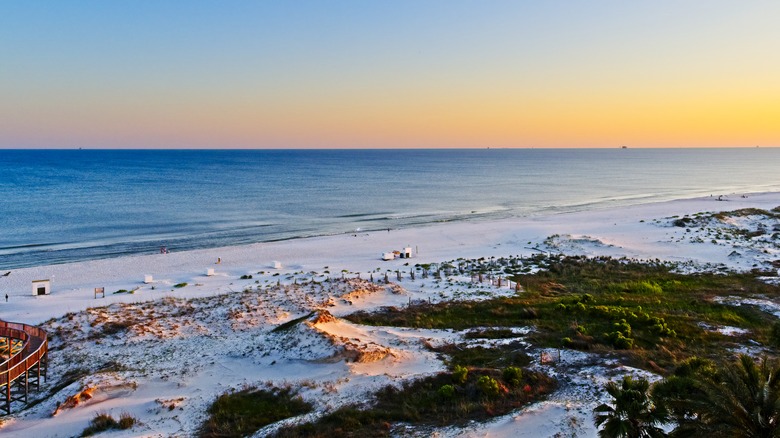 Gjgk Photography/Getty Images
Gulf Shores, Alabama, is a picture-perfect blend of Southern charm and coastal beauty. The city's white sandy beaches are perfect for sunbathing or picnics, and the warm Gulf waters beckon visitors for a quick swim. In terms of activities, children and adults can enjoy a fun day out at the Alabama Gulf Coast Zoo, getting up close and personal with different animal species. Meanwhile, The Wharf — in Orange Beach — boasts a range of retail outlets for the shopaholics alongside a range of restaurants to satiate every palate.
December temperatures hover around a mild 62 degrees Fahrenheit — a welcome reprise from colder climates in the North, without being too hot or humid. For a taste of local flavors, the local seafood is a highlight — with dishes like po'boys and gumbo ranging from $8-$18. Plus, active travelers might enjoy a bike ride along the coast — with rentals available for as low as $20 a day.
Flights to Gulf Shores hover between $200 and $500. Accommodation options like beachfront condos and hotels generally range between $80 and $180 per night.
16. Panama City, Panama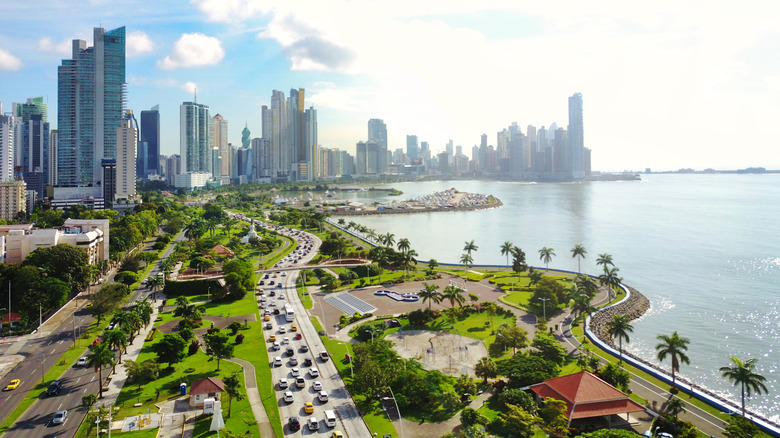 Gualberto Becerra/Shutterstock
A bustling metropolis that offers a delightful mix of old-world charm and modern sophistication, Panama City is booming. The historic Casco Viejo — with its cobbled streets, colonial buildings, and sprawling plazas — serves as a live testament to the city's storied past. In terms of sightseeing, you can't miss the Panama Canal — a modern marvel linking two oceans and a symbol of human innovation.
While December sees average temperatures around 88 degrees Fahrenheit, Panama City's coastal breeze makes outdoor exploration a joy. Plus, after a day of sightseeing, the neighboring beaches —   inner-city beaches aren't swimmable — provide a serene spot for relaxation. A ferry to the popular Taboga Island, for example, will set you back around ​​$24.
A round-trip flight into Panama City can cost between $540 and $1,000. Depending on where you choose to stay, accommodations range from $40 to $200 per night.
17. Key West, Florida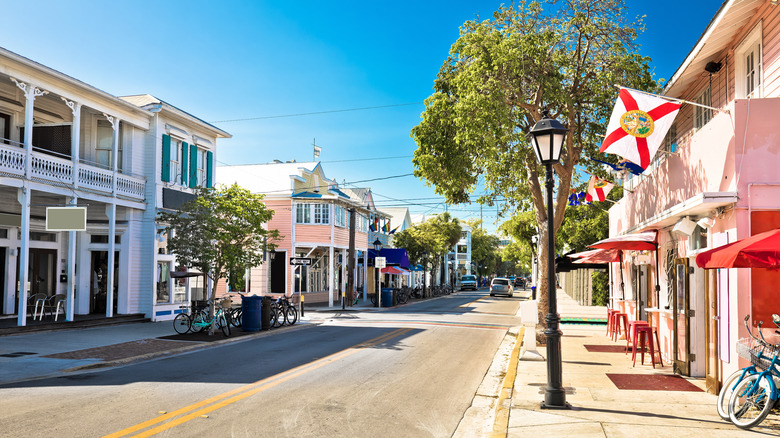 Xbrchx/Getty Images
At the southernmost tip of the continental U.S., Key West promises both adventure and relaxation. Historic homes — such as the Hemingway House — give a peek into the island's intriguing past, while sun-kissed beaches — like favorites Smathers Beach and Fort Zachary Taylor — are havens for beachgoers and sun enthusiasts looking to work on their holiday glow.
The average temperature in December — a pleasant 77 degrees Fahrenheit — makes outdoor activities like snorkeling, diving, and fishing particularly enjoyable. In terms of dining, local eateries serve up fresh seafood and the iconic Key lime pie — which is said to have originated in the area around the late 19th century — with main dishes averaging $15 to $25.
Flights to Key West range from $70 to $490 for a round trip, while accommodations — given the popular tourist nature of the place — can cost anywhere between $224–$591 per night.
18. Buenos Aires, Argentina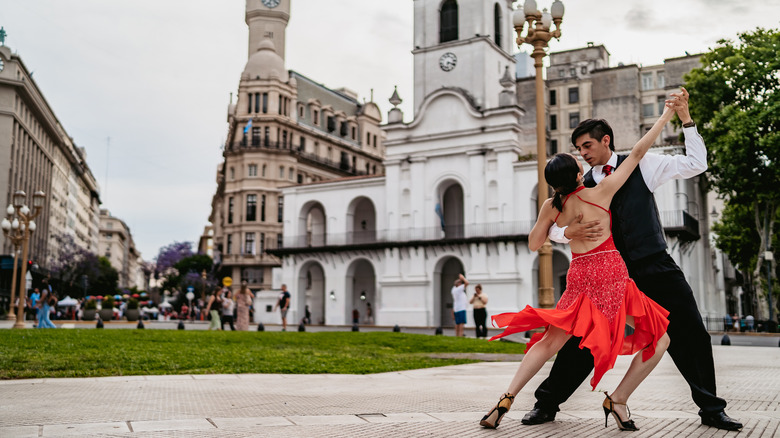 Urbazon/Getty Images
Argentina's capital is a whirlwind of culture and history. The historic San Telmo district and the upscale Puerto Madero offer contrasting views of this diverse city: cobblestone alleys and colonial façades in the former, and shimmering skyscrapers and modern eateries in the latter. During the winter months in the North, the southern hemisphere welcomes summer — meaning that locals and tourists alike flock to parks, open-air cafes, and plazas for a touch of warmth.
In December, Buenos Aires enjoys temperatures around 82 degrees Fahrenheit. While dance enthusiasts can experience the passionate tango at local milongas, art-loving travelers can soak up vibrant murals in Palermo or explore avant-garde exhibitions in Recoleta. Don't miss a stop by El Ateneo Grand Splendid – one of the world's most beautiful bookstores, set in a converted 1920s theater.
Flights to Buenos Aires are relatively steep – ranging from $1,000 to $1,700 per round trip. However, its affordability once you've landed more than makes up for the price tag. Meanwhile, hotel prices may also vary, but expect them to be between $30 and $130 per night.
19. San Diego, California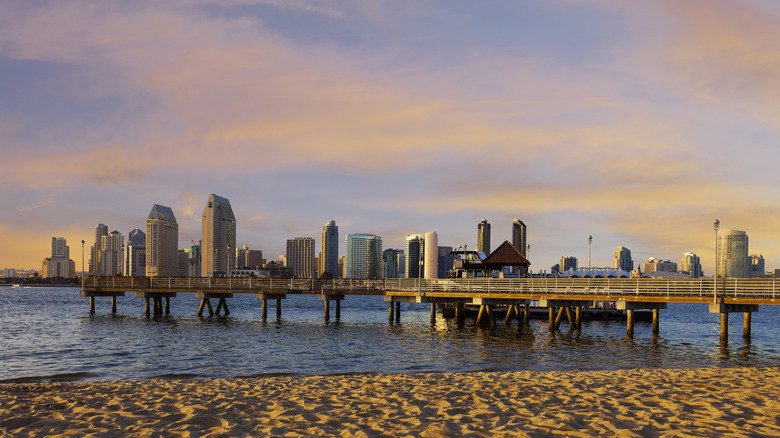 Ron And Patty Thomas/Getty Images
Often dubbed "America's Finest City," San Diego offers an enticing mix of sandy beaches, vibrant urban life, and cultural richness. Its coastline, with renowned spots like La Jolla and Coronado, beckons visitors for a day of sun, surf, and relaxation. Away from the water, the San Diego Zoo offers an immersive experience for families and solo travelers alike, with single-day tickets starting from $59 for children and $69 for adults.
In December, daytime temperatures average around 65 degrees Fahrenheit, making outdoor exploration a pleasure. Foodies will be happy to know that the culinary scene won't disappoint. Especially notable is the fresh seafood, which fits in nicely inside an average food budget of $45 per day.
When planning a trip, travelers can expect flights to San Diego to be in the ballpark of $200 to $500. As for accommodations, these cater to a range of budgets, with nightly rates spanning from $90 to $300.
20. Quito, Ecuador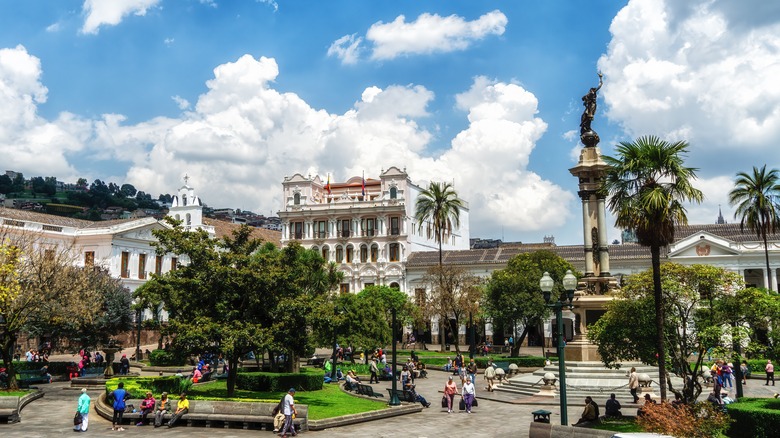 Atosan/Shutterstock
Perched high in the Andes at an altitude of 9,350 feet, Quito offers breathtaking views and a moderate climate despite its proximity to the equator. The city's historic center — declared a UNESCO Heritage Site in the late 70's — is a well-preserved architectural gem. Meanwhile, just outside the city, the Middle of the World Monument calls out to visitors keen to straddle both hemispheres. Tours to visit the attraction range from $15 for basic transport, to $120 for a full-day trip with other stops along the way.
Daytime temperatures in December average around 65 degrees Fahrenheit, providing a comfortable environment to explore the city without breaking a sweat. From Quito, visitors can also head out to neighboring destinations like Otavalo — famous for its market and crafts — and Cotopaxi, which is well-known for hosting the Volcan Cotopaxi, the second-highest point in the country. Both of these are easily reachable by taking a local bus, and you shouldn't expect to pay more than $3 to reach Otavalo or $20 for a return trip to the volcano checkpoint.
Flight prices to Quito usually range between $350 and $800 for a round trip. Accommodation, depending on the location and luxury level, can cost between $25 and $150 per night.