What You Need To Be Aware Of As A Tourist Visiting Cuba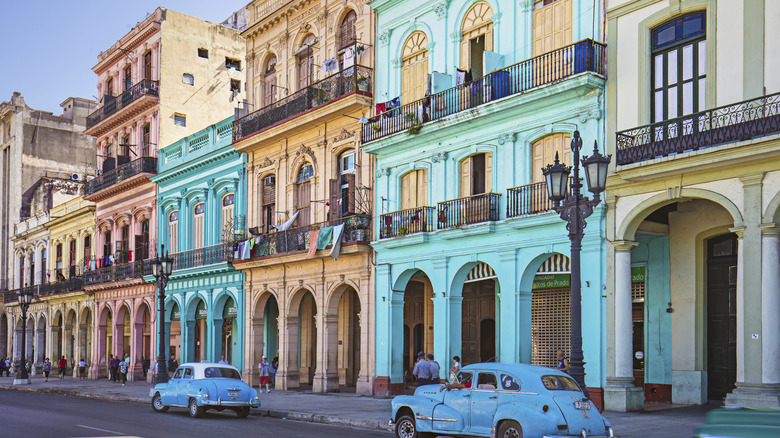 Xavierarnau/Getty Images
Beaches with white sand as fine as sugar, vintage American cars cruising down streets lined by colorful aging buildings, and the chance to puff on a fine cigar while watching people dance the salsa in the warm night air: It's not hard to understand the picture-postcard allure of Cuba. It's a country in the throes of rapid change as it emerges back onto the world stage after decades of stagnation following the 1959 revolution. So now is a wonderful time to pack your dancing shoes and visit the Caribbean's largest island.
However, Cuba isn't an uncomplicated tropical paradise and there are several things you need to be aware of before you visit as a tourist. Like, as an American, is it even legal for you to visit Cuba as a tourist? What's with the money situation? And can you access the internet or are you going back to the Stone Age (also known as the early 1990s)?
Can Americans visit Cuba?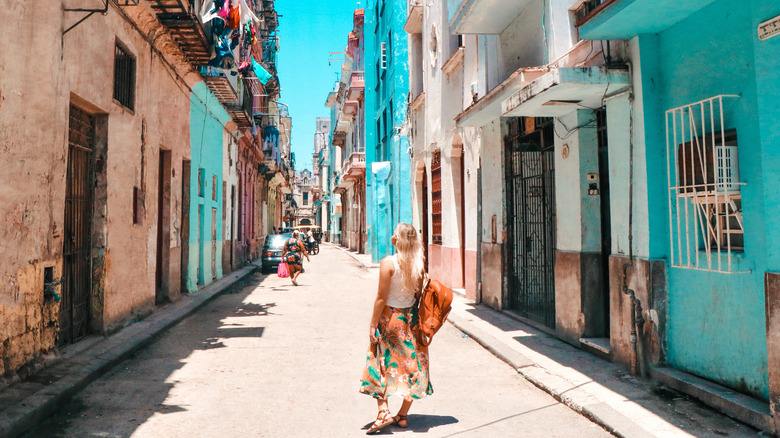 Yuki Mao/Getty Images
Cuba is just 103 miles from the tip of Florida making it the ideal winter getaway for sun-seeking Americans. However, the U.S. imposed restrictions on travel to Cuba in 1963 and while the level of restrictions has varied over the years, as of July 2023, Americans can't visit Cuba purely for tourism purposes.
That said, there are 12 categories of authorized travel to Cuba, and the one that most Americans visiting the island use is the "support for the Cuban people" category. You'll need a passport with six months validity at the time of entry and two blank pages. You also need a Cuban Tourist Card, which you can usually get from your airline for as little as $50.
Speaking of airlines, you can fly direct to Cuba from several U.S. cities, including Miami, Tampa, New York City, and Houston. Most direct flights from the U.S. land in the Cuban capital of Havana, though there are several nonstop flights from Miami to other destinations in the country, including Santiago de Cuba and the popular beach resort of Varadero.
Cuban currency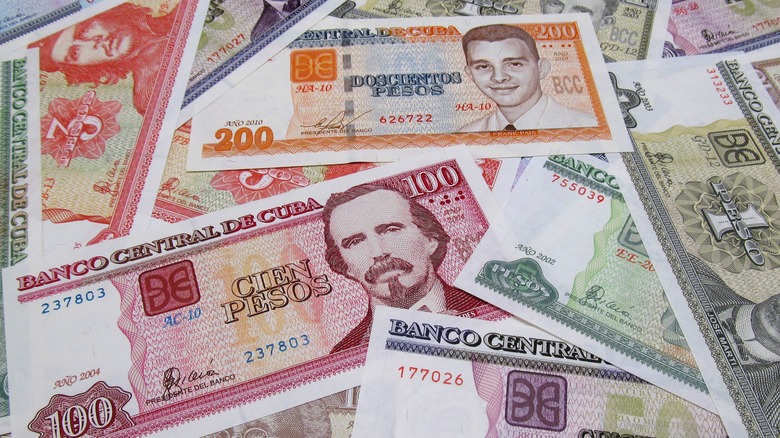 Paul-Paul/Shutterstock
There's good news and, let's say, tricky news when it comes to paying for things in Cuba. The good news is that there is now one currency used by residents and visitors alike in the country: the Cuban peso (CUP). The Cuban convertible peso (CUC), which used to be the currency used by tourists, was eliminated in 2021.
The only official place you can exchange currency in Cuba is at Cadeca exchange houses. You cannot get CUP outside of Cuba, nor should you take the currency home with you. Spend or exchange anything you have left over before you go to the airport (after security, you should pay in foreign currency).
What about credit cards? U.S. credit and debit cards won't work in Cuba. Credit cards from major financial institutions like Visa and Mastercard from other countries should be accepted by certain businesses and ATMs. However, cash is king in the country and it's always a good idea to keep some with you for tips to service workers.
The internet in Cuba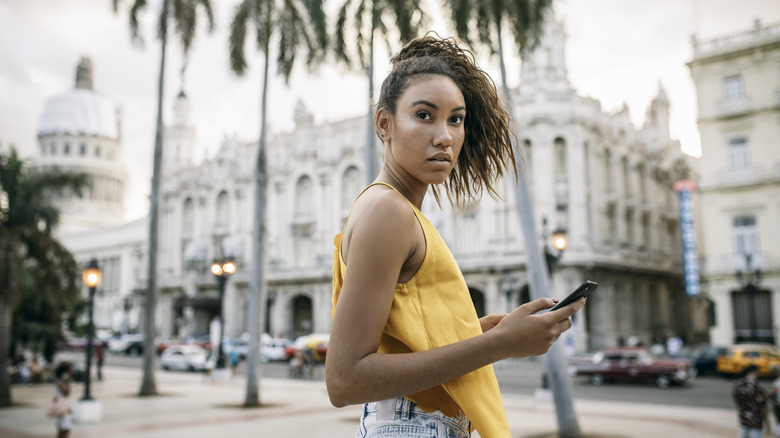 Visualspace/Getty Images
Cuba is the perfect place to go on a digital detox. We're going to be honest: Getting online isn't as easy as in the U.S. and internet speeds can be sluggish. However, if you need to connect to the internet, you can. The most common way to access the internet in Cuba is via hotspots in places like public parks and on the Malécon in Havana. (They are also perfect for people-watching, so embrace the experience!) Many hotels and some other businesses also have Wi-Fi.
To access the internet in most places you're going to need a NAUTA card, which you can purchase from ETECSA offices around Cuba. Be prepared to stand in line to buy the card and take your passport along with you. Our advice? Be patient and make the most of your offline moments to fully immerse yourself in the Cuban experience. And plan to latergram your posts on Insta.
Sleeping and eating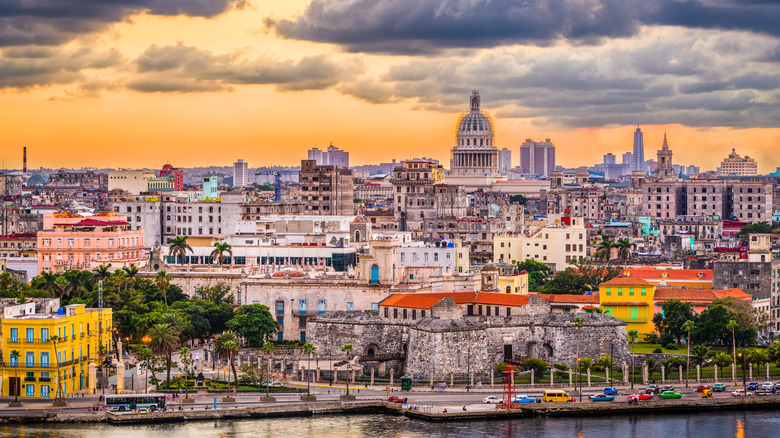 Sean Pavone/Shutterstock
When it comes to accommodation in Cuba, you'll find a range of options. From all-inclusive beach resorts to cozy casas particulares, you'll find somewhere to suit your preferences and budget. Our pick for independent travelers is a casa particular, a privately owned guesthouse which offers a fantastic opportunity to experience Cuban hospitality firsthand. Many places offer breakfast and an evening meal, so you can taste home-cooked Cuban food. It's also an excellent way to support the Cuban people (this is likely the stated purpose of your visit, after all) as the money you pay goes directly to the guesthouse owners. In contrast, the Cuban government holds at least a 51% share in all hotels in Cuba. Hotel star ratings are often on the generous side, so be discerning.
As far as food goes in Cuba, your best bet is to go to a paladar, a privately run restaurant that serves excellent versions of classic Cuban dishes like roast pork, shredded beef, and suckling pig (the cuisine is pretty meat-forward). A note on cultural sensitivity: Many products that are widely available in the U.S. might not be in Cuba and even basic products often disappear from Cuban shops at short notice. Savor what's put on your plate and enjoy the often simple but tasty food.
How to support and respect the Cuban people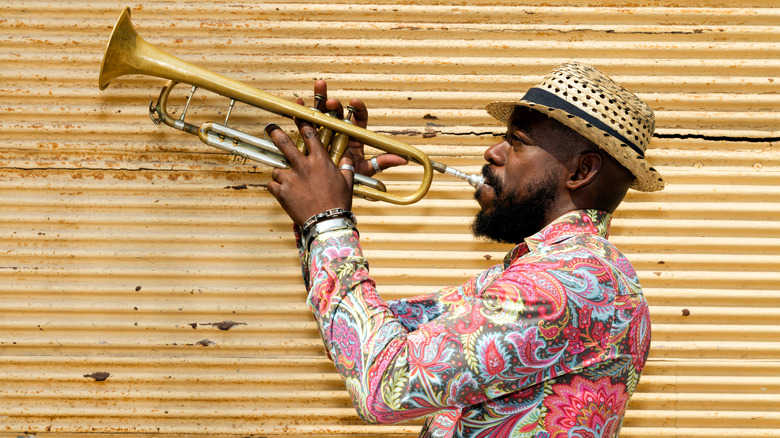 Bim/Getty Images
Staying in casas particulares and eating at paladares are just two ways that you can support the Cuban people on your trip. Consider taking a salsa class run by a local, buying locally made handicrafts, and whiling away the steamy nights sipping rum and listening to musicians put on a fabulous show. By patronizing local businesses, not only are you financially supporting the Cuban people, but you're also going to have an authentic Cuban experience.
We touched on the unavailability of some food items earlier, but shortages extend to many consumer products in Cuba. Bring everything you think you'll need for your trip, including medications. You may also want to bring a roll of toilet paper (glamorous, we know), as public bathrooms often don't have it. Power cuts are common; while they might be frustrating, remember that you're only there for a short time and, for Cubans, power cuts are infuriating, so keep your complaints to yourself. This goes for everything, really; if you're not prepared for some minor inconveniences, don't visit Cuba. If you want to take a memorable trip to a country steeped in history with a vibrant culture, stunning urban architecture, and beautiful natural landscapes, it'll all be worth it.