The Ultimate Guide To Costa Rica's National Parks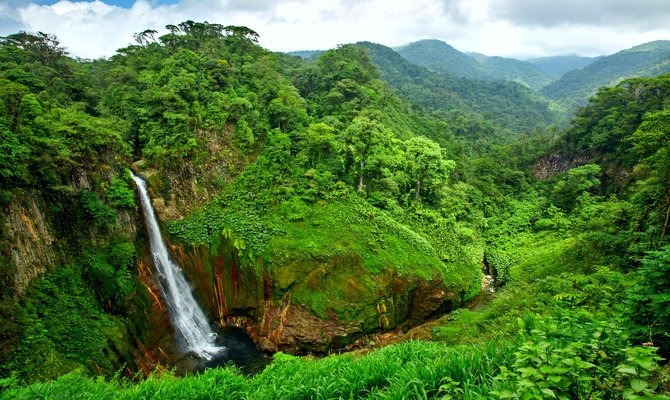 shutterstock
Jennifer Brown – More than 25% of Costa Rica's total territory is contained in national parks and other conservation areas, protecting the country's diverse wildlife and preserving the nation's ecological heritage. Currently, 25 national parks, 58 wildlife refuges, 15 wetlands and mangrove reserves, 11 forest reserves, 8 biological reserves, and other protected areas comprise 169 total parks and 3,223,010 acres (1,304,306 hectares).
As a tourist, this gives you a wide variety of options in terms of ecosystem, climate, terrain, wildlife, scenery, proximity to urban centers, and more. It's safe to say that most visitors to this Central American environmental oasis spend some time in at least one national park. And those who don't are certainly missing out!
Here are our top tips for getting the most out of your visit to national parks in Costa Rica. Below, you'll find links to some of the country's most popular parks.
So Many Parks, So Little Time!
As a representation of the geographical and biological diversity of the country, Costa Rica's national parks are very diverse. They encompass a multitude of ecosystems, such as cloud forests, rainforests, tropical dry forests, mangroves, and even coral reefs.
Depending on the park that you visit, you could peer into a volcano crater, dip your toes in the ocean, look for sloths or monkeys, marvel at giant tree ferns, walk around archeological ruins, or see the site of the most famous battle in Costa Rica's history.
Wildlife also varies greatly. If you have your heart set on seeing particular animals, make sure to check whether those animals are native to the areas you are visiting. For example, Manuel Antonio is a great place to see white-faced monkeys, as is Tortuguero for sea turtles.
Accessibility is another important factor to consider. While most national parks are not set up for visitors in wheelchairs, there are exceptions such as Carara National Park. If that is a concern, make sure to confirm before making plans. 
Want to see scarlet macaws? Corcovado and Carara are good options.
Parks and Beaches and Reserves: Oh, my!
In addition to its national park system, Costa Rica also has a robust network of private reserves. Ranging from very small parks to such famous locations the Monteverde Cloud Forest Reserve, non-governmental reserves and protected areas play an important role in the country's conservation efforts.
One of the hallmarks of Costa Rica is also one of its most accessible features: namely, the over 700 miles of coastline. As national heritage, beaches belong to the Costa Rican people and cannot be privatized. This means that all beaches not located in national conservation areas are free to enter and enjoy.
When visiting a national park, expect to pay between $5 and $15 per visit as a non-Costa Rican. Prices for locals, legal residents, and children are lower. Annual passes are not available. Since reserves are private, most also have entrance fees, which can be significantly more than those charged for national parks.
The country's smallest national park is also one of its most popular (Manuel Antonio National Park).
What to Do (and What Not to Do) in Costa Rican National Parks
Like any natural area, Costa Rican conservation areas have rules and regulations meant to protect the species that call them home. Most rules are common sense, like a prohibition on hunting, going off marked trails, removing specimens such as plants, animals, or shells, and going into volcano craters (!). Visitors cannot smoke or drink alcohol in national parks, nor can they enter with pets. It's also important to remember not to feed or touch any animals you might come across – no matter how much that white-faced monkey tries to convince you otherwise!
That said, certain parks have special rules. While many national parks allow swimming, one notable exception is Rio Celeste. The same goes for camping and/or staying overnight in ranger stations. Examples of national parks that allow overnight stays include Santa Rosa, Corcovado, Irazú, Chirripó, and Braulio Carrillo (Barva sector).
What you can definitely do is what you came to Costa Rica to do: use the marked trails to venture into unforgettable landscapes, and take photos of the amazing flora and fauna you find.
He may look hungry, but don't be fooled! Human food is harmful to wildlife.
Guided Tours: to Use or Not to Use
Since entrance fees to national parks do not include a nature guide, it is up to you to decide if you would like to visit with a guide. Most major national parks have local guides that offer tours. Prices vary depending on the park and whether your tour is private or in a group. Some tours may need to be booked in advance, and, in other cases, you may be able to get a local guide's contact information at the national park itself.
Whether you choose to go with a guide really depends on your interests and your travel style. You will definitely have a richer wildlife experience with a guide. If you are a birdwatcher or wildlife enthusiast, for example, a guide is essential for what can be a once-in-a-lifetime opportunity to view the biodiversity the country is famous for.
If you prefer a relaxed walk in nature, taking in the peace and quiet of your surroundings, you may not need one and may actually prefer to go on your own.
Could you spot this camouflaged frog in the wild? A nature guide could!
Choose the Right Clothing for your Costa Rican National Park Visit         
Costa Rica's climate varies greatly depending on the part of the country, and the weather also differs throughout the year. Checking before you head off for your day in the national park can mean the difference between a wonderful experience or a miserable one!
If you are headed to a higher altitude, such as the Poás Volcano National Park, the weather will be cooler, so you will want to dress in layers. Parks at the beach are, of course, hot, but the humidity can be very different depending on the region and whether it is the rainy season. Hats and sunscreen are important, as is mosquito repellent.
Headed to the rainforest? There's a reason they call it that! Ponchos, windbreakers, or other rain gear will save you from an unexpected soaking, even in the "dry" months of the year.
Also remember to pack water and snacks if you need them, as most conservation areas don't have stores.
Shorts or long pants? T-shirt or jacket? Make sure to check before you head out!
Now that you know how to plan your visit, check out some of Costa Rica's most popular national parks!
See: The National Parks with the Best Beaches
More Readings
Reasons You Should Visit Costa Rica
The 15 Best Vacations for Animal Lovers