Cinderella Castle At Magic Kingdom Will Get A Pretty New Paint Job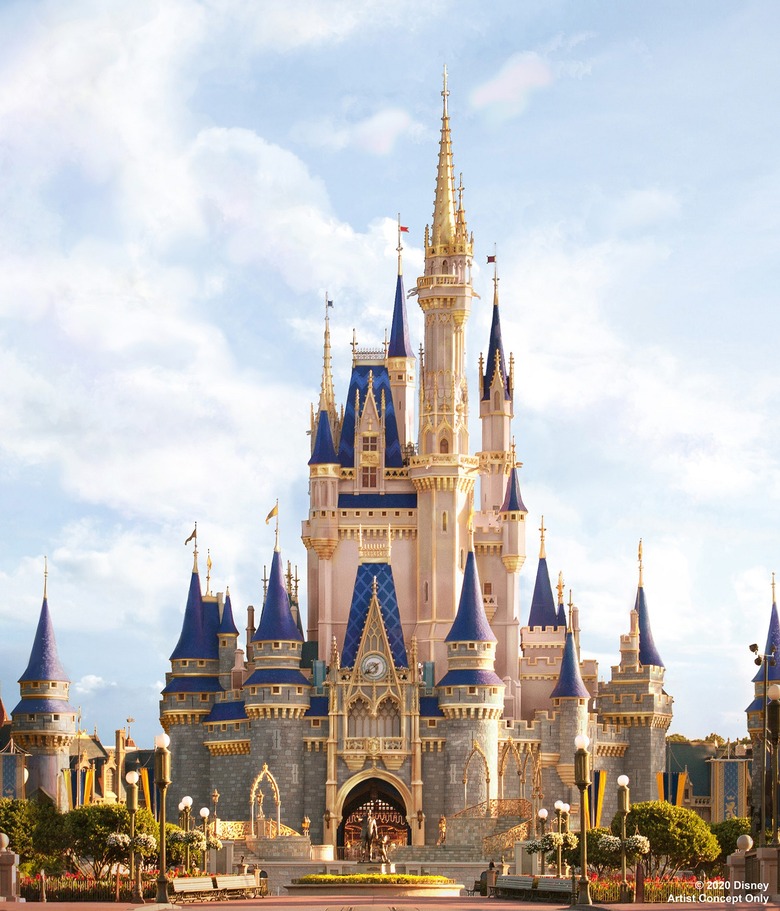 Courtesy of Disney Parks
The most iconic structure at Walt Disney World is going to get a brand new look. To coincide with the 70th anniversary of the release of the animated classic "Cinderella," her namesake castle in the center of Magic Kingdom will get a shiny new paint job with a new color scheme.
Every Attraction at Disney World's Magic Kingdom, Ranked
According to a post on Disney Parks Blog, the new color scheme was inspired by the "courage and kindness" of Cinderella. The concept artwork shows that the classic light blue and grays will be replaced by light pinks in the towers and a bold indigo shade at the top of the castle. A shimmering gold trim adds an extra dose of glam to the structure. While there are still many ways Walt Disney World and Disneyland are different, the new color scheme mimics the shades on Disneyland Park's Sleeping Beauty Castle, which was refurbished in 2019.
Work is set to begin on Cinderella Castle in "the coming weeks" and will continue through the summer season (which is one of the best times to visit Disney World). During the refurbishment, castle-centric shows like Mickey's Royal Friendship Faire and the nighttime spectacular Happily Ever After are expected to continue.
While this may feel like a big change, this isn't the first time Cinderella Castle has gotten a new look. For the 25th anniversary of Walt Disney World, the icon was dressed up like a giant pink cake.
In addition to the many ways Disney World has changed since it opened, other park icons have come and gone through the years, including a Sorcerer Mickey hat in Disney's Hollywood Studios and a tower with Mickey Mouse's wand and the word "Epcot" added to the top of Spaceship Earth.
Though the Cinderella Castle makeover is tied to the anniversary of a family-favorite film, the new colors will also be bright and beautiful and ready for the 50th anniversary of the Walt Disney World Resort, which will take place on Oct. 1, 2021. In anticipation of the big birthday, Disney World is undergoing a lot of changes, including a new Tron-themed roller coaster at Magic Kingdom, a Star Wars hotel and numerous new restaurants. And those are just some of the ways Disney World will be completely different by 2021.