Magical South American Destinations For A Warm-Weather Christmas Vacation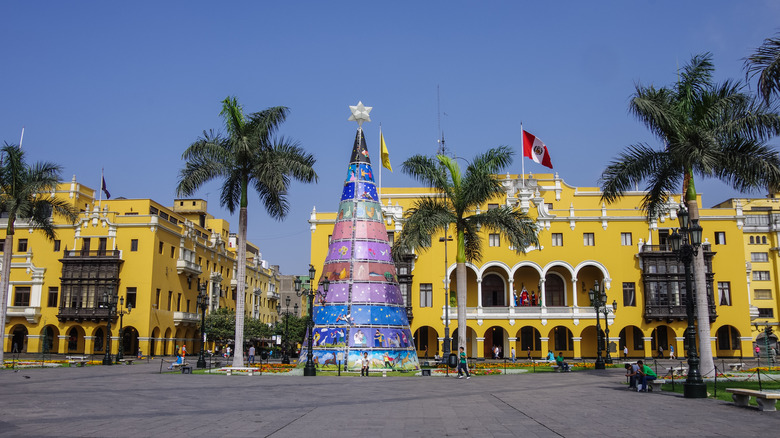 Igor Dymov/Shutterstock
If you're thinking about traveling somewhere warm this holiday season, South America should be on your radar. South of the equator, Christmas falls in the summer months, so you're almost guaranteed to have pleasant weather. Plus, there are so many places that go all out for the holidays with fantastic food, fireworks, and festivities. For those who want a more chill getaway, there are plenty of laid-back locales too.
One of the things that makes South America such an amazing travel destination is its diversity. The continent is home to towering mountains, lush rainforests, beautiful beaches, and bustling cities. Then you have a wide range of cultures with unique customs and culinary traditions. Over half the population in South America is Catholic, which means Christmas is one of the biggest holidays of the year. However, each country, city, and town celebrates differently, with some incorporating indigenous and imported practices. Whether you're a believer or not, these South American destinations offer incredible experiences for a magical Christmas vacation.
Medellín, Colombia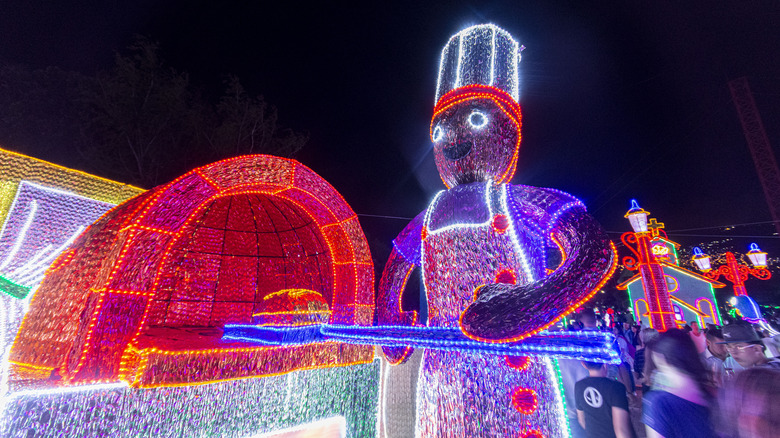 Oscar Garces/Getty Images
Christmas is a big deal in Medellín. Visit in December and you'll find ceremonies and celebrations taking place all over the city. The biggest and most eye-catching event is El Alumbrado, a spectacular Christmas lights festival that features hundreds of glowing characters and scenes. The light installations can be found in parks, along avenues, and hovering over the Medellín river. The illuminated streets have a carnival-like atmosphere, with thousands of people taking in the dazzling displays and stopping to snack at street food stalls. The lights are typically on display from the end of November until the middle of January.
La Alborada is another dramatic way the residents of Medellín usher in the Christmas season. When the clock strikes midnight on December 1, thousands of fireworks and firecrackers explode in the streets. Next up is El Noche Las Velitas (the Night of the Candles) on December 7, when people light candles in homes, businesses, and on the streets to honor the Virgin Mary. Christmas Eve is when most families eat dinner together, so the streets may be quieter than usual. For travelers, it's a great time to get out and see the El Alumbrado lights with fewer crowds.
Punta del Este, Uruguay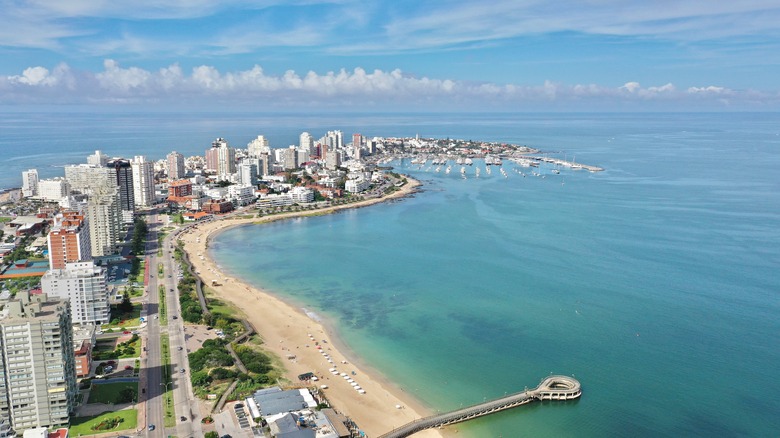 Marcia Cobar/Shutterstock
Punta del Este is the perfect place to pamper yourself for Christmas. This oceanfront city in Uruguay is considered one of the most beautiful South American destinations for a beach holiday. Sleek hotels hug the coastline, white sand stretches for miles, and luxury yachts bob in the waters of the marina. It's often called "The Saint-Tropez of South America" thanks to its high-end real estate and reputation for attracting the rich and famous. It's a sweet spot to escape the colder climes and soak up the sun in a gorgeous resort setting.
The busiest time in Punta del Este is between Christmas and New Years when people from all over the continent and beyond flock there for the holidays. It makes for a lively atmosphere, with five-star restaurants offering festive feasts, hotels hosting huge galas, and bars and nightclubs hopping with revelers from around the world. If partying isn't your style, there are more sedate ways to spend your days. You can shop for handicrafts at Plaza Artigas, spot sea lions on Lobos Island, or peruse one of the many art galleries around town.
Santiago, Chile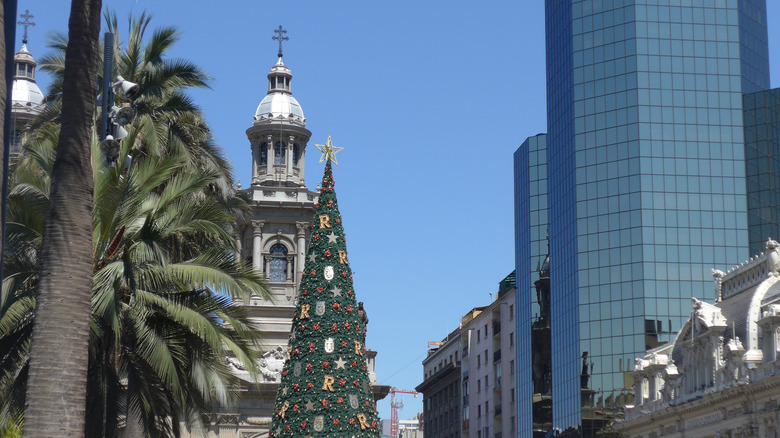 Mauinow1/Getty Images
December is one of the best times of year to visit Santiago because the weather is warm, but not sweltering, and the city takes on a festive mood. Christmas decorations go up as early as November and include nativity scenes in public parks and the giant Christmas tree in the Plaza de Armas. Foodies will love all the tasty treats on offer at shops and restaurants like pan de pascua (fruit cake) and cola de mono (a boozy milk coffee drink). Asados (barbecues) are also popular this time of year.
This is also the season for shopping in Santiago. If you're looking for unique Christmas gifts, there are several arts and crafts markets scattered throughout the city. Pueblito Los Dominicos is a sprawling open-air market with over 200 artisan shops selling everything from jewelry to leather goods and handmade soap. The Feria Artesanal Santa Lucia is a centrally located market that has over 100 stalls to explore. Santiago also has upscale shopping malls like the Costanera Center where you'll find brand name shops. The Costanera Center has also been known to put on some fantastic light shows during the holiday season.
Rio de Janeiro, Brazil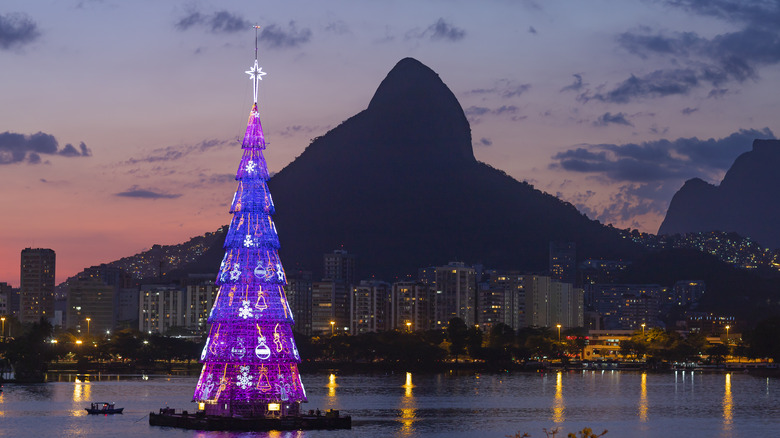 Ranimiro Lotufo Neto/Getty Images
Swap your ugly Christmas sweater for a swimsuit in sunny Rio de Janeiro. The seaside city is a fun place to visit any time of year, but particularly around Christmas and New Year's when people come out in droves to shop, eat, and party. When you're not sunbathing and swimming at one of Rio's famous beaches, you can shop for gifts at the street market in Lapa, see the floating Christmas tree in Rodrigo de Freitas lagoon, and attend midnight mass at the stunning Metropolitan Cathedral.
As you would expect from a city known for its over-the-top parties, Rio de Janeiro goes all out for New Year's Eve. Réveillon takes place on Copacabana Beach, and it's one of the biggest New Year's Eve celebrations in the world. Past celebrations have attracted up to 2.9 million people. Live concerts take place on the sand, and a massive fireworks display goes off at midnight. Expect lots of samba music and dancing. You may also see people of the Candomblé faith making offerings of flowers and statues to Yemanja, goddess of the sea.
Valparaíso, Chile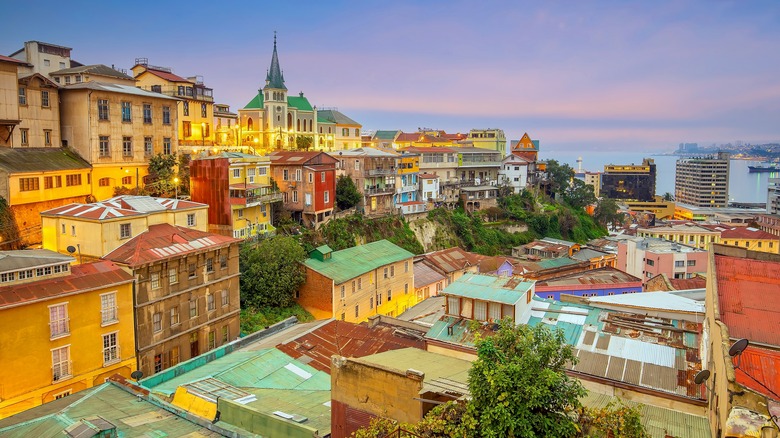 f11photo/Shutterstock
If you're looking for some artistic inspiration over the holidays, consider the colorful city of Valparaíso. The town is a UNESCO World Heritage Site that is known for its brilliantly hued buildings that cloak the hills. It's also known for its vibrant street art. One of the best ways to see the city is to take a funicular ride to the top of the hills. The El Peral funicular will take you to Paseo Yugoslavo, where you can take in sweeping views of the city and the bay. When it's time to refuel, you'll find plenty of eclectic cafes, restaurants, and bars serving local specialties like pisco sours and ceviche.
Christmas Eve and Christmas Day can be quiet in Valparaíso because many locals spend those days at home with their families. However, that all changes in the days leading up to New Year's Eve. The city is famous for its annual three-day New Year's party that culminates with an epic fireworks show in the bay and along the coast. The festival attracts thousands of people, and features free concerts and special events at bars and nightclubs with DJs and bands.
Buenos Aires, Argentina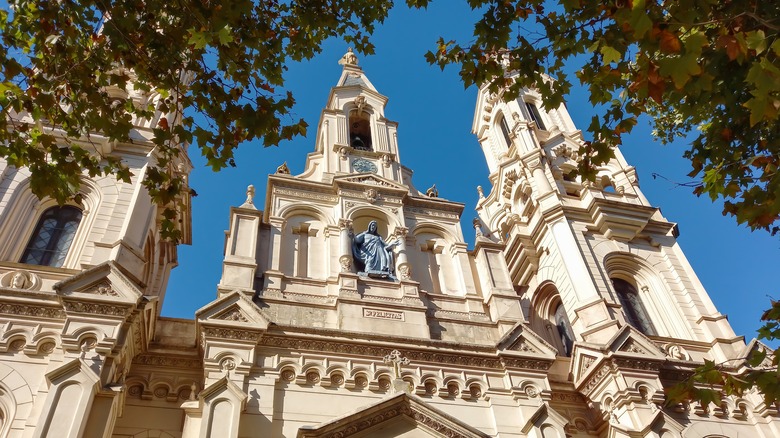 Sandro Leardini/Shutterstock
With its breathtaking colonial architecture, dynamic dining scene, and seductive Latin culture, Buenos Aires is an enchanting place to spend Christmas. The warm December days are perfect for exploring interesting sites in the city like the artsy La Boca neighborhood and the Bosques de Palermo park. Some fun holiday experiences could include a Christmas Eve dinner and tango show at Madero Tango or a trip to the kitschy Tierra Santa religious theme park. 
Like many South American cities, Buenos Aires goes all out for Christmas Eve. When the clock strikes midnight on La Noche Buena, fireworks are set off and paper lanterns are launched into the night sky. It's a spectacular sight to see and a magical way to celebrate the season. New Year's Eve is also a big event in Buenos Aires. Many restaurants offer extravagant multi-course meals, and nightclubs throw fabulous parties where you can dance until dawn. Just be sure to book ahead because places can fill up fast.
Trancoso, Brazil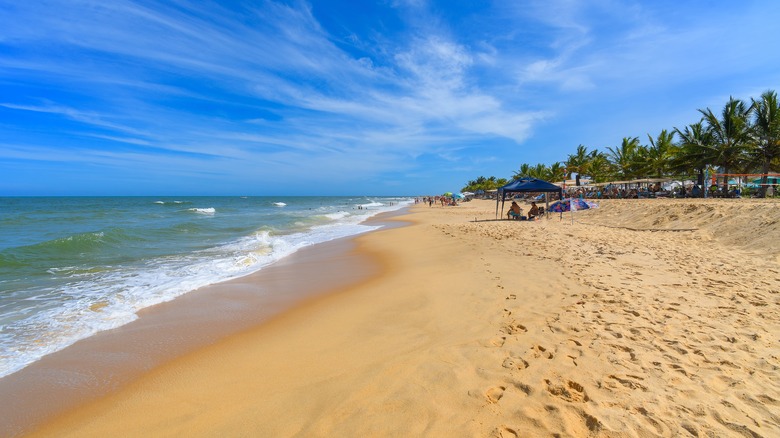 Vinicius Bacarin/Shutterstock
Let's face it — the holidays can be hectic. Sometimes you just need to get away from it all. If you're looking for a place where you can escape the madness and unwind, Trancoso is an idyllic spot. Once a sleepy fishing village, this secluded Brazilian beach town is now a trending travel destination on the country's Bahian coast. Yet despite its growing popularity, it's managed to maintain its languid lifestyle. You won't find crowded shopping malls or mega-resorts here. Just peaceful pousadas and charismatic cafes surrounding a small square with a 16th-century church.
Your Christmas Day could start with a fresh fruit smoothie at your hotel, followed by a sun-tanning session on the golden sand beach. If you're feeling adventurous, you could do some stand-up paddling or take an ATV tour through the jungle. A seafood lunch is a must. Bahia is known for moqueca, a stew made with fish, bright peppers, and rich coconut milk. Stop by the beach lounge at Uxua Casa Hotel & Spa for sunset drinks and a divine dinner. If you're staying in Trancoso for New Year's Eve, you can ring in the new year at one of the many beach parties that take place along the sand.
Cartagena, Colombia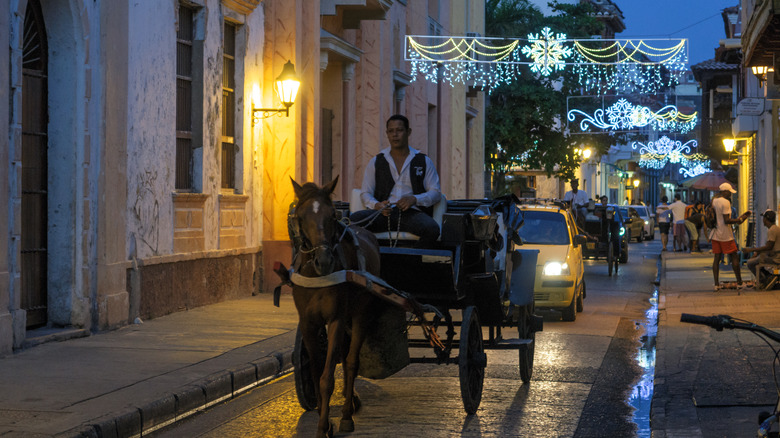 Nodramallama/Getty Images
Step back in time this holiday season in the historic port city of Cartagena. The city was founded in 1533 and quickly became an important port for shipping treasures out of South America to Spain. Stroll through the cobblestone streets of the Old Walled City and you'll come across a wide range of architectural styles from various eras, including Baroque and Art Nouveau buildings. During the holidays, beautiful lights are strung above the plazas and centuries-old churches teem with people attending Mass.
As you would expect in a city as lively as Cartagena, New Year's Eve is an exuberant affair. Restaurants offer special set menus that usually include drinks, live entertainment, and grapes to eat at midnight for good luck. Street parties break out all over the city, and people set up camp in the plazas and parks to watch the fireworks go off at midnight. If you're planning on dining out on New Year's Eve or ringing in the new year at a club, be sure to book in advance to ensure you get a spot.
Lima, Peru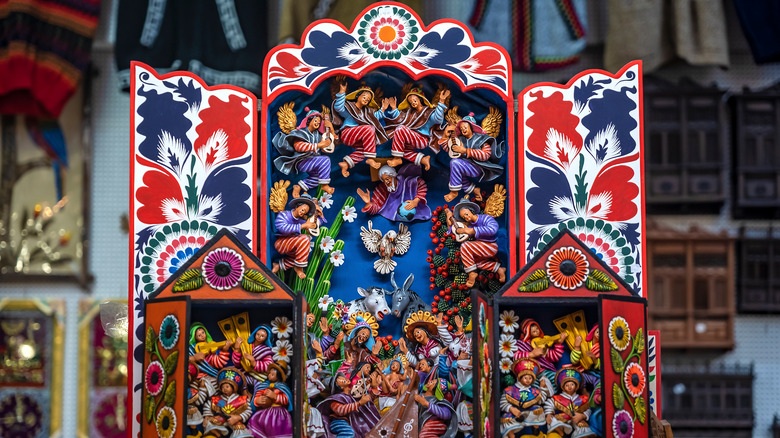 Myriam B/Shutterstock
Come December, Lima transforms into one of the world's most magical Christmas towns. A huge Christmas tree goes up in the Plaza de Armas and nativity scenes can be found in parks and plazas across the city. The markets are brimming with shoppers, and restaurants are filled with feasting diners. After dark, the bars in Miraflores are packed with people celebrating the season and getting a head start on the summer holidays. It's one of the busiest times of year in Lima, and an electrifying time to visit the city.
December 24 is when most Peruvians celebrate Christmas. The evening typically starts with a special Mass called Misa de Gallo, followed by a big family dinner. Midnight is when the fun really begins though. Around 12am, fireworks start going off from balconies and backyards around the city. The explosions go on for about an hour, and afterward, many people keep partying into the early hours of the morning. It's a striking sight to see, but don't count on getting any sleep until after it's done. New Year's Eve is also a big celebration with more fireworks and fiestas.
The Galápagos Islands, Ecuador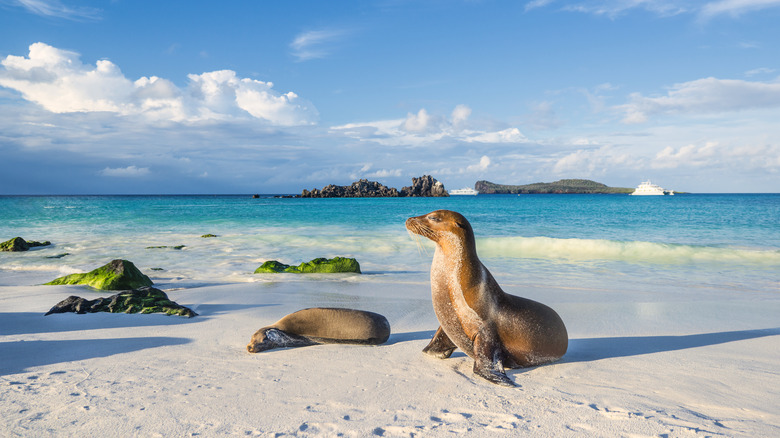 Guenterguni/Getty Images
Make this Christmas memorable with a trip to the fascinating Galápagos Islands. This chain of volcanic islands is located in the Pacific Ocean, about 600 miles from the coast of Ecuador. The islands are known for having some of the most unique wildlife in the world. In fact, it was here that Charles Darwin developed his theory of evolution based on natural selection. You can spend your holiday combing the beaches, hiking the rocky trails, and scuba diving to see giant tortoises, sea lions, and Galápagos penguins.
The best way to explore the Galápagos Islands is on a cruise. There are several tour operators that offer all-inclusive live-aboard cruises where you can sleep on the boat and explore the islands by day. Alternatively, you can stay in a hotel on one of the islands and take day trips by boat around them. December is a great time to go because the water is relatively warm and you'll have more chances of seeing certain animals, like waved albatrosses and Christmas iguanas that change color from black to bright green and red.
Trujillo, Peru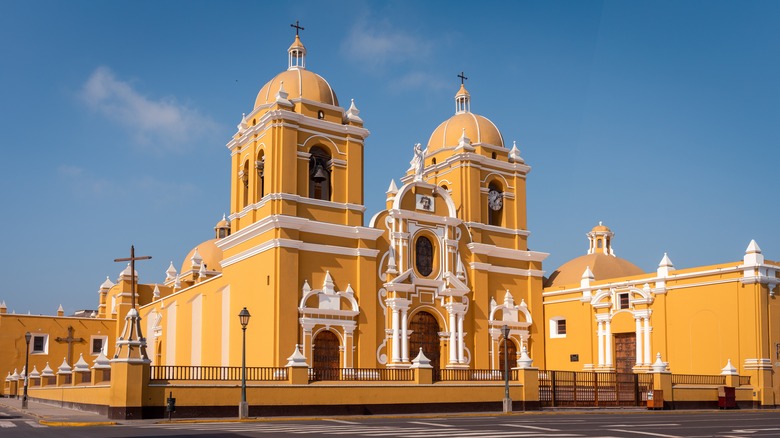 Maurizio De Mattei/Shutterstock
Trujillo is a compelling Christmas vacation destination for history and culture buffs. Located on Peru's northern coast, the city has a charming historic center with impressive colonial buildings and churches. It's also the gateway to spectacular archaeological sites like the Chan Chan ruins and the Huacas del Moche pyramids. When you're not touring neoclassical mansions or marveling at ancient murals, you can hit up the beach at nearby Huanchaco for sand, ceviche, and surfing.
While Trujillo is not as well-known as some of Peru's more popular travel hotspots, that could work in your favor. You're unlikely to experience the bumper-to-bumper traffic that you get in Lima over Christmas or the same type of crowds that flock to Machu Picchu for the summer holidays. December does see an increase in tourists who come for Christmas and New Year's, but its nothing compared to January, when people flock to the city for the Trujillo Marinera Festival. 
São Paulo, Brazil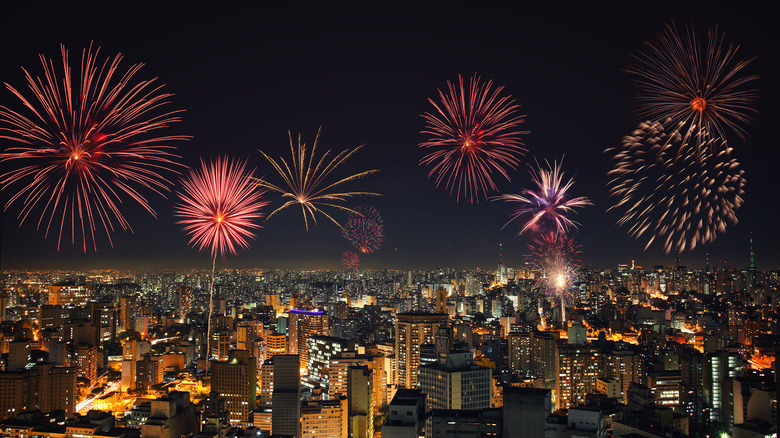 Marti Bug Catcher/Shutterstock
It's hard to find a city that does Christmas and New Year's with more flair than São Paulo. This thriving urban center goes all out for the holidays, with glittering decorations, gala dinners, concerts, and parades. The biggest festive sights include Ibirapuera Park with its towering illuminated Christmas tree and Avenida Paulista for its over-the-top decorations and New Year's Eve concerts. If you're in the city on January 6, be sure to catch the spirited Folia de Reis parade that incorporates folk music and costumes.
Being the cosmopolitan city that it is, São Paulo offers so much more beyond the traditional Christmas sights and events. It's a true melting pot of cultures, so you'll find fantastic art, food, and history at every turn. Sample sushi and ramen in the Japanese neighborhood of Liberdade. Learn about Brazil's complicated history with slavery at the Museo Afro Brasil. Immerse yourself in elaborate graffiti in Batman Alley. No matter what you're into, chances are you'll find it somewhere in São Paulo.
Iguazú National Park, Argentina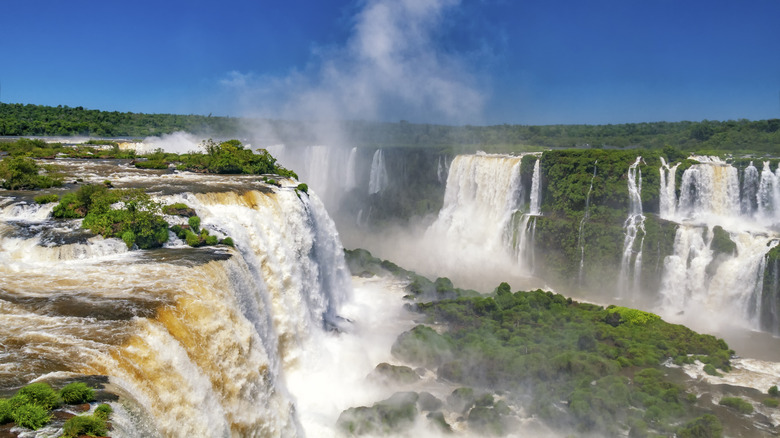 Sjo/Getty Images
Nature lovers will love spending Christmas taking in stunning waterfall and wildlife views at Iguazú National Park. These amazing falls sit on the border of Argentina and Brazil, and are considered some of the most stunning cascades in the world. As the Iguazú River flows over a series of basalt steps, it breaks into over 250 falls that range from 200 to 269 feet tall. The spray from the falls creates a lush tropical rainforest environment that supports hundreds of species of plants, birds, and mammals like jaguars and ocelots. December is the rainy season in the park, which makes the falls all the more spectacular.
Iguazú National Park is open 365 days a year, including Christmas Day. You can stay at the swanky Gran Meliá Iguazú inside the park, or find more affordable options in Puerto Iguazú just 12 miles from the park. Once you're in the park, you can hike trails through the jungle to see different vantage points of the falls. Alternatively, you can hop on the ecological train that is adapted for wheelchairs and baby strollers.
Montañita, Ecuador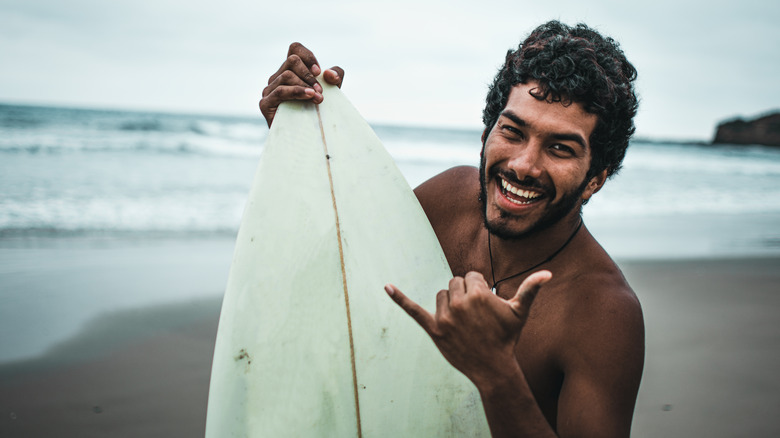 manux mundo/Shutterstock
It's all about sun, sand, and surf in Montañita. This is one of Ecuador's most popular surf spots thanks to the consistent swells that roll in year-round. Over the years, the beach town has morphed from a little-known surf mecca into a buzzing party spot popular with backpackers and bohemian types. Laid-back hotels and restaurants line the shore, and nightclubs cater to those who want to get hedonistic. If you're looking for a not-so-expensive spot where you can spend Christmas and New Year's riding the waves by day and partying until the wee hours at night, Montañita has you covered.
There are several surf shops in Montañita that rent surfboards and offer lessons for all skill levels. Some also offer weeklong surf camps that include accommodation, board rental, surfing lessons, and more. When you're not on the water, you can take a yoga or Spanish class and grab great eats at one of the many restaurants in town. After the sun goes down, you can grab drinks along Cocktail Alley before hitting up the clubs. New Year's Eve is sure to be a wild affair, with parties going off until well after dawn.