Take In Stunning Waterfall And Wildlife Views At This National Park In South America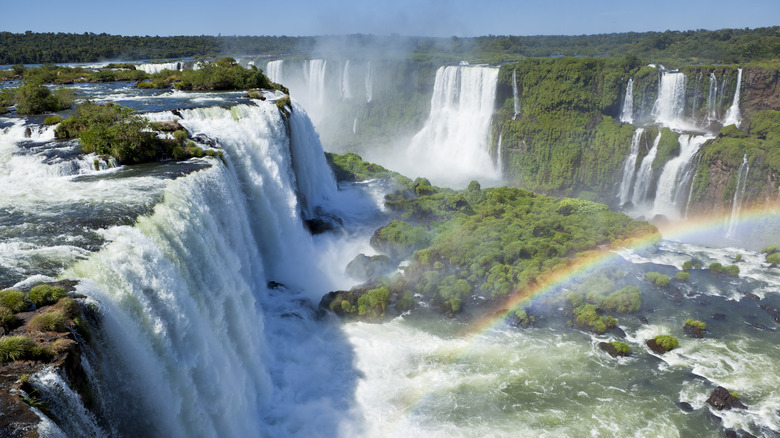 Grafissimo/Getty Images
It's no secret that South America boasts an array of national parks worth visiting — each one as captivating as the next in demonstrating the continent's diverse and awe-inspiring landscapes. From the snowy peaks of Torres del Paine in Chile to the unique wildlife inhabitants of Galápagos National Park in Ecuador, these destinations highlight the breathtaking beauty of the continent — as well as the importance of safeguarding them.
Tucked away on the border of Argentina and Brazil, Iguazú National Park stands as another perfect example of this. The national park spans more than 618,000 acres of protected land and is home to some of the most beautiful waterfalls in the world: the Iguazú Falls — or "Iguaçu," depending on which country you're in. More than 100 feet taller than Niagara Falls and 3,000 feet wider than Victoria Falls, this impressive collection of waterfalls attracts more than 1.5 million visitors every year — making them, and the national park, one of the most highly-rated attractions in South America.
A designated UNESCO World Heritage site, Iguazú National Park has been a protected area since 1934, consistently working on a mission to preserve the abundant biodiversity that calls the area home: 2,000 species of plants, 400 species of birds, and roughly 80 species of mammals.
Top sights and things to do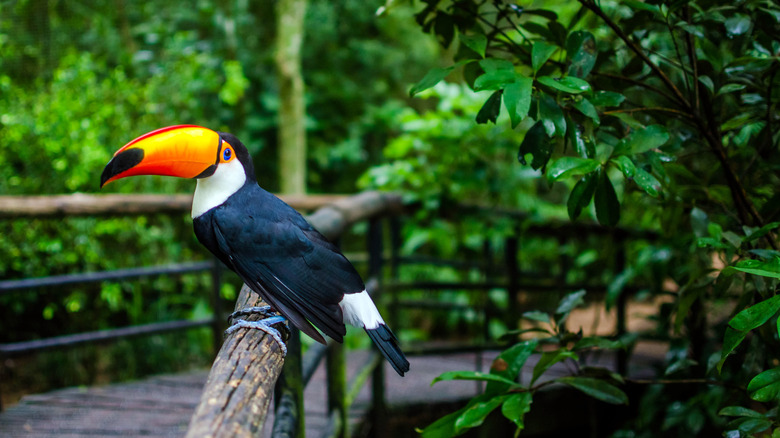 Maila Facchini/Shutterstock
Since the park is split between Argentina and Brazil, visitors basically get a two-for-one deal in terms of perspective. And although Argentina boasts nearly 80% of the falls — the border line cuts right through some of them — it'd be an oversight to skip out on the Brazilian side.
In terms of what to see, out of the 275 individual waterfalls that collectively define Iguazú, the crown jewel is the famous Garganta del Diablo (Devil's Throat). Standing at 269 feet tall and 492 feet wide, this behemoth of a cascade offers a one-of-a-kind experience that combines power, sound, and mist. And while from the Argentine side, you get a top-down view, getting your passport stamped and hopping over to the Brazilian side means a dramatic change in perspective. From that vantage point, you're actually looking up at the falls — surrounded by a 360-degree view and a peek at other park visitors who are standing on the Argentinian platform.
But Iguazú National Park isn't all about the water. Away from the roaring falls, visitors who explore the park's trails and pathways can also come face to face with a range of local and protected wildlife. From toucans and parrots to monkeys, honey bears, and the often-spotted coatis, the park is brimming with biodiversity. There's even a chance to spot much rarer residents — such as the puma or jaguar — taking a stroll through the trees.
Visiting Iguazú National Park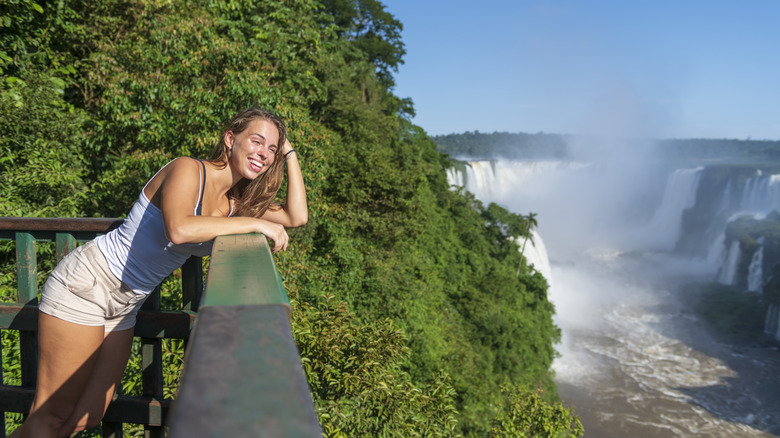 Joel Carillet/Getty Images
The easiest way to access Iguazú National Park is through Puerto Igazú (in Argentina) and Foz do Iguaçu (in Brazil), both cities act as direct gateways to the falls. Additionally, both have international airports, which means you can easily catch a connecting flight from the United States through many major cities in South America.
In terms of admission, the entrance fee to Iguazú National Park also varies depending on which side you'll be accessing it from. The fee on the Argentinian side of the park is roughly $39 for adults and $19 for children. On the other hand, from the Brazilian side, the adult ticket price is the same, but children under seven are allowed to enter for free.
Lastly, when it comes to picking the best time to visit Iguazú National Park, traveling between late March and June or between August and November is your best bet for seeing the falls in all their glory and avoiding some crowds. During these times, the weather will be pleasant, most trails will be open, and you'll have a much lower chance of getting caught in the rain. Alternatively, if you don't mind getting even more wet during your visit, the falls reach their peak around November and December due to heavier rainfall.