This Caribbean Island Is A Great Addition To Any Nature Enthusiasts Bucket List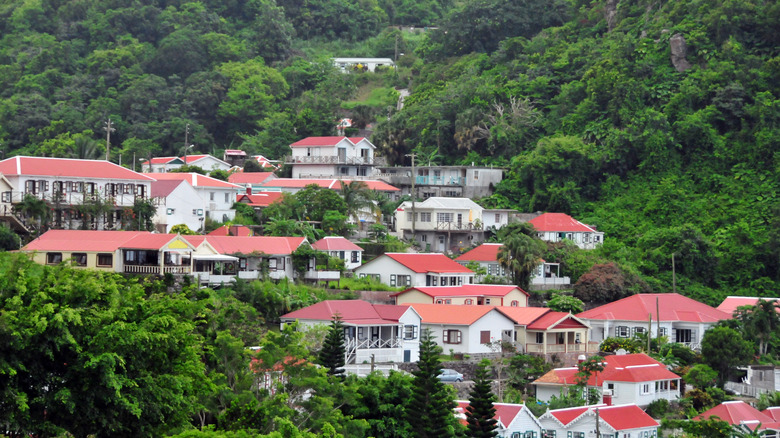 Mtcurado/Getty Images
When it comes to naturally serene and beautiful destinations, the Caribbean region seldom disappoints. From volcanic islands like Saint Lucia and Dominica to the vibrant blue waters of luxurious Barbados, there seems to be a Caribbean island for every type of traveler. The only downfall of hitting the region, especially in the winter, is that many islands are overcrowded with tourists trying to escape the cold. If you're worried about herds of people spoiling your experience, head to one of the most remote islands, not only in the Caribbean but also here on Earth.
Saba is a 5-square-mile island located approximately 28 miles off Saint Martin's southwestern coast. Quite possibly the region's best-kept secret, there's a good chance you've never heard of this unspoiled Dutch territory. Saba is best reached via seaplane from Saint Martin, where flight times are an average of 15 minutes, and it lands on the world's shortest commercial runway. The island can also be reached via the Edge Ferry or Makana Ferry from Saint Martin, which takes approximately 90 minutes.
A natural hidden gem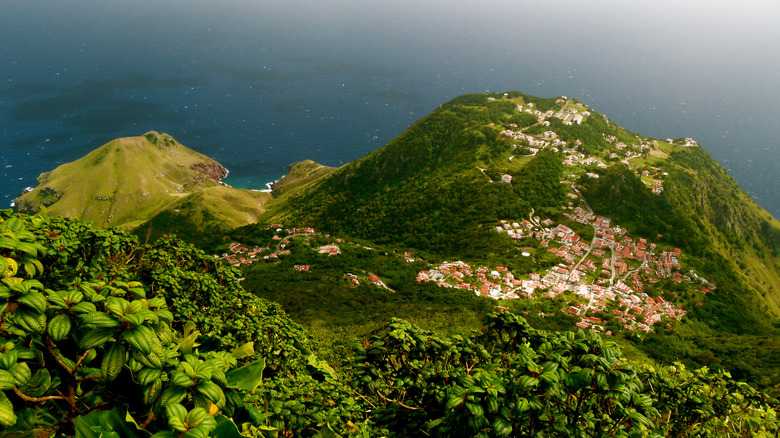 Swedishmonica/Getty Images
Saba lies at the peak of a dormant volcano, giving it a dramatic mountainous landscape that can feel more like a lush jungle than a tropical island. Because of this, Saba is not well known for its beaches and, instead, for its epic hikes. With 20 hiking trails to choose from, some of the most popular routes are Mount Scenery Trail, Sandy Cruz Trail, Maskehorn Hill Trail, and Crispeen Trail. To best preserve the island's natural beauty, remember to take only pictures and leave only footprints when hiking in Saba.
For a truly unique hiking experience, hire local hiking expert James Johnson, also known as Crocodile James, a native to the island. His family has lived in Saba for generations, and his expertise will ensure any guided hike you take with him, which costs $100 for up to four people, will provide you with a crash course of the island's diverse vegetation.
Saba is a diver's paradise, with one of the best underwater worlds in the region. Especially known for the pristine crystal clear waters, diving in Saba usually guarantees at least 60 feet of clear visibility. Under the Saban sea, you'll find plenty of fish, vibrant coral, and unique formations thanks to the island's past volcanic activity.
Exclusivity at its finest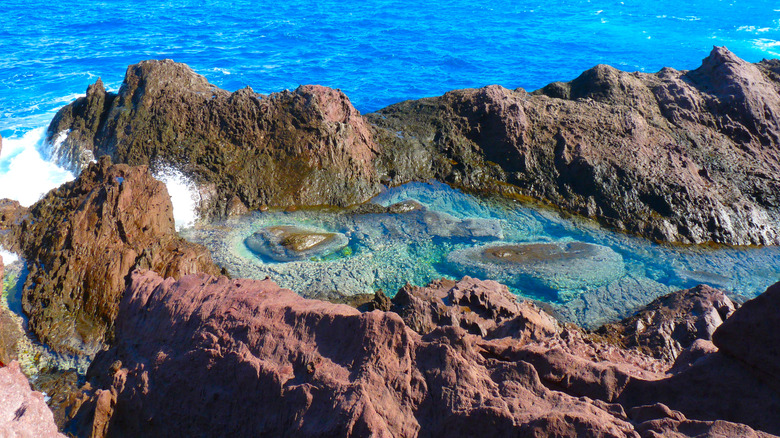 Le-gals Photography/Getty Images
Saba is an ideal destination for the most curious travelers interested in exploring untouched hidden gems of the earth. Home to only four villages and 2,000 residents, this tiny island is easy to see in just a few short days. The charming architecture of the houses and villages in Saba has a signature white exterior with red roofs and shutters. 
Like many Caribbean islands, Saba is no stranger to some seriously delectable cuisine. Try local favorite, callaloo soup, a leafy green native to the Caribbean, similar to spinach. Saba also makes a mean curry goat, a stewed goat with local spices. Head to the local watering hole, Tipsy Goat Bar, to sample Saba Spice, the local rum of the island. Note that the proof is 151, meaning this rum can quickly sneak up on you, so consume responsibly. If a high-ABV rum sounds too intense, and you fancy a wine tasting instead, head to Chez Bubba.
Despite its small size, Saba is home to plenty of boutique hotels. Juliana's Hotel offers cozy cottages in a prime location. Queen's Hotel prides itself on being more luxurious, offering guests large suites overlooking the Caribbean Sea. If you plan to stay for at least three nights, head to Champagne Cottage, a house rental that stretches over 3.2 acres of land, giving guests plenty of space to experience the island in the most exclusive way imaginable.