Visit This Underrated Spain Destination For A Scenic Village Vacation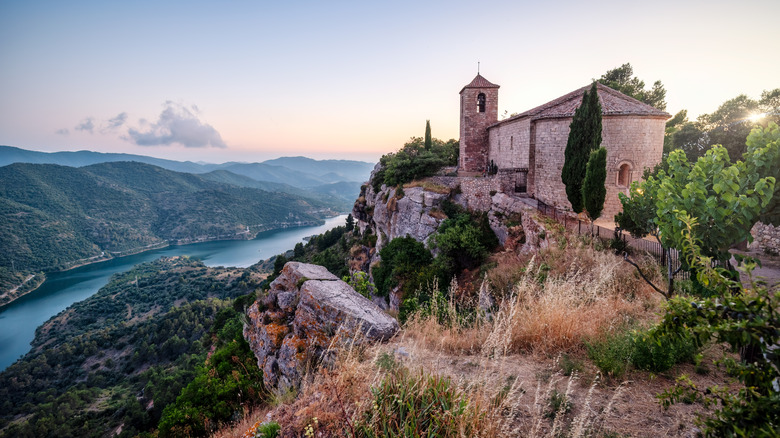 Eloi_omella/Getty Images
Have you ever dreamed of walking around a fairytale village perched at the top of a mountain with old buildings and beautiful views of the countryside? There is an underrated village in Spain, about two hours from Barcelona, that may have you writing the perfect fantasy novel if you visit. It's one you may not have heard of before, likely because it's so tiny. This Catalonian village in Tarragona has less than 30 residents. There are only a handful of restaurants and hotels, but there is enough charm to fill an entire country and some fascinating history. This village is Siurana, Spain, in the northeast of the country. 
Siurana is perched high upon a mountain (the place is a popular destination for climbers), features the remains of a 9th-century Moorish castle, and something you don't experience in a lot of picturesque places: quietude. While some tour buses will visit, you can find space for yourself. The mayor of the area rejected the title of "most beautiful village" in 2022 to keep tourists from overrunning the place. 
That said, if you visit, respect the region and its residents. Oh, and watch where you're walking because there are some sheer cliffs right at the edge of the city. It's also good to note that the ride up here is winding, so go slow and take it all in. Let's take a look at Siurana, the things to see and do, and a legend that has sprung from this place. 
What to see in Siurana, Spain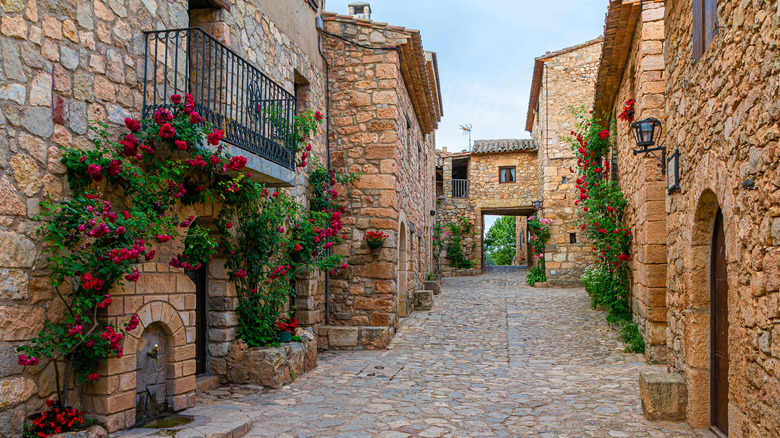 IvanVAM/Shutterstock
Siurana was the last stronghold for the Moors in the area. It was, in fact, a Moorish kingdom until 1153 C.E. when the Christians took over. A legend has emerged here of the last Moorish Queen Abdelazia. As the Christians appeared and took over, she chose to run off one of the cliffs on her horse. The horse didn't want to jump, and legend has it that its hoof print is still in the rock where she lept. You cannot come here without visiting the spot called Salt de la Reina Mora. 
Despite Siurana's small size, it's got a castle, as every fairytale village must. The Moorish Castell de Siurana repelled invaders, held noble prisoners until the 13th century, and was demolished after the Catalan Revolt in the 1600s. Renovation is ongoing, so check before you go, but it's an impressive site.
If you visit on Sunday, you can attend mass (which is the only way to go on) at the Església de Santa Maria, a lovely 12th-century church with a beautiful archway. If you visit during the week, you can pay €1 to see it lit through a glass wall. There are guided tours of the village, as well as wine-tasting tours in the area. The main thing you're probably going to do here is take some spectacular pictures, but please watch where you step. There are no rails along the cliffs. 
Activities around Siurana, Spain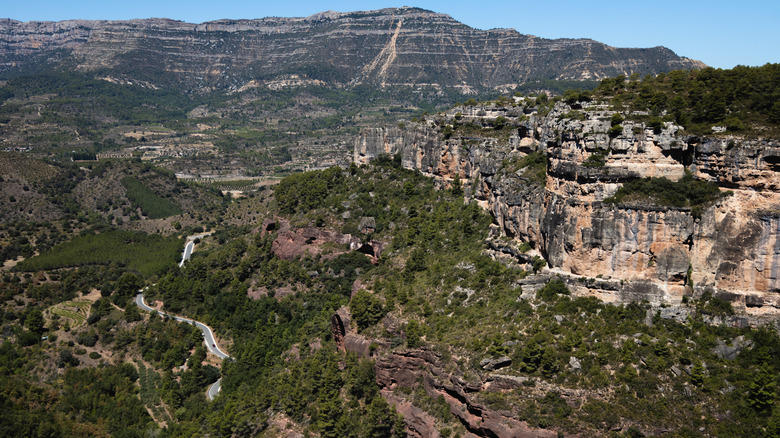 Ollyplu/Getty Images
Not every activity is on the top of the mountain, however. The area around Siurana is a beautiful place to hike and walk. The Siurana Reservoir below the town is popular for kayaking, swimming, and taking a canoe out over the water. At the bottom of the mountain, around 5 miles away, is the small town of Cornudella de Monsanto, which has wine tastings and vineyards to explore.
One really popular activity in Siurana is climbing the limestone cliffs and walls. There are all types of climbs for differing ability and stamina levels. One of them, La Rambla, is a 135-foot climb up a cliff. If you want to stay somewhere inexpensive for your climbing adventures, you can visit the Refugi Siurana, a shelter with shared rooms popular with those visiting for the sport. You can also go camping, with a site located a few minutes away from the village. Keep in mind, however, that you'll still be near a cliff's edge, so exercise caution.