Take In Breathtaking Landscapes At This Remote US National Park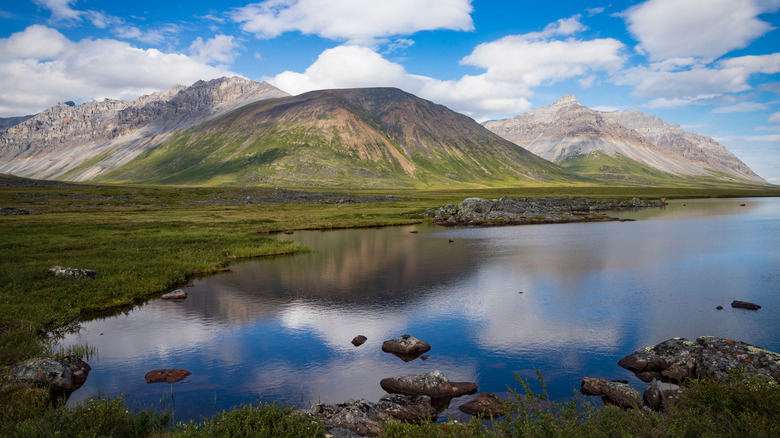 BlueBarronPhoto/Shutterstock
Gates of the Arctic National Park is Alaska's ultimate wilderness. Located 200 air miles north of Fairbanks in Alaska's Brooks Range, it gives visitors a chance to experience the raw beauty of the Arctic. The 8.4 million acre park is the second largest national park in the United States, and in most years, it is also the country's least frequented, with less than 900 visitors per year. 
One of the park's most remarkable features is its lack of roads or trails, making it difficult to access but protecting the arctic environment, which is extremely delicate and requires long recovery times after being damaged. The lack of human activity in the area also makes it a welcoming area for wildlife. The rugged Brooks Range, which runs through the park, provides a stunning backdrop for the arctic tundra, black spruce and boreal forests, many lakes, six designated "wild rivers," and glaciated valleys found in the park. 
In addition to housing all this glorious nature, Gates of the Arctic National Park holds significant cultural value. It is home to several groups of Alaska Native people, such as the Nunamiut and Koyukon Athabascan Indians, who have lived in harmony with the harsh Arctic environment for thousands of years. Their traditional knowledge and practices offer a fascinating insight into living sustainably in one of the world's most challenging environments.
Gates of the Arctic experiences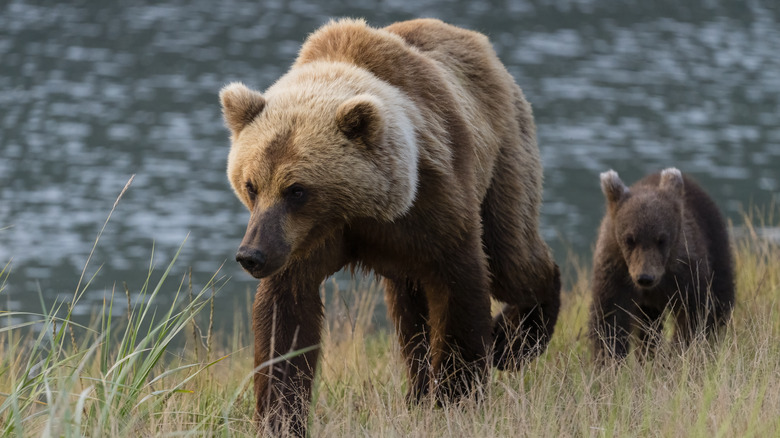 Pchoui/Getty Images
A wide range of experiences await visitors at Gates of the Arctic National Park. Hikers and backpackers can trek through the park for a full immersion in its stark landscapes. But due to the lack of trails and signs, these activities require excellent navigational skills and a love of solitude, as hikers might not see anyone for several days or even weeks due to the few visitors coming to the park. Hikers should carry topographic maps, a compass, and (ideally) a GPS unit when doing self-guided treks. An alternative would be to hire a local outfitter for a guided hiking or backpacking tour of the park. 
Gates of the Arctic also offers unmatched opportunities for seeing wildlife in their natural habitats, including Western Arctic caribou, moose, Dall sheep, wolverines, wolves, and both brown and black bears. The park is also home to a striking array of birds, especially during the summer months when many migratory species are present. Birdwatchers can see and hear aquatic birds, raptors, songbirds, and many other species in the park's diverse ecosystems.
Other activities include rafting trips on the Nigu River, which take visitors deep into the Brooks Range. Fishing opportunities in the park are some of the best in Alaska. For those brave enough to face the Alaskan winter — when temperatures can plummet to -40 degrees Fahrenheit —  a few cross-country skiing and dog sledding trips are available. The northern lights can be a spectacular sight in the winter months, providing an unforgettable experience for hardy winter visitors.
How to get there and where to stay
BlueBarronPhoto/Shutterstock
Gates of the Arctic National Park does not offer traditional lodging facilities like hotels or cabins within its boundaries. Visitors typically camp in the wilderness, which requires thorough preparation and the right equipment. There are also a few lodges and camps outside the park, offering modern accommodations and guided tours.
To reach Gates of the Arctic, several airlines provide service from Fairbanks to the gateway communities of Bettles, Anaktuvuk Pass, and Coldfoot. From there, flying on small aircraft equipped with floats or tundra tires is the most common way to enter the park. Adventurous souls arranging their own expeditions can take charter flights to specific locations within the park, depending on their itinerary. Alternatively, visitors can opt for a guided tour, which may combine flightseeing, hiking, rafting, and cultural experiences. These tours are an excellent way for less experienced adventurers to more safely and comfortably enjoy the park's wonders.
Visiting Gates of the Arctic National Park requires careful planning and a respect for fragile arctic ecosystems. Given its remoteness and ruggedness, the park is best suited for experienced outdoor adventurers or those accompanied by a guide. But however people choose to explore this vast and pristine wilderness, it's sure to be the adventure of a lifetime.