Visit This East Coast State Park For Stunning Beach Adventures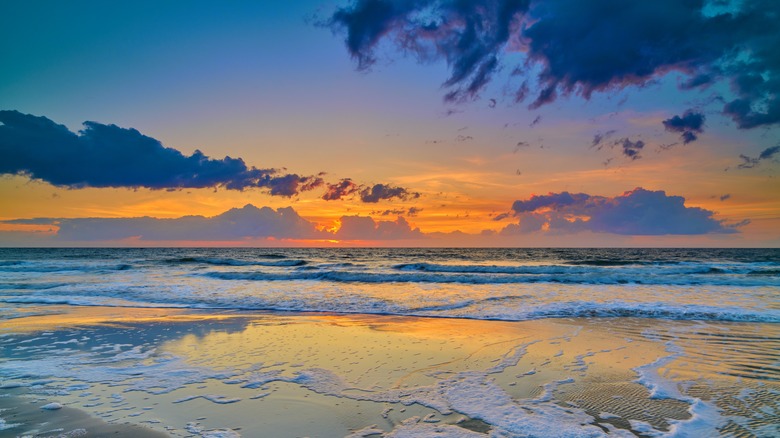 Patrick Jennings/Shutterstock
If you love salt, sand, and sea as well as a taste of adventurous island life, then South Carolina's Hunting Island State Park is the place for you. This island is the most popular state park in South Carolina, with more than one million tourists coming to dig their toes into its 5 miles of awe-inspiring beaches. If it seems like this picturesque location could be lifted straight from a Nicholas Sparks novel, then that could be true as three of his movie adaptions were filmed on nearby islands.
Scenes from "The Notebook" and "Dear John" were shot at Edisto, Wadmalaw, and Johns Islands, all just north of Hunting Island near Charleston. Part of the Netflix show "Outer Banks" was filmed on Hunting Island Beach as well. It is connected to the mainland by a road so it is easy to get to and the park fees are $8 for an adult and $4 for a child ages 6-15. There are activities to suit the entire family, whether that's spotting alligators or biking the island's beautiful trails. One of the best things to do is get up early and watch the sunrise over the sea from Hunting Island Beach.
What to do on Hunting Island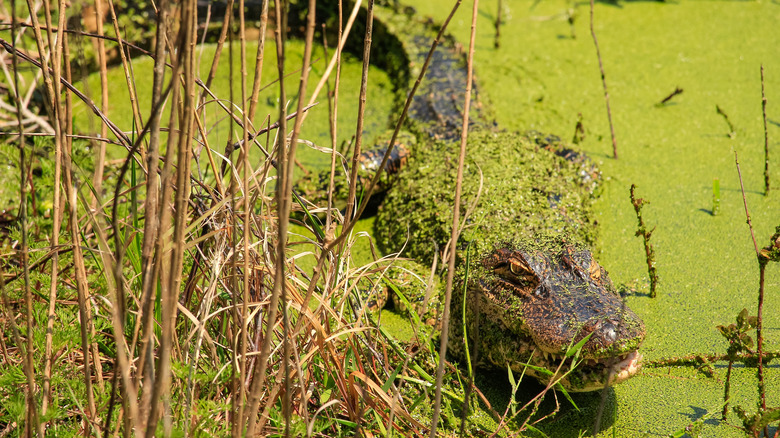 Lana2011/Getty Images
To get the best views of the beaches take the four-hour Hunting Island Beach Drop boat trip and get closer to the wildlife that inhabit the park's marine environment. There are also specific charters to find the pods of dolphins that play in this part of the Atlantic Ocean. While on a tour or at the beach look out for ospreys, eagles, horseshoe crabs, and the sharks that occasionally feed here.
In the summer, loggerhead turtles nest on the beaches and they can be seen swimming in the water. While on the trails, watch out for the alligators, deer, raccoons, and rattlesnakes that also live in the park. Adventurous visitors will love the opportunities to boat, paddle, hike, or bike around the island. There is a publicly accessible lighthouse, which you can walk up for sweeping views but check that it is open before you go — as of this publication, the lighthouse is temporarily closed to tours until repairs can be made. If you want to take your time exploring Hunting Island and seeing everything it has to offer then consider staying overnight here.
Where to stay on Hunting Island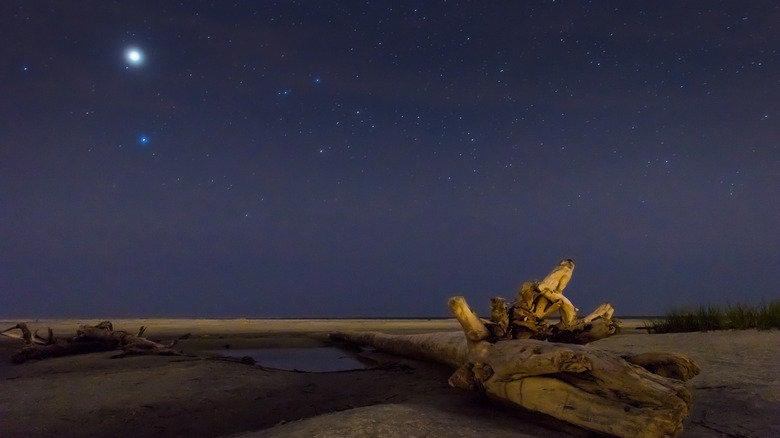 Jim Schubert/Shutterstock
There is one cabin that is available for rent on the island from the parks department — it has amenities like a washing machine and dryer, outdoor grill, and a picnic table, and sleeps up to six people. The park also has two campgrounds featuring 102 standard campsites with electricity and water hookup service, and some of the spots have space for RVs up to 40 feet long. Additionally, there are 25 spots available for rustic camping. Both campgrounds are located on the northern end of the island next to each other and situated by the ocean.
For those who want more home comforts, the Fripp Island Resort is on Fripp Island, just south of Hunting. It has a 4.7-star rating by travelers on Google for its sea-view cottages which are excellent spots for sitting and watching wildlife. If you stay here, then make sure to bring your binoculars as the birds may come to you! If you want to extend your South Carolina trip, then head to Myrtle Beach which is another great budget-friendly beach location in this novel-worthy state.