Here's What You Can Skip On Your Trip To Charleston (And What To Do Instead)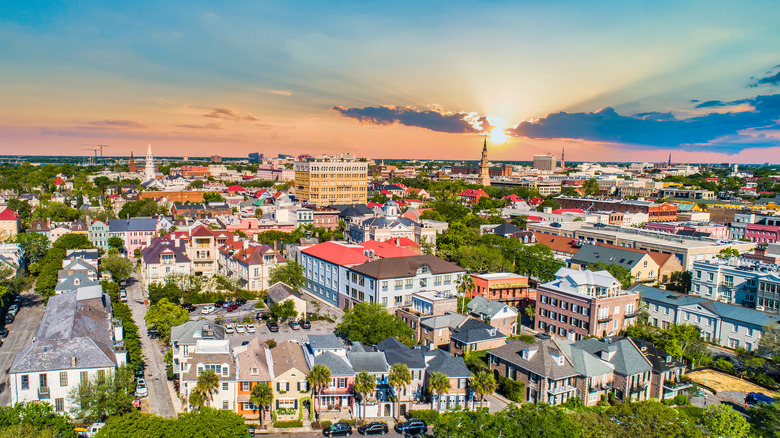 Kevin Ruck/Shutterstock
Set at the end of a peninsula that's shaped like the head of a gecko, Charleston has long been a draw for tourists across the United States, as well as those further afield. There is much to admire in this city, the most populous in South Carolina, with great food, charming streets, hypnotic antebellum architecture, and a laid-back ease to life here. 
All this has ensured that Charleston isn't some undiscovered gem, a hidden destination that is whispered about secretly between trailblazing travelers; it's a well-worn stop on the circuit for visitors that want to experience a fabulous place in the South. That, however, doesn't mean that you should concentrate a visit to the city with the sole intent of hitting all the standard highlights. Why not see a less publicized side of Charleston and forgo the obvious choices for those that are a little more off-the-mass-tourist radar? It really is a great way to get a more intimate take on this Southern belle, with the options below presenting a fine place to start.
Skip The Battery, wander Shem Creek Boardwalk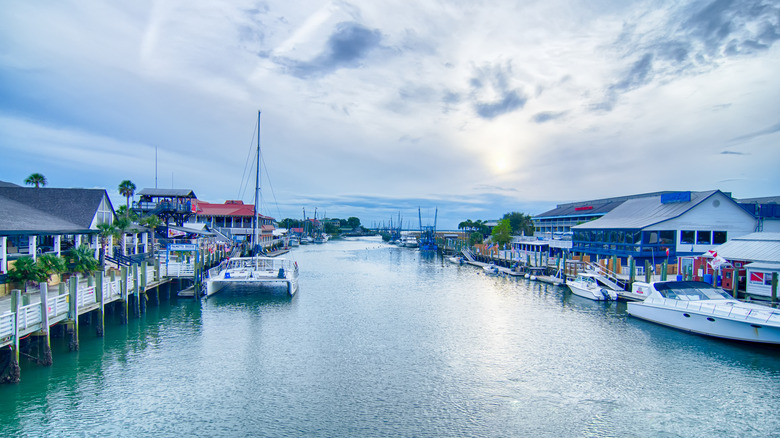 Digidreamgrafix/Getty Images
Yes, The Battery, a walkable area protected by a seawall at the tip of the peninsula sure is a pretty place to wander, after all, what's not to love? Wander around this focal point of downtown Charleston, and you might feel like you are at the end of a vast landmass (in a sense, you are), with the Ashley and Cooper Rivers to either side. You can also enjoy the gorgeous antebellum homes that line the street and look at historic forts. But chances are, you'll do it with a throng of other phone-waving tourists taking snaps of the homes and the scenery. 
A much more tranquil affair is the Shem Creek Boardwalk in Mount Pleasant, across the water from Charleston, open from before dawn to past dusk. It's a pretty, natural spot, an elevated boardwalk that winds past marshland and that terminates in a pier and viewing area that opens onto vistas of Charleston Harbor and the mouths of local waterways. Visitors will get a good appreciation of the link to the water here, with crab and shrimp boats lining the docks visible en route, and the colors of the area are especially alluring during sunset.
Skip the ghost tours, sign up for a Gullah tour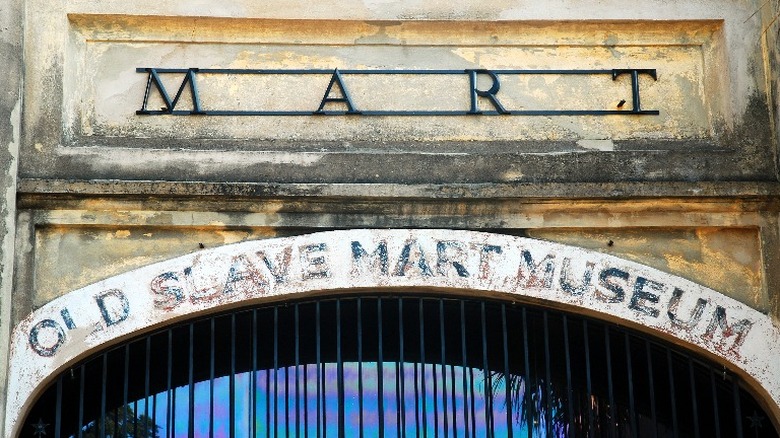 James Kirkikis/Shutterstock
The fascination with the spiritual world has spawned a legion of ghost tours, and while there's no denying that these tours are entertaining with visits to places like jails and graveyards, they seem more about entertainment than about any lasting education. A far more rewarding — and real — experience is available on the trips around historic parts of the city that resonate with the Black population that has called Charleston home for centuries. Known as the Gullah, a word believed to derive from Africa, this community traces its lineage to slaves that toiled in the rice fields of Georgia and South Carolina. 
During a trip with Gullah Tours, travelers will learn about city spots that have played key roles in shaping the lives of the Gullah, from the Old Slave Mart that's now a museum but formerly a marketplace for slave auctions, to the home of a fearless organizer that led a large-scale revolt by slaves. Visitors might also pick up some Gullah language, which features throughout tours.
Skip Sullivan's Island, head over to Johns Island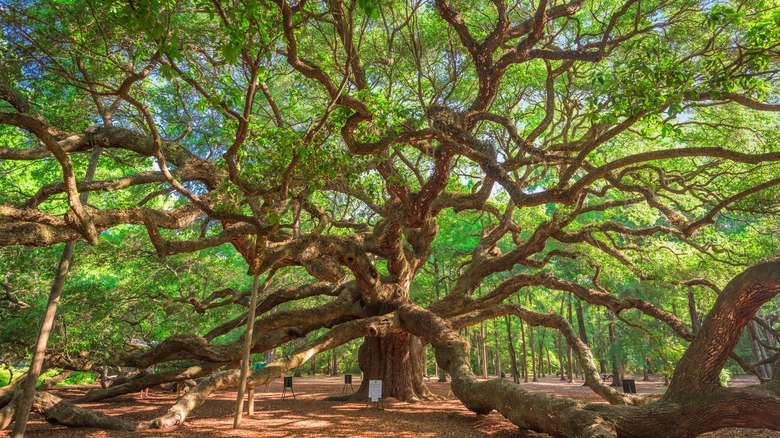 Sean Pavone/Shutterstock
Gently meander around the quiet roads and beaches of Sullivan's Island, a place that sustained significant damage during 1989's Hurricane Hugo, and your mind is likely to find a zone of zen. The barrier island is Lilliputian, a little more than two miles in length, and only a couple of thousand people live here. But this cozy aspect of the island is a large part of its charm, with birds feeding by marshes and spacious homes hidden among bountiful trees. What Sullivan's Island is missing is the otherworldly Angel Oak tree, found on Johns Island, which also happens to be the largest island in the state. 
Its name is derived from a part of the Caribbean island of Barbados, and in addition to early inhabitants from that island, it is also home to a number of farms. By far its greatest attraction, though, is the Angel Oak, which looks like it belongs in a fantasy fiction tale like the Lord of the Rings. With giant arms sprouting in all directions, making it appear like a multi-limbed creature, this distinctive tree is believed to be hundreds of years old, and is, by some estimates, the oldest living oak tree east of the Mississippi River. More than its height, which tops out at about 65 feet, the tree's great canopy spread allows it to put more than 16,000 feet of space under shade, a remarkable statistic.
Skip Charleston City Market, shop at the Preservation Society of Charleston
Perhaps a victim of its own success, the Charleston City Market is an iconic destination in this part of South Carolina, with its sweetgrass baskets made by the Gullah artisans here making beautiful gifts and accessories for the home. But the market is also teeming with tourists, and parts of it feel almost too commercial, peppered with faceless stalls that sell items that have no sense of place. 
A much better option that really grounds visitors in Charleston is the shop of the Preservation Society of Charleston, less than a 10-minute walk away, but vastly different in ambiance. All items on sale at the store, except books, are made locally, or made very close to the city, which really allows shoppers to get their hands on a unique tidbit, like vintage-looking ironware that's popular with local restaurateurs, clutches and handbags with bright designs, and intricate hand-drawn sketches of Charleston cityscapes that are hauntingly beautiful, and elegantly timeless.
Skip the Waterfront Park, visit White Point Garden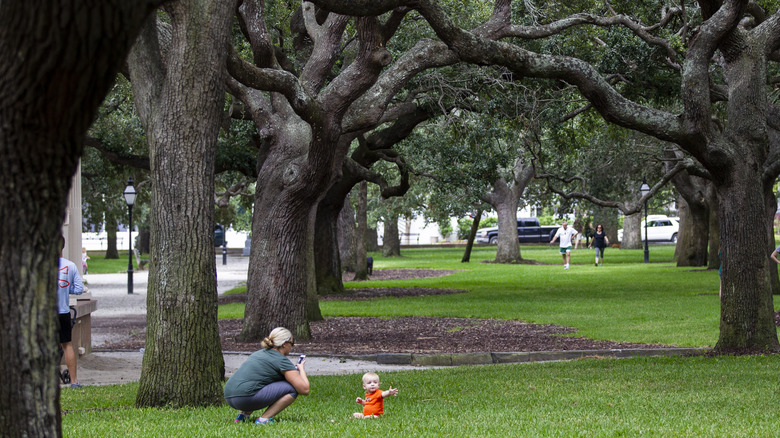 Mark Wallheiser/Getty Images
An iconic image that many instantly associate with Charleston, the pineapple fountain at the Waterfront Park is a pretty smashing sight. It's the subject of many an Instagram post and possibly the most popular spot in a park that opened less than a year after Hurricane Hugo. The park has a fine location on the river and looking onto the city's harbor and the sleek Ravenel Bridge, with wide pathways and piers, but it's all a little too manicured, almost too picture-perfect. 
A little south of here, and also by the waterfront, White Point Garden, which certainly welcomes its fair share of tourists, has a more natural feel to it. Here you'll find stately, gnarled oak trees whose splayed-out branches, when covered in leaves, cast plenty of shade on the grass, pathways, small gazebo, and memorials and old cannons that point to the historical import here. It's the kind of park that feels like a neighborhood hangout, a small, intimate slash of green by the waterfront that's tightly enclosed, where dog owners meet for an impromptu chat while watching their pets go about their business.
Skip the sunset boat tour, watch the sky from the Arthur Ravenel Jr. Bridge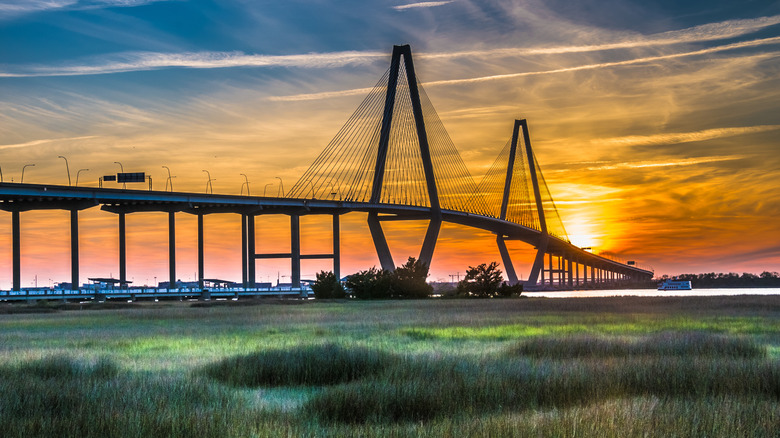 Kenwiedemann/Getty Images
You can watch the sun drop into the Atlantic from one of the many sunset boat tours offered in Charleston, taking in all the marquee sights of the city's waterfront. As the sky effortlessly morphs from blues to oranges and pinks and reds, with dolphins possibly dipping in the water, the moments are magical ... but they are governed by someone else's clock, sticking to a strict schedule. Enjoy the same sorts of views, high above the water, and spend as much time as you want contemplating the mutating evening sky with a walk across the stunning Arthur Ravenel Jr. Bridge, one of the places visited by the boat tours. 
The bridge really is a marvel of engineering, debuting in July 2005, and at the time the longest cable-stay span in the continent, as well as the tallest piece of architecture in the state. Measuring more than two miles in length, the bridge has a central cable-supported section that's more than 1,500 feet in length and is, less technically, simply striking. There are eight lanes for powered vehicles, but visitors wanting to get in on the sunset action will be better off taking the lane called Wonders' Way, which is separated for bicycles and pedestrians. Since it's on the south side of the bridge with some lookout points, there is nothing to obstruct visitors from enjoying incredible, elevated sunset views across the harbor.
Skip Upper King Street, wander Lower King Street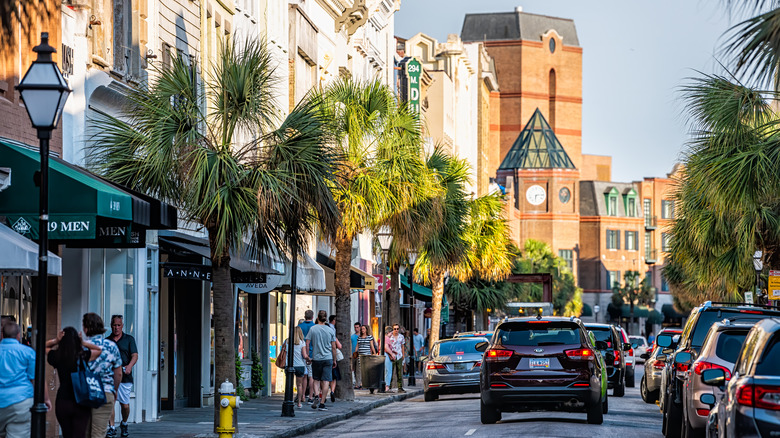 Krblokhin/Getty Images
Like any great city, Charleston promises visitors fantastic shopping. The main strip for shopping here, King Street, is a must-see for visitors for its range of stores along its relatively compact reach. But a visit to this bustling thoroughfare isn't a uniform experience along its entirety, with different parts of it giving off varying vibes. Named, like the city itself, for England's King Charles II, the street is where to find hotels, swish restaurants, chain stores, and independent boutiques. 
Upper King Street, which stretches north from Marion Square up toward Septima Clark Parkway, is filled with eating and drinking spots, while a little south of it is where to find beloved brands like Apple, Brandy Melville, Urban Outfitters, and Sephora. Lower King Street, nearer the tip of the peninsula, has a more local feel, with independent clothing stores and antique shops along its route, and it's also where to encounter those unique finds at the Preservation Society of Charleston shop mentioned earlier. It's a fine route to walk, with low-slung buildings along a pretty one-way street, and palm trees popping up from the sidewalk every so often. 
Skip Rainbow Row, scout out Legare Street
The multi-colored pastel houses — hence the name — of Rainbow Row have filled many an Instagram feed, and they certainly are a visual pick-me-up, a baker's dozen of bright homes near The Battery. Though the homes certainly boast a storied past, they are, stylistically, outliers in the city, showcasing colors that are atypical of Charleston's homes. A more exclusive slate of homes is a short walk away on Legare Street. It's not a long, windy stretch, just four blocks along a one-way street, heading north-south, but what it lacks in longitudinal stature, it makes up in glamor and grandeur. Wander along this tree-lined street to see grand mansions and pretty landscaped gardens, set back behind high wrought-iron gates. 
This is the realm of serious money, with historic homes like Sword Gate House and Simmons-Edward House along the way. There are many beautiful properties here, a fantasyland for anyone interested in real estate; a number of them sold in the last five years for eight figures each, including one that was purchased in 2021 for $13.5 million that features a carriage house, a sleek pool, and striking, manicured gardens.
Skip Callie's Hot Little Biscuit, drop by Vicious Biscuit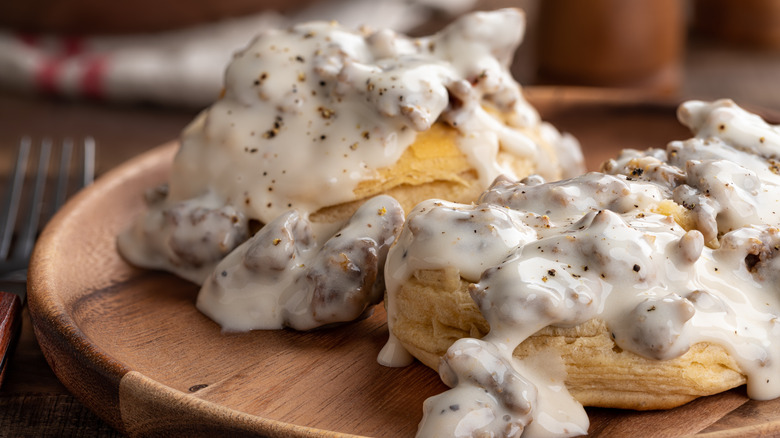 Charles Brutlag/Shutterstock
The Upper King Street mainstay isn't starved for business, sitting on the popular tourist thoroughfare, and the anchoring hub of a blossoming brand that's garnered plenty of national press. Yet, isn't it more fun to hang out in an undiscovered (or, more accurately in this information-saturated era, less-discovered) gem, one that's not something to simply cross off a checklist? 
Across the river, in Mount Pleasant, Vicious Biscuit is an equally commendable, yet off-the-radar, spot that is sure to satisfy any visitor's cravings for this classic Southern treat. It's not an old business, one that's passed down between generations and boasting a rich and colorful background, but a relatively new venture, first opened in 2018 based on the humble biscuit as the building block for its menu. That's why diners can pitch up here and order combos like cheddar and jalapeño biscuits with fried chicken breast and open-faced biscuits that celebrate local tastes by accompanying shrimp and grits. There's even a buttermilk biscuit that comes with Thai-accented coleslaw.
Skip the South Carolina Aquarium, go on a kayak tour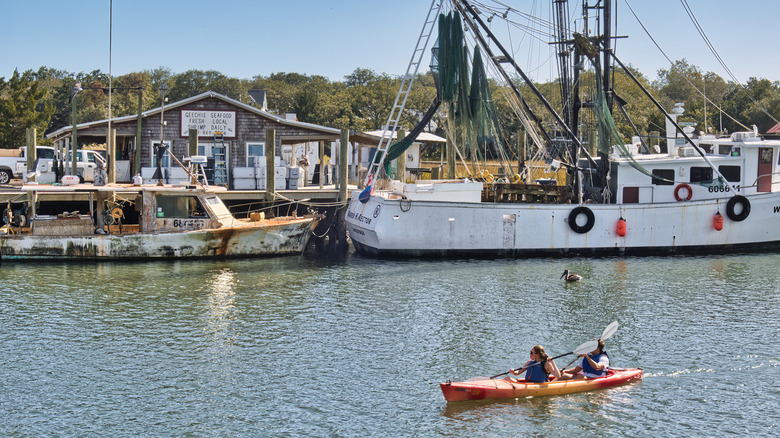 Oliver De La Haye/Getty Images
Right by the waterfront, the aquarium certainly has a convenient location for most visitors, and one that seems appropriate given the subject matter. There are plenty of great exhibits inside, from areas that recreate a swamp at night (and feature trees that fell from Hurricane Hugo), a mammoth tank that mirrors the habitat of the Atlantic Ocean, and even a display that mimics the waters and aquatic life of the coastal Carolinas. But wouldn't it be more rewarding to see aquatic life in its natural habitat? 
Slip into a kayak and you can do just that (or, for a slower excursion, try a paddle board). Nature Adventures, based in Shem Creek, takes explorers around the creeks, small rivers, and estuaries here, offering trips that are great exercise and educationally illuminating as you look at the local ecology. Its longest trips, for the truly indefatigable, last six hours. On a trip in the marshes with Charleston Outdoor Adventures, paddlers have a good chance to encounter wild dolphins and wading birds roaming around their home turf.
Skip Magnolia Plantation & Gardens, learn about Drayton Hall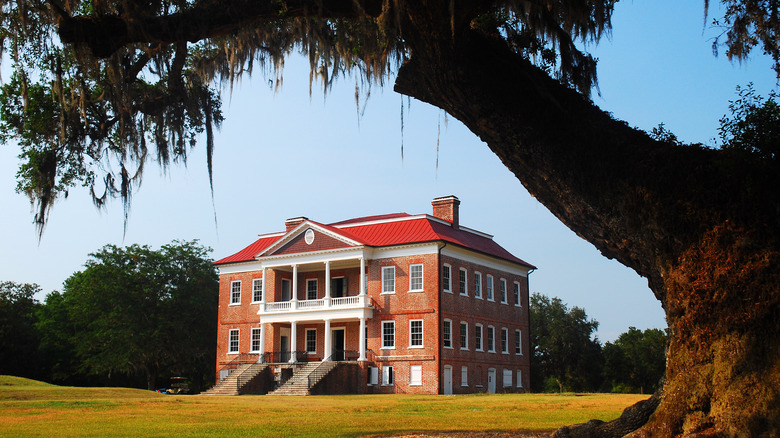 James Kirkikis/Shutterstock
Visitors come to Magnolia Plantation, in the city's northwest, as much to learn about its past as to wander the stunning landscaped grounds. There is certainly plenty to admire and learn about here, with old slave residences showing the conditions that workers had to endure, and tales of how the children of freed slaves found paid work on the property, helping out on the grounds or showing visitors around the site. The gardens are of course magnificent, populated with live oaks, and enlivened by camellias, hydrangeas, roses, and many more resplendent blooms. But very close by, Drayton Hall has a deep historical background, believed to be the oldest building of Georgian-Palladian architectural vernacular still standing in the United States. 
It's also very much a live site, with ongoing archaeological exploration here constantly uncovering new items and pieces of information about this grand mansion, a house that served as the nexus of the Drayton family's plantation business. During a visit to the pile, which sits on a large plot of manicured grass near the Ashley River, visitors will learn about the stories behind the family and the building, perhaps pick up nuggets like the number of bricks needed to complete the house (at least 360,000), and enjoy stunning interior details like patterned ceilings and stately split staircases.
Skip the Charleston Museum, welcome the International African American Museum
With 250 years of history celebrated this year, the Charleston Museum is a stalwart of the city and claims itself to be the first museum in the United States. The exhibits promise to delight visitors, with a gallery brimming with large fossils, a space that explores artifacts from the Native Americans that were the first settlers in the area, and an armory filled with old pistols. 
In 2023, specifically in the month of June, a new institution opens in Charleston — the International African American Museum. Housed in an angular, modernist building, the museum's collections look at the struggles, challenges, and defiance of Africans who were brought to this country as slaves, and their descendants, that played a role in creating the country that is today's United States of America. Visitors will be able to trace the roots of the African diaspora here, the role it played in bringing economic success to the plantations of the South, and the defiant African-American giants from South Carolina that wouldn't put up with the status quo.
Skip 167 Raw Oyster Bar, eat at Leon's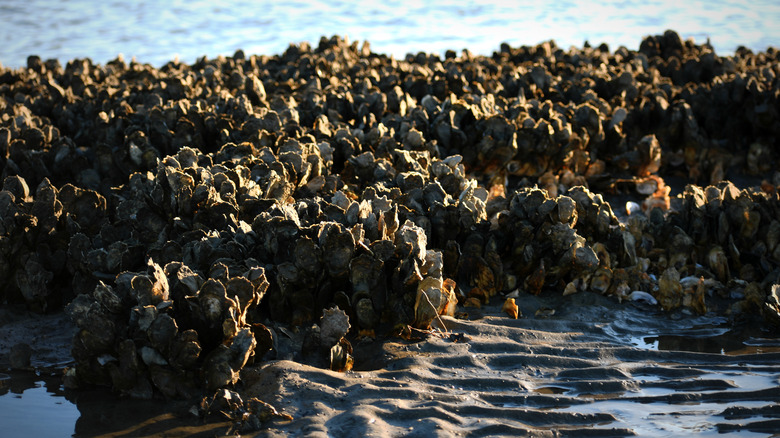 Kim McGrew/Shutterstock
A haunt on one of the well-trampled sections of King Street, 167 Raw Oyster Bar is a solid place to get a fill of fresh seafood, celebrating the riches of the Atlantic all the way from Canada down to the rivers and ocean around Charleston. A bit north of it, though still on King Street but in a section past the Septima Clark Parkway, Leon's Fine Poultry & Oyster Shop feels a little more removed from the city's commercialism. It's tucked between homes and stores and appears more like a local joint rather than a business that ushers in a handsome stock of tourists on a daily basis. 
Where 167 is a little sleek and bright, Leon's has a more rustic sensibility, with exposed timber beams topping its big open space, and a fireplace with a brick hearth giving the place a cozy feel. The menu still features plenty of marine treasures, with oysters, shrimp, and fish making frequent appearances, as well as a selection of salads, and creamy milkshakes to wash it all down.
Skip Boone Hall Plantations & Gardens, visit McLeod Plantation Historic Site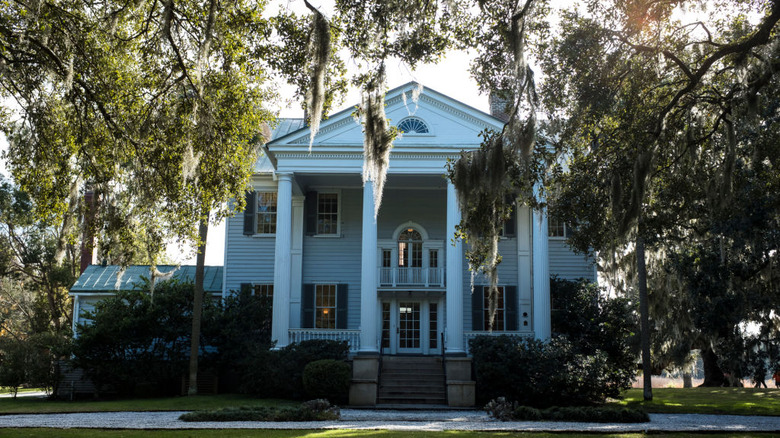 Christopher Pillitz/Getty Images
Boone Hall, located across the river from Charleston in Mount Pleasant, is a gorgeous destination filled with deep history, first established in the 1680s by the English army officer for whom it is named. Entering the grounds flanked by the live oak trees, their limbs covered in moss, you'll see quite a breathtaking sight. There are presentations on Gullah history, and a tour of the house, built shortly before World War II, will keep visitors enthralled. But McLeod Plantation, a little west of Charleston, is also filled with a rich Gullah background and feels a little less touristy. 
Though McLeod's history isn't as deep as Boone's — the former only came into existence in the 1850s — the 37-acre plot promises a rich dive into Gullah lore. Visitors are able to see the grand home of the McLeod family, the basic structures for slaves and their families, the evolution in the lives of the slaves and their descendants as laws and sensibilities in the country changed, and even an oak tree said to be more than 500 years old.
Skip the Cathedral of St. John the Baptist, marvel at the Unitarian Church
A stunning shrine with grand buttresses, beautiful stained glass, and striking interiors with stately arched columns and a gorgeous vaulted ceiling that is sure to take your breath away, the cathedral is a sight to gaze at in wonder. But the Unitarian Church, a little more than a block away from the cathedral, and which prides itself on its inclusivity, has plenty of fine detailing itself. 
The intricacy of the ceiling, which has flashes of pretty baby blue that make it resemble the sky, makes the interiors almost feel as though they are tucked beneath a forest canopy. Huge stained-glass windows flank the sides of the hall, bringing colored light into the space, an apt metaphor for a church that, while rooted in Christianity, fuses multiple faiths and teachings into its philosophy. Tours are offered by volunteers during large chunks of the year, and visitors can also see a memorial to slaves in the churchyard, dedicated in 2013 and incorporating local Gullah traditions.
Skip the carriage tour, join a walking tour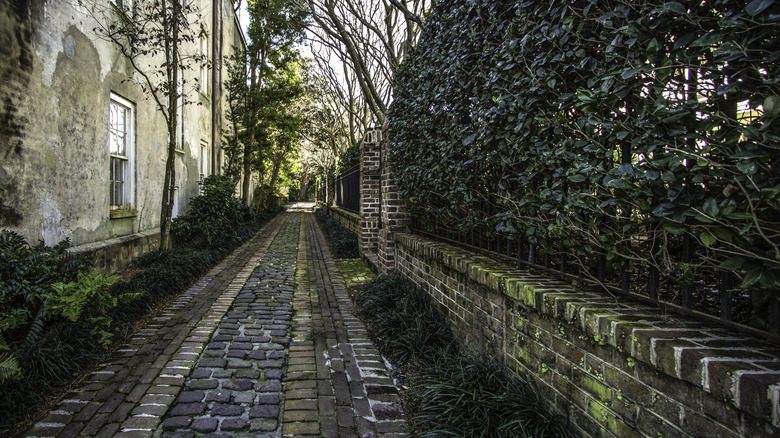 Ehrlif/Getty Images
Unless you are a royal en route to a coronation, or a bride about to get hitched at Disney World, riding in a carriage feels a little hokey, making you feel like a duped tourist on display for others to gawk at. The carriages that ply the roads of Charleston, some of them open-sided, so riders feel even more like a zoo exhibit being wheeled around the city, take a passing glance of some of the city's central highlights, shuffling past homes, gardens, and parks. 
A much better way to explore Charleston, to get under the skin of the destination in a more meaningful manner, is via an expert-led wander. Lowcountry Walking Tours, for instance, supplies a two-hour meander through some of the quaint little alleys that many tourists might simply bypass without a second thought. Stroll down these lanes where cobbled stone and brick paths take you back to another era, and learn about the history of this mesmerizing city.
Skip Patriots Point Naval & Maritime Museum, dive into the Hunley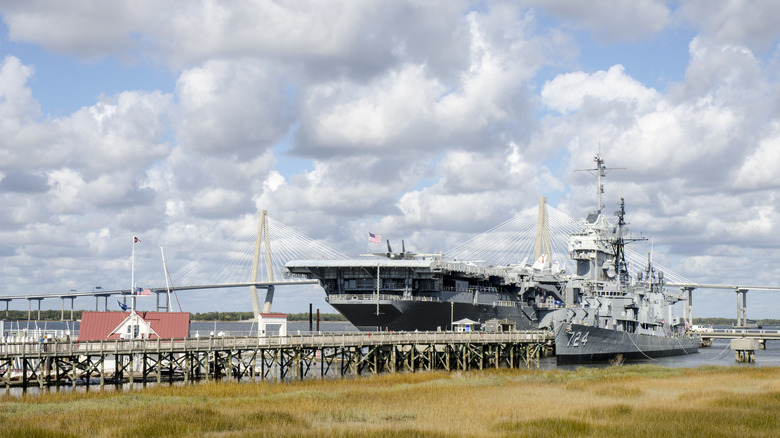 Bauhaus1000/Getty Images
This naval museum at Patriots Point — what a name! — is certainly impressive. There is so much to see, a destination of awe and grandeur, with an aircraft carrier, some cool aircrafts, a holographic representation of aspects of the Vietnam War, and even a section that celebrates American troops that have received the Medal of Honor. But with some pieces to this puzzle, a trip here can be a little overwhelming. A more intimate look at the city's connection to maritime warfare is the appeal of Hunley, a submarine that dates to the 1800s. After downing a ship as part of a combat sortie, the vessel disappeared, and many believed it would never to be found. 
In August 2000, a team working with the U.S. Navy were able to locate and bring the submarine up to the surface. Today, this piece of marine history is now open for select tours on weekends, housed in a research facility where technicians are working to piece together its journey from the 1800s using items found onboard. A trip here is a fascinating voyage into the era of the American Civil War, reflective of the unexpected treasures visitors to Charleston can look forward to.