The Best Budget-Friendly Beach On South Carolina's Coast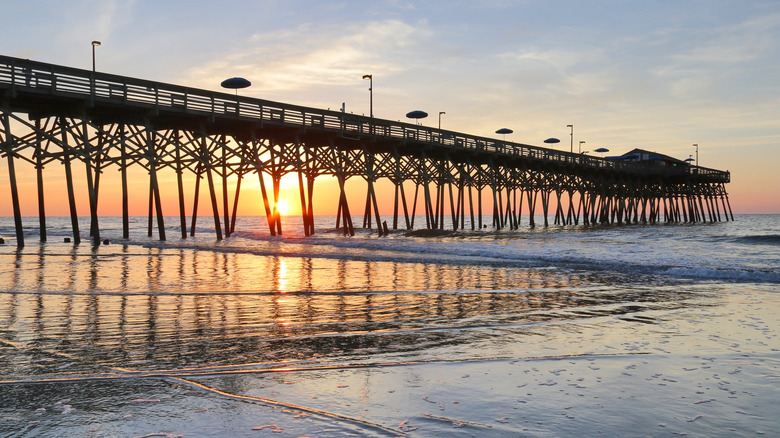 MarynaG/Shutterstock
There's something special about beach vacations. Water sparkling in the sunlight, warm sand and its soft texture, and a gentle breeze all make for an extremely relaxing experience. The rising costs of beach vacations, however, can be the complete opposite. Figuring out hotel, car, activities, and food costs can be a headache.
For those looking to save money and still visit the ocean, South Carolina might just be your answer. Myrtle Beach, located on South Carolina's Grand Strand coast, is one of the top budget-friendly beaches in the country. It offers everything you'd want for a beach vacation: beaches that extend for miles, elegant hotels, plenty of food options, water activities, and more. While the prices are lower, the quality is not. "Amazing place for a family vacation!" said a reviewer on TripAdvisor. "Plenty of family activities and shopping. Nice, clean beaches, and warm ocean water. Couldn't have asked for a better trip with my kids!"
What to do in Myrtle Beach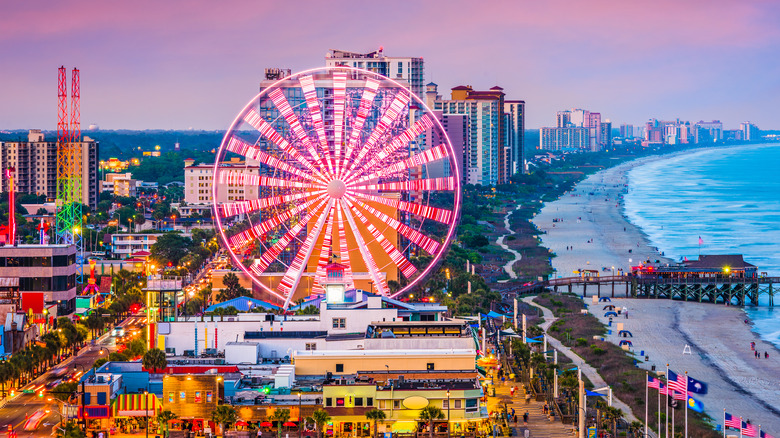 Sean Pavone/Shutterstock
Lodging is usually one of the largest expenses on vacation, so booking in Myrtle Beach already sets you up for a wallet-friendly vacation. Hotels in Myrtle Beach can run as low as $50 per night and as high as $250 or more. The average cost is around $83 per night. Meanwhile, the national average hotel cost per night is $148.
Activities in Myrtle Beach are plentiful and affordable. Whether you're an adrenaline junkie with a love for water sports, a family looking for ways to keep the kids entertained, or a foodie eager to add another restaurant review to your list, there's something for you.
Things to do in Myrtle Beach range from nightlife, dinner shows, and theater, to kid-friendly activities, shopping, and festivals. Some of its main attractions and activities, other than the beach, include budget-friendly golf, a ride on the SkyWheel ferris wheel and a stroll along Broadway at the Beach, Ripley's Aquarium, a Pelicans baseball game, and the many live shows.
Perks of off-season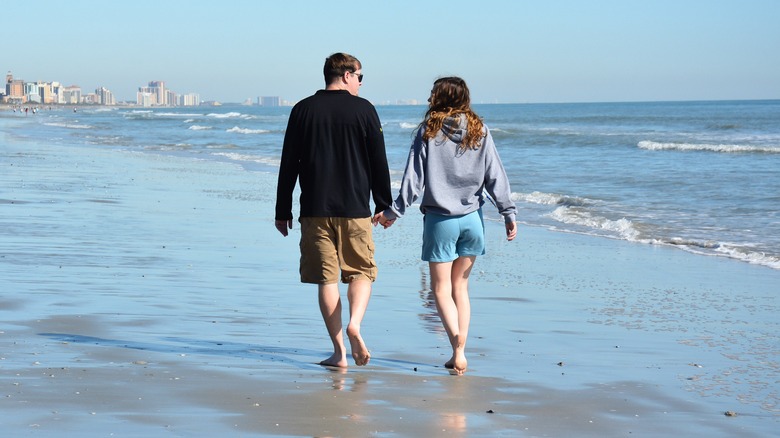 StacieStauffSmith Photos/Shutterstock
As we've established, Myrtle Beach is one of the most affordable beaches in the world. You can maximize your savings by booking early and finding deals on vacation packages. The busy season is in the summer, specifically June through August. If you're okay with cooler temperatures, visiting during the off-season has its perks.
The bustling beaches quiet down starting in September, but that doesn't mean the activities do. The Little River ShrimpFest, St. John's Greek Festival, The Pawleys Island Food & Wine Gala, and the Atalaya Arts and Crafts Festival, all take place in the fall. There are also plenty of great hiking and biking trails that may be more enjoyable to try during this time of year as opposed to the days under the hot summer sun. Even simply walking on the beach during the off season is a nice option.
Regardless of when you choose to visit, Myrtle Beach is sure to be an adventure. "Myrtle [B]each is an excellent fit for anyone who wants the small beach town lifestyle and experience," a review on Niche said. "The mix of luxury and good old fashioned, down to earth fun is exhilarating. It's family[-]friendly without being boring and the weather is wonderful."