Escape City Life At This Beautiful California State Park
Virrage Images/Shutterstock
Malibu, California gets its reputation for its stunning beaches and its high concentration of celebrity homes. However, one of the city's most precious gems is inland and away from the upscale glamour at Malibu Creek State Park. Roughly a half-hour to one-hour drive, depending on traffic from downtown LA, this mountainous nature reserve offers Angelinos the perfect escape from their bustling urban lives. Nestled in the Santa Monica Mountains, this nature retreat boasts more than 8,000 acres of undeveloped wilderness and is home to Malibu Creek, the largest waterway in the mountain range.
In the centuries prior to Spanish invasion, the area was home to the Chumash indigenous tribe. Later, portions of the park would be used by 20th Century Fox Studios to shoot famous films like "Planet of the Apes" and the wildly popular TV show, "M*A*S*H." In 1976, the countryside was opened to the public.
Today, visitors of Malibu Creek State Park get to explore California's unique native landscape. Meander through the park's oak and sycamore woods, natural swimming holes, and exposed volcanic rock. The park's diverse land formations provide guests with the chance for phenomenal horseback riding, hiking, swimming, camping, climbing, and more.
Explore the trails of Malibu Creek State Park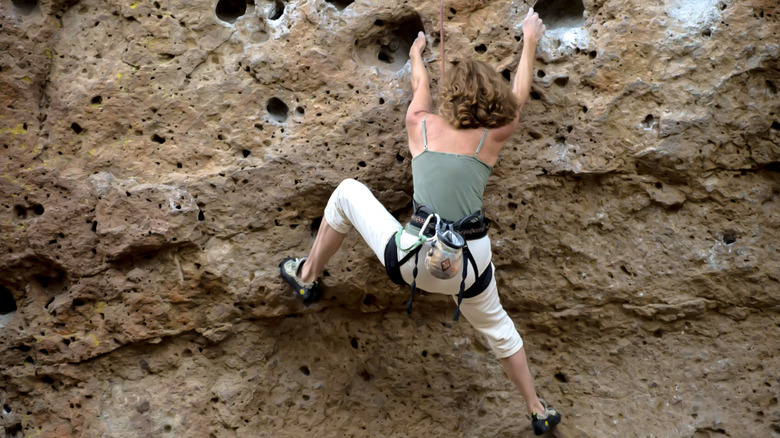 JohannaZender/ Shutterstock
For the abundance of hiking fanatics living in Los Angeles, Malibu Creek State Park is a haven brimming with opportunities for guests to trek through the wilderness. In total, you'll find more than 30 miles of trails throughout the vicinity. One of the most popular hiking trails in the park is the Malibu Lake Trail. Situated near Calabasas Hills, this moderately challenging hike is a 6.4-mile journey out and back. The trail follows Malibu Creek and will take you through the mountain's stunning views.
However, don't be fooled by the name — this trail does not provide access to Malibu Lake as this is located on private property. If you're looking for a hike that includes water access for you to cool off, you'll likely prefer the Rock Pool and Century Lake Trails. This 4.5-mile loop trail leads hikers to the Rock Pool Swimming Hole where they can take a dip.
Many of Malibu Creek State Park's trails are also open for horseback riding. For a top-rated, professionally guided horseback riding tour of the park, we recommend you check out Malibu Riders. To no surprise, the most popular tour they offer takes riders on a two-hour journey through Malibu Creek State Park. Another fantastic way to see the area is via rock climbing. Throughout the park, you'll find 100 bolted sports climbs planted on the park's natural volcanic rock.
Planning your trip to Malibu Creek State Park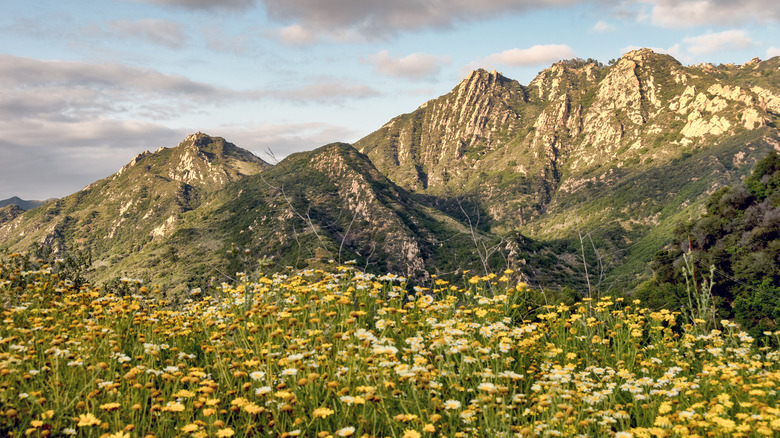 Lux Blue/Shutterstock
Whether you're a visitor tired of hitting Los Angeles' busiest tourist attractions or are a local in need of a little peace and quiet, Malibu Creek State Park is a wonderful escape. The park is open all year long for visitors. And, given that it's found in Southern California, the weather is relatively good throughout fall, winter, spring, and summer. However, we recommend you take advantage of the spring's cool temperatures, thriving flora, and peaking water levels.
To access Malibu Creek State Park, take the US-101 freeway and exit at Las Virgenes Road. After about 3 miles, you'll come across the entrance on your right. Note that parking will cost $12 for the day. If you plan to camp at the state park, there are 62 campsites available, all of which include picnic tables and a fire pit. In addition, all campers have access to communal bathroom facilities and heated showers. While there appears to be an abundance of spots, we advise you to make a reservation in advance to guarantee a campsite. A reservation is especially recommended if you plan to bring an RV as there are only four eligible campsites.