Incredible Swimming Holes Around The World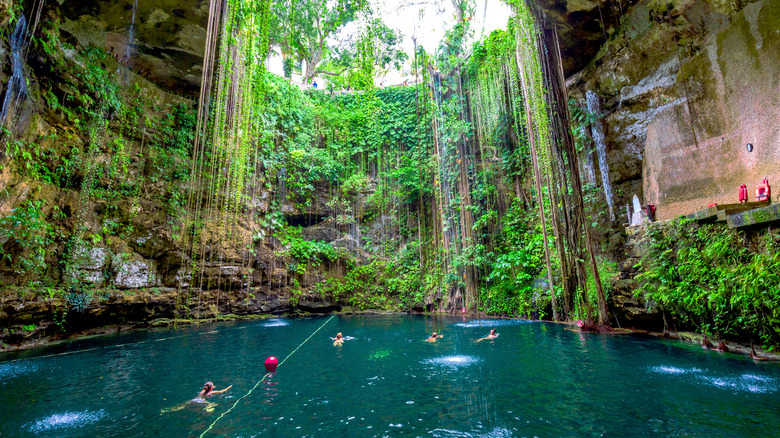 SCStock/Shutterstock
Swimming locations can be found in the most unexpected places, some of which include on top of waterfalls, on the edge of cliffs, or in flooded caves. Most people escape the summer heat by jumping into a man-made pool. But this can in no way compare to plunging into a refreshingly cool natural pool, surrounded by clear turquoise waters and fairytale-like picturesque scenery. Defined as a natural body of fresh water that usually situated near a river or stream, the incredible swimming holes on the following list are smaller, but still substantial bodies of water that are scattered all over the world.
Hierve el Agua, Mexico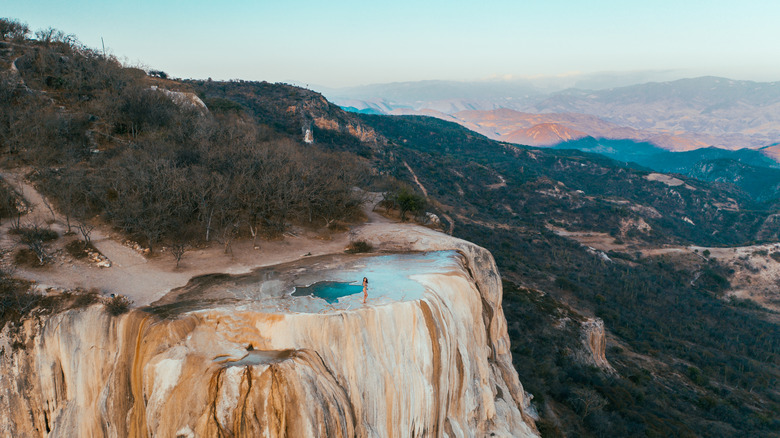 Koshkina Tatiana/Shutterstock
Swimming on top of a waterfall doesn't get much better than at Hierve el Agua in the Central Valleys of Oaxaca. Mineral springs created the stone waterfalls in a very similar way icicles are formed in caves. That's why many say this unique place looks frozen to the side. The smaller rock formation, Cascada Chica, has swimming pools above the waterfall. People can swim in turquoise water with a high content of healing minerals. 
Dudu Blue Lagoon, Dominican Republic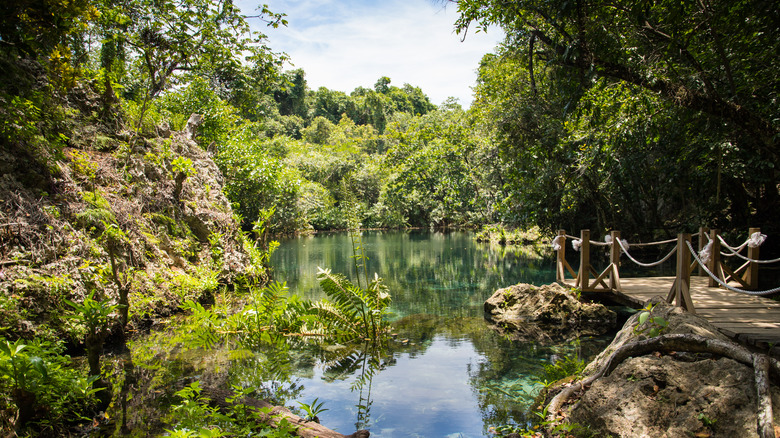 Michel Bernardi/Shutterstock
Locally known as Laguna Dudu, this tourist attraction is very popular in the country. Don't miss a chance to swim in crystal clear and cold fresh water. DuDu is a cenote, or sinkhole, and there is some doubt over its actual depth. Some say 107 feet, while others suggest the bottom has yet to be determined, according to GoCabrera. The Blue Lagoon is also recognized as the only place where you can go cave diving from one natural lake to another natural lake.
Havasu Falls, Havasupai Reservation, Arizona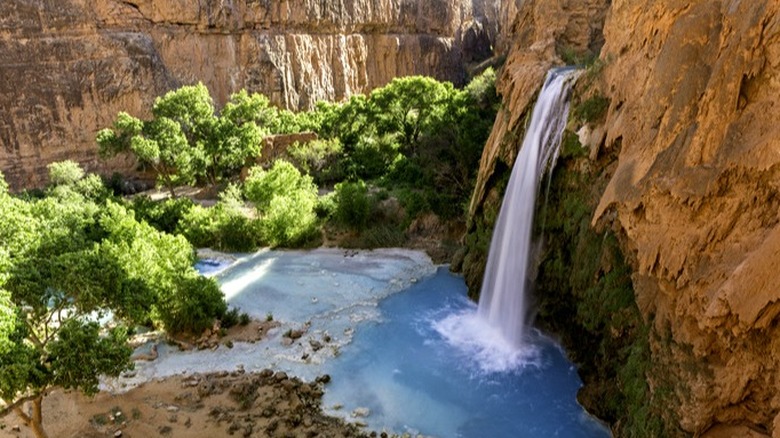 Shutterstock
Havasupai means people of the blue-green waters, according to the NPS. They are the traditional guardians of the Grand Canyon. The spectacular waterfalls and isolated community within the Havasupai Indian Reservation attract thousands of visitors each year. The Falls are a famous destination for hikers. The best time to visit Havasu Falls is March through June. July to early September is the monsoon season and flashfloods are likely.
A Firveda, Spain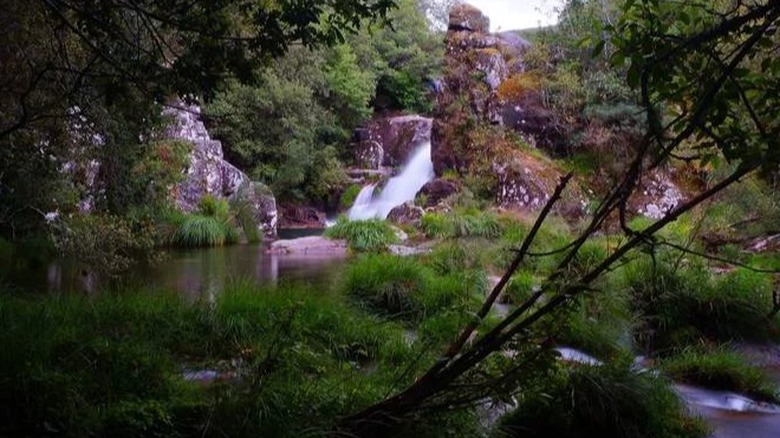 Photo Modified: Flickr / Gabriel Gonzalez 
This amazing swimming hole is in the foothills of the Serra do Cando mountains. The Galicia region is known as the "country of thousand rivers" because of its many rolling hills crossed by pristine rivers. To get to the mighty waterfall, you'll have to walk down a steep and rocky path. There are two natural pools in which you can bathe and swim under the fierce waterfalls.
The Narrows, Utah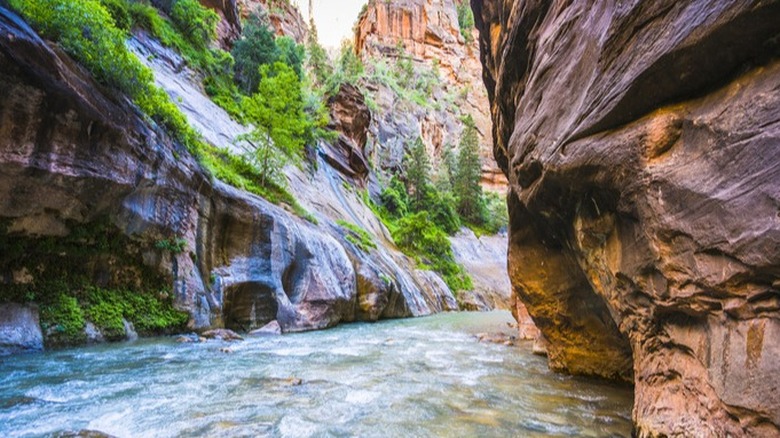 Shutterstock
You won't reap the benefits of a lazy lounge in one of The Narrows' swimming holes without first overcoming a somewhat challenging hike. The hole is described as the spot where the Virgin River comes off a narrow canyon and can be reached through several different routes. According to Swimming Holes, the first mile of the Riverside Trail is paved and you will pass several small swimming holes along the way, but once you enter the Virgin River Canyon and head north, you'll have to trek through some shallow waters. After about 1.5 miles of walking in the river, you will come to where The Narrows really begin. That's where Orderville Canyon comes in. Hike up this canyon about half a mile and you will come to small falls with several swimmable pools.
Jellyfish Lake, Palau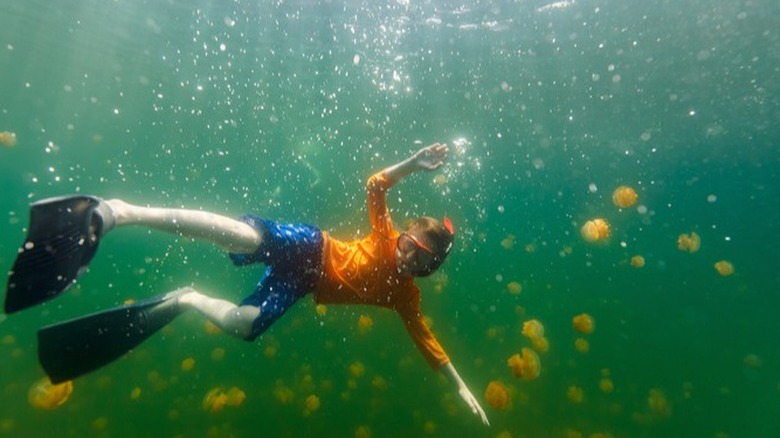 Shutterstock
The 13 million golden jellyfish that pack Palau's Jellyfish Lake have also lost their sting, according to National Geographic. Swimmers, snorkelers and divers can experience them up close with no fear. You'll see two unique jelly species – the golden jelly, Mastigias papua etpisoni, and the less common moon jelly, Aurelia. The lake is a 100 foot deep basin filled with seawater indirectly connected by cracks and crevices to the lagoon, according to Coral Reef Research Foundation.
To Sua Ocean Trench, Samoa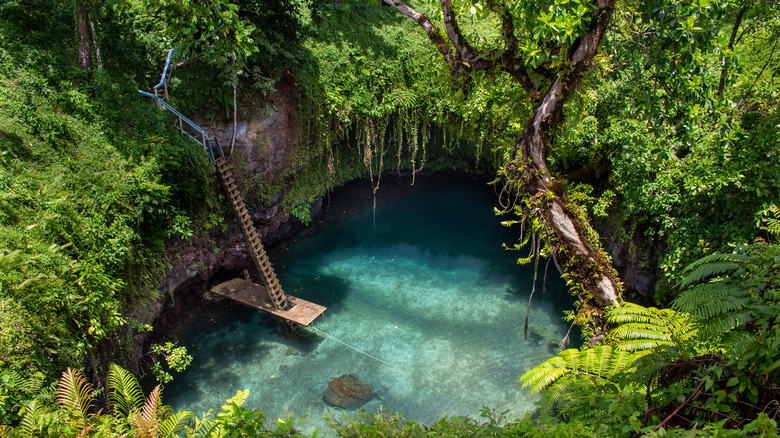 mayqo/Shutterstock
The iconic swimming hole is a stunning tourist attraction site featuring unique land formation consisting of two giant holes joined via an ancient lava tube cave, according to Samoa Travel. One is dry but the other has water that is about 100 feet deep. It's accessible by a ladder. Visitors will also enjoy lavish gardens and gorgeous clifftop views, while exploring arches and rock pools.
Peekamoose Blue Hole, New York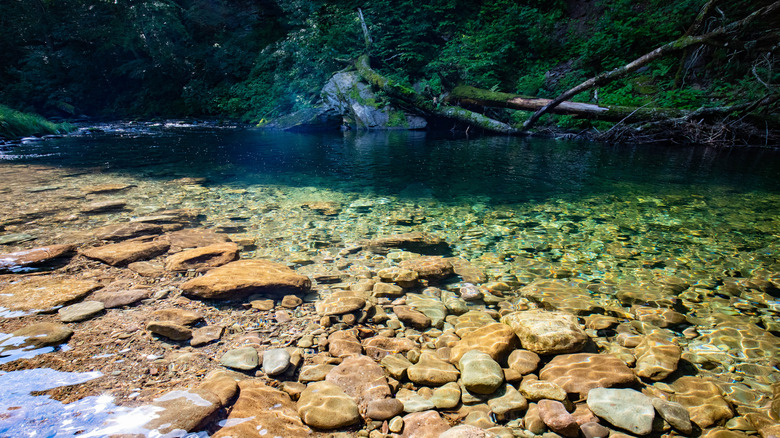 Photo Spirit/Shutterstock
Some say this hole was named because the chilly temperatures of its waters will turn you blue. But the better explanation for its name is related to the purity of the water, which is so clear that it reflects the sky and appears truly blue when viewed from the rocks above on a clear day. The pool is said to be very deep and although it may be quite cold, a quick dip could offer an easy way to cool off while hiking the area on a hot summer day.
Poco Azul, Brazil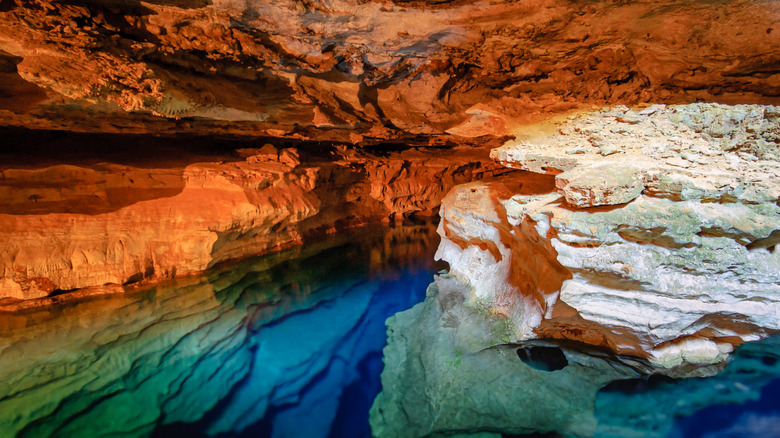 Cacio Murilo/Shutterstock
The water in this incredible swimming hole in a cave in Chapada Diamantina National Park is see-through in the sun. Swimming there looks from above as if you're floating on air. It's no wonder that its name means "blue well." The flooded cave is about 60 feet deep.
God's Bath, California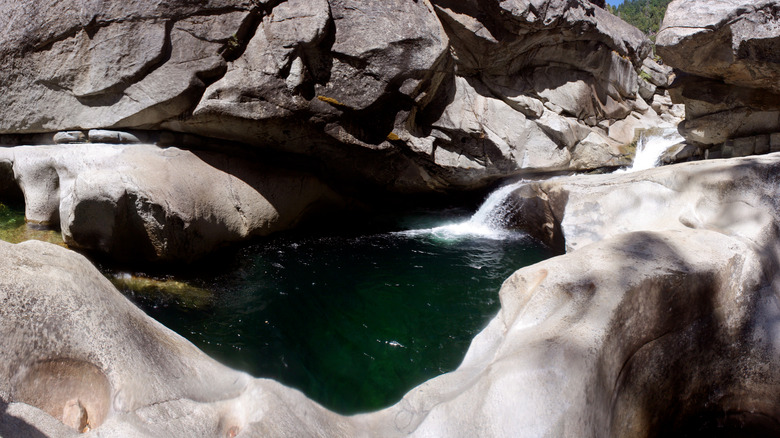 Alisha Bube/Shutterstock
Take a trip to God's Bath and you'll find waterfalls that are great for jumping into deep pools, majestic scenery surrounding you, green foliage all around you, pristine water, and smooth sloping rocks. Clamber over boulders for 150 yards to beautiful smooth rock pools fed by small falls, according to Swimming Holes. This is a popular spot but there is no camping site.
Fairy Pools, Scotland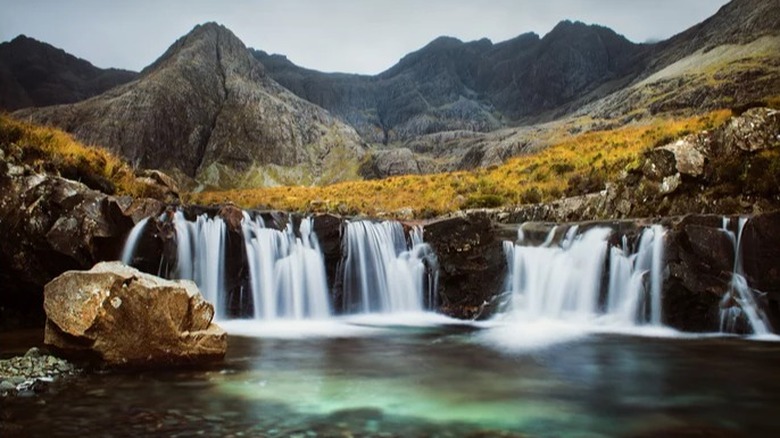 Shutterstock
The Fairy Pools are stunningly crystal clear blue pools on the River Brittle. These famous pools make for great "wild swimming" if you are brave enough — the water is very cold. This first Waterfall, which is the highest fall and deepest pool, marks the start of the magical pools, according to Isle of Skye. Take some time to work your way up the river. A wetsuit is a good option.
Sliding Rock, North Carolina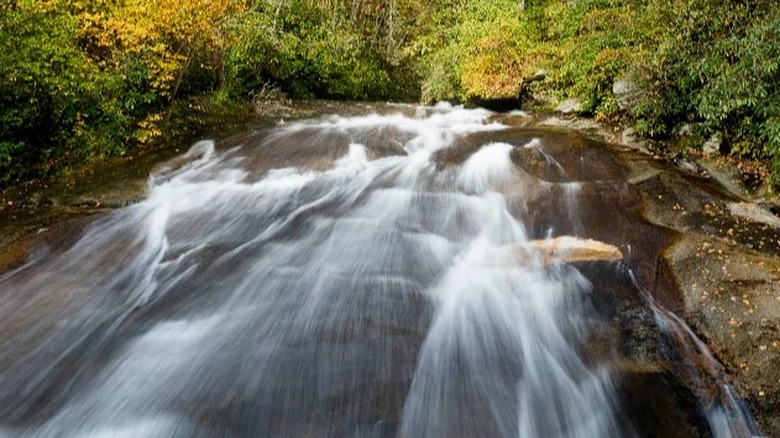 Shutterstock
People of all ages love this spot. Slipping and sliding down the natural monument waterfall — 60-foot flat, sloping boulder — is a lot of fun, despite the fact that the water is just about 50-60 degrees. This natural waterslide, located eight miles from Brevard near Asheville, is fueled by 11,000 gallons of water flowing down the rock each minute, creating an exhilarating, one-of-a-kind thrill, according to Romantic Asheville.
Ik Kil Cenote, Mexico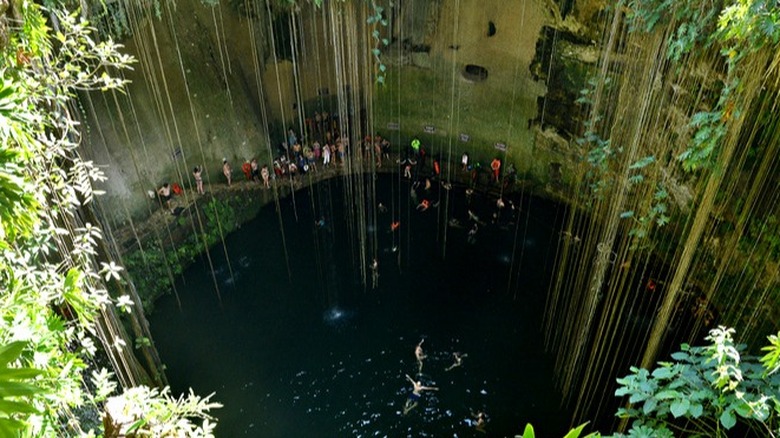 Shutterstock
Ik Kil Cenote, one of the most stunningly beautiful cenotes in the entire country, is located at a close distance to the Mayan ruins of Chichen Itza. The water is 130 feet deep while its diameter is 196 feet. The Mayans considered these waters especially sacred.
Blanchard Springs Cavern, Arkansas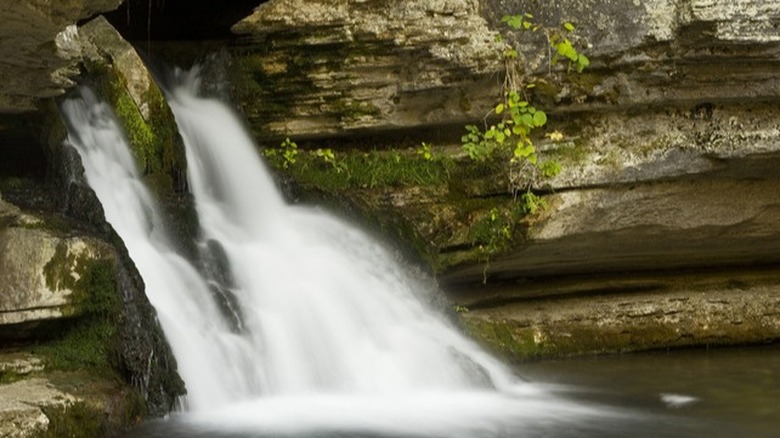 Shutterstock
Although there are bodies of water inside the Blanchard Spring Caverns, the best spots for swimming in this area are considered to be inside the park's campgrounds. A few marked signs inside the park will lead you to the main swimming hole, which is also the most popular in the park, but if you make the extra trek into the campground, Swimming Hole says, you'll find an even better spot for swimming just to the right near the beginning of the loop for sites 16 to 31.
Hinatuan Enchanted River, Philippines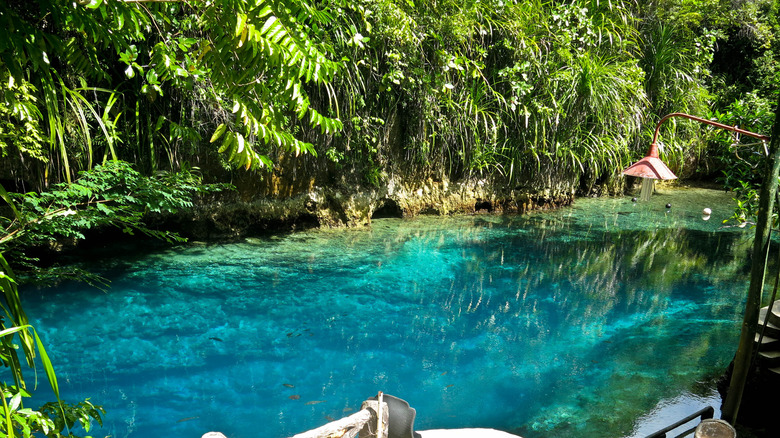 RicKy SantiAgo/Shutterstock
The Hinatuan Enchanted River, the southernmost island of the country is a place where it is said mermaids swim and fairies dance. It is so enthralling that people who never believed in magic may think it exists after witnessing the beauty of the Hinatuan River. Down in the depths of one of the river's lagoons passages and chasms that branch off out of sight can be seen. These underwater tunnels lead down into a subterranean cave system that was only first tentatively explored in 1999, according to Mysterious Universe.
Grotta della Poesia, Italy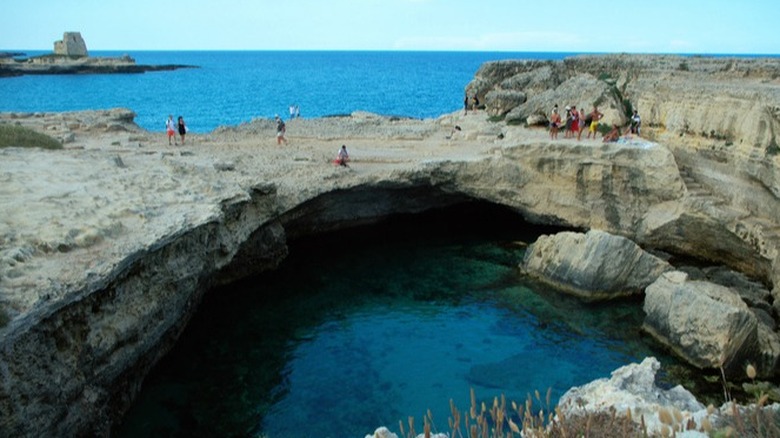 Shutterstock
Grotta della Poesia, set on the scenic Adriatic Sea, means "Poetry Cave." A unique karstic system joins the two cavities of the Poesia Piccola and the Poesia Grande in a partially underwater complex consisting of three elliptical halls and numerous tunnels, according to Visual Italy. The caves follow a circular pattern and have two entries: one by sea at the base of the cliff and one by land in where the vault of the main hall collapsed.