The Best US Destination To Visit For Amazing Horseback Riding Adventures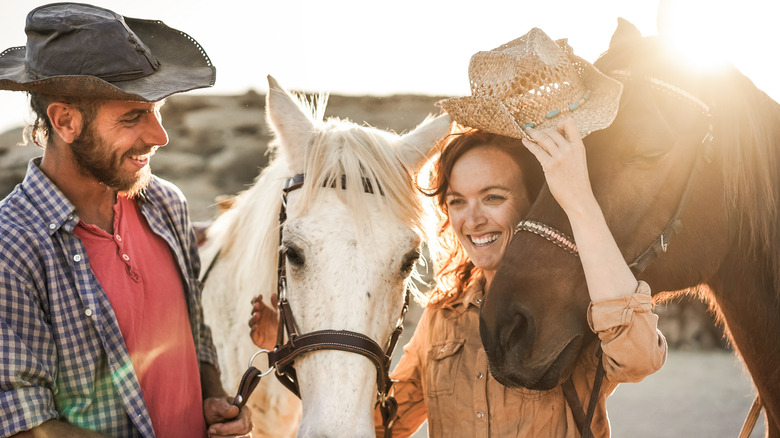 DisobeyArt/Shutterstock
If you've been dreaming of living out your cowboy fantasy and spending sunkissed afternoons riding horseback through the Wild West, Arizona is your perfect destination. Known for its epic natural wonders and diverse landscapes like slot canyons, thriving deserts, epic mountains, raging rivers, and unique cultural destinations, the state of Arizona fully encapsulates the spirit of the American Southwest.
Arizona has three national parks: Petrified Forest, Saguaro, and, most famously, the Grand Canyon. In addition to these, there are also 24 national park sites, 18 national monuments, 6 national forests, and 34 state parks. If you're looking to horseback ride through a picturesque western landscape with rugged rock formations and towering cacti, look no further.
When booking the perfect horseback riding adventure, there's no shortage of options. Beginner riding lessons, glamorous multi-day retreats at luxurious dude ranches, and thrilling descents on some of the steepest Grand Canyon trails are just a few of the horseback riding opportunities available when you plan your trip to Arizona.
Beginner horseback riding options throughout Arizona
Anne Alseth/Shutterstock
If you're brand new to horseback riding or have only tried it a few times, consider taking a lesson at one of the many ranches around Arizona. In gorgeous settings, you'll work with some of the best cowboys and cowgirls in the business. Many of the ranches cater to overnight guests, but there are still plenty of places where you can take a beginner lesson or join in on a leisurely guided ride.
If you're interested in exploring the Sonoran Desert on horseback, check out the Tanque Verde Ranch in Tucson, Arizona. Classes in fundamental horsemanship start at $85 for one hour. Private lessons can be reserved for $115 per hour. Once you've mastered the basics, you can enjoy relaxing excursions like sunset rides through the desert or feel the wind in your hair on a fast-paced "lope" ride.
For unforgettable rides just outside Grand Canyon National Park, head to Apache Stables, where you can enjoy a leisurely ride through the breathtaking pine trees that fill Kaibab National Forest. It's the perfect addition to your trip to the Grand Canyon. One-hour rides cost $58.50 per person, and two-hour rides cost $110.50 per person and are appropriate for beginners.
For the ultimate adventure, consider a multi-day experience.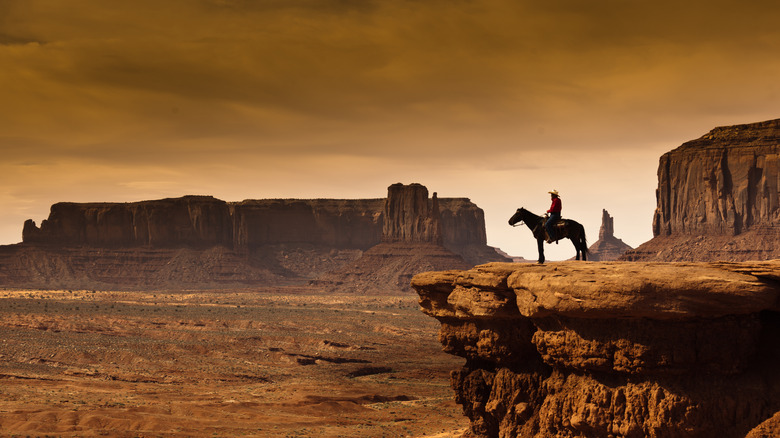 Yinyang/Getty Images
If you're an experienced rider or aspiring to be one, you'll never regret booking the ultimate horseback riding vacation in Arizona. The many ranches scattered across the state offer epic multi-day vacation packages. Often, they serve as all-inclusive resorts with unlimited daily horseback riding excursions during your stay. White Stallion Ranch is a popular option near Tuscon, Arizona, which offers multiple possibilities for riding, including half-day and full rides. Experienced riders can enjoy the rush of fast rides around the 3,000-acre ranch.
For a rugged and wild multi-day ride that will take you off the beaten path, check out Equitours, a tour company that offers unique horseback riding excursions around Arizona. Trips range from 5 to 7 nights and involve long rides only appropriate for competent riders. If you're up for the adventure, it's the perfect way to enjoy the outdoors and experience what life must have been like for those who inhabited the region long ago.
You'll eat delicious home-cooked meals and camp under the stars with your guides and fellow riders. Current offerings include a descent below the North Rim of the Grand Canyon, a journey through the Navajo Reservation, and a ride along the border of Utah and Arizona that reaches three National Parks.