This Indonesian Island Is A Great Destination For Your Adventure Travel Bucket List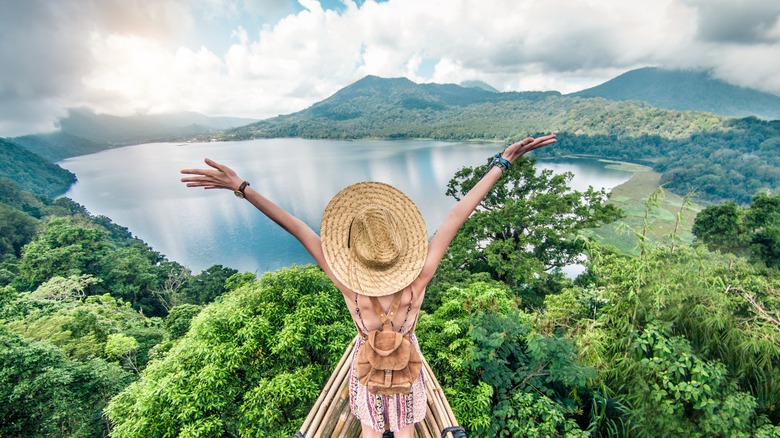 DavideAngelini/Shutterstock
When one thinks of Bali, temples, beaches, and luxurious resorts often come to mind. Beyond its Instagrammable wonders, Bali is an excellent destination for outdoor adventures. Known as the Island of the Gods, Bali's landscapes of volcanic mountains, stunning coastlines, and lush jungles offer endless heart-pumping activities and soul-searching escapades. With so many options to choose from, here are the top Bali activities for your adventure bucket list. 
The active volcano of Mount Batur towers over 5,500 feet above sea level and is one of the most iconic hiking spots in Bali. A trek to its summit for the sunrise view is an unforgettable experience. The two-hour hike typically starts in the wee hours of the morning, allowing adventurers to reach the peak just in time to witness the first light of day spreading across the island. The descent reveals the volcano's rugged features and the beautiful Lake Batur. This trip also takes you to the nearby hot spring in Kintamani, a perfect way to unwind after the trek.  
For a chance to immerse yourself in Bali's wilder side, the West Bali National Park is far removed from the bustle of the island's more visited areas. A protected area of diverse ecosystems, from rainforest to savanna, it's home to many unique species, including the endangered Bali starling. Explore dense mangrove forests, snorkel in some of the best coral reefs, and enjoy the park's many trails. You can arrange your activities with the park rangers at the entrance station of Sumber Klampok. 
Surfing, paragliding, and cycling in Bali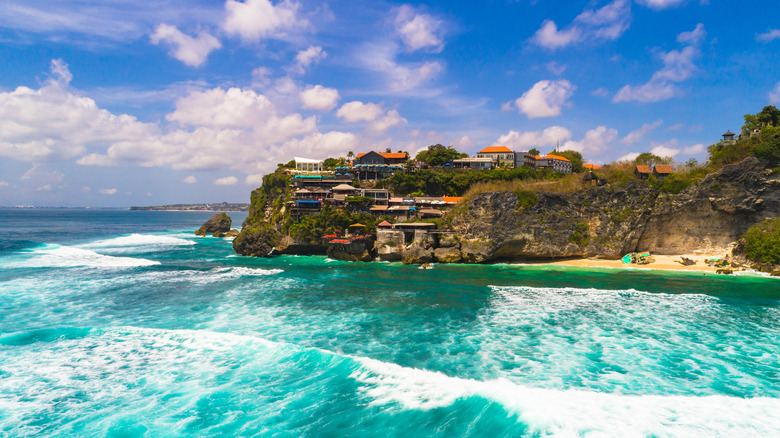 Mariusltu/Getty Images
Uluwatu, a region in the southwestern tip of the Bukit Peninsula, offers some of the best surfing in the world. With limestone cliffs providing a dramatic backdrop, Uluwatu's wavy beaches call on surfers of all levels. Check out Suluban, Balangan, and Padang Padang beaches for consistent swells, good vibes, and warungs (local food stalls) serving delicious and laid-back meals. The area is also known for its stunning temple, Pura Luhur Uluwatu, which provides spiritual serenity and an excellent viewpoint to take in the sea from above.
For a bird's-eye view of the island's stunning coastline, paragliding is the activity of choice — if you dare. The Bukit Peninsula, with its cliff tops and thermal winds, is ideal for this thrilling sport. Floating over the Indian Ocean, with views of coral reefs, white beaches, and sacred temples, might just become your most unforgettable Bali experience. Tandem paragliding is offered by the top-rated provider Bali Paragliding near Nyang Nyang Beach.
Bali's interior is just as inviting as its coastline. The cultural heart, Ubud, is surrounded by gentle hills and picturesque rice paddies, like the Tegalalang Rice Fields, that make for perfect cycling terrain. Half-day or full-day bike tours through these landscapes provide an intimate look at Balinese life and an exhilarating adventure (also a good workout!). The routes often include stops at rural villages, where one can witness age-old traditions and farming techniques that shape the island's local culture.
Water sports, diving, and Bali travel tips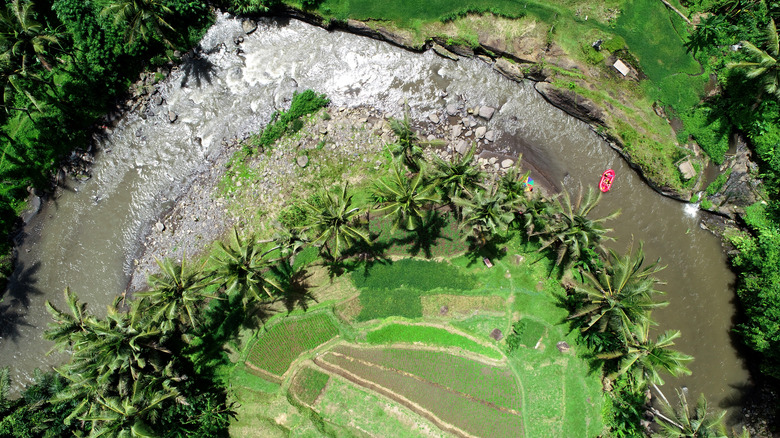 Liem Men Sang/Shutterstock
For thrills on the water, whitewater rafting on the Ayung River offers an exhilarating ride through Bali's lush interiors. Rafters navigate through Class II and III rapids, passing rainforests, waterfalls, and carved cliffs — a total of two and a half hours on an 8.5-mile stretch. It's a refreshing way to experience Bali's natural beauty, suitable for beginners and seasoned rafters alike. The Ubud Rafting Adventure provider also offers hotel return transfers and a visit to the Luwak Coffee Plantation for $35, which includes the rafting tour. 
For divers and snorkelers, Bali's waters are paradise. The reefs are bustling with biodiversity, offering encounters with everything from little Nemo clownfish to majestic manta rays. Places like Tulamben, Amed, and Menjangan Island are famous for their underwater beauty, with Tulamben being home to the USAT Liberty Shipwreck — a historical site that's now adorned with artificial coral reefs, home to over 400 fish species. 
The best time to visit Bali is during the dry season (April to October) for good weather and outdoor activities, though it's busier and pricier; while the wet season (November to March) offers a quieter, cost-effective experience with overcast weather. To get around the island, transportation options include rented scooters for flexibility and local immersion, taxis or ride-hailing services like Gojek and Grab, and private car hires for longer trips or day tours. Truly, Bali is a place where the adventurous spirit can roam free — climbing mountains, riding waves, or exploring the depths of the jungle.