The Beautifully Green Tegalalang Rice Fields Are A Must-See In Bali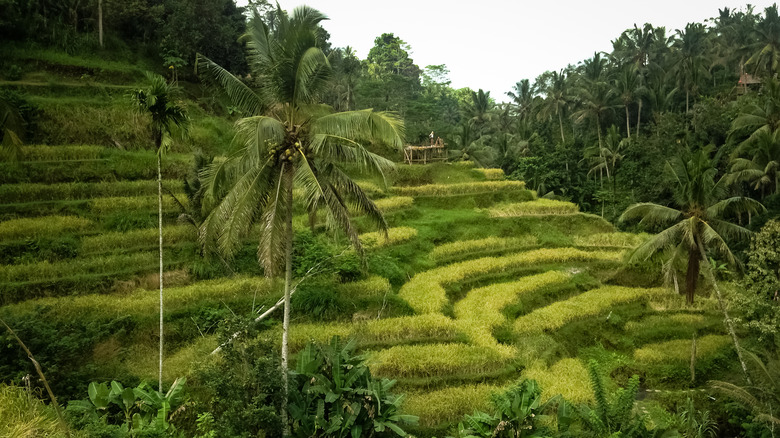 Alisia Luther/Shutterstock
There are a few things that come to mind when planning a trip to Bali, but the most prevalent is its breathtaking natural beauty and ability to immerse travelers in nature. With such a picture-perfect landscape, it comes as no surprise that Bali welcomes millions of visitors each year. According to SCMP, Bali had 6.9 million visitors in 2019, which is a number we can imagine will increase over time.
Located in Indonesia, Bali has ranked highly amongst many visitors for several reasons. The region is surrounded by jungles piled with greenery as far as the eye can see. There are also stunning beaches, an impressive mountainous region, and scenic lakes. Flower gardens and a variety of waterfalls — each with its very own distinct beauty — further contribute to Bali's reputation as pure paradise. Individuals flock to Bali for spiritual reasons as well.
Before basking in the glory that is Bali, consider the time of year you'll travel to ensure you're able to experience all that your heart desires. According to U.S. News and World Report, there are two seasons in Bali: the dry season, which is from April to October, and the wet season, which occurs from November to March. Depending on the season of travel, certain aspects may be limited or simply overcrowded due to peak season. Whether you're working on your inner self or simply going on vacation, there are a few places that have quickly landed on the must-visit list for the lush region.
The Tegalalang Rice Terrace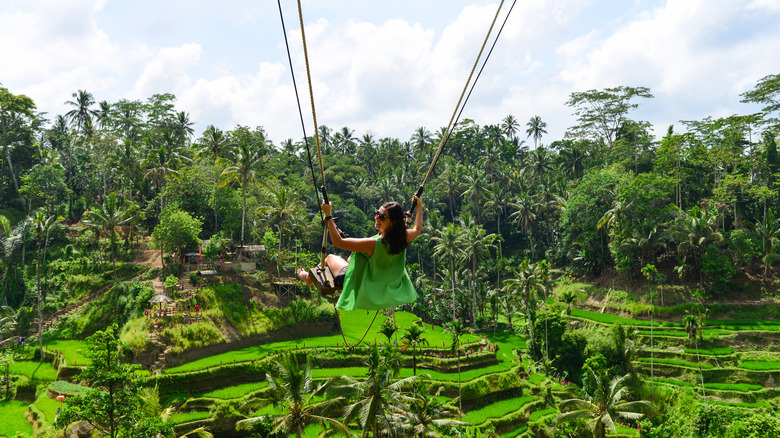 Visionsi/Shutterstock
Ubud is a bustling city that is home to some of the most stunning scenery, giving visitors a taste of Bali like no other. Although Ubud is generally a busier city, there are places within the hustle and bustle that offer a bit of solitude. Tegalalang Rice Terrace (aka Tegallalang or Tegalalang Rice Fields) does just that. A true icon of Bali, the Tegalalang Rice Terrace is a UNESCO World Heritage site (per Condé Nast Traveler) that gives visitors a glimpse into Balinese culture. The Tegalalang Rice Terrace follows a traditional irrigation technique called subak, a complex system that has been utilized for centuries.
Although the site is absolutely stunning and worth a visit, aim to arrive before 9 a.m to avoid crowds. While there, take in the beauty of the cascading rolling hills and jungle backdrop as you stroll the area freely. You'll see many layers of rice paddies that have been kept alive for generations. As a bonus, there are lots of Instagram-worthy photo opportunities, such as the swing. Incorporating the Tegalalang Rice Terrace within your trip to Bali is a great way to immerse yourself in Balinese culture and history.
Have the full Bali experience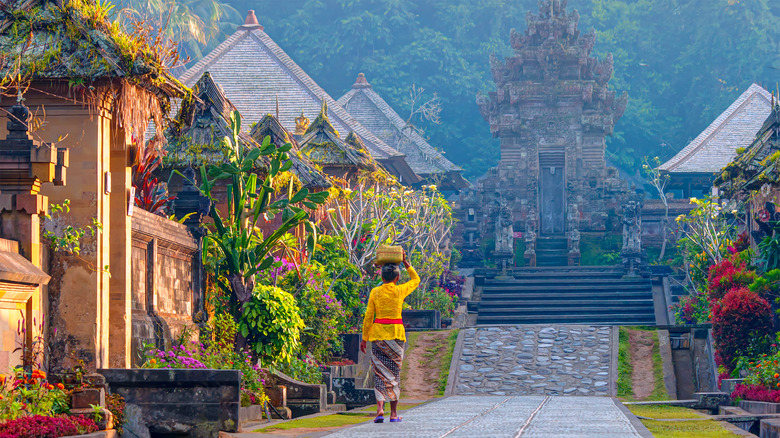 muratart/Shutterstock
Planning your trip to Bali isn't always a walk in the park, as there are many things to take into consideration to plan the perfect getaway. Consider the type of trip you're aiming for. If it's a jungle retreat or a beachside getaway, Bali has you covered. Bali has one main airport that services the island, Ngurah Rai International Airport (DPS), located right outside Denpasar, which is your gateway to the exotic region that has a multitude of sights to see and is also home to over 20,000 temples, according to Adventurous Miriam.
However, with such great beauty, it can be challenging to navigate which sites to experience. With the several options before you, many other areas outside of Ubud will give you a completely different experience. Sanur, for example, is a seaside town located in the southeast region that offers crisp waters and a memorable sunset (via The World Travel Guy). If embarking on a culinary journey, consider trying Naughty Nuri's in another beachside town, Seminyak. Here visitors can visit the beloved restaurant that received the seal of approval from the late Anthony Bourdain.
Simply put, you can't go wrong with visiting any of the lush areas of Bali. Exploring a variety of regions will prove to be beneficial to the mind, body, and soul.