Visit This Underrated West Coast Mountain Town For Fun Winter Adventures
California is not exactly known for its cold temperature and snow days. In fact, the state is home to the second sunniest city in the country: Redding. Located in Northern California's Shasta Cascade Region, Redding is less than four hours away from San Francisco. The city evokes a small-town feel. Its top attractions include the scenic Sundial Bridge (seen above), which overlooks the Sacramento River, and the renowned Turtle Bay Exploration Park.
However, Redding is also the ideal home base for a fun-filled winter vacation. Although it only occasionally snows in Redding during the wintertime, authentic winter and outdoor activities can be found nearby. Visitors can drive from Redding to Lassen Volcanic National Park in less than an hour. This park is a perfect getaway for people who don't ski.
Lassen has two areas designated for snowplay throughout the winter: the Southwest Area, home to the Kohm Yah-mah-nee Visitor Center, and the Manzanita Lake area. Here, guests can sled and go snowshoeing via different routes. Rentals are unavailable at Lassen, so buy or rent sleds or snowshoes beforehand.
Take note that the Manzanita Lake area will be closed for winter and spring in 2024. In addition, an entrance fee is needed to enter the park. Prices range from $10 to $30. Another place to go sledding at Lassen is Eskimo Hill, which is open from December through March. However, if you're looking for a place to go skiing near Redding, you have options.
Mount Shasta is a winter wonderland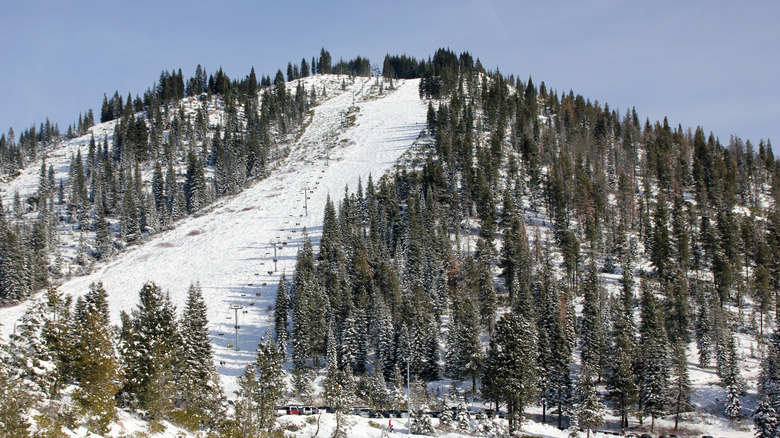 Gurcharan Singh/Shutterstock
Redding is only an hour and a half away from Mount Shasta. This mountain, located next to a city that bears its name, is a volcano with the fifth-highest peak in California. Visitors can relish Mount Shasta's snowy conditions at Mt. Shasta Ski Park (pictured) or the Mt. Shasta Nordic Center. The former offers equipment rental and lessons.
Likewise, there are onsite dining options.  Prices for lift tickets vary but range from $24 to $99 at the time of this publication. Alternatively, visitors can purchase a five-day pass with prices ranging from $169 to $399 at the time of this publication. Free parking is also available for guests.
The nearby Mt. Shasta Nordic Center, on the other hand, is more affordable. Besides Nordic skiing, guests can go snowshoeing. Similarly, ski rentals and lessons are available. The cost of a ski lesson combined with a day pass and rental will set back visitors anywhere from $60 to $90. Likewise, a snowshoe rental and pass will cost $10 to $35. The opening days and hours for Mt. Shasta Ski Park and the Mt. Shasta Nordic Center vary each season.
It would not be winter without ice skating. From late November to late February, the city of Mount Shasta opens its massive outdoor Siskiyou Ice Rink. Admission prices range from $8 to $10 with rentals costing $2. Public skate hours vary.
Where to stay and dine in Redding, California
After a long day of playing in the snow, you're going to want to take some time to rest and get a good night's sleep. The Americana Modern Hotel is one of many top-rated accommodations on Trip Advisor in Redding. Located in the downtown area, the Americana Modern Hotel (pictured) offers sleek-styled rooms, some pet-friendly, with a neutral color palette. If you're traveling with multiple people, they have large rooms with two queen-sized beds and one king-sized bed. Rates are less than $200 a night.
Alternatively, you could stay at an Airbnb if you want something more affordable. At the time of this publication, prices for a guest suite in Redding start at $44 a night, while a two-bedroom house is $103 a night. These prices exclude taxes and other fees.
For dining, you will find several restaurants serving up cozy American food. Jack's Grill has been around since 1938 and specializes in steak dishes served with salad, garlic bread, and baked potato or fries. Jack's is open Monday-Saturday from 4 to 10 p.m.
For breakfast or brunch, head to Deja Vu. This top-ranked restaurant on Trip Advisor has everything from omelets to burgers. It's open daily from 7 a.m. to 2 p.m. Want lunch or coffee with a view? Head to Branch House Riverfront Bistro on the Sacramento River. They sell sandwiches, salads, and burgers and are open from 8 a.m. to 6 p.m. Monday and Tuesday and until 8 p.m., Wednesday through Sunday.