Trips That You Should Plan At Least A Year In Advance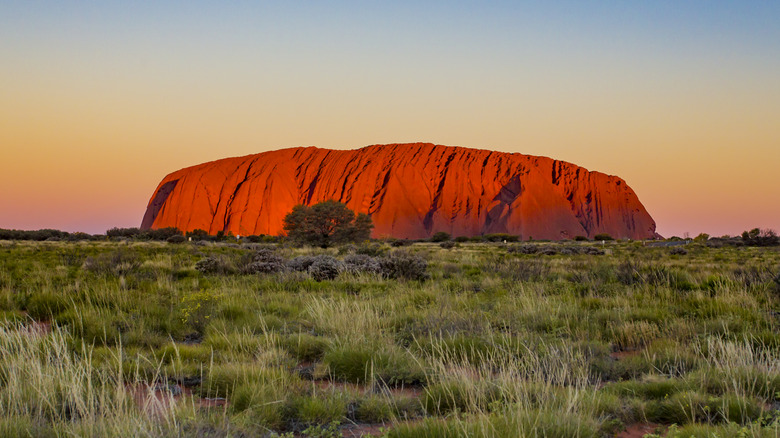 Davidf/Getty Images
Planning a trip is one of those adrenalin-rush experiences that leaves you feeling free and fabulous, even if the trip happens to be months or even a year away. According to researchers from the University of Surrey, just the expectation of a holiday is enough to boost a person's mood and overall well-being. That's a good thing considering there are a slew of places across the globe that require forethought before you even step foot in the airport.
Whether the location is so small that it lacks enough rooms to accommodate a last-minute high-season adventure or so remote, you'll need to figure out things like vaccinations and travel visas months before you land, there are plenty of reasons to plan a trip at least a year in advance. Worried about plans changing during the year? That's what travel insurance is for, and it's definitely worth purchasing when booking so far ahead. With so many international vacations taking a long time to plan, we used a combination of firsthand experience, travelers' reviews, and intensive research to determine 13 trips that you should plan at least a year in advance. What are you waiting for? Get booking!
Photographing wildlife on an African safari in Kenya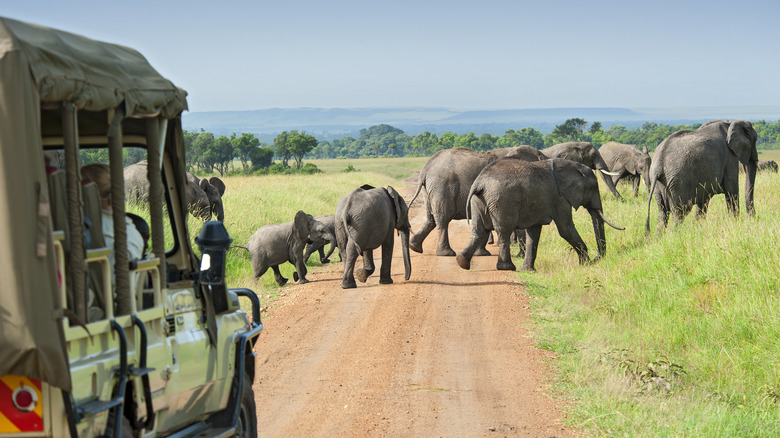 Guenterguni/Getty Images
The best time to embark on an African safari in Kenya is green season (November through May). This is when calves are born and enough predators are hanging around to give your camera a workout. Less popular than the dry season (June through October), you'll find fewer tourists, which means you'll have better luck planning things like guided safaris and accommodations. That said, if you hope to visit during the cooler months and witness the famous Great Migration river crossings, you should book your trip at least a year in advance.
Known as the greatest wildlife traveling roadshow on earth, the Great Migration involves over two million of Africa's most beloved animals moving from Tanzania's southern Serengeti to Kenya's Masai Mara. It's a pretty spectacular event to witness, so if this experience tops your bucket list, arrange your trip well in advance. The easiest and safest way to see the Great Migration is via a guided safari. Once you've chosen the right safari for you, jump on it — they book up quickly. 
Accommodation is the next hurdle. Whether you're looking to spend the night in a luxurious lodge or camp by the river, there are plenty of great options for places to stay in Masai Mara; you just have to be early enough to ensure there's room. Finally, you'll need time to procure a travel visa and get a vaccine for yellow fever.
Seeing the cherry blossoms in Japan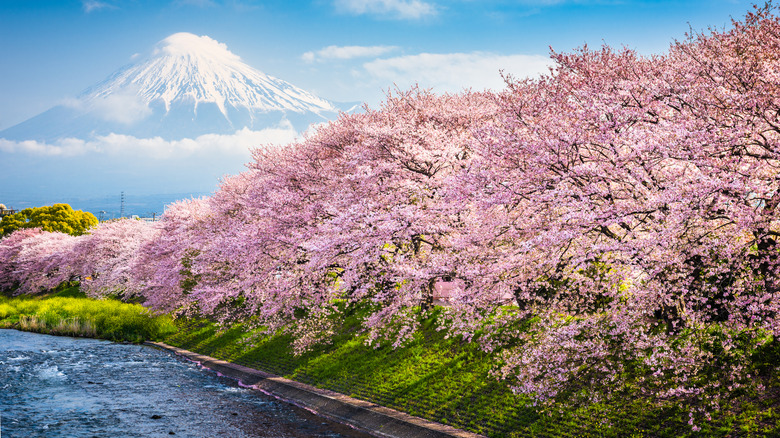 Sean Pavone/Shutterstock
If you're hoping to see beautiful cherry blossoms burst into life around Japan's scenic locales, prepare yourself for a long wait and a hefty price tag –- airfare and hotels tend to jack up their prices during this busy spring event. Known as sakura, the beloved floral beauties spring forth between late March and early April, marking the country's high season. In 2023, the blooms popped around March 14 in Tokyo and March 19 in Osaka, just to give you an idea. Depending on the weather, blossoms will be around for just two weeks, so you'll want to hedge your bets when booking a year before your journey. To help, check out the Japan Meteorological Corporation; they post an official forecast. 
Aim your search toward Yoshino in Kansai. One of Japan's most famous destinations for cherry blossom sightseeing, it is a stunning place to visit, but it gets pretty busy in April. Fall is Japan's other peak travel season, popular due to its cool temperatures and picturesque foliage (a.k.a. koyo). Popular places to go leaf-peeping include Goshikinuma in Fukushima, Showa Kinen Park in Tokyo, and Nara Park in Nara. Again, hotels tend to book up early in these destinations, so it's best to plan your trip with lots of time to spare so you aren't disappointed.
Cruising around the Galápagos Islands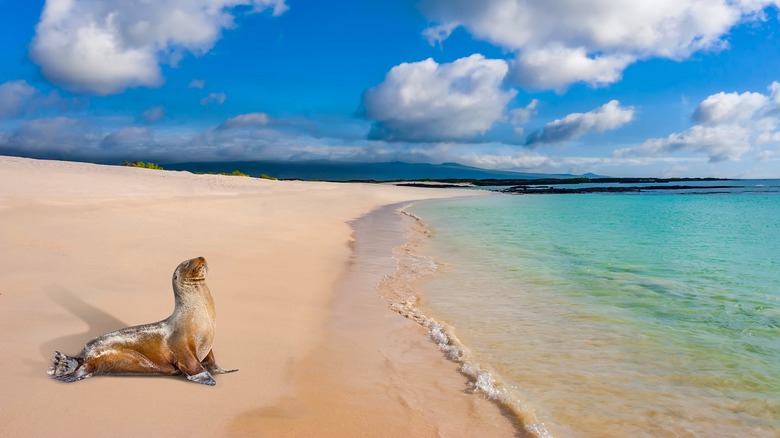 FOTOGRIN/Shutterstock
Hoping to come face-to-beak with a Blue-footed booby or nose-to-shell with a Galápagos giant tortoise? Start planning your cruise around the Galápagos Islands now. A volcanic archipelago set nearly 600 miles off the coast of Ecuador, this protected national park and UNESCO World Heritage Site is a bucket-list destination for nature lovers. Home to species so incredible they inspired Charles Darwin's most famous research (the Theory of Evolution), the park strictly limits the number of visitors in an effort to safeguard its fragile ecosystem. That means you should book at least a year in advance to secure your spot on the boat, say travelers. Plus, there's a bit more preplanning in your future — tasks like choosing the right cruise, speaking with a doctor about vaccines, and making sure your passport is up to date.
While no vaccines are required for travel to Ecuador (your first flight destination before moving on to the islands) or the Galápagos Islands, you may want to consider protection against Yellow Fever, Hepatitis A, and Typhoid if you're planning to explore outside major cities. Another thing to keep in mind when booking a year ahead is health insurance. Every visitor to Ecuador must have insurance procured in their home country before their arrival. Visitors from Canada and the U.S. won't need a visa unless they're planning to stay for 90 days or longer. 
Following the Inca Trail to Machu Picchu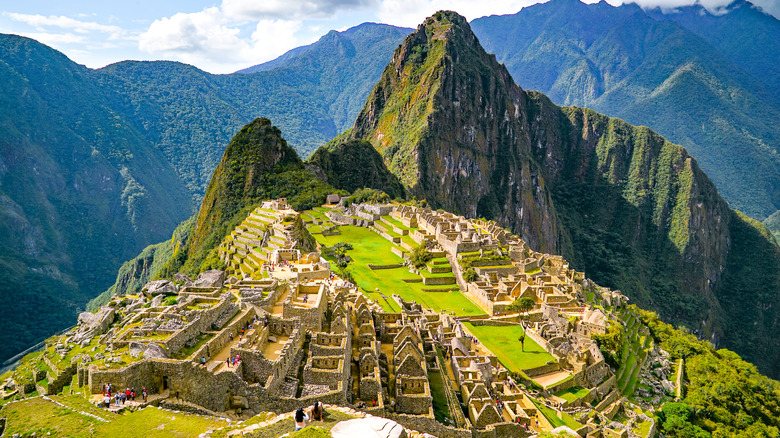 Seumas Christie-Johnston/Shutterstock
Machu Picchu is one of the most recognizable bucket list destinations in the world and Peru's most popular landmark attraction. A well-preserved Inca citadel surrounded by lush mountain peaks, this famed archeological site is a must-visit locale, but it's not easily reached. First, you'll have to fly into Peru, then hop on a train from Cusco to Aguas Calientes, followed by a shuttle bus and a hike — hence the need for pre-planning. While you won't have to futz around with getting a visa before your trip (a free visa is issued at the airport in Peru), you could run into issues when trying to attain a tour guide and entry tickets if you leave planning to the last minute.
In an effort to safeguard this UNESCO World Heritage site, visitors to Machu Picchu are limited to 4,500 per day, but that includes 2,950 to the citadel itself as well as visitors to Huchuy Picchu Mountain and Machu Picchu Mountain. Those looking to hike the nearby Huayna Picchu Mountain are restricted to 200 daily. Walking the Inca Trail to reach the citadel is a highlight for avid hikers, but they're limited to 500 daily. 
Trekking with mountain gorillas in Rwanda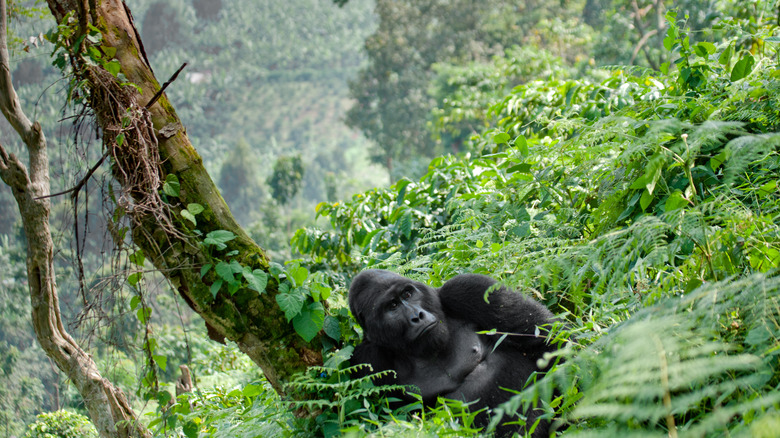 GUDKOV ANDREY/Shutterstock
With only 1,000 mountain gorillas living in the wild, Rwanda has become a hot spot for ecotourists in search of a safe and inspired visit with these beautiful beasts. Volcanoes National Park is where you'll find 12 gorilla families to see, but you'll have to plan well in advance to get up close and personal with these gentle giants. Only 96 permits are awarded each day, so booking months ahead can ensure you don't miss out. Many travelers recommend booking between 10 and 12 months out.
As for getting into the country, expect to jump through a few, sometimes time-consuming hoops well before you plan to arrive. A single-entry e-Visa is required for entry to Rwanda. It costs about $50 and grants tourists 30 days to explore this lush paradise. The bonus? Unlike some visas that require a consulate or airport visit, this pass can be easily obtained online. A yellow fever vaccination card may also be required to visit Rwanda, depending on where you're coming from. Typically, though, only those traveling from places with an outbreak or other high risk of the disease will require a vaccination. Those arriving from the U.S. shouldn't need one. Malaria, however, is a risk, so the CDC recommends travelers take medicine to prevent this illness beginning days before they leave. They also recommend a typhoid vaccine.
Attending Carnaval in Rio de Janeiro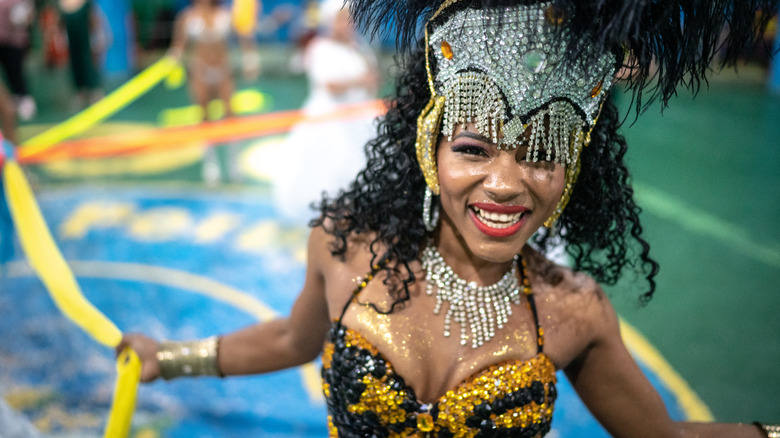 Fg Trade/Getty Images
It's no secret that Brazilians know how to party. The over-the-top costumes, loud music, and samba street dancing associated with their largest celebration, Carnaval, are famous around the globe. Held in Rio de Janeiro every February, Carnaval is the biggest of the world's Carnival celebrations, which means you'll be facing some stiff competition for accommodations at this time. Over 46 million visitors descend upon the country for the five-day festival that runs from the Friday through Tuesday before Lent. So even if you aren't headed to Rio's Sambadrome to witness the main Samba Parades, you'll be elbowing your way through crowds pretty much everywhere you travel.  
Getting good tickets for the parades is another reason to get your act together early. The better the view, the more fun you'll have, so buy your Samba Parade tickets a minimum of four to six months before the event. Otherwise, you could be stuck in the nosebleeds with a bad view, or worse, not get into the stadium at all. FYI: Tickets range from $20 to $2,000. Planning your trip to attend Carnaval a year in advance gives you a better chance of scoring a hotel room in the sought-after beachfront, South Zone (Zona Sul), not to mention a possible deal on flights. Luckily, you won't need to worry about vaccines or travel visas to visit Brazil.
Walking the Great Wall of China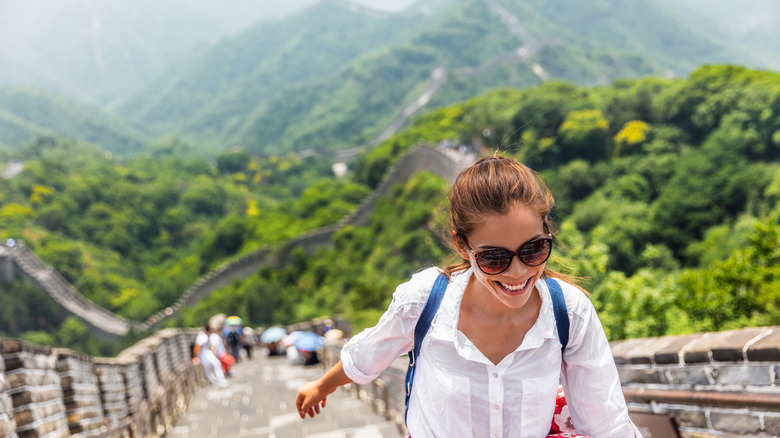 Maridav/Shutterstock
Spring and fall are the best times to visit the Great Wall of China if you'd prefer not to drip onto a giant heap of sweaty tourists in summer or lose feeling in your extremities during a freezing winter hike. With over 13,100 miles of wall to traverse, you'll be forgiven for thinking it's easy to plan a trip to wander along this famed, stone path. Yes, there's a lot of space available to explore, but much of it is spread through rural hills at least two hours outside of Beijing. One of the easiest ways to reach these parts is via an organized tour, but depending on when you plan to visit, these tend to book up quickly. 
As if that wasn't enough to slow down your planning, visiting China itself will require a lot of forethought just to enter the country. Travelers require a tourist visa as well as a passport that's valid for six months past their date of visit and contains two blank pages. Also, you'll need to schedule time to discuss possible vaccines with a doctor or travel clinic well before your trip. 
Road tripping in New Zealand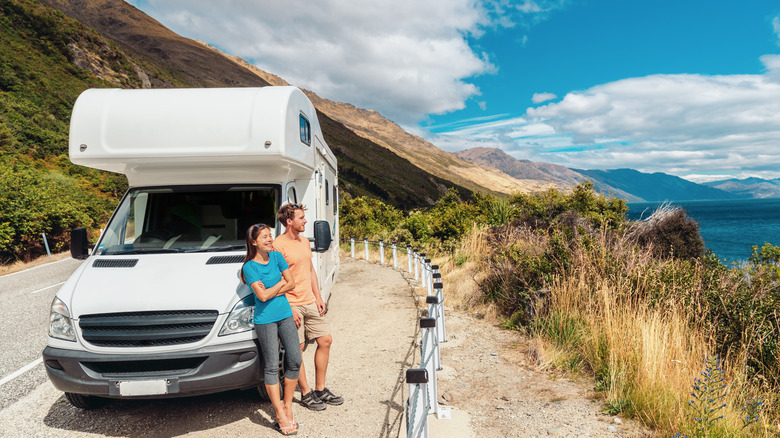 Maridav/Shutterstock
Planning a road trip is never an easy task. Fun, yes. But simple? Definitely not. Think about the logistics for a minute. First, you'll need a flight to New Zealand. Next, a hotel for at least your first night. Then, you'll require transportation to get you to the magical places you've added to your New Zealand road trip. Will you rent a car? Buy an old beater online? Arrange for a driver? With so many moving pieces, you'll need plenty of time to get things lined up. And you haven't even gotten to mapping out the route or booking hotels. Tired yet? No worries! That's why you're planning this trip so far in advance.
Peak holiday season runs from November through March in New Zealand (FYI, that's mostly their summer and fall). Because it's an extremely popular time to visit for both locals and tourists, hotels and holiday parks tend to book up quickly, especially if they lie along the stunning coast. Rental cars are another popular item to get nabbed early during this holiday season, and ferry tickets go quickly, too. Those hoping to embark on a trek along the Milford Track (a.k.a. The Great Walk) need to book at least a year in advance if traveling in summer. While no vaccinations are needed, a New Zealand Electronic Travel Authority or visa is required for your trip.
Seeing Uluru at sunrise in the Australian Outback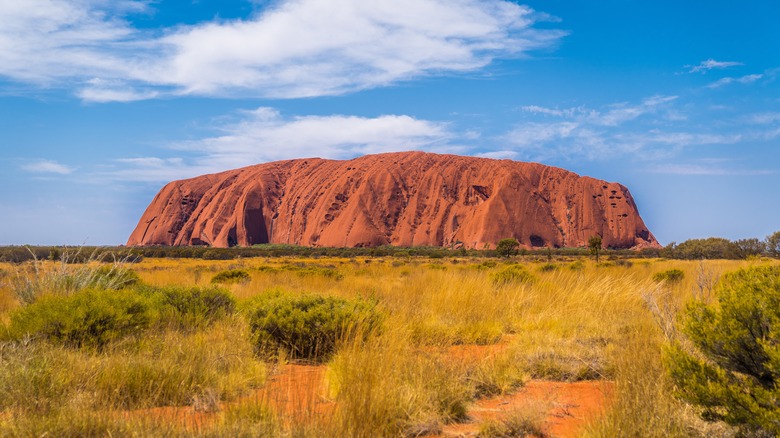 McKnight Lee/Shutterstock
Getting to the Outback from major cities like Sydney and Melbourne can be time-consuming to plan. First, you'll have to decide whether you'd like to participate in an organized tour, hop on a bus, rent a car, or hire a private plane. Depending on when you're visiting, these options can book up well in advance. Those who'd like to embark on a road trip won't be sorry. Having your own car allows you to stop and see other spectacular sights like King's Canyon, Ayers Rock (a.k.a. Uluru), and the quaint town of Alice Springs. Plus, you'll be able to leave the hotel early to drive to experience the magic of Uluru at sunrise, when the red rock is illuminated by the sun's first daily rays. Just remember, Australians drive on the left side of the road.
You'll be competing with other tourists from across the globe for things like accommodations and transportation, especially if you're planning to travel during the dry season (May through September). That means you'll want to book early to ensure you have not only a rental car to use but also a place to stay in some of the more remote locations. Something else to consider when planning your trip: No vaccines are needed to travel to Australia, but you will need a visa or an Electronic Travel Authority (ETA).
Taking a cruise in Antarctica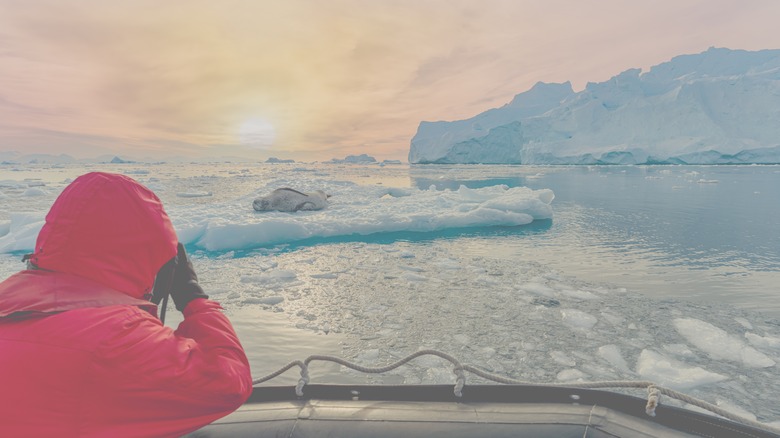 Frank Günther/Getty Images
If you've added Antarctica to your bucket list, you're not alone — over 105,000 tourists visited the continent between 2022 and 2023. Whether you choose to pay over $14,500 to spend a day exploring Antarctica from South Africa (this includes a ride on an Airbus A340 that lands on an ice runway), arrive via boat from Punta Arenas, Chile, or cruise the Drake Passage on an expedition ship from Ushuaia, Argentina, you should start planning now for your once-in-a-lifetime trip to this slowly melting wonderland. 
Many believe cruising is the best way to visit this chilly locale, and these popular boat journeys last between one and three weeks. You'll need to do a bit of preplanning before choosing the right cruise as quite a few are based on the type of adventure you're hoping to experience. Want to see whales? Hoping to visit Emperor penguins? Looking to hike at Basecamp? There's a cruise for each of those adventures, and so many more. Problem is, the cruising season is short –- November through March -– so the competition is going to be fierce. Hence, the 12-month minimum suggested to ensure you have a spot.
Ogling the Northern Lights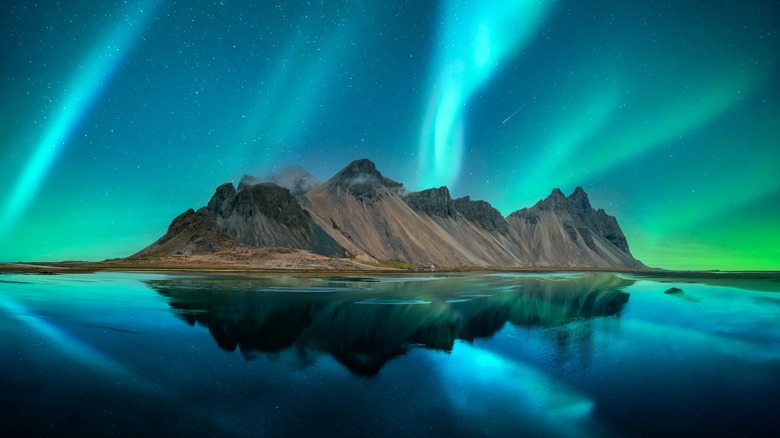 Smit/Shutterstock
If seeing Aurora Borealis tops your list of things to do, book your trip a year in advance. In Scandinavia, the Northern Lights can be seen from mid-August to the end of September and again between mid-November and mid-April. Light-obsessed tourists can book tours to see the lights in Norway, Sweden, Finland, and Iceland during these times, but be warned — they fill up fast, so travelers recommend booking early. 
If you're hoping to top your majestic trip with Aurora ice floating in Lapland or a stay in an ice hotel or glass igloo, you may want to push your trip out by 18 months to ensure you nab a spot. Canada's Banff and Jasper National Parks also offer prime Northern Light viewing. Travelers suggest planning a four- to five-day trip between September and April for a better chance at seeing the beautiful display, with winter months being the most popular. A word of warning: It's impossible to predict the weather, so the skies may not be ideal for Northern Light viewing during your visit. The best way to ensure you see something spectacular is to plan multiple nights for your trip.
Taking a road trip through America's best national parks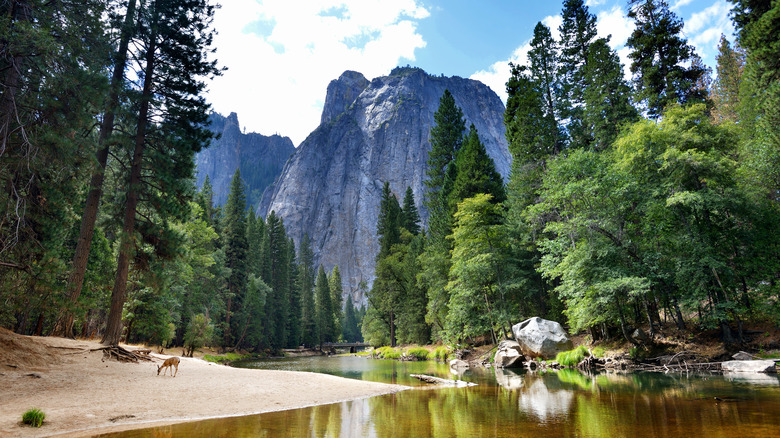 Csondy/Getty Images
While visiting a U.S. national park may seem like an easy last-minute destination, it can be more challenging to book than you'd think. Schedule a visit during high season (a.k.a. summer) and things become even trickier, especially if you plan to stop at more than one park on your journey. Whether you're hoping to pitch a tent, stay in a lodge, or hook up an RV, summer accommodations within America's best national parks fill up early, so be prepared. In general, accommodations begin to accept bookings between three and six months in advance. Before you say, "Hey, that's not a year ahead," remember there are other moving parts to consider when planning a national parks road trip.
First, you need to decide which parks you want to visit and how long you want to spend there. This can be a time-consuming process involving much research. If your coveted destinations are a flight away, you'll have to buy airline tickets and find a car rental. Next up: planning where to stay. Figuring out which hotel or campground to book takes time. Feeling overwhelmed? That's why you're doing the legwork so early. Also, Recreation.gov can help take some of the stress out of planning. You can book camping and lodging as well as entry tickets and interesting tours right here. They even boast a Trip Builder.
Touring Europe in summer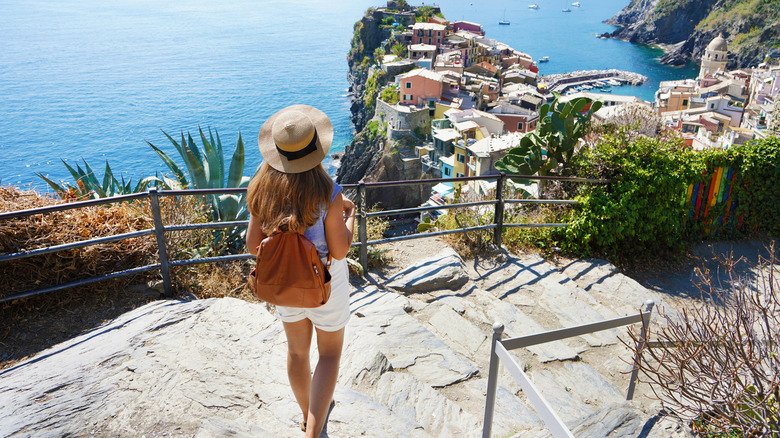 Zigres/Shutterstock
Europe has been a must-visit summer destination for years, but since the pandemic, many of its top-rated cities have become almost overrun with tourists. In addition to spoiling your romantic vacay shots, these crowds provide some stiff competition for things like flights, hotel rooms, and restaurant reservations. That's why you should plan your European vacation at least a year before your trip, especially if you're hoping to visit more than one destination. 
While Rick Steves recommends booking flights four to six months before a European trip, plan farther in advance if you're hoping to score a nice hotel in a good location. Travelers agree that part of the fun of spending a few weeks in Europe in summer is winging it (showing up to a city and finding accommodations when you're there), but that plan can backfire when you visit in the heat of July and August, and your only options are out-of-the-way hotels or dirty hostel rooms.