The Best Itinerary If You Only Have One Day In Los Angeles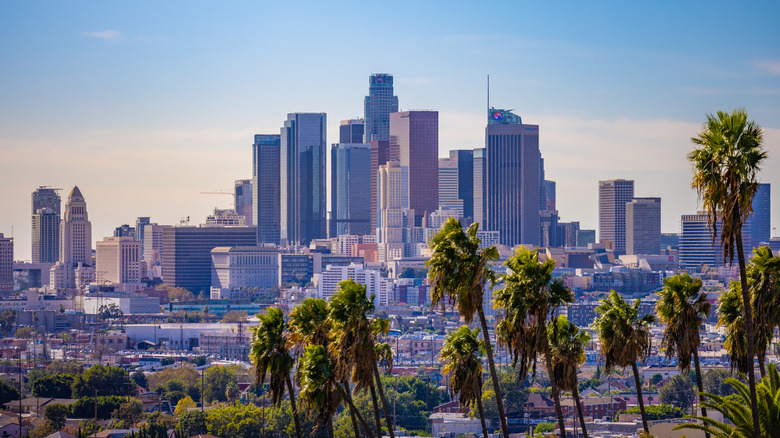 Lpettet/Getty Images
If you only have one day to see Los Angeles, you're going to want to get a taste (sometimes literally) of everything this city has to offer. A whirlwind day in the City of Angels will encompass a mix of sightseeing, dining, and activities, and when you have more time, go off the beaten path in Los Angeles to explore LA's weirder side. But if you only have one day, based on personal experience with countless trips to Los Angeles, we've designed an itinerary that should satisfy most types of travelers, from art aficionados to food truck foodies. 
One day isn't enough to see "everything" in Los Angeles — the traffic will see to that. But the city has something for everyone, so whatever you get into on this itinerary, we're sure it will be worth it. You'll get your fill of cultural attractions — be they high-brow, low-brow, or somewhere in between — and Los Angeles is an active person's paradise, with plenty of activities and attractions to get you moving. Lastly, you will eat in Los Angeles — a lot. There's something for every palate in La-La Land, but as your one day in LA is about fun, consider this guide your permission slip to eat like you're on vacation.
Grab breakfast at The Original Farmer's Market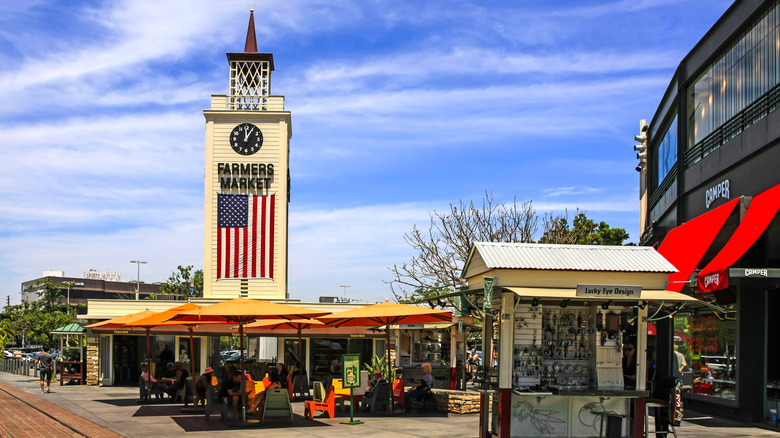 Csfotoimages/Getty Images
Just like your parents said, breakfast is the most important meal of the day, so fill'er up at The Original Farmer's Market. The market at Fairfax and West 3rd is no rinky-dinky affair — it was established in 1934 and remains a central spot to get top-quality seafood, meats, produce, baked goods, and confections. The Farmer's Market is a great spot in itself to wander around if you have time. But today, you don't — so make it quick at Du-Par's (stall 210), a local haunt since 1938 that, according to Los Angeles Magazine, serves some of the best butter-infused hotcakes in the city. Of course, there are all manner of good eats at Du-Par's, such as the mac 'n' cheese, crab cakes, and pies, but there are more options at the market. 
If you're eating on the go, hit the ground running at Bob's Coffee & Donuts (stall 450). Owner Bob Tusquellas has been serving exquisite coffee and fresh, delectable donuts since 1970. All donuts and baked goods, such as Bob's famous cinnamon rolls, are hand-made daily. If this is all too heavy, LA has a slew of top-notch acai bowl options to get you going. And before you head out into Los Angeles, grab a New York-style pickle at Kaylin+Kaylin. Spear a spicy dill, a honey mustard, or a kosher dill. And if you think pickles are gross in the morning, you're simply missing out.
Stroll or paddle the Venice Canals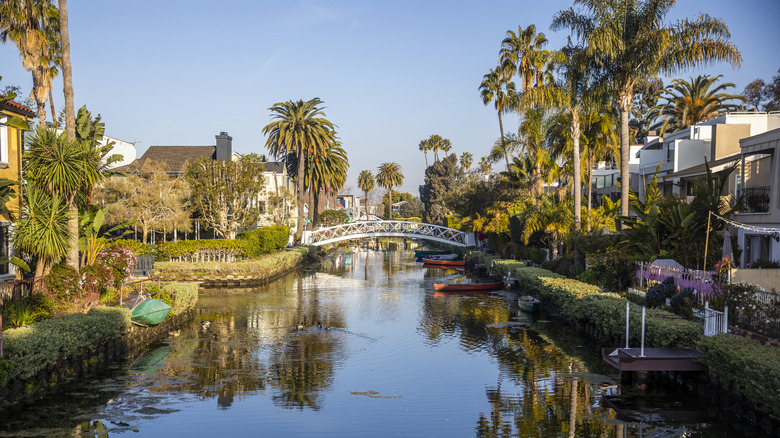 Adamkaz/Getty Images
Post-breakfast, walk off your meal and explore the Venice Canal Historic District, one of Los Angeles' most interesting neighborhoods. The Canals are sandwiched between the Venice Boardwalk and its assortment of quirky characters to the west, and Abbot Kinney and its hipsters to the east.
Today, there are six canals to wander around, down from the original 13 canals that existed in the early 1900s. Developer Abbot Kinney (more on his legacy below) wanted his "Venice of America" development to not only evoke Italy's canals but to offer a way to get around. At the time, the automobile hadn't yet taken America by storm. So, Venice residents used boats or canoes to get around the canals, while gondoliers (like you see today in Italy) whisked tourists around on paid trips through the waterway.
By the end of the 1920s, seven of the original canals were filled to make the area more amenable to car traffic. Thankfully, six canals were spared, so take advantage. You can gawk at the gorgeous homes and charming bridges amid this one-of-a-kind area. And, if you're intrepid enough, you can also bring your own non-motorized craft to nautically experience the canals. The launch ramp is on Venice Boulevard.
Shop along Abbot Kinney Boulevard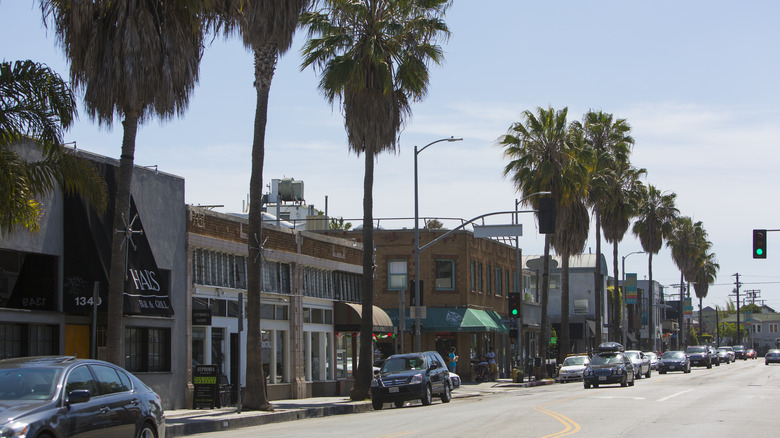 Davidf/Getty Images
After taking in the Venice Canals, walk 15 minutes east to Abbot Kinney Boulevard (yup, named for the canals' developer) for some shopping and a treat. Stretching from Main Street in Santa Monica and running east to Washington Boulevard, Abbot Kinney is a trendy, walkable area with plenty of hip stores, restaurants, bars, and coffee shops. You'll want some souvenirs from your lone day in LA, so feel free to indulge in some of the strip's most notable spots.
At Abbot Kinney Blvd and Venice, check out Grow, which stocks uniquely Californian gifts, from Golden State-crafted candles to art, books, and accessories, all with a local twist. If your shopping itch goes beyond LA-inspired knicknacks, check out Huset. This stylish Scandinavian-inspired, local design store stocks elegantly cool home furnishings and gifts. Huset also sells dapper threads for her, him, and the kiddos (IKEA's got nothing on this place). Or, you can change your mind and grab a very-Los Angeles screen-printed T-shirt, hoodie, or sticker from Vardagen. You won't find these hand-drawn designs anywhere else.
Now, on your walk west from Grow towards Huset and Vardagen, you will pass Salt & Straw, an artisanal ice cream shop. They craft scrumptious, locally flavored ice cream, and you can even try a flight of flavors. If you're only spending one day in LA, we — in very good conscience — recommend eating ice cream in the morning. 
Marvel at the art of Watts Towers
If you'd rather skip shopping and ice cream, head south from the Farmer's Market to Watts (about a 40-minute drive) for a tour of the awe-inspiring Watts Towers, one of the most unique hand-built structures in the world. In 1921, Sabato (Simon) Rodia, an Italian immigrant, started building structures in and around his Watts home. Rodia used rods and pipes to build his towers and then wrapped them in wire mesh. He then packed the structures with mortar and added all sorts of found objects into the paste — bottles, tiles, pieces of pottery, rocks, sea shells, glass, and more.
Rodia continued this quixotic project for 33 years until 1954, when a set of 17 structures, including two towers measuring 99 feet in height, stood at the site. The amazing part is that Rodia commenced building with no plans — architectural or otherwise. All he had were his two hands, some hand tools (no mechanical tools were used), and his passion to build something extraordinary. 
Rodia's towers are now overseen and maintained by the Watts Towers Arts Center, founded in 1961. The center offers 30-minute guided tours of the site on Thursdays and Fridays, from 11 a.m. to 5 p.m. There are also rotating exhibitions within the center. Admission is free, but the Center suggests a $7 donation to help with site maintenance and upkeep.
Gawk at Yayoi Kusama's Infinity Mirrors at The Broad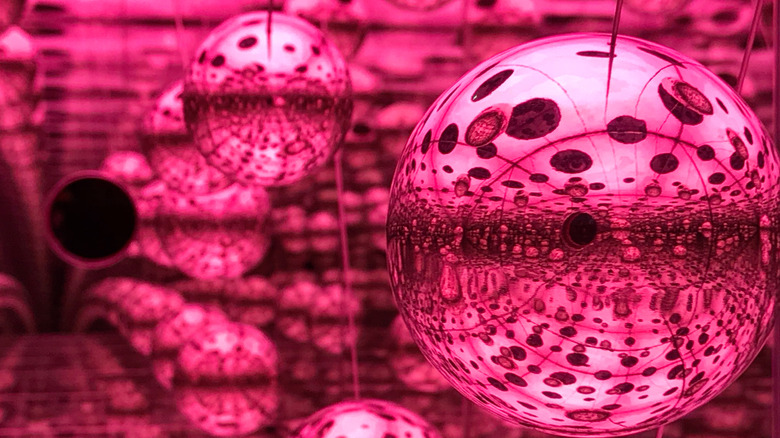 MrConcierge/Shutterstock
If more formal art is your speed, head east from the Market along Beverly Boulevard to The Broad (about a 25-minute drive), and take in two of artist Yayoi Kusama's remarkable Infinity Mirror Rooms. The Kusama exhibition has been a sensation at The Broad since 2013. Kusama's rooms use LED lights, water, acrylic balls, glass, and other materials to plunge visitors into a mind-blowing, spacey, immersive art experience.
Now, in case you haven't heard, Kusama's Infinity Mirror Rooms exhibition is kind of a big deal. To see the Infinity Mirror Room of "The Souls of Millions of Light Years Away," you'll need to make an online reservation (it is worth it). Kusama's second room, "Longing For Eternity," does not require a reservation.
Aside from Kusama, this world-class museum offers lots more. Exhibitions featuring the work of Jean-Michel Basquiat, Roy Lichtenstein, Andy Warhol, and others are on display. And if all that art doesn't move you, the building itself might. The museum's storage vault is the building's floating anchor. The vault's bottom curves underneath itself to form part of The Broad's lobby. The vault's top acts as exhibition floor space, while the vault's large windows give visitors a peek into the museum's huge trove of stored art.
Find a literary gem at The Last Bookstore
If books are your preferred art form, Los Angeles is home to the cheekily-named The Last Bookstore, a massive and quirky used book store located in an old bank building downtown (and just a 15-minute walk south of The Broad). Browse more than 300,000 gently used and vintage books and magazines, under high ceilings and amid gorgeous marble pillars. You'll find plenty of off-the-wall sculptures too, including a "book tunnel", which is exactly what you think it is. All of these sculptures are made entirely from discarded book parts — because, of course.
The Last Bookstore organizes hardcover books by color (because why not), and its massive fiction section is organized by nothing at all. That's right — The Last Bookstore takes this willy-nilly approach to fiction shelving to let browsers discover literary gems by glorious accident. If you're completely intoxicated with the smell of old books, inquire into The Last Bookstore's periodic sleepover events, where guests can camp out amid the stacks for a night (and for a fee). After all, this is The Last Bookstore — who knows when you'll get another chance?
Grab lunch at an iconic Los Angeles taco spot
No doubt all that perambulating (either through Venice, Watts, or through downtown cultural spots) has worked up an appetite, so satiate your hunger at the original location of Leo's Tacos Truck for some of Los Angeles' best tacos. You won't be the first to be confused at the sight of Leo's Tacos Truck, which is parked on the lot of a decommissioned gas station at the corner of South La Brea and Venice (about a 15-minute drive west of downtown). Fear not, as you'll also undoubtedly see a line for the city's most delicious tacos. Park your car and get in that line.
Everything about Leo's is decidedly bare-bones. The food trucks, the salsa station, the location — but none of that matters. Known for its al pastor tacos, you'll be mesmerized by the huge piece of pork being cooked to perfection on a rotating spit. The spit itself is topped by a giant chunk of pineapple, which gets diced onto the al pastor, itself nestled into a warm tortilla. Once you have your tacos (get a few as they're small), head over to the salsa station and garnish with some onions, cilantro, and salsa of your choice.
Check out Griffith Park and the Hollywood Sign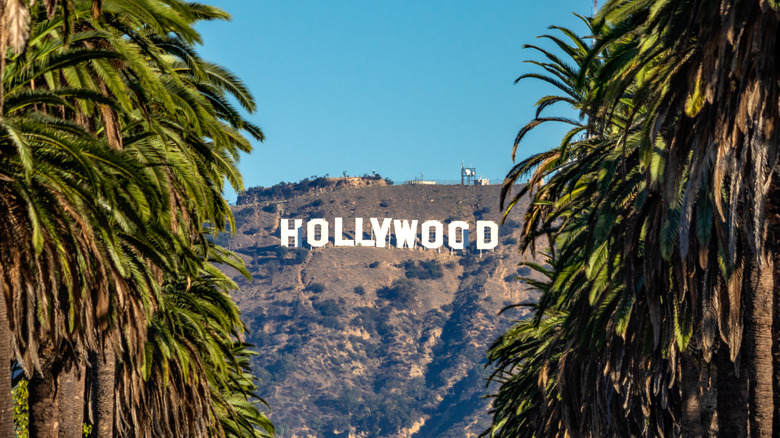 Eloi_omella/Getty Images
After eating your delicious tacos, head north to Griffith Park (about a 25-minute drive), and prevent your heart from stopping with a brisk stroll through one of the largest urban wilderness parks in the country. Of course, don't feel like you have to hike all 4,210 acres, but Griffith Park features a 53-mile network of hiking paths. You could also enjoy some of the park's many bike paths, visit the Los Angeles Zoo, which sits within Griffith Park, or, if you're still hungry, have a picnic. 
You can also get an up-close view of the iconic Hollywood Sign by following one of three hiking paths, which are some of the best hikes to take in Los Angeles. The Mt. Hollywood Trail and Brush Canyon Trail are considered easy and will take around two and a half hours. The Cahuenga Peak Trail is the shortest (about an hour and 45 minutes) but is considered difficult, so choose wisely.
The Hollywood Sign was originally erected in 1923 to advertise housing subdivisions but has evolved as a symbol of the city's TV and film industry. Sadly, you won't be able to capture a selfie while hanging off the sign's "H"  anymore, as the Hollywood Sign is now fenced off and guarded by police and security cameras. But you'll still get pretty close.
Explore the Griffith Observatory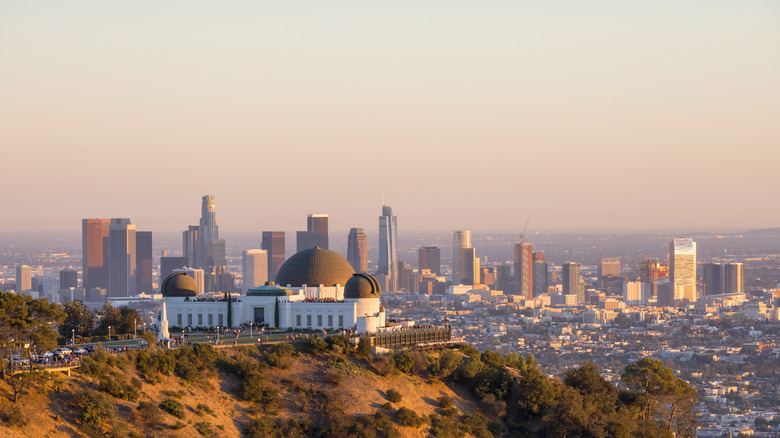 Chrisp0/Getty Images
If hiking isn't for you, Griffith Park is also home to the Griffith Observatory, open since 1935. The Observatory is open every day except Monday, and admission is free. While you may not be able to take full advantage of the high-powered telescopes set up for public use in the afternoon, you can still check out the Samuel Oschin Planetarium. Enjoy guided storytelling on various astronomical topics while gazing upward in this state-of-the-art (and very cozy) planetarium. Shows run for about an hour and are offered multiple times per day.
If you're hoping to have your mind blown, check out the Tesla Coil in the Wilder Hall of the Eye, which has been on display at the Observatory since 1937. Watch as huge lightning-like bolts fly off the coil and bounce off the walls. Observatory staff demonstrate the coil's awesomeness several times a day. Famed inventor Nikola Tesla created the Tesla Coil back in 1891 to carry electricity through air (as opposed to over wires). His invention didn't quite work, but being in the same room as the Observatory's Tesla Coil is ridiculously thrilling.
Wander through Frank Lloyd Wright's Hollyhock House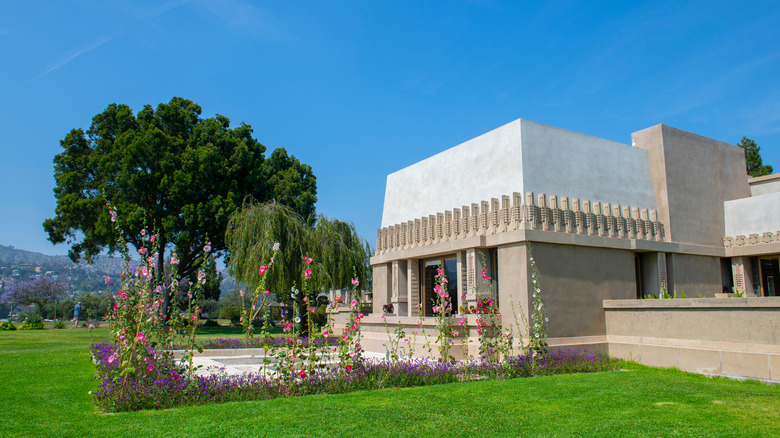 Wangkun Jia/Shutterstock
Los Angeles is home to several Frank Lloyd Wright-designed homes, but only one — Hollyhock House — is open to the public. This architectural gem is located within Barnsdall Art Park, itself on Olive Hill in Los Feliz. It's about a 15-minute drive south from the Observatory to Hollyhock House. For $7, adults can book self-guided tours from Thursday to Saturday, 11 a.m. to 4 p.m. Kids under 18 can visit free with a paying adult.
Wright's Hollyhock House is often cited as a precursor of California Modernism. Way back in 1919, oil heiress Aline Barsndall commissioned Wright to design Hollyhock House (named for her favorite flower, which appears in various forms throughout the home) as part of an audacious artist commune. The commune never came to be, but Wright's design, influenced by the California climate and seamlessly integrated into the surrounding landscape, landed firmly ahead of its time. The home's gorgeous outdoor terraces and airy, indoor spaces effortlessly blur the line between outside and in — an element that contemporary California architects strive to match. If you make it to Hollyhock House, don't forget to take in the beautiful views of the Griffith Observatory and, of course, the Hollywood Sign.
Pay a visit to The Museum of Death
Los Angeles is full of life — but it is also home to the Museum of Death (cue foreboding music), a celebration of all things death-related. The Museum of Death is about a 15-minute drive from either the Observatory or Hollyhock House. If you choose to visit, steel yourself for some eye-popping, and if we're honest, stomach-churning sights.
That said, the Museum of Death isn't meant to scare visitors. On the contrary — in 2019, Museum of Death co-founder J.D. Healy told The Los Angeles Times that "... anything you can touch someone with, that gets them thinking about death a little more, is a good thing." After all, life is finite, and if thinking about death just a little bit makes one appreciate life a bit more, well, is that a bad thing?
Naturally, the Museum of Death has lots to get one thinking about death. From serial killer art to the facility's coffin collection, and from autopsy instruments to life-size replicas of execution devices, there is plenty to get your brain racing here. As a California museum, the Museum of Death has an extensive collection of Manson Family artifacts and displays. This includes uncensored crime scene photos from the Manson Family rampage of August, 1969 — you've been warned.
Shop for records at Amoeba Music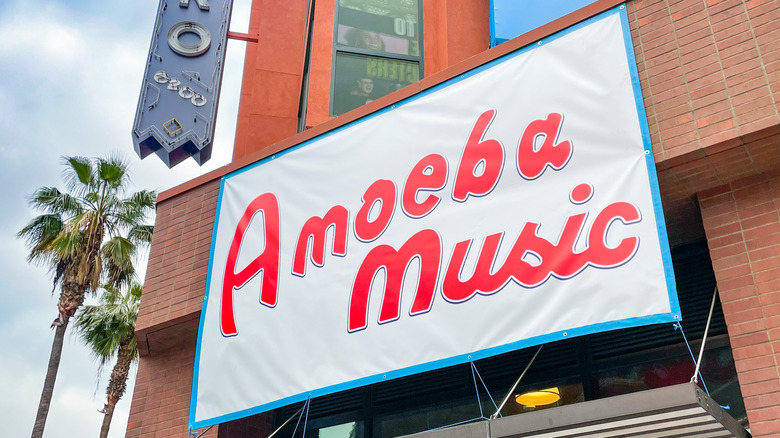 Aaronp/bauer-griffin/Getty Images
From the Museum of Death, walk yourself back to life again with a 10-minute stroll to Amoeba Music, at the corner of Hollywood Boulevard and Argyle Avenue. Like The Last Bookstore, Amoeba is one of the few, iconic brick-and-mortar music stores still in existence. Amoeba is a treat to behold, with more new and used LPs, CDs, posters, books, merch, and all sorts of musical paraphernalia than the eye can see.
If you pop into the store on the right day, you could find yourself amid the audience for one of the store's famous live (and free shows). Artists ranging from the Flaming Lips, Lana Del Ray, the Blind Boys of Alabama, and more have blown the roof off Amoeba. Back in 2007, none other than Sir Paul McCartney played a live set before a gobsmacked Amoeba Hollywood crowd. You never know who you'll see at this music lover's dream.
Catch the sunset at El Matador State Beach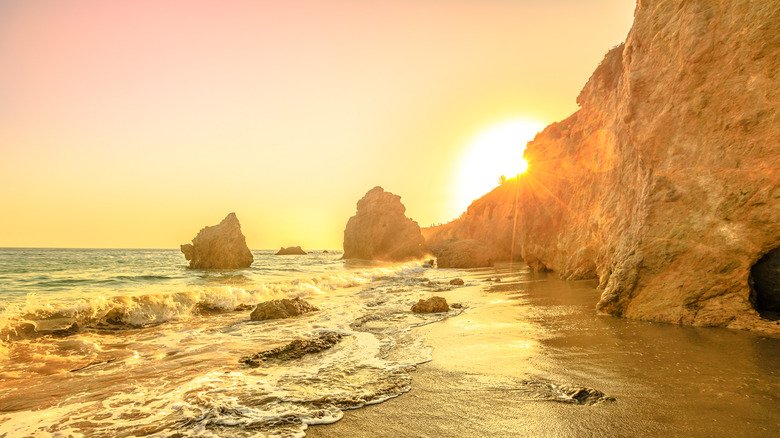 Benny Marty/Shutterstock
If you're looking for a place to relax after a long day of exploring, head to El Matador State Beach in Malibu, especially if you're spending the weekend in Los Angeles. While it's a bit of a (scenic) drive along California Highway 1 North to get there, this beach is unlike any California beach you'll see.
Park in the El Matador lot on the blufftop, just off the highway. You'll have to pay a few dollars to park. Then, follow the path down to the beach and get knocked sideways by the gorgeous rock formations dotting the beach. If possible, explore all the caves and rock arches at low tide, and don't forget your sunscreen. El Matador can get very busy on weekends, but it's worth it. And if you're in LA during the week, it will likely be quiet. In fact, you might get El Matador all to yourself. 
Finish your day in Los Angeles at Pink's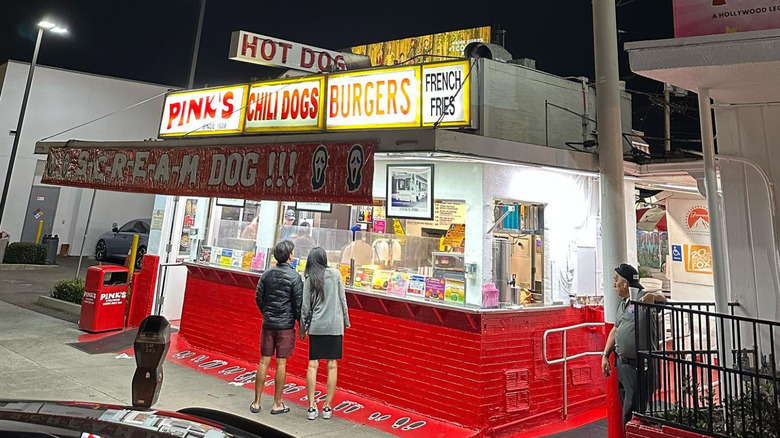 Anouchka/Getty Images
Treat yourself, Los Angeles-style (again), after a long and busy day with a delicious chili dog from Pink's Hot Dogs, about an hour and a half drive from El Matador. And, if you stuck around town near Amoeba or the Museum of Death, Pink's is just a 10-minute drive. Original owners Paul and Betty Pink invested in their first hot dog cart back in 1939, and the Pink family has been slingin' wieners ever since.
And folks, these are not your ordinary hot dogs. In fact, the food aficionados over at Food & Wine Magazine named Pink's one of the best spots in California to scarf down a hot diggity-dog. Get a famous chili dog, covered in chili, mustard, and onions. Or, try a Martha Stewart Dog, a 9-inch hot dog slathered in nacho cheese, sauteed onions, mushrooms, and bacon. Whatever you eat, you're sure to enjoy. What better way to end your day?