This Fun-Filled Pier Is One Of The Top Tourist Destinations On The West Coast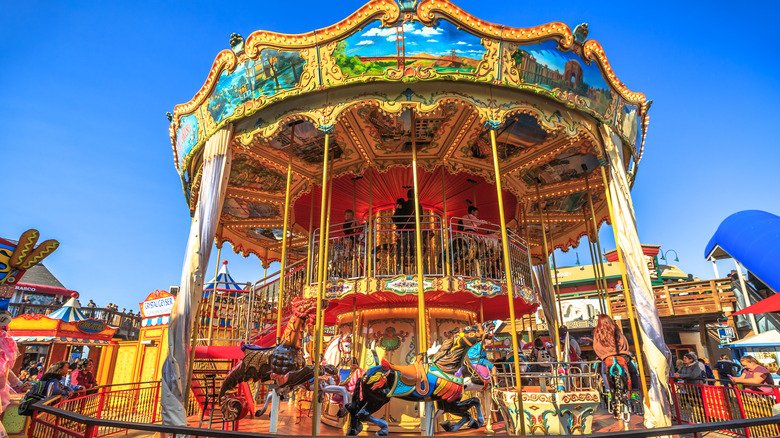 Bennymarty/Getty Images
There's something very exciting about exploring a fun-filled wooden pier darting out over the water. The smell of fresh fish, the sound of music from colorful attractions, and the views when you reach the end provide a unique setting for any tourist. One particular pier in California is so fun that it attracts 10 million visitors annually.
Pier 39 at Fisherman's Wharf on San Francisco's beautiful waterfront has more than 90 shops, 12 full-service restaurants, an aquarium, spectacular views, and beloved sea lions. Little ones will love free daily performances on the pier, the bungee trampoline, the gorgeous carousel, and Magowan's Infinite Mirror Maze. Adults and older kids will get a kick out of the 7D Experience and the San Francisco-themed escape rooms, and all ages will enjoy the fresh seafood, views of Alcatraz, and unique shops.
As one of the top tourist attractions on the West Coast, Pier 39 is often very busy. If crowds aren't your thing and you'd rather get unrestricted views than dodge fellow tourists, there's an easy solution — get there early. Showing up early to tourist attractions isn't always the best way to beat crowds, but from personal experience, it most definitely is at Pier 39. Plus, the Biscoff Coffee Corner at the entrance to the pier opens at 8 a.m. Their coffee is as delicious as their donuts, and there's something very peaceful about strolling down the wooden flanks and watching the chatty sea lions without the hustle and bustle of other people.
Things to do at Pier 39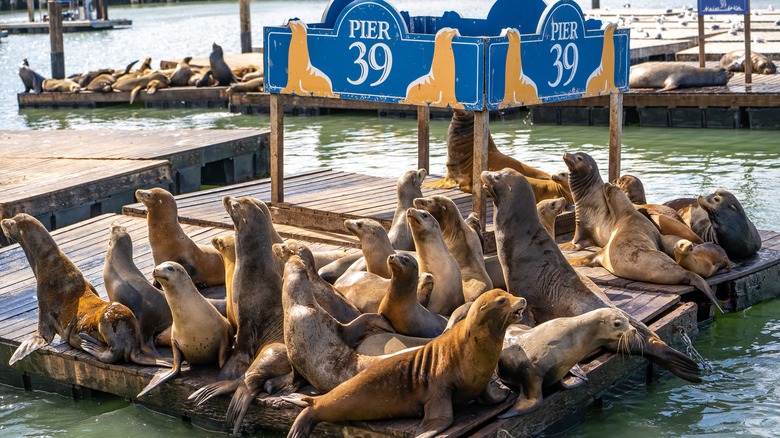 Iv-olga/Shutterstock
Pier 39 is full of fun-filled attractions. Between rides, shopping, and of course, the sea lions, time spent over the bay will fly by. In addition to the bungee trampoline and carousel, the Bay Plunge moves tourists 40 feet into the air, lets them soak up 360-degree views, and then plummets them back down again. Caricatures, a small stall toward the end of the pier, sells unique cartoonist tourist portraits, and the Flyer Thrill Zone is a theater experience allowing guests to simulate a flight over San Francisco's famous landmarks, like the Golden Gate Bridge and Coit Tower.
Tourists at Pier 39 who love to shop are also in luck. Whether they're looking for souvenirs to take home or a little something special for themselves, they're sure to find it here. Popular shops include Christmas in San Francisco for, you named it, everything Christmas-y, Build-a-Bear Workshop for kiddos, Lefty's for left-handed friends, and the self-explanatory San Francisco Key Chain Store and San Francisco Sock Market.
Additionally, the Aquarium of the Bay ($33.66 per person) lets guests peek into the underwater world of the San Francisco Bay. With more than 24,000 animals, expect to see sharks, baby bat rays, octopuses, and much more. For tourists interested in wildlife and free activities at Pier 39, head to the far west corner of the pier. You'll likely hear the famous sea lions before you see them. Want to take a peek? Here's the Sea Lion Live Webcam.
Where to eat at Pier 39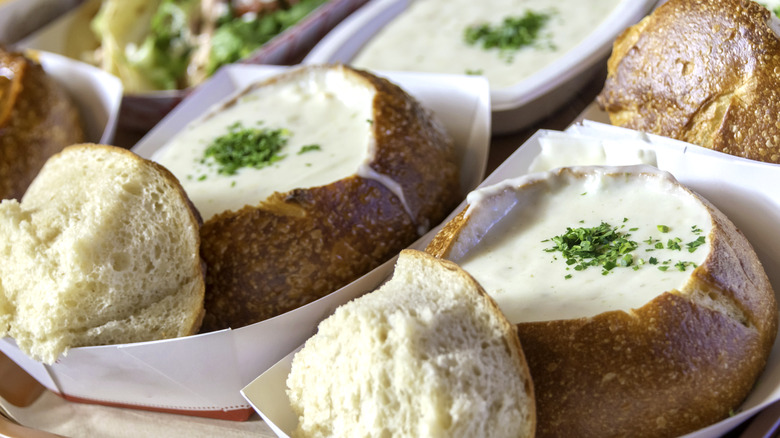 Juanmonino/Getty Images
Tourists at Pier 39 have a wide range of dining options. From waterfront dining to restaurants perfect for people-watching and delicious food on the go, there really is something for everyone. For San Francisco's iconic clam chowder in a sourdough bread bowl, try Boudin Bakery Café. The bread is baked fresh, and the hot soup hits the spot on a chilly day. Just down the street, a second location, Boudin at the Wharf, lets tourists watch the bakers create bread by hand through a 30-foot window. Sometimes, the bread is in fun shapes, like a large alligator or a small crab.
For fresh fish and views of the Golden Gate Bridge, Fog Harbor Fish House is hard to beat. They offer 100% sustainable seafood, award-winning clam chowder, pastas, sandwiches, and salads. The Wipeout Bay & Grill also offers water views in addition to a cozy patio, perfect for watching fellow tourists explore the pier. The surf-themed restaurant offers a varied menu, including everything from burgers and pizzas to salads and tacos. For sweet treats, try Trish's Mini Donuts, the Fudgery, Mrs. Fields Cookies, or Lappert's Ice Cream Shop.