Why Showing Up To Tourist Attractions Early Isn't Always The Best Way To Beat Crowds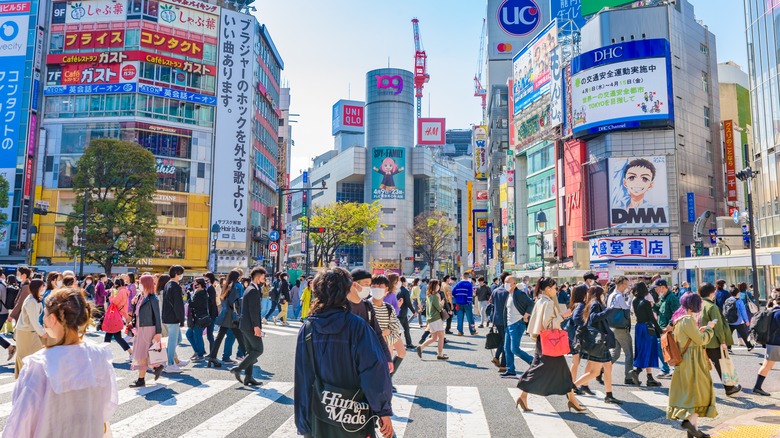 Takashi Images/Shutterstock
One of the core lessons that society has instilled in all of us from a young age is that the early bird always gets the worm. Whoever arrives first or finishes a task earliest is bound to reap some rewards. This statement rings true in a lot of cases, but it apparently doesn't apply to travel, especially in tourist destinations where thousands of people flock almost all year long.
Overtourism has become a pressing problem in recent years, so much so that a number of popular destinations have employed bans to mitigate crowds. The city of Amsterdam, for instance, has banned cruise ships in an effort to control crowds. This, of course, hasn't stopped people from traveling in droves anyway, as air travel in 2023 has reportedly beaten pre-pandemic records.
With more and more people satisfying their wanderlust, it may simply be unrealistic to expect to visit a famous tourist spot without running into large crowds. If you have a trip to a popular destination planned and still wish to avoid being one with the masses, it may be worth heading there during off-peak times. Spoiler alert: They're not first thing in the morning.
Consider showing up slightly later instead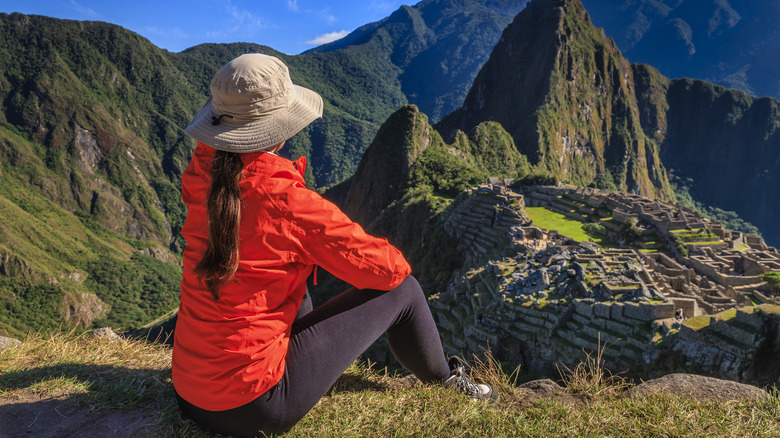 Hadynyah/Getty Images
When it comes to traveling to popular tourist destinations, you may be inclined to wake up at the crack of dawn and head to your destination as early as possible to arrive ahead of everyone else, but what you don't know is that "everyone else" has thought the exact same thing. Even if you reach the area at, say, 6 or 7 a.m., you may be surprised to discover that it's already bustling with tourists. Try timing your arrival for the early afternoon instead. By then, many tourists will have already dispersed, giving you more room to explore and take pictures. 
Then again, it still depends on the place. On Reddit, some users noted that this trick usually works in art galleries and museums, like the Louvre, since most group tours occur in the morning. One argued that showing up shortly before closing tends to be a smart move too. In terms of other iconic spots, another Redditor suggested employing this approach in destinations like Machu Picchu in Peru and the Pyramids of Giza in Egypt, while one attested that the streets of Positano in Italy tend to be less crowded in the afternoons and evenings too. 
Similarly, travel expert Rick Steves also shared, on his website, that he chose to visit the Acropolis, in Athens, just after midday when the crowds who were brought in first thing on cruise ships were leaving. Simply put, the key is to do your homework ahead of time to determine the best times to visit and avoid congestion.
You could also try hiring a private guide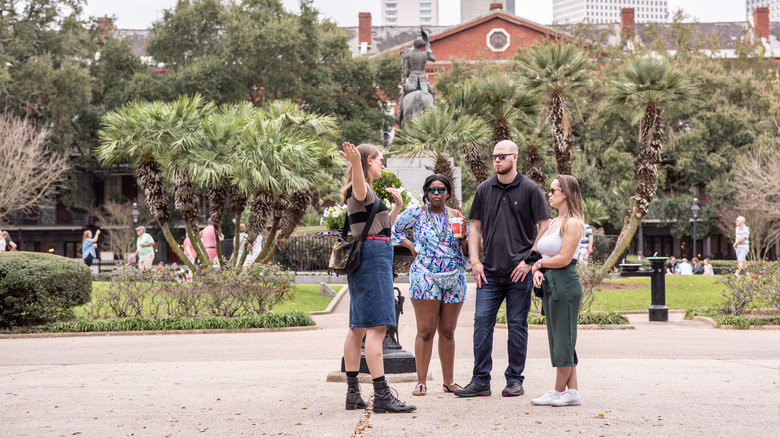 Page Light Studios/Getty Images
If you have extra room in your budget, you may also want to consider hiring a private tour guide to take you around. Not only do they know the best times to go to certain places for a crowd-free visit, but oftentimes, they'll take you to hidden gems in a town or city that you otherwise may not have known about through online research alone. This results in a far more enriching experience than going the DIY route. It can make traveling less stressful, too. A private guide can also work around a specific schedule if you're not an early riser.
With the usual tour guides, you typically have to adhere to a strict timeline during your trip, and you don't have a say in where you go and who you'll be with. But with a personal guide, you have the option to choose when and where to go to certain places and with whom. Not only will you get to explore lesser-known (but otherwise fantastic) places, but you'll likely get to bypass crowds as well. It's a win for your entire group while also giving you some much-needed privacy.