This East Coast Beach Town Is A Great Spot For A Couples Vacation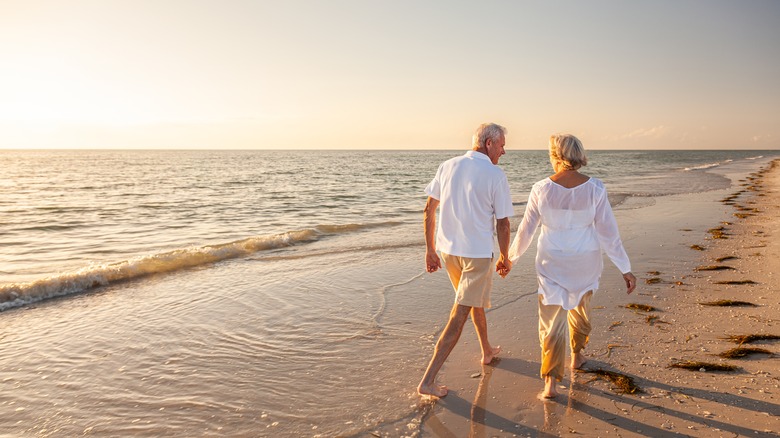 Darren Baker/Shutterstock
A couple's trip to the beach is almost always a delight. There's something dreamy and romantic about watching the waves crash in the ocean with your partner cuddled close to you. It can be a piece of bliss in a hectic world, as well as an opportune time to rekindle the connection between you and the one you love the most.
Such a trip doesn't have to take place in some far-away tropical location (that is, assuming you aren't already living in such a region). There are plenty of beaches along the East Coast that offer a romantic ambiance as well as fun couple activities to engage in. One such beach is tucked away in the tiny state of Delaware. Rehoboth Beach, while you likely haven't heard of it, serves as a lovely beach town getaway for couples. This beach is an especially LGBTQ+-friendly and welcoming destination. Next time you're looking to escape for a couple's trip, book a room at your preferred hotel in Rehoboth, Delaware, for that beach break.
Romantic activities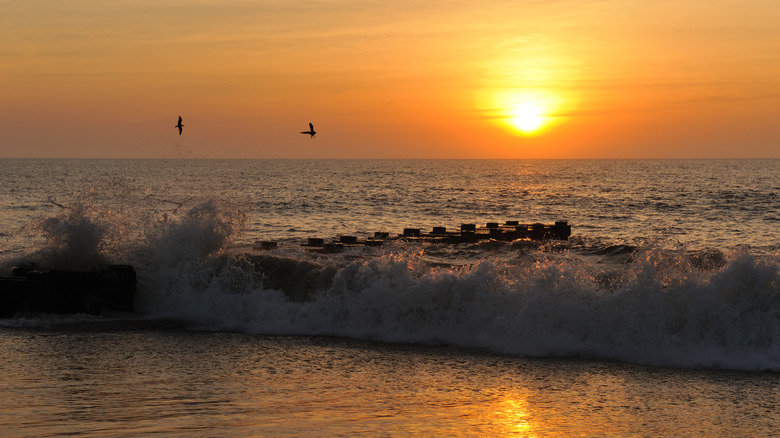 Aimintang/Getty Images
When embarking on a beach vacation, you, of course, have to spend time at the beach. Rehoboth Beach, luckily, isn't too crowded on most days. This is different if you visit over a holiday like Labor Day or Memorial Day. Bring a book or lay out a blanket for a picnic. Sunbathe or swim, you've got access to the beach, so you might as well take advantage of it. When you are hungry or are in the mood to shop, head over to the beach boardwalk. You'll find eclectic shops and restaurants that sell a wide variety of goods.
If you want to venture further than the shore, you can continue your outdoor adventure by hopping on a boat and cruising on the waves. Cape Water Tours offers an evening cruise. This calming endeavor will allow you to witness a stunning sunset reflected on the water. It lasts 90 minutes and shows nearby saltwater marshes and islands. Next, you can step away from the beach and opt for the rows of grapes in a vineyard instead. Nassau Valley Vineyard is located slightly outside of Rehoboth in Lewes, Delaware. Take a self-guided tour through the property, then relax with a wine tasting.
Nature, lodging, and dining experiences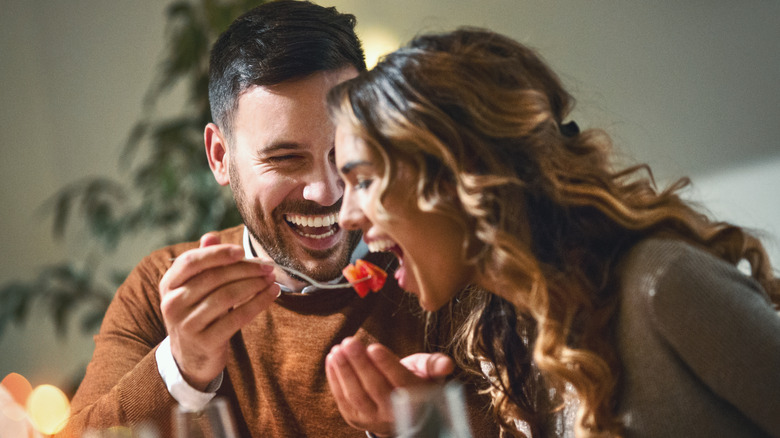 Gilaxia/Getty Images
If you love the outdoors and greenery, check out the Delaware Botanical Gardens. Walk amongst plants and flowers and even wildlife like birds and butterflies when you visit here. Admissions are $15 and an additional $10 for tours.
A romantic getaway calls for a cute and charming place to stay. The Boardwalk Plaza Hotel is a great option if you're looking for a cozy place with a historic theme. If you want a more modern and sophisticated experience, with the added bonus of a spa day, consider staying at the Bellmoor Inn and Spa. For dining, you can sit down at The Cultured Pearl Restaurant & Sushi Bar for a fancy dinner, complete with a beautiful outdoor seating area. La Fable is another great spot that serves delicious French food and was selected as one of the country's Top 100 Most Romantic Restaurants in 2019.
As you can see, Rehoboth Beach offers a variety of activities that can help keep you engaged, relaxed, and connected to your significant other. Grab your partner and book your stay at the picturesque destination for a beach vacation.