This East Coast Region Is A Must-Visit If You Are Looking For Outdoor Adventures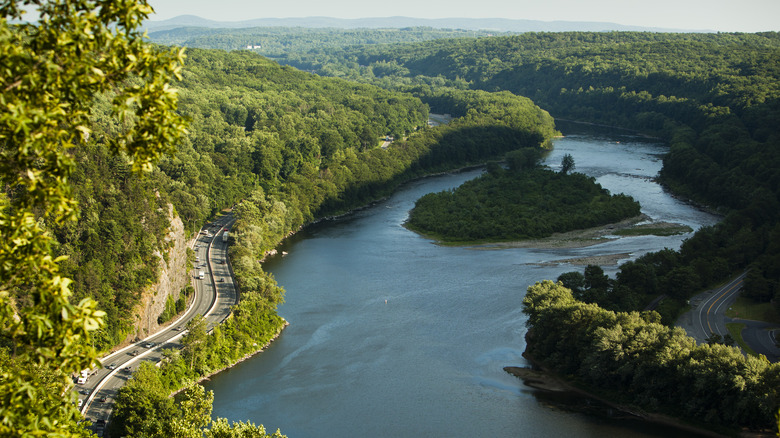 Alex Potemkin/Getty Images
When outdoor enthusiasts dream of the East Coast, visions of its craggy coastlines, ancient forests, and sprawling mountain ranges often appear. Most people gravitate toward the coast, from Maine's wild trails to the sandy beaches and marshlands of the Carolinas. However, if you go a little inland, you'll discover an area with over 150 lakes, nine state parks, over 120 hiking trails and 160 ski trails.
Welcome to the Pocono Mountains, a four-season destination for those looking to get out into the great outdoors. Commonly referred to as the Poconos, these mountains span northeastern Pennsylvania, covering an area of around 2,400 square miles. It's a vast playground for those who love the outdoors, offering watersports, bike trails and horse-riding (on top of all the skiing and hiking). After a day immersed in nature, you can head to charming small towns like Delaware Water Gap and Jim Thorpe, which are full of restaurants and charming stores.
Fall and winter in the Poconos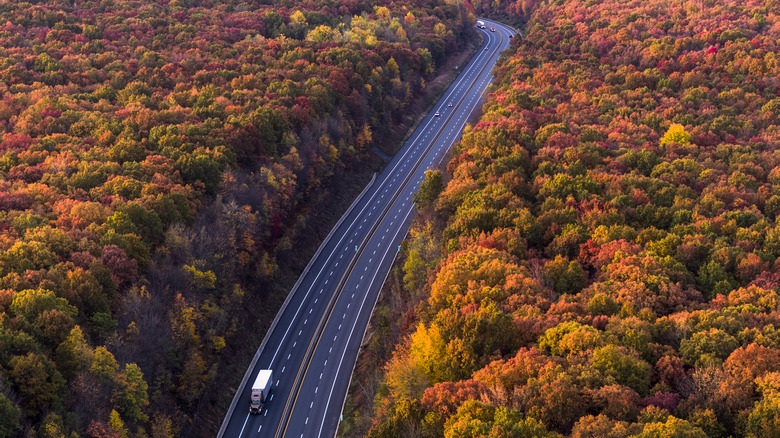 Alex Potemkin/Getty Images
In 2022, the Poconos took the No. 3 spot on USA Today's 10 best destinations for fall foliage, coming in ahead of the arguably more famous White Mountains in New Hampshire and Stowe, Vermont. When the leaves burst into color in September and October, it's time to get outdoors and enjoy them.
One of the best places to do that is from the top of Camelback Mountain in Big Pocono State Park, where there are 8.5 miles of trails to enjoy. Another popular place is around Lake Wallenpaupack, where you can hike along the shore or hire a boat and get onto the water. Bike rides, horseback riding, canoeing, kayaking and fishing are all available well into the fall in the Poconos, too, so there are a ton of ways to explore.
Winter is all about skiing in the Poconos, and the area offers something for everyone, from beginners to experts. Camelback Mountain is the biggest ski area, and on top of the 39 trails, it also offers snow tubing experiences. Snowboarders looking to practice their tricks will love Big Boulder Ski Area, while families just starting out might want to choose Ski Big Bear at Masthope Mountain.
Spring and summer in the Poconos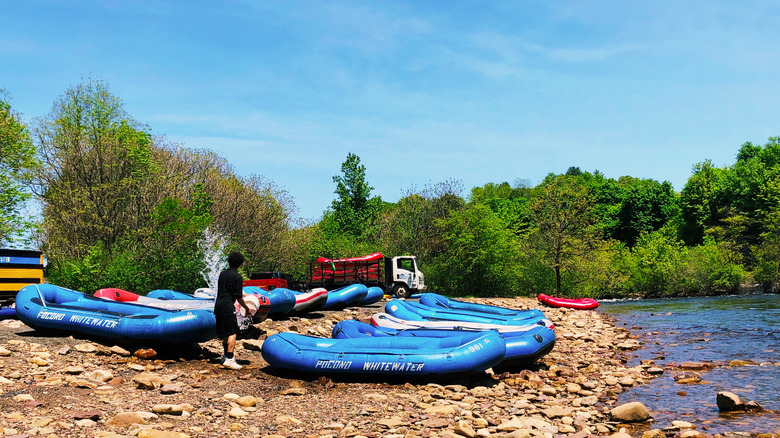 Shanshan0312/Shutterstock
As the snow melts and gives way to blooming flowers and lush greenery, the Poconos become a haven for those who love water and trails. There are a ton of high-octane adventures on offer in the area in the summer, from paintballing to jet skiing. Zip lining is particularly popular in the Poconos, with people soaring over the treetops and enjoying the area from above. On the water, whitewater rafting is also available on the Lehigh and Delaware Rivers.
Cycling routes range from gentle trails for beginners to epic downhills for mountain bikers. For those who want to stretch their legs, a beautiful section is through the Lehigh Gorge State Park, which follows the Delaware and Lehigh Trail for more than 20 miles.
And, of course, there are tons of hikes through the glorious countryside. Bushkill Falls is often called "The Niagara of Pennsylvania" and is actually a series of eight waterfalls spread along two miles of trails. Other trails, like the McDade Recreational Trail, go through dense forests and past historic sites. When you're done, go for a taste of the outdoors at some of the Poconos' farm-to-table restaurants, like The Settlers Inn in Hawley and the Gem and Keystone Brew Pub in Shawnee on Delaware, where you can also get a local beer.