This Eastern US State Park Is A Great Destination For A Beach Vacation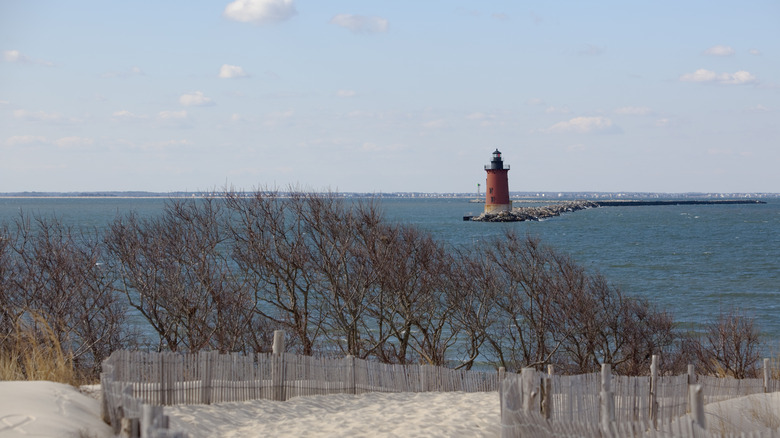 Mdgmorris/Getty Images
The East Coast boasts some incredible beaches that span from Maine to Florida. Whether you're traveling solo or with family and friends, Cape Henlopen State Park in Delaware is a great destination for a beachside vacation all year round. 
Cape Henlopen State Park lies right at the mouth of the Delaware Bay in Sussex County. The state park encompasses over 5,000 acres of land and has over 6 miles of coastline — much of which has been left untouched and preserved to protect the sandy dunes, marshes, maritime forests, and oceanic critters that inhabit the area. Moreover, before Cape Henlopen became a designated state park, it served as a military site and training area during World War II.
While Cape Henlopen State Park is home to some of Delaware's most stunning coastlines, the park has so much more to offer beyond sandy shores for sunbathing. From watersports and cycling to historical sites and wildlife areas, this beachside park has an assortment of activities to choose from that every visitor can enjoy.
The beaches at Cape Henlopen State Park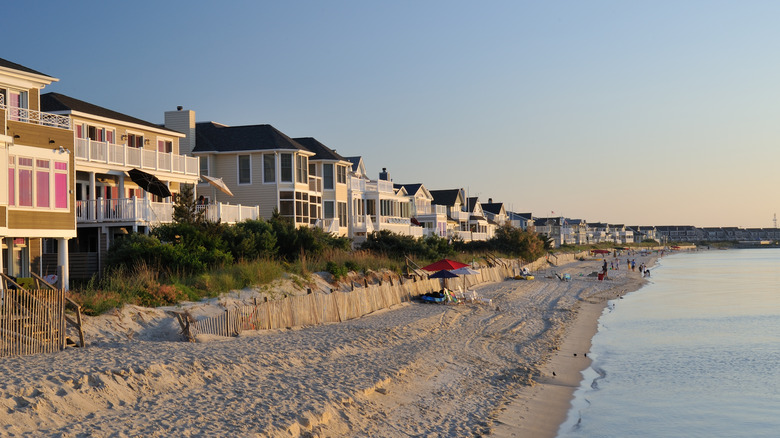 Aimintang/Getty Images
There are several sandy spots to check out at this Delaware destination: Cape Henlopen State Park has a designated swimming beach perfect for families and avid ocean lovers. The beach is complete with changing rooms, a snack bar, and lifeguard patrols during summer months. For watersport adventures, Quest Kayak offers kayak, paddle board, and beach gear rentals.
For beachgoers who are seeking a unique sightseeing opportunity, The Point Overlook provides remarkable views — especially during sunset — of where the Delaware Bay and Atlantic Ocean meet. At the overlook, you'll be able to see the historic Harbor of Refuge Lighthouse in the distance and catch a glimpse of dolphins or seals that live in the nearby waters. The Point is closed to visitors during certain times of the year because the dunes are an important nesting spot for various endangered species of birds. As you peruse the Cape Henlopen coastline, make your way to the Cape Henlopen State Park Fishing Pier for more nautical views of the Delaware Bay.
Within the park, situated between the Delaware Bay and the Broadkill River, is the Beach Plum Island Nature Preserve. While visitors can stroll along a portion of the wild beach, the majority of the preserve is off-limits to people to allow for dune and marsh habitat conservation.
Other activities to do in the park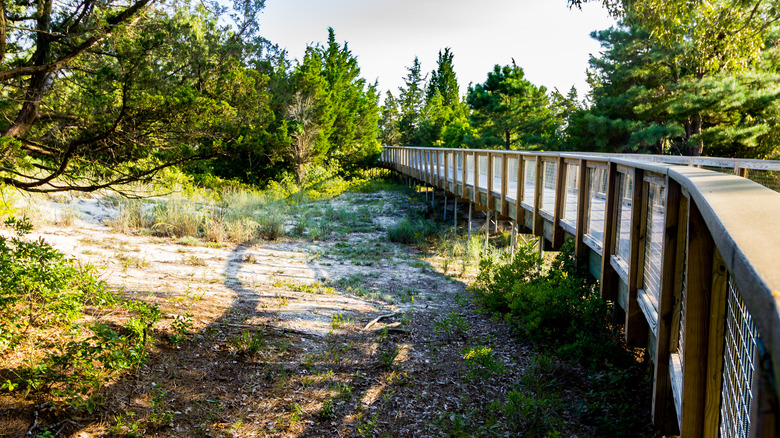 JD Hiker/Shutterstock
There are over 19 miles of paved and unpaved trails that weave through the park's maritime landscape. Among the most well-traveled is the Gordons Pond Trail, a scenic, 3.2 mile trek that runs alongside Gordons Pond, a 900-acre salt water lagoon. The northern end of this trail features an elevated boardwalk that sits above the park's preserved wetlands. It is especially popular among birdwatchers because the area is considered a rare "migration superhighway" for waterfowl. On the walk, you'll likely spot bald eagles, ospreys, and other wildlife in the maritime forests. If you want to learn more about the wildlife at Cape Henlopen, visit the Seaside Nature Center to sign up for a guided bird walk or night hike.
For cyclists, the Cape Henlopen State Park Bike Loop is a 3.3-mile paved trail that also offers beautiful views of the park. You can also elevate your outdoor adventure by making a reservation to stay at Cape Henlopen's campground.
While at the park, stop by the Fort Miles Museum to learn more about the historical significance of the area during the World War II era. The museum's exhibits include barracks buildings, a fire control tower, an art gallery, and Battery 519 (a 15,000-square-foot underground chamber that was utilized during World War II). After exploring the museum, step outside and stroll through the Fort Miles Artillery Park, which overlooks the Atlantic Coast. Cape Henlopen State Park has it all, so don't overlook this Delaware destination when planning your next getaway.